Chicago Bulls:

Front office
January, 9, 2014
Jan 9
2:46
PM CT
DEERFIELD, Ill. -- Three days after
Luol Deng
was traded to the
Cleveland Cavaliers
, the
Chicago Bulls
are still trying to pick up the pieces.
Head coach Tom Thibodeau acknowledged Thursday there are multiple strategies to cover for minutes now available with Deng's departure, and that their look in Tuesday's victory over the
Phoenix Suns
won't necessarily be the team's identity moving forward.
[+] Enlarge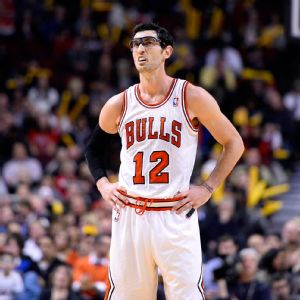 Mike DiNovo/USA TODAY SportsKirk Hinrich and the Bulls have a big hole to fill with Luol Deng off to Cleveland.
"We got to move on," Thibodeau said after practice Thursday in advance of Friday's game at Milwaukee. "That's the big thing. That's the nature of this league. Just get ready for the next game."
Jimmy Butler
,
Tony Snell
and even
Kirk Hinrich
will be asked to do their best to cover for the departure of Deng, who led the team in points per game (19.0) and minutes (37.4).
But there is also the internal presence Deng provided, and even after playing one game without him, the Bulls are still trying to come to grips with his departure.
"It's still strange not having him around," Hinrich said. "Just coming in today, his locker is next to me here. I had a lot more room today but it was a little just getting nostalgic just looking at it seeing it empty for the first time here."
What happens with the roster next is anybody's guess. Both Hinrich and
Mike Dunleavy
have been mentioned as players who could be traded as the front office tries to revamp the roster in an effort to build a legitimate contender in years ahead.
"I think it's always a possibility; we know that as professional basketball players," Hinrich said. "We just try to focus on what we can control and go out there and do the best we can."
For now, everybody not working in the front office is merely focused on the next game. While attention is being paid to how the team covers the new vacancy on the wing, Thibodeau is considering a new look entirely.
Instead of using
Taj Gibson
to give
Joakim Noah
or
Carlos Boozer
a rest, the Bulls could start using a strategy that has all three of them on the court at the same time.
"Yeah, it becomes more of a power game," Thibodeau said. "It can work, and the challenge for us is to make it work. You look at what's the makeup of your team, you look at what the possibilities are and how you can try and take advantage of somebody.
"You might be able to beat a team because of the unique skillset of Joakim and Taj, where they can guard small guys, and you can make it be a power game, pound someone on the board. Maybe you can beat them with your rebounding."
With the sixth-best record in the Eastern Conference before play Thursday, the Bulls would be a playoff team if the season ended today. The reality, though, is that an improved Cavaliers team could knock them from playoff contention, meaning that Deng could help give his former teammates an early offseason.
"You recognize that he got traded within the division, but right now we're trying to stay wrapped up in what we have going on and what is right in front of us," Hinrich said. "I think when you stop doing that that's when you get slippage and don't play as well."
Keeping focused on the task at hand also helps to avoid thinking about the friend who is no longer enduring the day-to-day grind with them.
"On a personal level, you couldn't ask for anything more from a player or a person," Thibodeau said. "He's terrific. We'll remain friends for a long time. I appreciated everything that he gave to our team. I appreciated the type of person that he is. That's not going to change. He just happens to play for another team now. But we have to move on. Our friendship won't change."
November, 4, 2013
11/04/13
4:05
PM CT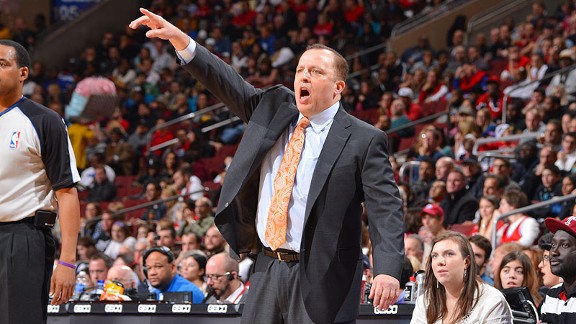 Jesse D. Garrabrant/NBAE/Getty ImagesTom Thibodeau brushed aside a report that management is interfering with his coaching.
DEERFIELD, Ill. --
Chicago Bulls
head coach Tom Thibodeau took a few seconds Monday to shoot down the latest report that a rift between him and the front office is widening.
On the New York Daily News website Saturday, a report said that "the Bulls' front office has been taking an active role in telling Thibodeau how he'll dispense minutes."
The mere mention of the report brought a smirk from Thibodeau.
"I don't know where you guys get that stuff," Thibodeau said. "Everything is fine. I have no comment on any of that stuff."
Concern over how Thibodeau hands out minutes is hardly a new concept.
Luol Deng
led the league last season with 38.7 minutes played, while
Joakim Noah
was tied for 15th with 36.8 minutes.
While minutes are slightly down this year after just three games, four starters are still over 32 minutes, including
Jimmy Butler
, who has logged a team-leading 36.7 minutes.
Derrick Rose
, in his return after a year off because of knee surgery, has averaged a hefty 33.7 minutes. The New York Knicks'
Carmelo Anthony
leads the league with 41.3 minutes after his team's first three games.
If the Bulls' front office is asking for less minutes, Thibodeau has barely complied.
January, 7, 2013
1/07/13
7:52
PM CT
[+] Enlarge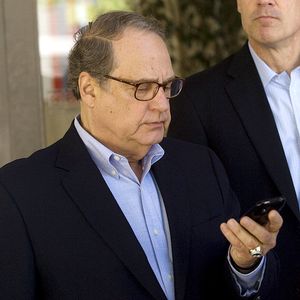 AP Photo/Phil LongBulls chairman Jerry Reinsdorf is a nominee for the Naismith Memorial Basketball Hall of Fame.
CHICAGO -- After winning six championships in his nearly three decades as chairman of the
Chicago Bulls
, Jerry Reinsdorf was nominated to the Naismith Memorial Basketball Hall of Fame for 2013.
If he is elected, it will be the fifth straight year someone with Bulls ties will be enshrined in Springfield, Mass.
"I am both surprised and humbled by the nomination," Reinsdorf said in a statement to the team's website. "To be even mentioned in the company of current members of the Naismith Memorial Basketball Hall of Fame is an honor."
The finalists will be announced over the All-Star weekend in February and then the class will be announced during the NCAA Final Four in April.
August, 14, 2012
8/14/12
12:07
PM CT
By
Staff
| ESPNChicago.com
The Chicago Bulls named Brian Hagen as their assistant general manager on Tuesday.
Hagen spent the last nine seasons with the New Orleans Hornets, working most recently as the team's director of player personnel.
Read the entire story.
May, 14, 2012
5/14/12
6:09
PM CT
By
Roman Modrowski
| ESPNChicago.com
In reflecting for a Yahoo! Sports article on the obstacles he overcame in leading the Clippers to the second round of the playoffs for just the second time since the franchise moved to Los Angeles, coach Vinny Del Negro took a shot at his former employer, the Chicago Bulls.
Read the entire story.
March, 30, 2012
3/30/12
11:55
PM CT
CHICAGO -- Tom Thibodeau insisted after Friday night's win over Detroit that he's "fine" with his contract status and isn't concerned the
Chicago Bulls
still haven't picked up his option for next season.
ESPN.com's Marc Stein reported earlier Friday afternoon that "Thibodeau associates privately insist the NBA's reigning Coach of the Year is dismayed he hasn't been offered a more lucrative extension after signing a modest two-year contract with a team option when he joined the Bulls."
Read the entire story.
February, 13, 2012
2/13/12
5:58
PM CT
The assumption by seemingly everyone was that Michael Reinsdorf would one day assume leadership of the Chicago Bulls, the Chicago White Sox or both.


Everyone but Michael, that is.


"I never wanted to go to my father and say, 'Please, let me get involved in the organizations,' " Michael Reinsdorf said in an interview this week, a year and a half after taking over as president and chief operating officer of the Bulls. "I prefer the way it kind of evolved."

Read the entire column.
June, 21, 2011
6/21/11
7:27
PM CT
WASHINGTON -- U.S. Supreme Court Justice Ruth Bader Ginsburg, actress Marlo Thomas and sports team owner Jerry M. Reinsdorf are among the people being honored with a national prize for public service.
The recipients of the 2011 Jefferson Awards will accept their honors Tuesday evening at the National Building Museum in Washington and Wednesday in New York City. The recipients of most of the 18 awards, dubbed a "Nobel Prize" for public service, are not celebrities. They include the founder of a nonprofit that works to end childhood hunger and a brother and sister who have distributed phone cards to U.S. troops overseas.
Read the entire story.