Chicago Bulls:

Infighting
May, 4, 2010
5/04/10
11:52
PM CT
DEERFIELD, Ill. -- The usual pep was out of
Vinny Del Negro
's step on Tuesday afternoon.
It's not hard to figure out why. Getting fired will sap all the joy out of you quickly.
Still, having covered Del Negro almost every single day for seven months the revelation was a bit disconcerting.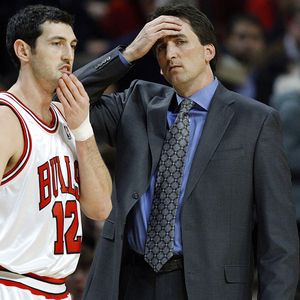 AP Photo/Nam Y. HuhEven at the end of his time in Chicago, Vinny Del Negro never publicly snapped amid all the chaos of the season.
The NBA lifer was almost always the most positive guy in the room. He always figured that he could turn lemons into lemonade. His belief was that if he kept working hard he would find a way to succeed and push past whatever obstacle stood in his path. That's what he continually preached to his team. That's what he continually preached to the media. And there's no doubt that's what he continually preached to himself even at his lowest points.
Does that make up for the fact that he was a mediocre coach who still seemed to struggle at times with certain intricacies of the game? Of course not. But it should shine a little more light on the person whom many didn't get to see on a daily basis.
No matter what you thought of Del Negro as a coach you can't question that work ethic. He wanted to succeed badly. He wanted to prove to everyone who had ever doubted that he could be successful as a head coach that they were wrong. He enjoyed the day-to-day grind that comes with being a head man in the NBA. That's why the scene, albeit one that everyone seemed to know was coming for months, was so strange to see on Tuesday. It was the first time I can recall seeing Del Negro wearing an article of clothing without a Bulls logo on it. He seemed kind of lost as he briefly spoke to the media in front of the Berto Center and then continued the process of packing and wheeling out boxes from his office.
After all the speculation that he endured over the past few months regarding his job status, the realization that he wouldn't be driving into work at the Berto Center anymore finally must have hit him.
It was over. There would be no more chances to prove that he could succeed in Chicago.
But there is one thing that Del Negro can hold his head high about, and it's one thing I don't think he is getting nearly enough credit for as people deconstruct the short Vinny era piece by piece.
Through all of the ups and downs that he dealt with this season, never once did he publicly go after the organization. He handled himself professionally at seemingly every turn and refused to take any shots at his employers even when it became clear that he wasn't going to be part of the team's future. That didn't change on Tuesday, either, even after the news of his demise became official.
For all the shortcomings Del Negro might have had as a coach you have to give him credit for calmly dealing with all the scrutiny that came his way day after day. When the red light came on and it was time to go to work his demeanor never changed. He could have snapped at any point, he could have decided that he had heard enough and blasted the Bulls for not offering some show of public support, but he never did. That will serve him well down the line no matter what he decides to do from here.
As for what the future holds for the 43 year-old at this point is anyone's guess. Despite the public handling of his Chicago tenure, he certainly will have to answer questions as to why things went so bad so fast while he was coaching the Bulls. He'll have to deal with question after question about why his relationship with the front office deteriorated to the point of no return in just two years. But knowing Del Negro, that is a challenge he won't mind tackling. He poured a lot of time and effort into coaching, and he doesn't want to abandon the dream of becoming more than just a mediocre one just yet.
As he said over and over this season, he'll keep working. The thought of going out on this kind of note eats at the core of who he is. That's why by the time almost everyone else had cleared out of the Berto Center on Tuesday, he had already slipped back into his familiar black Bulls' work clothes, loading up his stuff for the next new beginning.
The jury's still out as to whether Del Negro can ever be a solid head coach in this league, but there is no debating that he already has mastered one key character requirement that all good coaches must have during an NBA season: He can roll with the punches.
May, 4, 2010
5/04/10
2:24
PM CT
By ESPNChicago.com
ESPNChicago.com

DEERFIELD, Ill. -- Chicago Bulls vice president of basketball operations John Paxson apologized on Tuesday for a physical altercation he had with Vinny Del Negro, who was fired as Chicago's head coach on Monday night.
Bulls general manager Gar Forman held a news conference Tuesday to discuss Del Negro's firing, and he said the altercation on March 30 after a game against the Phoenix Suns had nothing to do with Del Negro's dismissal.
After the game, Paxson confronted Del Negro about playing Joakim Noah more minutes than was allowed as he recovered from plantar fasciitis. There are conflicting reports as to whether Paxson or Del Negro was the aggressor.
Read entire story.
May, 4, 2010
5/04/10
2:21
PM CT
By ESPNChicago.com
ESPNChicago.com

DEERFIELD, Ill. -- Moments after Chicago Bulls brass discussed the firing of head coach Vinny Del Negro on Tuesday, Del Negro stood outside the Berto Center practice facility and thanked the organization.
"I just want to come out and say how grateful I am to [chairman] Jerry Reinsdorf and the Chicago Bulls," Del Negro said. "They have a lot of great people in the organization.
"I'd be remiss not to say how grateful I am to the players, as hard as they worked and developed. I feel very strongly that the organization is in a much better place now than it was two years ago when I started. I'm proud of the things we accomplished as a team. I'm proud of the players though, they put the work in, and they have a bright future."
Read entire story.
April, 28, 2010
4/28/10
12:22
AM CT
CLEVELAND --
Vinny Del Negro
's messages may not have always gotten through to his team this season, but his personal mantra certainly did on Tuesday night:
Keep fighting.
That's what the
Chicago Bulls
did throughout Tuesday night's game, but, as was the case numerous times throughout the season, they didn't have enough talent in the end to get over the hump as the
Cleveland Cavaliers
ended their season with a 96-94 victory in Game 5.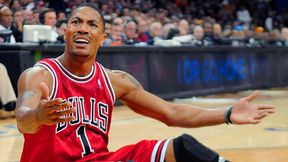 Jason Miller/US PresswireDerrick Rose's 31 points weren't enough against the Cavaliers.
Over time, nobody will remember that though. The only thing people will remember about Tuesday's game is that it was in all likelihood Vinny Del Negro's last as Bulls head coach. If it was in fact Del Negro's last game, he can hold his head up high knowing that his team hung tough against one of the best teams in the NBA once again.
He didn't seem too concerned about his future when the topic on everyone else's mind popped up shortly after the game ended.
"To be honest with you, I don't even think about that stuff," Del Negro said when asked about his future. "I enjoy the experience, I enjoy the competitiveness. "It's about the players, to me. I'm proud of the guys. I'm proud of the way they stuck together.
"All those things will be dealt with after the season and decisions will be made. I can't worry about that. I don't worry about that, to be honest with you. How anybody wants to judge that, they'll judge it and we'll move on. I've been too fortunate in my career and my life and everything to worry about those things."
Bulls general manager Gar Forman announced after the game that the team wouldn't make a decision on Del Negro's future until at least this weekend once owner Jerry Reinsdorf comes back from vacation.
Rose can't rescue Bulls
Rose scores 31 but struggles when guarded by Delonte West.
Production by defender

| | | |
| --- | --- | --- |
| | vs West | vs Others |
| FG | 1-8 | 11-19 |
| Fouls Drawn | 1 | 4 |
| Turnovers | 2 | 0 |
| Points | 6 | 25 |
That's just delaying the inevitable, though.
While none of the players came right out and said it, there was definitely a feeling in the Bulls locker room that a new coach would be in place sooner rather than later.
"[He] could be back [he] could be not," forward
Luol Deng
said. "You got to wait til they say coach is back next year, then coach is back next year. If not, he's not. It's just the same as guys getting traded, guys going, it's just a business. And as a player you got to stay out of that. It's up to [exective vice president of basketball operations
John Paxson
] and Gar."
Whether the players enjoyed playing for Del Negro this season has been a hot topic of conversation all year, but clearly they respected the way he carried himself throughout the ups and downs of this tumultuous season.
"I think he's been through a lot as a coach," Bulls center
Joakim Noah
said. "He's done a very good job here. He's somebody who's always been on my side, always supported me. I appreciate everything that he's done for me as a player. He's the one who gave me my opportunity to play on the court. I just really appreciate that."
Bulls guard
Kirk Hinrich
echoed some of Noah's sentiments.
"The thing about [Del Negro] is he fits well with a lot of the guys we have," he said. "We've got kind of a loose group, and Vinny kind of lets you do your thing and be yourself so we'll see what happens."
Given what has transpired this season within the organization, it's ironic how similar some of those answers are to what we've heard from the organization over the past few months. None of the players wanted to take any shots at Del Negro, but there weren't a lot of any ringing endorsements either.
The only player who has continuously stated over and over that he would like Del Negro to be back is
Derrick Rose
, and he did that once again on Tuesday night.
"I would vote yes," when asked if he wanted Del Negro to be retained. "That's a guy where we both came in. He let me have my freedom, but still coached me and let me make my mistakes. I watched film with him almost every day. He taught me a lot just on defense and on offense and what I was supposed to do. The decision isn't up to me. It's up to the front office, so I'm just going to let them worry about that and just deal with it."
Even with Rose's support, Del Negro's future appears to be certain. He can take solace in knowing that his players never stopped fighting for him on the floor, even if the people above him within the organization probably did a long time ago.
April, 16, 2010
4/16/10
11:29
AM CT
By ESPNChicago.com
ESPNChicago.com

The Chicago Bulls have to "clean up" the problems within the organization before they can expect to attract a high-profile free agent and potentially a new head coach, said former Dallas Mavericks coach and current ESPN analyst Avery Johnson.


Conflicting reports came out this week about a physical altercation between executive vice president of basketball operations John Paxson and head coach Vinny Del Negro after a March 30 game. One report said Paxson initiated the contact and another claims Del Negro was the aggressor in an argument over playing time for Joakim Noah, who was recovering from plantar fasciitis in his left foot.


Whatever the reality, Johnson said the public perception of the organization is working against it in recruiting.

Read the full story.
April, 15, 2010
4/15/10
4:43
PM CT
By ESPNChicago.com
ESPNChicago.com

While a Vinny Del Negro-John Paxson divorce might seem inevitable once the season ends, former coach and current television analyst Jeff Van Gundy believes the Chicago Bulls should stop and think about what they have accomplished this season before making changes.


With conflicting reports about a physical confrontation between Del Negro and Paxson on March 30 surfacing the past two days, it appears the tension between the coach and executive have boiled over. But Van Gundy said the front office and coaching staff could use some stability.


"I know John Paxson -- I don't know what happened in this instance -- but he's a good man," Van Gundy said Thursday on "The Waddle & Silvy Show" on ESPN 1000. "Gar Forman is a good guy. I think they are both very talented people, and I think Vinny is as well. Before thinking about what's next they should think about what they have in each other because they have some pretty good young players. With another strong draft and a free agent, keep some stability, and they're going to keep getting better. Derrick Rose and Jo Noah are the real deal. These guys are competitive guys. They just need some wingmen who have some more scoring ability."

Read the full story.
April, 14, 2010
4/14/10
5:02
PM CT

By Gene Wojciechowski
ESPNChicago.com
Archive
[+] Enlarge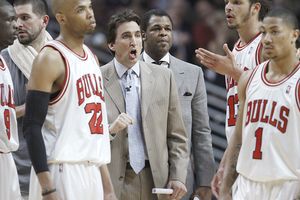 AP Photo/Nam Y. HuhVinny Del Negro has the Bulls on the verge of a second straight trip to the playoffs.
Don't do it, Pax.


I know you want to. I know it's the easy thing to do. I know you probably made up your mind months ago. But firing Vinny Del Negro would be a mistake that will come back to haunt you and the Chicago Bulls.


Nine times out of 10, I'm a John Paxson guy. I liked the way he played, liked the way he did color commentary, and generally have liked the way he's run the Bulls as general manager and now executive vice president of operations.


But Paxson and Del Negro are almost certainly headed to basketball divorce court because of supposed irreconcilable differences. Dumb move. Find a marriage counselor.
April, 14, 2010
4/14/10
2:34
PM CT

By Melissa Isaacson
ESPNChicago.com
Archive
Chicago Bulls coach Vinny Del Negro initiated the physical contact with executive vice president John Paxson during an altercation on March 30 -- contrary to a report that painted Paxson as the aggressor -- a source close to the situation told ESPNChicago.com.


Yahoo Sports reported Tuesday that Paxson grabbed Del Negro by the tie, jabbed him twice in the chest and seemingly challenged him to a fight because Del Negro exceeded the time limit management set for Joakim Noah, who has been recovering from plantar fasciitis in his left foot. In Yahoo Sports' report it was suggested that Del Negro didn't retaliate against Paxson during the altercation because he was worried the Bulls could void his contract.


However, a source close to the situation disputed who initiated that argument, and said that it wasn't the first altercation Del Negro has had with management. The source said that Del Negro and Bulls general manager Gar Forman had an altercation in Forman's office that was similar, but did not give details.

Read the full story.
April, 14, 2010
4/14/10
12:23
PM CT

By Jon Greenberg
ESPNChicago.com
Archive
CHICAGO -- My only unanswered question right now: If John Paxson tried to bully Vinny Del Negro over Joakim Noah's minutes, did he send Gar Forman in first?
After all, Forman, the team's general manager with Paxson moving up the hierarchical ladder to VP/Being the Boss, is like the Proxy Pax.
I mean, we can all imagine this happening. Tempers run hot, two competitors, a frayed relationship. It all adds up.
At least this explains the complex phone tree necessary to determine if Noah could get a minute extension in the New Jersey loss last week. Everyone wondered why Lindsey Hunter had to ask Forman, who had to ask Paxson's permission to get Noah more time in a crucial game. What a disc-organization!
Just before the biggest game of the season, well, until Wednesday, the story buzzing around the United Center, like Ante Robinson on Red Bull, was a Yahoo Sports story revealing that Paxson physically confronted Del Negro on March 30 over playing Noah too many minutes in the wake of his plantar fasciitis injury.
With one story, the Bulls front office looks like a leaky ship with no one steering. A national broadcast that should have focused on the brilliance of Derrick Rose, the resiliency of Noah and the guts of Kirk Hinrich, was turned into a soap opera guessing game. All the attention made the Bulls organization look like a joke.
Click here to read the entire story.
April, 14, 2010
4/14/10
1:12
AM CT
[+] Enlarge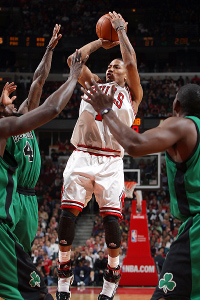 Gary Dineen/NBAE/Getty ImagesDerrick Rose said he wasn't aware of the rift between John Paxson and Vinny Del Negro.
CHICAGO -- Vinny Del Negro always has attempted to be straightforward with the media, but on Tuesday night even he couldn't call things exactly as he saw them.


Or maybe he didn't want to.


Either way, Del Negro was at the heart of a juicy controversy regarding a Yahoo Sports report that he and Executive VP John Paxson got into an altercation after a March 30 game regarding Joakim Noah's minutes.


The story broke just as the Bulls were about to take the court against the Boston Celtics with their playoff lives at stake. And after the Bulls' 101-93 victory cut their magic number to clinch a playoff berth to one, victory was hard to savor in the winning locker room. Some players took the news in stride, while others took an almost angry tone to their comments after the game.


"I think that that's none of your guys' business," Bulls center Joakim Noah said. "Things happen in a team and an organization. But that has nothing to do with you guys. We deserve not to have these problems talked about right now. I think that we're fighting as players. We're giving everything we got. And I think that's the only thing that matters.


"I know you guys have to sell newspapers and all that, but I think it wouldn't be fair to us because I think we're giving everything we got and putting it all out on the line to try to make these playoffs and do something special."


Whether or not the Bulls make the playoffs, their season will be remembered to some extent for the turmoil in Del Negro's final days. Turmoil that most players, like Derrick Rose, either didn't want to admit knowing about, or didn't want to talk about at all.


"I'm sure it happens in a lot of teams," Bulls forward Luol Deng said. "You just don't hear about it. We just have a snitch. Whoever told you guys we got to find out who it is."


Deng was chuckling as he talked about a possible snitch, but with all the things that the Bulls have dealt with this season, it does seem almost fitting that the team can't even fully enjoy a victory when it gets the chance.


"We went through this before," Deng said. "Vinny had a time during the season when we heard he was going to get fired. As players we kept playing hard. We play hard for him. And what the organization does is what they do. I've been here. I've seen [Scott] Skiles, Jim Boylan. Those decisions are not up to the players. Our job is to show up and play hard [for] whoever's in charge."


For his part, Del Negro looked simply worn out as he stood in front of the podium after one of the biggest victories in his Chicago tenure. "This is the NBA," he said. "When things happen, whether it's practice or in different situations, things are going to come out. It's just part of the deal. You handle it. You're professional with it. You move forward. You show great leadership towards your team. And you just go about your business. Things happen. There's a lot of emotion involved in this game. There's a lot of things that happen on a daily basis.


"But, as long as everyone's pulling in the same direction for the ultimate goal to continually improve. Find a way to get to the playoffs. Help these younger guys learn the game and get better at it, which I feel we've done and develop them, then there's a lot of positives to take out of it too. Every opportunity, every challenge, I think makes you better in the long run. All those things we'll handle internally and we'll move forward."