January, 28, 2015
Jan 28
6:10
PM CT

By Nick Friedell
ESPNChicago.com
Archive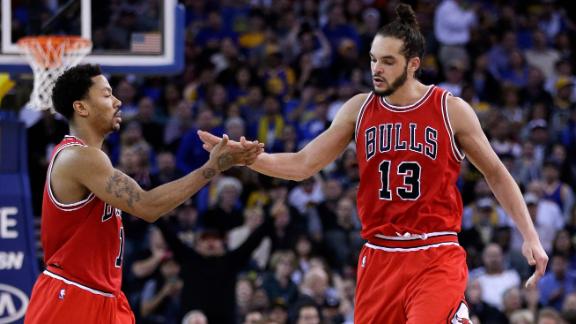 SAN FRANCISCO -- As Tuesday's shootaround came to an end and
Chicago Bulls
head trainer Jeff Tanaka wrapped big ice packs around
Joakim Noah
's knees, the All-Star center sat on a folding chair on the edge of the University of San Francisco's gym and launched into a familiar refrain regarding the knee and ankle injuries that have caused problems for him all season.
"I feel like I'm 100 percent," Noah said. "I feel good health-wise."
It was easy to be skeptical of this answer given that Noah said the same thing several times already this season. The difference between Tuesday's proclamation compared to all the others is that Noah's performance on the floor finally backed up his words.
He scored 18 points, grabbed 15 rebounds and dished out six assists in Tuesday's impressive win over the
Golden State Warriors
. Aside from the numbers, the biggest difference in Noah's game was on the defensive end. He moved better laterally than he had all season, covering the floor all night against a quick, perimeter-oriented squad.
[+] Enlarge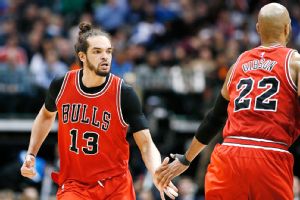 AP Photo/Tony GutierrezIf the Bulls get the kind of play out of Joakim Noah they received against Golden State, then the future looks bright indeed for Chicago's postseason hopes.
"I thought Jo was great [Tuesday]," Bulls coach Tom Thibodeau said. "Great. His best game of the year. He's got a lot of pride. The last three or four days he's been working like crazy after games, before practice; he really played a great game. The extra work that he put in and the way he played was terrific."
Noah's movement around the floor was one of the biggest differences in the game. His play was a reminder of just how important he is for a Bulls squad that has championship aspirations. The Bulls need
Derrick Rose
to lead them offensively in order to reach their goals, but Noah is just as important on the defensive end. If he plays the way he did on Tuesday, they have a chance to win a title. If he plays the way he's been playing throughout much of the season, they do not.
"I think it was the first game we both played well, at that level," Bulls big man
Pau Gasol
said. "We kept a lot of balls alive, we made plays, we both had big games, huge contributions, so it was good to see. I think Jo needed a game like this to get himself going and get a little more confidence in himself, so it's been great."
Noah has always been the type of emotional player who thrives off the success of his teammates. But as Gasol alluded to, a game like Tuesday's, against a team as hot as the Warriors, could do wonders for Noah's game moving forward. Up to this point in the season, Noah has looked like a shell of the player who won the defensive player of the year award a season ago. He looked a step slow and was noticeably frustrated on and off the floor throughout the season. His team had success -- but he couldn't find much for himself.
After watching him contribute on all levels Tuesday night, his teammates and coaches are hoping this is a sign of things to come.
"I don't want to say anything crazy and then stink it up the next game," Noah said of his performance. "Just got to keep working at it."
If Noah continues playing at the the high level he displayed on Tuesday, the Bulls' defensive woes should become less of an issue.
Noah is still trying to find his way with Gasol on the floor, but the pair continues to learn more about each other each game and is slowly starting to find a rhythm. That pacing is contingent on Noah continuing to play like his old self. He remains confident that the time is coming when he'll be ready before the Bulls' postseason run begins, but nobody is quite sure whether his body will hold up for five more months of work.
If it does, he might look back on Tuesday as the turning point of one of the most up-and-down seasons of his career.