Chicago Bulls:

Kirk Hinrich
January, 9, 2014
Jan 9
2:46
PM CT

By Doug Padilla
ESPNChicago.com
Archive
DEERFIELD, Ill. -- Three days after
Luol Deng
was traded to the
Cleveland Cavaliers
, the
Chicago Bulls
are still trying to pick up the pieces.
Head coach Tom Thibodeau acknowledged Thursday there are multiple strategies to cover for minutes now available with Deng's departure, and that their look in Tuesday's victory over the
Phoenix Suns
won't necessarily be the team's identity moving forward.
[+] Enlarge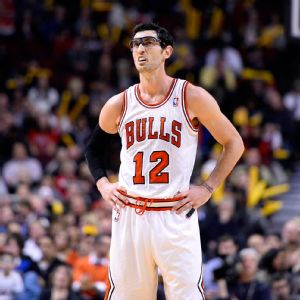 Mike DiNovo/USA TODAY SportsKirk Hinrich and the Bulls have a big hole to fill with Luol Deng off to Cleveland.
"We got to move on," Thibodeau said after practice Thursday in advance of Friday's game at Milwaukee. "That's the big thing. That's the nature of this league. Just get ready for the next game."
Jimmy Butler
,
Tony Snell
and even
Kirk Hinrich
will be asked to do their best to cover for the departure of Deng, who led the team in points per game (19.0) and minutes (37.4).
But there is also the internal presence Deng provided, and even after playing one game without him, the Bulls are still trying to come to grips with his departure.
"It's still strange not having him around," Hinrich said. "Just coming in today, his locker is next to me here. I had a lot more room today but it was a little just getting nostalgic just looking at it seeing it empty for the first time here."
What happens with the roster next is anybody's guess. Both Hinrich and
Mike Dunleavy
have been mentioned as players who could be traded as the front office tries to revamp the roster in an effort to build a legitimate contender in years ahead.
"I think it's always a possibility; we know that as professional basketball players," Hinrich said. "We just try to focus on what we can control and go out there and do the best we can."
For now, everybody not working in the front office is merely focused on the next game. While attention is being paid to how the team covers the new vacancy on the wing, Thibodeau is considering a new look entirely.
Instead of using
Taj Gibson
to give
Joakim Noah
or
Carlos Boozer
a rest, the Bulls could start using a strategy that has all three of them on the court at the same time.
"Yeah, it becomes more of a power game," Thibodeau said. "It can work, and the challenge for us is to make it work. You look at what's the makeup of your team, you look at what the possibilities are and how you can try and take advantage of somebody.
"You might be able to beat a team because of the unique skillset of Joakim and Taj, where they can guard small guys, and you can make it be a power game, pound someone on the board. Maybe you can beat them with your rebounding."
With the sixth-best record in the Eastern Conference before play Thursday, the Bulls would be a playoff team if the season ended today. The reality, though, is that an improved Cavaliers team could knock them from playoff contention, meaning that Deng could help give his former teammates an early offseason.
"You recognize that he got traded within the division, but right now we're trying to stay wrapped up in what we have going on and what is right in front of us," Hinrich said. "I think when you stop doing that that's when you get slippage and don't play as well."
Keeping focused on the task at hand also helps to avoid thinking about the friend who is no longer enduring the day-to-day grind with them.
"On a personal level, you couldn't ask for anything more from a player or a person," Thibodeau said. "He's terrific. We'll remain friends for a long time. I appreciated everything that he gave to our team. I appreciated the type of person that he is. That's not going to change. He just happens to play for another team now. But we have to move on. Our friendship won't change."
December, 10, 2013
12/10/13
9:00
AM CT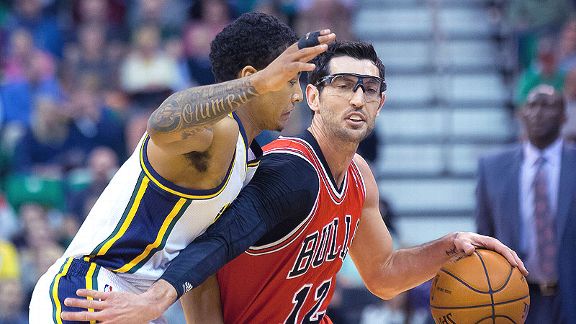 Russ Isabella/USA TODAY SportsKirk Hinrich feels fortunate to have been healthy so far this season.
DEERFIELD, Ill. -- Out of all the injuries the
Chicago Bulls
have suffered this season, the fact that
Kirk Hinrich
has remained healthy may be the biggest surprise of all. The veteran point guard, who missed 30 games in the regular and postseason combined last year because of various injuries, has played in every contest so far for a deflated Bulls team that has lost
Derrick Rose
yet again to season-ending knee surgery.
"I'm happy," Hinrich said after Monday's practice regarding his good health. "That was one of the biggest keys for me coming into the season was staying healthy. It's still early. But, knock on wood, things have gone pretty good so far."
Hinrich, who has missed 58 games over the last three seasons, said he has tried to switch up his offseason routine a little bit to keep his body in order.
"I've tried to do as much as I could," he said. "And I feel like I was listening to the right people as far as doing things for my body. It might not have been much of a pound-it-out, real high-intensity summer. More just keep feeling good on the core and in the weight room, just doing all my stretching and stuff like that. I tried. Last year I thought I was as good and prepared as I was and I had a bunch of freak injuries so a lot of it's just luck."
Luck has not been on the Bulls' side much so far this season, but Hinrich is hopeful his team can get back on track starting Tuesday night against the
Milwaukee Bucks
.
"It's challenging but I think we've handled it OK," he said of the changing lineups. "It happens in this game. The season, it's a long grind, and there's going to be guys getting hurt. Every team deals with it and you just try to deal with it the best you can."
What's next:
The Bulls face the Bucks on Tuesday night at the United Center. It will be the first of two matchups between the two teams this week. The Bulls play the Bucks in Milwaukee on Friday night.
November, 21, 2013
11/21/13
9:26
PM CT
DENVER --
Mike Dunleavy
, Jr. will take
Jimmy Butler
's spot in the starting lineup. Bulls head coach Tom Thibodeau made the annoucement before Thursday night's game against the
Denver Nuggets
.
"I just thought it through," Thibodeau said. "I like both guys. I don't want to disrupt the second unit. So it allows us to get back to our second unit."
It also allows for Thibodeau to continue to use
Kirk Hinrich
late in games alongside
Derrick Rose
-- a lineup Thibodeau likes to use because both players can handle the ball and work well together.
"They're very comfortable playing off each other," Thibodeau said. "So I like the look that it gives us. It's a different look."
It's a look that Thibodeau says he spent a lot of time studying before taking the job. It's also the reason why the Bulls pursued Hinrich so strongly last summer. They like the fact that Hinrich and Rose can play pick-and-roll basketball with each other.
"When I got hired and I watched their games from the previous year I knew that from when I was in Boston and they played together, how they functioned on the floor together," Thibodeau said. "So I felt good about that and I knew they had a comfort level with each other, both from watching and coaching on the opposing team and also from talking to both of them. There's a big comfort level. Both guys are comfortable obviously with the ball and without the ball."
When it comes to Rose, Thibodeau expects his star point guard to play increased minutes over the next couple weeks while Butler recovers from a painful turf toe injury.
November, 20, 2013
11/20/13
9:17
PM CT
DENVER --
Kirk Hinrich
and his teammates know what they'll be missing without
Jimmy Butler
in the fold for the next few weeks while he recovers from turf toe.
[+] Enlarge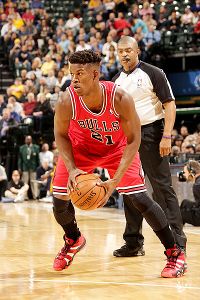 Ron Hoskins/NBAE via Getty ImagesWhat the Bulls might miss most as Jimmy Butler recovers from turf toe is his energy and his versatility on defense.
"His energy," Hinrich said before Wednesday's practice. "His versatility defensively, he can guard so many different positions. He's one of our better athletes on the wing so really just his verstility. He does so much for us."
The Bulls are confident they'll be able to win games without Butler, but Hinrich is right in his assessment. What the Bulls will miss most is the fact that Butler was able to guard multiple positions at a high level. Hinrich, the most likely choice to start in Butler's place, is a solid defender, but he doesn't have the length or athleticism Butler possesses.
Mike Dunleavy
is a better shooter than either player, but he has struggled on the defensive end throughout the season.
No matter what decision Tom Thibodeau makes before Thursday night's game, both players seem up to the challenge and have been in the league long enough to know what the veteran coach expects from them.
"Yeah, I think we have guys to plug in," Dunleavy said. "Fill roles on kind of a different nightly basis. I know Kirk and myself will do whatever helps the team win and that fits right in to when someone goes down with an injury."
Thibodeau has always stuck to the mantra that the Bulls have "more than enough" components to win. The key will be how he handles Hinrich's minutes over the four-games-in-five-nights stretch. Hinrich, who has dealt with multiple injuries over the past few seasons, appeared to be getting in a rhythm in which he was playing 25-30 minutes a game instead of 35-40 as he did last season. Thibodeau must be cautious with Hinrich, given that he will likely use him a lot as a point guard playing
Derrick Rose
off the ball.