December, 14, 2014
Dec 14
9:28
PM CT

By Nick Friedell
ESPNChicago.com
Archive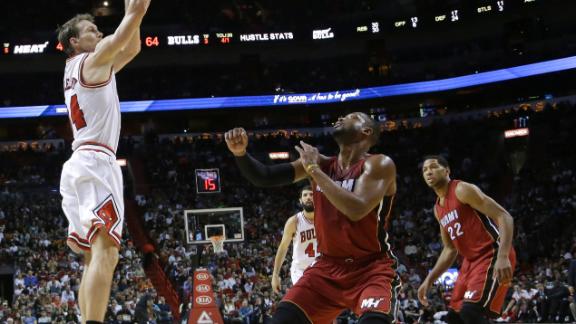 MIAMI --
Luol Deng
made big plays and provided great moments throughout much of his 9½-year tenure with the
Chicago Bulls
, but it was one of his last decisions as a member of the Bulls that may provide the biggest dividends for the organization in the future. That's because when Deng decided to reject the Bulls' three-year, $30 million extension in January, Bulls GM Gar Forman and executive VP
John Paxson
made the swift decision to deal Deng -- to the
Cleveland Cavaliers
.
As much as the organization respects Deng, and as much he endeared himself to head coach Tom Thibodeau and his teammates, especially in the past few seasons, that was the right decision for Forman and Paxson to make. That was even clearer Sunday night as the Bulls faced off against Deng for just the second time, the first as a member of the
Miami Heat
, in a 93-75 win.
[+] Enlarge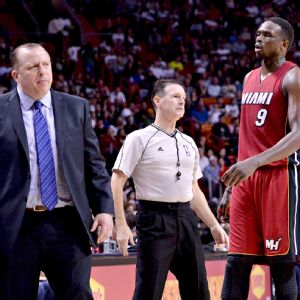 Steve Mitchell/USA TODAY SportsBulls coach Tom Thibodeau admires Luol Deng but his team may be better off without him.
Deng and his agents felt disrespected by what they considered a low offer from the Bulls, but in hindsight Forman and Paxson pegged Deng's value on the open market. The trade happened shortly after the contract rejection -- with Deng ultimately signing a two-year deal in Miami for $20 million later in the summer. But because of Forman and Paxson's decisiveness, they actually made themselves even better without the All-Star forward on several levels.
In the short term, the cap space money that was freed up in the Deng deal, which brought back Andrew Bynum's contract -- which was quickly waived -- took the Bulls out of the luxury tax. That's important given the fact that if they kept Deng they would have been over the luxury tax threshold for the second straight year and would have faced the punitive repeater tax moving forward.
From a broader perspective, the Deng deal, coupled with amnestying the final year of
Carlos Boozer
's contract, allowed the Bulls to chase hard after
Carmelo Anthony
, and ultimately, end up with
Pau Gasol
in the 2014 free-agent sweepstakes. Gasol has been arguably the Bulls' best all-around player over the first two months of the season, averaging a double-double and becoming a huge presence down low for Thibodeau. Deng was, and still is, a skilled offensive player, but Gasol gives the Bulls a back-to-the-basket presence that Deng was never going to provide on the blocks.
Deng's decision also gave
Jimmy Butler
more of an opportunity to showcase what he can do. Butler has taken over Deng's role as Thibodeau's workhorse, racking up 21 points a game and taking the challenge of guarding the opposition's best perimeter player each night. After spending countless hours in the gym over the summer, Butler's game has reached a new level offensively. At 25 and in just his fourth year in the league, he doesn't have the mileage on his legs that Deng, 29, has piled up after 10 seasons in the league.
Deng's decision also helped pave the way for the Bulls to land two promising rookies.
Nikola Mirotic
still may have come over to Chicago on the mid-level exception, but the Bulls may not have chased as hard after
Doug McDermott
in a draft-day deal if they knew Deng was in the fold. While McDermott hasn't panned out up to this point, and is now expected to be out for 4-6 weeks after arthroscopic surgery on his right knee, the Bulls are still confident he will contribute at some point.
Many fans voiced displeasure with the Deng move last season because they thought the Bulls, who got Bynum, one potential first-rounder from Sacramento and two future second-round picks, did not get enough in return for the former All-Star. But with Sacramento appearing to get a little better behind the play of
DeMarcus Cousins
and
Rudy Gay
, that pick, which is top-10 protected for the next three seasons, looks a little bit better.
Deng said before Sunday's game that it wasn't difficult for him watching his former team, and said that he "had to move on," but it was clear from all parties involved that Sunday's affair was a little different because of the circumstances.
"I think it's always going to be strange for me facing the Bulls," Deng admitted. "Obviously because it's Chicago, but just the guys on the team. It's still really the same guys. You just got Boozer, Boozer's gone, now it's Gasol instead. But most of the guys it's still really the same faces. It's more than a game with those guys. So when I see them it's friends, it's family, it's guys that I've done a lot with. [They] know a lot about me, I know a lot about them."
The cold reality of the business of basketball is that Forman and Paxson knew that if Deng wasn't going to sign for their price, it was time to move on. They just didn't realize how lucky they got when Deng said no to their offer. The Duke alum is still a good player, and his presence is missed by his teammates, but he is on the downside of his career. With Gasol in the fold, and Butler growing into a star, the Bulls have a better chance of getting to their ultimate goal of winning a championship. Maybe that's why Thibodeau said it wasn't strange for him to coach against one of his all-time favorite players in Deng.
"I know the type of competitor he is," Thibodeau said. "We want to beat them, I know he wants to beat us. I think you guys know how I feel about him. I've got great respect for him, not only as a player, but as a person. His story is an incredible story and to be where he is, it's remarkable. Just the way he carries himself, he's a great guy."
But the Bulls had to take their personal feelings out of this decision, and they are better off for doing so. Deng's numbers have slid slightly in Miami as the Heat have struggled to string wins together. The Bulls, who have now won three straight games, appear poised to make a run towards the top of the Eastern Conference standings.
As much as the Bulls' players acknowledge how strange it is to face the man many considered to be like a brother, they understand the business of basketball. While nobody in the locker room wants to admit it, the Bulls are in a better place without Deng than they would be with him.
"Yeah, it's weird," Bulls guard
Derrick Rose
said of facing Deng, the first time he had done so in his career. "Especially with me and Lu and I think a couple of other guys on the team, we really have relationships with him off the court. Hanging around, going out to eat with one another, going to each other's house, stuff like that you tend to miss. But this is a business and you can do that in the offseason."