Chicago Bulls:

Salary cap
October, 1, 2010
10/01/10
10:59
AM CT
DEERFIELD, Ill. -- For the first time since being named COO and President of the Chicago Bulls, Michael Reinsdorf met the media Thursday at the Berto Center and touched on a number of different topics. I was impressed with the way he handled himself, and after hearing some of his views about the team and the world of sports in general, I have no doubt that Bulls fans will enjoy getting to know him as well. He knows he's in a fortunate situation and he understands how lucky he is to be in the position that he's in.

"It's not like the Bulls are broke, that's for sure," he said at one point. "So I guess it's a little easier situation than people in other situations are similar to me."

Here are a few of the other highlights from the session:

On what his role with the team: "It's exciting for me because it gives a definitive situation for what I'm doing. I've been involved a lot with what was going on in the organization the last couple years, but in no definitive role. I've been going to the NBA league meetings as an alternate NBA governor, but again, it was kind of up in the year, like, 'What's my role?' So this now is clear what my role is, and at this point it's to make sure it continues on its course and we continue to be successful."

On a possible succession plan with his father, Bulls owner, Jerry Reinsdorf: "I say this time and time again, I refuse to talk about any succession plan. He's my father and I don't want him to slow down at all. I want him to continue to be involved every day. The nicest part of this situation I'm in now is I get to work on a daily basis with my father."

The biggest difference between him and his dad?: "I'll probably be more hands-on. I like to dig in a little bit. He's more top level looking down from 20,000 feet, and I'll probably at this point as president of the team, it's really my responsibility to be involved on a day to day basis with the team."

On having a visible presence at games: "Look, I don't know how many different games I've gone to over the years, the only difference now is that when a player misses a free throw I won't be able to kick anything. I'll have to be calm. But yeah, I'm going to be around. I'm officing at the United Center, I'll be there on a daily basis and I'll be probably at most of the games unless of course there's something to do with the family. My family is always going to come first when it gets down to it."

On his dad buying the White Sox [Note: He was just 14 years old at the time]: "It was incredible. I was the first White Sox fan in the family. When I grew up in Highland Park, there were two White Sox fans and I was one of them. I lived and died for the White Sox in the '70s, and 1977 was an incredible year. I remember making my dad take me to see Minnie Minoso play when he played a couple games, so I was a huge Sox fan. So when his group bought the Sox, it was the most incredible experience of my life. I'll never forget it. And luckily for me, I remember what it was like before he was involved, so I know what it's like to be a fan and it's been a lot of fun."

On the potential of this year's team: "This has got to be the best team we've had since the championship days. It's really exciting. It was exciting today to watch practice, the first practice I've seen and it was intense. They were working hard and we're going to be very, very very prepared."

On still seeing the fun in sports after all these years: "I love it. If anyone sits with me during a game they'll see how excited I get, how emotional I am. When the playoffs come by, I'm crazy. I'm into it. I think it scares my family sometimes when they see how much I'm into it. I also understand at the end of the day it's a game, but everyone's involved in sports, whether it's a sportswriter, working for a team, whether you're involved in the ownership. You're in it because you love sports and you want to win. If you don't want to win, then you should be involved."

July, 19, 2010
7/19/10
2:00
PM CT
Michael Jordan led the Chicago Bulls to six titles. And while he had Scottie Pippen, there is little question the Bulls were Jordan's team.
So what does Jordan, one of the best-ever in the NBA, think of LeBron James joining with All-Stars Dwyane Wade and Chris Bosh to form a super team in Miami?
Read the entire story.
July, 14, 2010
7/14/10
12:01
PM CT
If the
Orlando Magic
decide to match the Bulls' offer to restricted free agent
J.J. Redick
, it will be up to team owner Rich DeVos and president Bob Vander Weide, according to the Orlando Sentinel.
"With pretty much every decision that we've made here as it relates to this basketball team, ownership is heavily involved. I think I've said all along that if we don't have the best owners in all of pro sports, I'd be hard-pressed to find one, because they've stepped to the plate every time I've asked them to step up to the plate," Magic general manager Otis Smith said. "I'm sure this decision won't come easy, but I think they'll step up to the plate if we ask them to do it now."
Read the story
.
July, 12, 2010
7/12/10
7:05
PM CT
CHICAGO -- Free agent center
Brad Miller
hopes to make a decision regarding his future by the end of the week, according to his agent Mark Bartelstein.
Read the entire story.
July, 12, 2010
7/12/10
4:28
PM CT
By Associated Press
ESPNChicago.com
Archive
June, 29, 2010
6/29/10
10:30
PM CT
With the rumors persisting that an epic Miami tripod of
LeBron James
,
Dwyane Wade
and
Chris Bosh
is still in the works, it's time to consider the possibility that the Bulls have dreaded for the last 48 hours: When the 2010 free agency period ends, none of those All-Stars will be playing with the Bulls.
It's a scary thought for the city of Chicago, especially given the hoopla which has surrounded the past few weeks, but it's the cold hard reality they could be facing very soon.
[+] Enlarge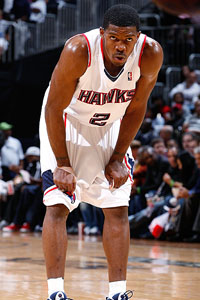 Kevin C. Cox/Getty ImagesIf the Bulls lose out on LeBron James and Chris Bosh, they may look to sign Joe Johnson.
If James, Wade and Bosh do indeed stick together and head down to Miami, the Bulls' Plan B better spring into action quickly. You'd have to think that plan includes
Joe Johnson
and either
Amar'e Stoudemire
or
Carlos Boozer
. Johnson would give the Bulls the perimeter shooter they haven't had since
Ben Gordon
left town for Detroit last summer and would fit in quickly with
Derrick Rose
's penetrate and kick game. Boozer and/or Stoudemire would give the Bulls a more polished low-post scorer to play alongside
Joakim Noah
. A starting five of Rose, Johnson,
Luol Deng
, Stoudemire/Boozer and Noah would make the Bulls much better than they were last season and would most likely elevate them into a top-three seed in the East, especially if they added a couple of solid veterans to play alongside
Taj Gibson
and give the team quality minutes off the bench.
Yes, there would still be a major letdown since that team doesn't include James and Bosh, but it would still be an improvement. Bulls fans, most of them at least, would be able to see that after getting over their disappointment.
Now here comes the tricky part -- the part that nobody around town wants to believe is even possible.
Let's say that James and Bosh decide quickly that they're going take a few less dollars (still highly unlikely) and join Wade in Miami.
Sensing that they're on the outside looking in on the LeBron/Bosh sweepstakes, the Knicks come in and tell Johnson and Stoudemire that they'll offer both max money but each one has to accept the deals quickly or else the team will take them off the table and go after somebody else.
All of a sudden, the Bulls are looking at a scenario in which they could lose out on their first, second and third choices. Now they're stuck with having to overpay players like Boozer and somebody like
David Lee
. Both players figure to draw interest from New Jersey, while Lee's name has been floated as a possibility in Utah with Boozer on the way out.
In the midst of all this, you've still got the Clippers out there with a ton of money and you'd have to figure despite owner Donald Sterling's historically frugal ways that he is willing to toss around some cash if it means that his team can become dramatically better.
OK, deep breath, Bulls fans.
As I've said over and over during the last couple of months, I don't see how the Bulls don't end up with two All-Stars out of this free-agent frenzy. Their roster is too good and has too many young players for every big name (LeBron all the way down) to completely pass over it. Having said that, the scenario I just outlined above isn't that far-fetched, either. If the Bulls don't lock down James and/or Bosh early, they'll be scurrying like everybody else. One wrong move can set the franchise back down a path into the type of mediocrity they've been trying to outrun since
Michael Jordan
retired for the second time back in 1999.
Bulls GM Gar Forman has said repeatedly that he and his staff have developed every kind of scenario that they can in order to prepare for the saga that is finally upon us. That preparation will be put to the test in about 24 hours and Forman knows the stakes have never been higher.
June, 28, 2010
6/28/10
11:18
PM CT
Are the
Chicago Bulls
already out of the running for
LeBron James
and
Chris Bosh
?
If you believe FoxSports.com's Stephen A. Smith, then the answer is yes.
Smith went on his radio show and Twitter account this morning and unleashed a free agency bombshell that set the NBA world on its ear. According to his sources, both James and Bosh plan to join
Dwyane Wade
in Miami and sign with the Heat later this week. Smith reiterated his belief later in the morning on ESPN 1000's "Waddle & Silvy Show," and sounded quite certain that this was going to happen.
I'm not here to discredit Smith. I've met the man a few times over the years, and he clearly has built up a wide range of NBA sources over the years, but count me among the group that believes James and Bosh aren't ready to make a final decision just yet. Sure, they might be leaning a certain way, and I have no doubt that they've discussed this entire scenario plenty of times over the last couple of years. But I find it extremely hard to believe that they are ready to sign on the dotted line right now and go to South Beach.
[+] Enlarge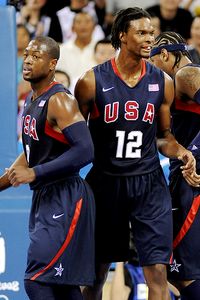 Timothy A. Clary/AFP/Getty ImagesWill Dwyane Wade and Chris Bosh suit up with LeBron James and play for the Heat next season? It's one rumor of many.
I'm sure there's a part of each player, (even Wade, the man who everyone always figured would end up back in Miami either way) that wants to sit down and talk to each team and see what they have to say. See what their plan is for the future and figure out where they could fit into it.
They would be crazy not to do so given all the money and time that's at stake.
I don't put much stock into any report that's come out over the last few days because I don't think anyone knows for certain right now what any of the three men will decide to do, and it's clear that they aren't going to say much from this point forward. The New York Times reported on Sunday that according to a league executive it was a "done deal" that LeBron and Bosh would come to the Bulls. That's just one man's opinion. That's not a fact ... just like Smith's sourced report isn't a fact. For time being, they're just opinions. Informed opinions? Sure. But opinions nonetheless.
While we're on topic of Miami, the dream scenario of having Wade, James and Bosh isn't even possible with the way they're currently constructed. I spoke with resident NBA capologist Larry Coon on Monday morning and after some number crunching he uncovered a few interesting tidbits:
First and foremost, the Heat simply don't have the room right now to sign all three players because of
Michael Beasley
's contract. In fact, even if they dealt Beasley away and waived
James Jones
they still wouldn't have enough to offer three max deals. They would be close, but somebody, or all three, would have to play for a few less dollars. The only thing that could help ease Miami in that regard is having Toronto sign Bosh (the third player in this proposed puzzle) and then trade him to Miami for Beasley. I highly doubt the Raptors would go for something like this because of Beasley's checkered past, but it's possible. It also would allow Bosh to sign for more money and that extra year that the Heat wouldn't be able to offer.
Secondly, even if the Bulls trade
James Johnson
, as many people expect them to, they too would fall just short of being able to able to offer a max deal to Bosh. He would have to take a few less dollars to play in Chicago unless the Bulls could work out a sign-and-trade of their own with the Raptors, which in all likelihood would involve
Luol Deng
. The Raptors would probably be hesitant to do this deal as well because of Deng's history of injuries and his mega-deal that has four years and over $50 million left on it.
Bulls general manager Gar Forman and Heat president Pat Riley are going to do whatever they can to massage the numbers in their favor, but to say that anything is a sure thing at the moment is a major stretch given all the chaos which continues to surround this process.
In the end, Smith may be right about where James and Bosh end up. He may have outscooped the rest of the free world on the biggest sports story of the year. But for now it's just one more wrinkle in the long and twisted roller coaster known as NBA Free Agency in 2010. Until every player signs his deal, all rumblings should be taken with a grain of salt.
June, 26, 2010
6/26/10
12:27
AM CT
Gar Forman has even more to smile about this weekend than he thought he would, and that's saying something considering the deal he swung to unload
Kirk Hinrich
on Thursday night.
Not only did the Bulls create good news for themselves in the
LeBron James
sweepstakes by clearing out almost enough salary cap space to offer James the chance to play with whomever he chooses (most likely
Chris Bosh
), now comes word from ESPN the Magazine's Chris Broussard that James isn't going to embark on the free-agent tour that everyone expected he would. He'll be meeting teams in Ohio and they'll be delivering their plans one by one -- on his turf.
Read the entire story
April, 16, 2010
4/16/10
7:48
PM CT
David Stern changed the landscape of the free-agent market Friday. In a media chat after a board of governors session in New York, he revealed that the league's projection for the 2010-11 salary cap is now $56.1 million -- a robust increase from its earlier projections.
The salary-cap amount is determined by the league's revenues from the previous season. If the league had a good year, the cap goes up a lot the next season. But the league didn't expect this to be a good year. Its projections this past July, when the 2009-10 cap was announced, were more of the gloom-and-doom variety. In its annual memo to the teams, the league announced that it expected revenues to fall within a range of 2.5 percent to 5 percent -- signaling a drop in the salary cap from its current $57.7 million to a range between $50.4 million and $53.6 million.
The NBA's advice to teams at the time was both simple and ominous: Be aware of this projected decrease and plan accordingly.
Click here to read the entire story.