January, 15, 2012
1/15/12
6:24
PM CT
CHICAGO -- Playing in Memphis is always special to
Derrick Rose
.
After all, he went to school at the University of
Memphis
and in just one season became one of the most popular players in the program's history (even after the school had to vacate wins because of questions surrounding his eligibility). But Monday afternoon's game against the
Memphis Grizzlies
is going to be even more special for Rose considering the holiday that he and his
Chicago Bulls
teammates will be playing on: Dr. Martin Luther King, Jr. Day.
[+] Enlarge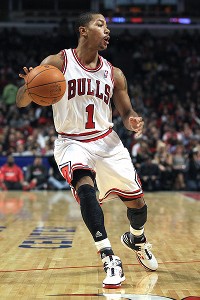 Jonathan Daniel/Getty ImagesThe Bulls' Derrick Rose is excited to return to his college town of Memphis to play the Grizzlies on Monday.
"It means a lot," Rose said late Saturday night. "Returning back to my old [college] town, Memphis. A great city. I know it's going to be something special."
Rose said that when he was playing for Memphis, the team visited the National Civil Rights Museum at the site of the Lorraine Motel, where King was assassinated on April 4, 1968.
"It's very nice," Rose said. "We went when we were college students. I think Coach [John Calipari] took us there. It's super historic. [It] kind of makes you think about certain things when you go there ... just being there was something special."
Rose isn't the only player on the Bulls looking forward to being able to honor Dr. King.
"What [Dr. King] has meant to people as a whole is amazing,"
Carlos Boozer
said. "It's a great honor to be able to play on his day. And great to honor him. I actually got a chance to see, this summer, see his monument that they put up in D.C. It's awesome, amazing. It's a huge honor because so many things that we're able to experience today, [came from] the movement back then. And he was in the forefront of the movement, so it's awesome. That's one of the people on my list I wish I would have had the chance to meet before he passed."
January, 14, 2012
1/14/12
11:27
PM CT
CHICAGO -- If fans were wondering what an NBA game would look like in the post-lockout era, they should have watched Saturday night's slogfest between the
Chicago Bulls
and the
Toronto Raptors
. Understandably, both teams looked exhausted. The Bulls were playing their fifth game in six nights while the Raptors were capping off a seven-games-in-nine-nights stretch.
It was ugly.
But after pulling out his team's fifth win in a row, 77-64, Bulls head coach Tom Thibodeau really doesn't care.
[+] Enlarge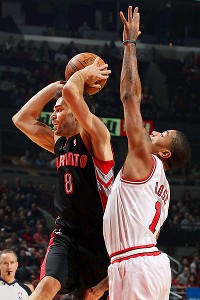 Gary Dineen/NBAE via Getty ImagesDerrick Rose and the Bulls defense held the Raptors to 35 percent shooting on Saturday.
"We are not concerned with the aesthetics," Thibodeau said. "We just want the wins."
That might as well be the Bulls' mantra for the entire season. Yet again, Thibodeau's bunch got contributions from everybody.
Derrick Rose
and
Luol Deng
had their usual solid nights, combining for 32 points.
Carlos Boozer
had 17 points and 13 rebounds.
Joakim Noah
had 12 boards. And again, the Bulls' bench players came through when the team needed them to do so. This time it was
Taj Gibson
and
John Lucas III
who combined for 21 points and 13 rebounds (12 from Gibson) and made several key plays down the stretch.
"They came in and gave us energy," Rose said. "On this team, you never know who's going to step up. Taj and John Luc, they work hard every day and we weren't surprised. Everybody else is, but the team knows what they can do every day."
That's the type of attitude Thibodeau instills in his players. He wants each one of them to play as hard as they can.
"One thing about our team, we have that mindset," Gibson said. "No matter how many minutes you play, no matter how many touches you get, no one should play harder than you. No matter how many minutes you get, you're supposed to lay it on the line no matter what. That's the kind of key plays I look forward to and I just played real hard and tough."
While the Bulls might have looked lethargic most of the night, their defense was still on-point. They didn't allow the Raptors to get into the lane much (Toronto went just 1-for-7 from the free throw line on the night) and they frustrated them to the tune of 35 percent shooting from the floor. According to Bulls radio statistician, Jeff Mangurten, the Bulls are the first team to hold opponents under 70 points in three straight home games since the inception of the shot clock. The Bulls look to be an even better defensive team than they were a year ago.
"We got introduced to it last year, Thibs' defensive scheme," Boozer said. "We had a chance over the summer to watch the tape and see how we can improve on it. We've got the same group of guys playing the same system, so we just feel more comfortable. You know you're there, you know where you're supposed to be at. We trust in the system. We trust in each other."
The Bulls now have the best record in the NBA, and they've done it during a brutal part of the schedule. One that would flip weaker teams inside out. The way they've been winning games lately may not be the prettiest, but nobody in the happy home locker room seemed to care.
"I think the more you push through fatigue, the more your body gets used to it," Noah said. "Right now, I think this January part of the schedule is probably the toughest. But I think we're showing that our depth is definitely our strong point on this team. You don't get used to playing eight or nine games in 10 days, but I think that overall if we keep fighting and stay resilient, good things will happen for us."
January, 9, 2012
1/09/12
7:14
PM CT
CHICAGO --
Luol Deng
knows what's coming. He knows that he and his
Chicago Bulls
teammates are about to embark on one of the toughest stretches of their schedule.
Starting with Monday's game against the
Detroit Pistons
, the Bulls will play back-to-back-to-back games for the only time all season. They'll play seven games over the next nine nights. It can be overwhelming for some teams, but Deng feels like the Bulls are up to the challenge.
[+] Enlarge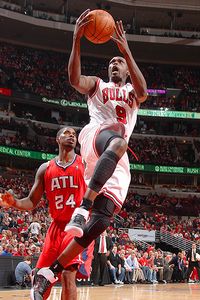 Nathaniel S. Butler/NBAE/Getty ImagesLuol Deng's plan for the Bulls' busy upcoming stretch is to take things one game at a time.
"It's definitely going to be tough," Deng said after Monday morning's shootaround. "We play hard every night. It's going to catch up with you. It's doing the little things. It's all a mindset. Everybody's got to go through it. You're going to struggle some in terms of energy and stuff. That's where the bench comes in with helping out each other and stuff. We really got to lock in and focus on taking it a game at a time. We can't look at the seventh game from now. We just got to think about Detroit, get that out of the way, then the next game."
That's exactly the way Bulls head coach Tom Thibodeau wants his team to think. He wants them to focus on just one game at a time and go from there. He wants them to understand that every team in the league is going through the same schedule issues.
"It's the way it is,"Thibodeau said. "And sometimes the schedule, usually you hit a point every season where the games will pile up like that. This season's a little different because it's right off the bat. But that's the challenge you're faced with so you have to rise up and meet that challenge. I think the important thing is just to approach it step by step."
Thibodeau really doesn't seem concerned about the three-games-in-three-days stretch, especially considering that teams that have gone through that stretch so far this season are 6-0 in that third game.
"It doesn't surprise me because there's a lot of things that go into it also," Thibodeau said. "Because usually the opponent is in the midst of a lot of games themselves. Depending upon where that game is… Is it home? Who is the opponent? Where are they in their schedule? Have they taken on some injuries? There's a lot of things that go into it. But I'm not surprised. Every night in this league you have to get ready to play. And the teams that are ready are usually successful."
As usual, Thibodeau said he doesn't have any restrictions on how he will divide minutes between his players, but he does want to lean on his bench when he can.
"I think it helps if you have a deep bench," he said. "And then you have to wait and see how things unfold in the game. There could be foul trouble. A guy could get hurt. So there's a lot of things that play into it."
Thibs backs Noah:
Joakim Noah
is averaging just seven points and eight rebounds on the year, but Thibodeau isn't concerned about his center's numbers.
"It's not offensively so much," Thibodeau said. "Everyone's trying to measure him in terms of how he's scoring. I don't do it that way. Both he and
Omer [Asik]
help our offense with screening, offensive rebounding. Jo with his passing. They can play very well offensively without scoring points. And when Jo's playing great defense and he's active, that's when he plays well offensively. Running the floor, there's not a better athlete at the five position than Jo. He's got to get down the floor quickly. He'll be fine. He's just got to keep working, that's all."
The last word:
Thibodeau on trade speculation around the league:
"It's part of the whole thing," he said. "Hell, you look at it, for every 100 they talk about, one happens. A lot of it is misinformation. You can't pay attention to that stuff."
January, 6, 2012
1/06/12
11:52
PM CT
ORLANDO, Fla. --
Chicago Bulls
coach Tom Thibodeau looked and sounded the way his team felt after Friday night's impressive 97-83 win over the
Orlando Magic
. The veteran coach happily made his way through a small scrum of reporters in front of the Bulls' locker room, but he looked like a guy who could use a nap.
When it was mentioned to Thibodeau that the Bulls had just played their third game in a stretch of seven games in nine nights, the exasperated coach rolled his eyes and answered bluntly.
"Hell, I have no idea," Thibodeau said in his familiar hoarse baritone. "I'm worried about Atlanta. That's it. If you start looking that far ahead, it becomes overwhelming. But that's the way it is; everyone's dealing with it. Sometimes it's in your favor, sometimes it's against you, you just got to be ready for them as they come."
The Bulls were ready Friday night. They battled from beginning to end despite the fact that the team was exhausted.
Derrick Rose
dragged his heavily padded left elbow up and down the court, and still managed to drop in 21 points.
Luol Deng
, who looks like he already leads the world in minutes, managed to drop in 21 points of his own in between wearing heating pads on his thighs to keep his tired body warm. It was the type of game Thibodeau and his players take pride in. It was the type of game they always talk about grinding out. It was the type of contest they knew was coming, and they managed to find a way to win.
[+] Enlarge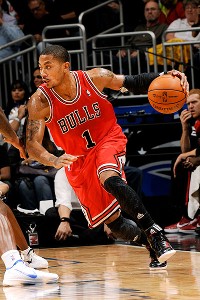 Fernando Medina/Getty ImagesDerrick Rose scored 21 points in the Bulls' win over the Magic on Friday.
"Anything to win," Rose said. "That was the whole mindset. Just try to come out aggressive. We tend in the past to come out kind of sluggish. Try to get guys going early, and that was the whole game plan."
The Bulls, as they have done throughout the season, got contributions from everybody.
Carlos Boozer
came in and scored 20 points and grabbed 13 rebounds.
Joakim Noah
pulled down 10 rebounds.
Kyle Korver
finally found his shot, scoring 18 points. It was exactly the way Thibodeau drew things up before the season. He knew he had the deepest team in the league, and the Bulls proved it again when they had to.
"Everyone came in and contributed," Noah said. "[John] Lucas coming in ready. Kyle Korver hitting huge shots. Omer [Asik] took a couple in the face. For the team. It's for the team. Guys are playing for one another. We're not distracted. We're just all about trying to get better."
The Bulls dug deep into their DNA, and did what Thibodeau, Rose and everyone else in the Bulls' locker room always talk about. They grinded this game out.
"I think we definitely did that tonight," Rose said. "I think we held our composure. Where they made a couple of shots, made a run, the crowd got into it, but we stayed together. That's just playing with each other and going through a lot of things with each other, experience. And we held it out."
Isn't that the mark of championship team?
"I hope so," Rose said with a laugh. "I know that in the past couple years back, that [if] we were in this game and the same situation happened, I don't know what would have happened. Just knowing that we know what to do in certain situations is definitely going to calm everybody down, and Thibs is a great coach so he knows what to do."
That's why Thibodeau was so chipper after it was over. Like his players, he was tired, but he would never use that as an excuse. Like his players, he wasn't even sure what city he was in. But like his players, Thibodeau wanted to win so badly that all those things didn't matter. It's on to the next city and on to the next game. When you want to win a championship in a crazy, condensed season such as this one, the next game is the only one that matters.
"We want to keep grinding every day, every game," Thibodeau said. "I don't think you can ever relax. I don't think you can ever let your guard down. And you've got to keep fighting. And that's what this team does. This whole season will be a grind, so each and every day we've just got to get ourselves ready to play, and then when the ball goes up, I think your preparation gives you confidence and poise."
December, 2, 2011
12/02/11
11:06
AM CT
By ESPNChicago.com
ESPNChicago.com

The NBA has tweeted out the Christmas Day schedule, and the Bulls will be facing the Lakers in Los Angeles at 4 CT on ABC to open their season.
"Prime time," Derrick Rose said Thursday. "It's going to be exciting, not only for our team but for Chicago and for our fans all over the world."
The Celtics take on the Knicks at 11 CT, followed by the Heat vs. Mavericks at 1:30 CT. The Magic and Thunder are at 7 CT, followed by the Clippers and Warriors.
"Whenever you play on a holiday, whether it's Christmas/New Year's, it's a few games and everybody's celebrating the holidays," Bulls guard Ronnie Brewer said. "I think it's a privilege to be able to perform on the highest level for those people. It's going to be a tough test for us, they're a great team. Whenever you face one of the greatest players to play the game in Kobe Bryant, with those other guys they have on their team, it's always good."
The contest will mark the second consecutive season the Bulls have played a Christmas Day game. They lost to the New York Knicks 103-95 on Dec. 25, 2010.
Facing off against one of the NBA's historical juggernauts only adds to the intrigue for a team coming off a 62-win season.
"Everyone is looking at that first game like it's a championship game," Luol Deng said. "We're excited. It's 66 games [this season]. That's one of 66. I think we're going to be prepared. Just not going for that one first game and that's it. We want to come out ready. But it's 66 games, we've got to look forward to."