December, 5, 2012
12/05/12
9:50
PM CT
CLEVELAND -- Let's take a quick look at how the
Chicago Bulls
earned a 95-85 win over the
Cleveland Cavaliers
on Wednesday night at Quicken Loans Arena.
How it happened:
Marco Belinelli
had his best game with the Bulls, scoring 23 points as Tom Thibodeau's bunch bounced back after a poor performance Tuesday night against the
Indiana Pacers
.
Luol Deng
added 22 points and seven rebounds, while
Joakim Noah
added 13 points and 15 rebounds of his own. The Bulls took advantage of a beleaguered Cavs bunch and made plays late to defeat Cleveland for the 10th consecutive time.
What it means:
Thibodeau has been saying all season Belinelli would eventually come around, and his faith in the veteran shooter finally paid off Wednesday. Belinelli hit shots and was much more aggressive with the ball. It looked as if he was playing with a confidence he hadn't shown earlier in the season. The Bulls' offense is still struggling to find a consistent rhythm, but with
Derrick Rose
and Rip Hamilton both out, Thibodeau has to be pleased with Belinelli's solid play.
Stat of the night:
The Bulls shot 47 percent from the field.
Hits:
Kirk Hinrich
had a solid performance with 11 points and eight assists.
Misses:
Cavs center
Anderson Varejao
was 4-for-16 from the field.
What's next:
The Bulls take on the
Detroit Pistons
on Friday night.
October, 10, 2012
10/10/12
12:01
AM CT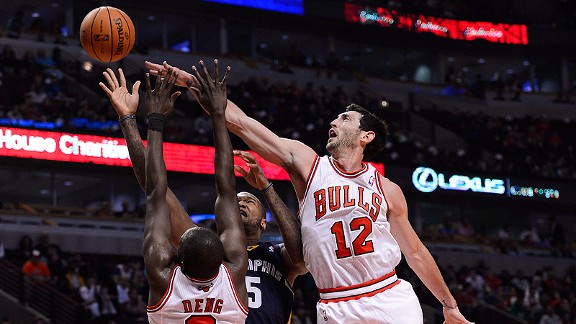 Mike DiNovo/US PresswireKirk Hinrich scored five points and dished out seven assists in 24 minutes in his return to the Bulls.
CHICAGO --
Kirk Hinrich
was back at the United Center on Tuesday night playing for the
Chicago Bulls
. As his teammates watched him race up and down the floor, it felt as if the veteran guard never left.
"Time flies," Hinrich's teammate once more,
Luol Deng
, said with a laugh. "I know Kirk's game really well so that helps a lot and it's good. The preseason is good; guys like Rip, guys that haven't played with him, can get a good feel of it."
Hinrich, who scored five points and dished out seven assists in 24 minutes, admitted to having plenty of extra thoughts rushing through his head during the game. He knew that people wanted to know how it felt for him to be back in a Bulls uniform, and it was easy to see from his reaction that there was a simple answer: comfortable.
"It feels great," Hinrich said. "We had practice (Monday). It was exciting just to be back in the building. It's a great place to play. ... I'm still thinking a lot out there. So I was just trying to focus on not screwing up, trying to run the team. That was it. I was just trying to not think about (being back) and what I had to do."
June, 14, 2011
6/14/11
5:37
PM CT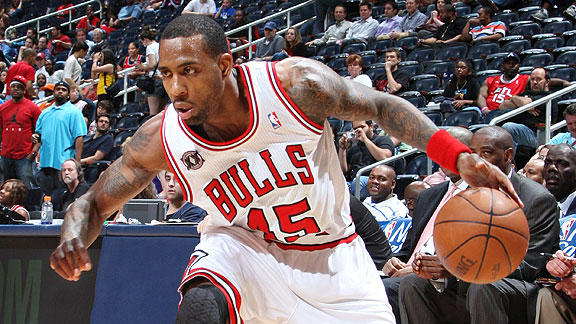 Scott Cunningham/NBAE/Getty ImagesRasual Butler came in too late to crack a rotation that Tom Thibodeau already set.
Over the next few weeks, we'll take a closer look at each player on the Bulls roster and see where they fit in for the future. Let's take a look at a player who surprisingly became the most talked about reserve on the roster during the postseason.
2010-11 salary:
$421,312
Season recap:
Butler signed with the Bulls in early March after being released by the
Los Angeles Clippers
. He only played in six regular season games, but that didn't stop him from becoming one of the most talked about players on the team. A large group of fans wanted to see him get more minutes, especially during the postseason, but Tom Thibodeau's rotation was already set and he decided to keep Butler on the bench.
Season highlight:
In the Bulls' final regular season game against the
New Jersey Nets
on April 13, Butler went 4-for-5 from the field for 10 points in just 13 minutes. It was after this performance that many fans wondered if and when Butler would get more playing time.
Season lowlight:
Butler didn't play enough to earn a lowlight, unless you count the fact that he got just 6:37 of playing time combined in the playoffs.
Final grades:
Regular season -- Inc | Postseason -- Inc
"

The Bulls have a great tradition. They're looking to continue to add to it. You can see the way that they've played this year. It's a great opportunity for me to be part of a winning organization. They're doing extremely well this year ... for them to have some interest in me, it made me feel really good.

"

-- Rasual Butler, after signing with Bulls
Notes:
I never understood why so many people wanted Butler to play so much. In 41 games for the Clippers this season he was shooting 32 percent from the field and averaging five points a game. Thibodeau basically said from the beginning it would be tough for Butler to crack the rotation because he was coming in so late and Butler understood. Still, a portion of the fan base clamored for Butler to get more time, believing that he could be the answer to the Bulls offensive woes.
What's next?:
It seems doubtful that Butler will return. He will look for a team where he can play more and the Bulls will look to fill out the end of their bench with a few younger players. Butler did average 12 points a game just two seasons ago so there should be several teams willing to give him a chance, but it doesn't appear likely that the Bulls will be one of them.
June, 8, 2011
6/08/11
1:08
PM CT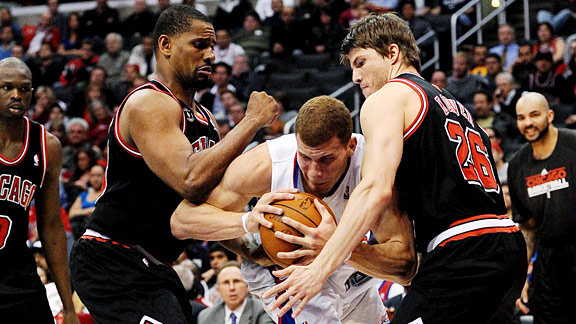 Kelvin Kuo/US PresswireKurt Thomas' defensive toughness and veteran leadership were keys for the Bulls.
Over the next few weeks, we'll take a closer look at each player on the Bulls roster and see where they fit in for the future. Let's take a look at a player known by fans as "Big Sexy."
2010-11 salary:
$1,352,181
Season recap:
Whenever Tom Thibodeau called Thomas' name he was ready. The problem for Thomas was that Thibodeau didn't really use him during the first two months of the season. But when
Joakim Noah
had to get thumb surgery in mid-December everything changed. Thomas came into the starting lineup and the team didn't really miss a beat until Noah returned after the All-Star break. Thomas didn't play as much after that point in the year, but he did provide the Bulls with a stabilizing presence every time he hit the floor and in the locker room.
Season highlight:
In a January 24 game against the
Milwaukee Bucks
, Thomas played almost 44 minutes, racking up 22 points and nine rebounds. Just six games before that, Thomas pulled down 18 rebounds in a road game against the
Indiana Pacers
. None of his teammates seemed surprised Thomas had so much success, although they constantly reminded him just how old he was.
Season lowlight:
After playing well since coming into the lineup in December, it had to be tough for Thomas to watch his team from the bench during most of the postseason. After playing 24 minutes in Game 1 of the Eastern Conference quarterfinals against the Indiana Pacers, Thomas' minutes slowly decreased to the point that he didn't play during a stretch of eight games until
Omer Asik
went down with an injury at the end of the Eastern Conference finals. Plenty of fans clamored for the presence of "Big Sexy" during the postseason, but Thibodeau decided Asik was a better option.
Final grades:
Regular season -- A | Postseason -- B
"

I've been known as the guy who can hit that shot my whole career. But the last couple of years, my shots have been down. But I just love playing, and when it's there, I just try to be a team player.

"

-- Kurt Thomas after Jan. 24 game vs. Bucks
Notes:
Thomas was everything the Bulls thought he was going to be. A solid locker room guy who could produce when needed. The great thing about Thomas, as Thibodeau noted repeatedly throughout the year, was that if he sat on the bench for weeks at a time and was then called upon on a moment's notice, he would come into the game and play well. He was a well-respected teammate who offered advice when asked. He truly seemed to enjoy his role on the team this year, although, like all players, he wished he could have played more.
What's next?:
The question for the Bulls now is should they re-sign Thomas? He'll be 39 whenever the new season starts and the team may decide it wants to go in a younger direction. Having watched Thomas play all season though, there's no doubt in my mind that he can still be a productive NBA player in spot minutes. He was the perfect insurance policy for the Bulls this season and he can certainly fill that role for them again if Thibodeau and company so desires.
December, 15, 2010
12/15/10
10:15
AM CT
CHICAGO -- There was sobbing throughout Northeast Ohio and plenty of whining in New York City when
LeBron James
decided to take his talents to South Beach. Meanwhile, in Chicago,
Derrick Rose
and
Joakim Noah
shrugged and went back to the gym.
With all due respect to the skills of LeBron and
Chris Bosh
and the recruiting savvy of
Dwyane Wade
, Rose and Noah weren't begging anyone to join them, which is part of what makes this the most irresistible
Bulls
team since Michael and Scottie left town.
Read the entire column
.