March, 4, 2015
Mar 4
3:05
PM CT

By Nick Friedell
ESPNChicago.com
Archive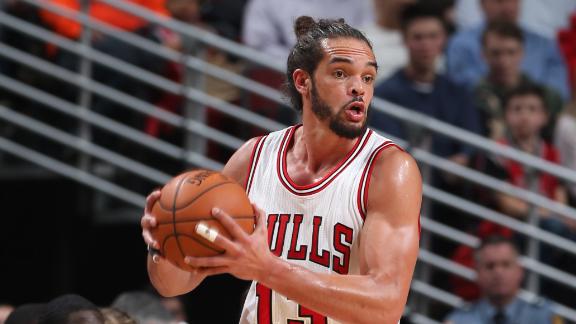 CHICAGO -- With 21 games left in the regular season and a showdown with
Russell Westbrook
and the
Oklahoma City Thunder
on the horizon Thursday night, the
Chicago Bulls
find themselves in a familiar position. Their backs are against the wall and they are playing without key players because of injury.
Derrick Rose
(knee) and
Jimmy Butler
(elbow) are out at least several more weeks, and
Taj Gibson
(ankle) is out for a little while longer, although Bulls head coach Tom Thibodeau did note after Wednesday's light practice that Gibson is out of his walking boot.
The broader issue for Thibodeau and his players is how similar this season is unfolding compared to the last two years without Rose. No team likes having its star players injured down the stretch, but the Bulls are probably better equipped to handle this situation than almost any other team in the league given what they've dealt with over the last few years. They know the schedule is about to turn tough -- with four of their next seven games against teams with winning records -- and they understand that while help may be on the way before the regular season ends, they're going to have to withstand the schedule without Rose and Butler for the foreseeable.
"I think you have to have great will, great determination, and you have to be together," Thibodeau said of maintaining the intensity without key players. "I think when you have a group like that that's committed to playing for each other, good things can happen. When you look around the league you see the teams that are tied together and play hard each and every night, play smart, you give yourself a chance to win. You don't get here by accident; if you're here, you have great talent. Then it's how strong can you play as a team? Everyone has to understand what their job is. It's five-man offense, five-man defense and working together. That's what it's all about."
The intriguing part of this stretch is that the Bulls will be leaning on several players who are new to this situation. Veterans
Pau Gasol
and
Aaron Brooks
are in their first year with the Bulls, while rookies
Nikola Mirotic
and
Doug McDermott
are still in their NBA infancy. The hope is that the new group will be able to dig down deep to find the fire that it takes to play short-handed night after night. Over the past few years without Rose, Butler and Gibson were the ones who helped light that flame game after game. Now it must come from a different place.
"We'll see," Gasol said when asked how the Bulls will be able to sustain the energy that comes with playing the way they did in a hard-fought win over the
Washington Wizards
on Tuesday night. "Obviously with our minds and our hearts into it a lot of things can happen, so we just bring our will every single night. Try to give ourselves a chance to win against whoever we're facing."
To that point, Gasol and his newer teammates will be able to lean on veterans
Mike Dunleavy
and
Kirk Hinrich
for guidance in how to deal with the annual setbacks that seem to come with wearing a Bulls uniform, but after being in the league for 14 seasons, it's not as if he hasn't had to play through injuries to teammates before.
The good news for the Bulls is that
Joakim Noah
seems to be playing his best basketball of the season. After struggling with the aftereffects of offseason knee surgery, Noah finally appears to be playing -- and feeling -- more like himself. Without Rose on the floor, and now without Butler and Gibson as well, the games become even more personal to the emotional big man. Like many of his teammates, he is at his best when he feels slighted, and his teammates thrive off the energy he provides.
Noah never wants to single himself out, but Brooks mentioned after Tuesday's game that Noah set the tone for the entire night with his energized play.
"Everybody's working hard," Noah said. "We've been working hard since the beginning of the year. A lot of ups and downs. We've just got to find a way to stick together through the good and the bad and know that we have a shot at this, and we can't take that for granted."
But this is where the real hurdles build up -- both mentally and physically -- for a short-handed team. The Bulls have to find a way to maintain poise as they wait for some of their top players to heal. How they fare in this regard will help determine how the rest of their seasons shakes out.
"That's the challenge," Dunleavy said. "That first game out after all the chaos has occurred, that first game is kind of the easiest because you know you're going to have emotion, you know you're going to have energy. But now we're going to have to settle in and play this role every night and hold down the fort for a few weeks. So that's the biggest challenge of it all, and we'll see what we can do."