Welcome back to the mailbag everybody!
Aside from Tuesday night's clunker against the Clippers, the Bulls are playing their best basketball of the season. Will it last? With this team, who knows?
Let's get right to the questions ...
With the five-game winning streak on the West Coast trip, has VDN saved his job for the rest of the season?

Justin (Binghamton, NY)
[+] Enlarge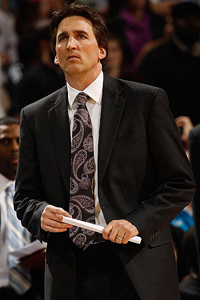 Chris Graythen/Getty Images
Coach Vinny Del Negro's job seems safe for now, but his future status remains unclear.
Justin,
At this point, I would be stunned if Vinny Del Negro isn't the coach at the end of the season. Through all of the speculation surrounding his job, he has kept his team together and gotten them to play well. The recent five-game winning streak is a testament to that. It still doesn't sound as if the Bulls are ready to commit to him past this season, but his job certainly appears to be safe for the time being.
With the recent acquisition of Devin Brown, if the Bulls are serious about being players in the 2010 free agent pool, shouldn't they aggressively try and trade John Salmons and anyone else that may put a wrench in their cap?

Andre (Chicago, IL)
Andre,
I think they're doing that right now. I'm sure the Bulls are exploring all their options, but it will be extremely difficult for them to unload Salmons because of the player option he has in his contract for next year. I do think the Bulls will end up making a move or two before the deadline though. They have too much riding on this summer's free agent class not to clear out as much space as they can.

Did the Clippers really provide such a huge match-up nightmare for the Bulls, or did the Bulls just not bring their game [Tuesday] night?


Joe Jao (Buffalo Grove, IL)
Joe,
It was a combination. The Clippers obviously give the Bulls a lot of trouble because of all their length. As everybody knows, the Bulls have ony lost two games in the past two weeks and both were to the Clippers. Having said that, the Bulls looked awful Tuesday night. They were flat and never got anything going. The players all said they would bounce back and that the first game at home after a long road trip is tough, but it had to be disheartening for Del Negro to see his team play so badly after playing with so much energy over the back end of that road trip.

Are the Bulls looking to trade for Amare Stoudemire and if so, who are they willing to trade to Phoenix for him ?


Antoine Porche (Palmdale/Calif.)
Antoine,
Like everything else, I'm sure the Bulls have looked into trading for Stoudemire. But, even if the Bulls could do this deal and not give back much in return, I still think they would need another piece or two to make them a title contender. Stoudemire is a great player but as Charles Barkley said recently, are you really going to give a max contract to a player who isn't even the best on your team? Stoudemire doesn't seem to be interested in playing much defense and you've got to wonder if his numbers would be the same if he played outside of Phoenix. If I'm the Bulls, I'm not sure I'd mortgage the future and give a giant contract to Amare.
[+] Enlarge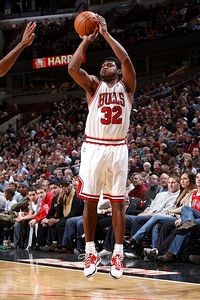 Gary Dineen/NBAE/Getty Images
Devin Brown will help the Bulls this season, as he can hit an open jumper when needed.

Hey, as a Chicago native and a huge fan of the Bulls past and present, I need to know. With Rose becoming who we thought he would become and Deng being consistent and Tyrus [Thomas], Taj [Gibson], and [Joakim] Noah killing blocks and boards, shouldn't the Bulls try to make a move for a 2 guard before the deadline so they can make a lot of noise in the playoffs and raise the attention of this summer's free agents? Kirk [Hinrich] is good, but not worth what he gets paid and they just need anyone who can hit an open shot. Derrick [Rose] would have been a starter if Kirk and [John] Salmons and [Jannero] Pargo could just hit the open "J" that Rose provides them with. He would have a crazy number of assists per a game and the Bulls would have a better ppg right?


Zach (Las Vegas NV)
Zach,
There's no question the Bulls are missing a pure jump shooter, a la Ben Gordon. It's been a weakness since the season began. Still, I'm not sure if Rose would have been a starter no matter who would have been in the lineup with him up to this point. Derrick struggled at the beginning of the season, in large part because he still wasn't healthy. That ankle tendon injury bothered him and over the past month he finally looks like the explosive player he became last year.
I do think the Bulls should look to add another 2 guard, and I think the Devin Brown acquisition will help in the next few months because he can hit an open jumper. But unless you can get an absolute superstar back in a deal, I don't think you should make it. The only deals the Bulls should be concerned with are the ones which give them the most cap flexibility. No matter what deal the Bulls make in the next few weeks, it won't be enough to win them a championship this season.
If they make a few smart moves though, they could be in contention for a title next year.
Thanks for all the questions, everybody. Send in some more! Talk to everybody next week.