NEW ORLEANS --The old Bulls and the new Bulls both made an appearance on Friday night.
The new Bulls, who came into the contest having won four in a row, controlled the action for much of the game and it appeared for a while as if they would easily stroll to a victory and cap off a seven-game road trip in style. The old Bulls re-appeared late in the game though, as the team squandered a 15-point lead and went on a prolonged scoring drought in which they managed just four points over an almost 12-minute stretch.
[+] Enlarge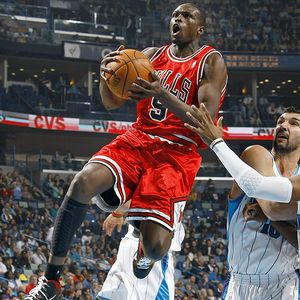 Layne Murdoch/NBAE/Getty Images
Luol Deng scored 26 points as the Bulls beat the Hornets in overtime.
Del Negro's team was exhausted and emotionally drained from all the time and travel of the past two weeks. All the confidence the team had built up during its surprising road trip appeared to be lost. Luckily for the second year head coach, though, his new and improved group found a way to claw its way back into the game and gutted out a 108-106 overtime victory over the Hornets.
After all the ups and downs the Bulls have experienced, there's no question Friday marked the team's highest point of the season thus far. More importantly for the Bulls head coach, it appears as if his more confident team is here to stay.
"We battled," Del Negro said after the game. "Our guys didn't give up. We showed some toughness and just found a way. We made plays when we had to. We got a big steal in regulation to get it to overtime and converted. And then in overtime, we were able to make a couple more plays than them. We'll take it. It's been a long trip. But I'm proud of the way the guys battled and hung in there."
The Bulls entire mindset has changed since dropping the first two games of this trip. They are playing like a completely different team than they were in the beginning of the year and it's clear that the players enjoy the metamorphosis which is taking place.
"It changed a lot," Bulls forward Luol Deng said of the team's mentality. "It's a long season. It's not like a college season where it's 30 games. If it was 30 games, our season would have been terrible. But [the NBA season] is so many games that you could have a bad month or two and turn it around. We've shown that right now. We're way better right now than we were at the beginning of the year."
If the Bulls go on to bigger and better things this season, this road trip will serve as the turning point.
"It just shows how close we're getting to each other," Bulls point guard Derrick Rose said of team's recent play. "This road trip was a great one. In the beginning it was kind of bad, but we stuck it through. Played good basketball. Rebound the basketball and play our usual way of up-tempo type game."
"Guys have been stepping up," Del Negro said. "Different guys. I thought Tyrus [Thomas] gave us good minutes again [Friday night]. Brad Miller stepped up in the Houston game. Different guys all the time making plays and that's what it comes down to. Understanding your role, executing it, being a team, being committed. And the guys are having fun.
"Winning breeds confidence. Hopefully we'll get back home, get some more rest. Now we got four [games] in five nights [coming up]. No easy games, no easy schedule, just take them one at a time."
If the Bulls continue to play the way they have been lately that shouldn't be a problem.
"We're playing really good basketball," Bulls center Joakim Noah said. "The positive is when there's adversity out there, we're finding ways to win basketball games. We just got to keep it up. Keep fighting and good things are going to happen for us."
If the past week and a half is any indication, they already have.