NEW ORLEANS -- Derrick Rose couldn't believe the news.
He knew it might be coming. He knew his name might pop up on the Eastern Conference All- Star team. His teammates and coaches were convinced he would make the team. Even some of his opponents had spoken out on his behalf in recent days. After all, he had been playing better than anybody in basketball over the past two weeks, seemingly overpowering other guards whenever he got the chance.
[+] Enlarge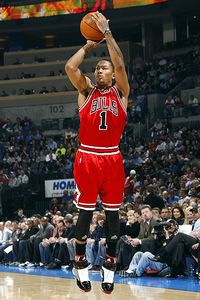 Layne Murdoch/NBAE/Getty Images
Derrick Rose said when he first found out he had been named to the NBA All-Star Game, he couldn't move from his bed.
Still, after all this talk, it really didn't sink in when he heard the news officially. When he heard that he had become the youngest All-Star in Bulls' franchise history. When he heard that he was the first player since Michael Jordan in 1998 to even make the team.
The 21-year-old guard just sat on his bed in his New Orleans hotel and smiled.
His dream had become a reality.
I caught up with Rose just moments after the announcement was made, and it's safe to say that he will be savoring this feeling of accomplishment for a long, long time.
Nick Friedell: Describe the feeling of what it's like to be an All-Star.
Derrick Rose: I really can't describe it right now. It really hasn't hit me. Hopefully, when I get down to Dallas that's when it will really hit me, I know. I really didn't know [there] wasn't an All-Star for the Bulls since Mike [Jordan] in '98 or something like that, so just thinking about that it's amazing.
NF: You're a guy who grew up following Jordan. How cool is it that you are the first Bull since him to be in the game?
DR: It's cool. (Smiles) It's cool. After I'm long and gone with the Bulls [players] after me or whatever, people will say that I was an All Star for the Chicago Bulls. I'm from Chicago. That's a big thing. Especially being from there. [My] family, relatives and friends are just excited about it, more than I am, I'd say. I've been getting texts all day, calls. People are calling from out of state that used to live in Chicago. Everybody's just happy for me and I hope I just keep playing well.
NF: My colleague, Melissa Isaacson , actually got him on the phone a couple hours ago and had this to say about you: "I'm very happy for him. The Bulls deserve an All Star he is a very special player. He will represent Chicago well. Congratulations to him and the Bulls."
Hearing that, from him, what does that make you feel like?
DR: (Pauses) I wish I could have recorded that conversation. I wish I could record it. For him to say that, that's crazy right there. That's somebody, I was just amazed he even knew my name when I first met him. He's a legend in the game of basketball and the NBA and in Chicago. So for him to say that, it means a lot.
NF: Obviously, you're looking forward to seeing him during All Star Weekend, right?
DR: Yeah, definitely. You always want to see Mike. No matter what, you [are] in awe when you see him. It's fun seeing him.
NF: What are you looking forward to most about those three days in Dallas over All Star Weekend?
DR: Just being with the fans. Being with my family. And just having fun, that's what the whole experience is about. Just having fun down there and learning some leadership skills while I'm down there with [those] great players.
NF: Is there any one specific guy you're looking forward to playing with most?
DR: All of them. (Laughs) All of them. That's why I think they're All Stars. That's why they're on that team. All of them.
NF: How did you find out that this was finally official and you were on the team?
DR: People were calling me. [Assistant coach] Randy [Brown] called me. I met with Vinny [Del Negro]. [Rose's agent] B.J. [Armstrong] called me. Everybody called me, but I had to see it for myself. That's what took me so long to come down here. Because I saw my name on TNT and I was just stuck to my bed.
NF: What were the emotions like when you finally found out? Were there tears? Constant smiles?
DR: I couldn't stop smiling. There wasn't [any] tears. All my tears, my mom cried all them for me. I was just excited, happy. All of that just in one. It felt good to tell you the truth.
NF: When you talked to your mom, what did she say as soon as you told her?
DR: She said, stop playin' with her. (Laughs) She thought I was playin'. At first, I thought she heard [the announcement] because she [is] always on the Internet or something like that. And when I told her, she told me to stop playin'. It was like a moment of silence. Then she said she would call me back. Because she was going to start crying. I guess she started calling all my relatives because everyone started calling me and texting me after that.
NF: Making the All Star team was a goal you had at the beginning of the year, but was this a goal you've had since you were a little kid?
DR: I wouldn't say [since I was] a little kid, but probably in college. And last year definitely. Just be the best player I can be. Hopefully, be the best in this game one year. Or a couple years. [There isn't] a point in playing the game if you don't want to be the best.
NF: You mentioned college, did you get a chance to talk to [former Memphis] Coach [John] Calipari?
DR: Yes. He called me. I didn't recognize the number, but he called me. He was saying he was moping around thinking about the loss at Kentucky [the Wildcats lost to South Carolina on Tuesday night]. And he heard the news [about my selection] and he got all excited about it. He's not thinking about that loss anymore.
NF: Obviously, you're always working on your game, but are you even a little surprised at how fast all the success has come for you?
DR: Yeah. When you think about it, it's coming quick. Hopefully I'm going to keep working hard. I know I'm going to keep working hard.
[Note: Vinny Del Negro comes in from the side. "He will work hard, I promise you that."]
DR: Just keep it going.
NF: Is there anything that has really surprised you about the NBA in the last two years, leading up to this moment?
DR: The game is quicker. The people that you see that don't play that much, that's on the bench, they're probably better than some of the starters that are starting for their team. That's what really surprised me about the NBA.
NF: You've been playing well for most of the year, but you've really been playing great over the last two weeks. Do you think those last few games helped push you over the edge and get you this selection?
DR: I think it did. My team, the coaching staff, everybody believed in one another. Gave me the opportunity to go out there and play. All the veterans on my team, they trust in me. I trust in them in certain situations and without them I wouldn't feel this confidence like I am now. And I appreciate them.
NF: What have your teammates said to you about being picked?
DR: They had to be calling my room. I don't really answer my room phone. So, they were calling my room. I just got my [cell phone] number changed. So, they probably don't have this number. But they were texting Randy this whole time, talking about that they need to get in touch with me.
NF: Do you feel like the next two weeks are just going to fly by now that you've been named to the team?
DR: I hope so. (Laughs) I hope so.