Inside the Bulls' epic comeback win
April, 27, 2013
4/27/13
6:42
PM CT
By ESPN Stats & Information
ESPN.com
Archive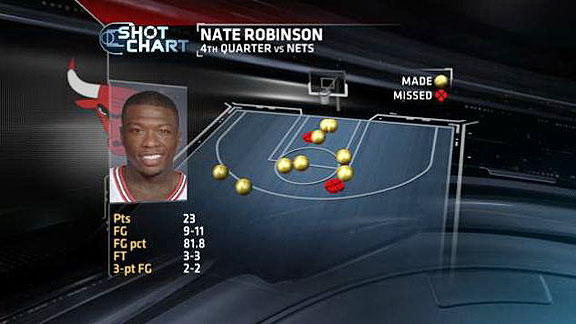 Nate Robinson was in all-time great mode in the fourth quarter comeback
The
Brooklyn Nets
looked to be on their way to evening this series, with a 14-point lead late in the fourth quarter. But an epic comeback powered by
Nate Robinson
, thwarted the Nets efforts and made for a remarkable victory for the
Chicago Bulls
.
The Bulls now hold a commanding 3-games-to-1 series lead in the series. Let's delve into the statistical recap.
A long game's journey into night
This was the seventh playoff game in NBA history that went at least triple-overtime. Only one playoff game went quadruple overtime, a game between the
Boston Celtics
and Syracuse Nationals in 1953.
The game went long enough that all 10 starting players scored at least 15 points. The Elias Sports Bureau notes that since starts were tracked in 197y0-71, this was only the second playoff game in which that happened. The other instance was in 1987 in a double-overtime game between the Boston Celtics and
Milwaukee Bucks
,
The Bulls scored a team record 142 points, the most by any team in a playoff game since 1992, when the
Portland Trail Blazers
defeated the
Phoenix Suns
, 153-151 in the highest combined scoring playoff game in NBA history.
Nate The Great
Nate Robinson doubled his previous playoff career high with 34 points, including 23 in the fourth quarter. That's one shy of the Bulls record for most points in any quarter of a game in Bulls playoff history.
Michael Jordan
holds that mark with 24 points in the fourth quarter of a loss to the
Philadelphia 76ers
in Game 3 of the 1990 Eastern Conference semifinals.
Robinson had 29 points in the fourth quarter and overtimes, including nine baskets from outside the paint. That matched the most points scored after the third quarter of a playoff game by anyone in the last 15 seasons.
LeBron James
had 29 points after the fourth quarter for the Cavaliers against the
Detroit Pistons
in 2007.
Robinson's 34 points are the most scored by a Bulls reserve in a playoff game since starters were recorded. The previous mark was 30 set by
Ben Gordon
against the Detroit Pistons in 2005.
Impact defensive player: Joakim Noah
Joakim Noah had a terrific game on the defensive end. Case in point: consider that
Brook Lopez
was 2-for-12 with eight points when defended by Noah. He was 7-for-8 for 18 points when guarded by anyone else.
Williams gave it his best effort
Deron Williams
finished with 32 points and 10 assists, though he scored only two points in the three overtimes.
The Nets have now had three 30-10 performances in a playoff game.
Jason Kidd
had one in 2002 and
Vince Carter
did so in 2005.
Those three games have a common bond. In each case, the Nets lost.
However an optimistic Nets fan might tell you this.
The Nets have blown leads of 13 points or more to lose a playoff game three times since 2002.
In each of the other previous instances, the Nets won the series.