SAN ANTONIO -- Joakim Noah could barely walk straight on Monday morning. His left foot was killing him. The plantar fasciitis that caused him to miss Saturday's game against the Houston Rockets hadn't gone anywhere and he sat dejectedly on a folding chair at the AT&T Center, resigned to the fact that he probably wasn't going to be able to play on Monday night.
[+] Enlarge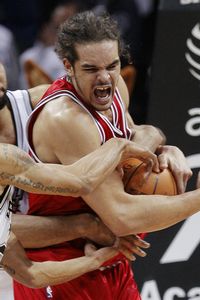 AP Photo/Eric Gay
Joakim Noah had a tip-in and hit some key free throws in the final minute of the Bulls' win over the Spurs.
"It's just frustrating right now," he said at the time. "I'm limited, I can't really move."
When he finally got to the arena, his thinking hadn't changed much.
"I didn't think I was going to play when I got to the arena," Noah admitted. "But the taping on the bottom of my foot actually made it feel a lot better. I just went through my routine and I felt like I could help the team."
It sure didn't seem like he was doing that early on, though. Noah looked miserable out on the floor, a painful grimace etched on his face with almost every step. But, just like his teammates, when you thought he didn't have any gas left in the tank, he came through in a big way. The young center had a key tip-in, blocked a shot and hit several clutch free throws in the final minutes as the Chicago Bulls knocked off the San Antonio Spurs 98-93, earning their third win in a row.
"We just grinded it out," Bulls head coach Vinny Del Negro said.
Del Negro speaks the truth.
The Bulls look like a completely different team than they did in Los Angeles last week. They come into games now expecting to win, no matter who is in the lineup and no matter how banged up the team is.
"We're confident," Noah said. "We're just playing good basketball. We're not worried about who's scoring the basketball. We're just focusing on making the right play."
But then Noah added another crucial part of the story that the Bulls are in the process of re-writing about their season.
[+] Enlarge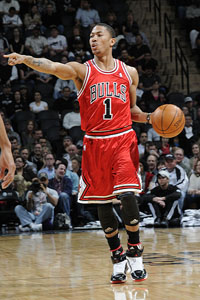 D. Clarke Evans/NBAE/Getty Images
Derrick Rose, who was suffering from a severe cold, scored 27 points against the Spurs on Monday.
"I'm not going to lie," Noah said. "[Derrick Rose] is playing at a really high level. I think he understands how they're trying to play him. When they try to get the ball out of his hands, I think he has more confidence in giving me the ball or giving guys the ball to make plays. I think he's doing a really good job reading the coverages."
Rose had another monster game, scoring 27 points and hitting several big shots down the stretch. He did it all while playing with the same flu-like symptoms that several of his teammates have dealt with on this long road trip.
"I'm happy for the guys," Del Negro said. "We're not as healthy as we'd like to be, but we're finding a way and guys are stepping up. It was another team effort. Luol had some big rebounds for us. [Noah] made some big free throws down the stretch [and] we've been winning as a team and trying to let Derrick make his plays down the stretch."
Rose delivered again in the clutch on Monday night and it's clear that his confidence, like the rest of his teammates', is growing as the season continues.
"It's a mental thing," Bulls forward Luol Deng said. "Once you're winning, you just feel good. These games are good for us. The last few games, winning them at the end, in Houston and then [in San Antonio], you start to build that confidence. The last two three minutes we really believe we're going to win it. We didn't think twice. Just made decisions and didn't hesitate."
Neither did Noah down the stretch.
"You get caught up in the game and you start forgetting about it," Noah said when asked about his plantar fasciitis. "It was pretty painful. Laterally, my movements weren't great. But it just feels good right now. We beat three pretty solid teams in a row. It's good for our confidence as a team. We just got to keep it up."
At this point, who says they can't?
Health update: Del Negro is giving his team a day off on Tuesday to rest all their aches and pains. Aside from Noah's foot injury and Rose's flu, Tyrus Thomas tweaked his back on Monday night and Brad Miller is still hurting with a sore knee.
Line of the night: Noah, on how he got ready to play when things were looking bleak: "Brad [Miller] told me this morning, the best drug when you're hurt is that adrenaline from the crowd. It's so true. Once you're into the game, you don't even feel the pain anymore."