3 Points: Nets now a bigger threat to Bulls?
April, 3, 2014
4/03/14
12:00
PM CT
By ESPNChicago.com
ESPNChicago.com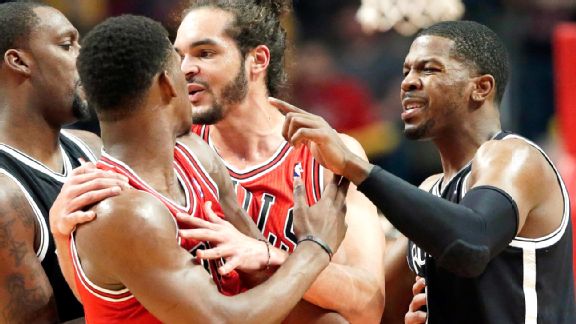 AP Photo/Nam Y. HuhThe Bulls are 2-1 against a Nets team that is 30-13 since the calendar turned to 2014.
Every week, ESPNChicago.com Bulls writer Nick Friedell is joined by two other ESPN writers to weigh in on three questions that are on the minds of Chicago Bulls followers.
1. Would the Nets be a bigger threat to the Bulls in a first-round matchup compared to last season?
Nick Friedell:
Yes. They have more of a veteran presence, and Jason Kidd seems to have found more of a rhythm as coach. But the difference is that the Bulls are also a better team than they were a year ago.
Joakim Noah
and
Taj Gibson
are playing the best basketball of their careers, and
D.J. Augustin
has become a closer for a team that was in desperate need of one. Combine those factors with the reality that Tom Thibodeau still runs one of the best defenses in the league, and it's easy to understand why the Bulls would still be the favorite in that series.

Jon Greenberg:
Given the relative good health of the Bulls right now, I'd say no. Remember, the Bulls were up 3-1 on Brooklyn after the "
Nate Robinson
game." But that would be the last game that
Luol Deng
(botched spinal tap) and
Kirk Hinrich
(calf injury) would play. Unless their opponent is
LeBron James
or
Kevin Durant
or the Spurs, the Bulls' biggest foe is the Bulls. As well as the Nets are playing now that they're in harmony, I think the Bulls, who won two out of three against Brooklyn this season, can take them. It might take seven games again, but as we know, this team rebounds quite well from losses. Since Jan. 1, they've lost consecutive games just once, road defeats at New Orleans and Sacramento. While Robinson's heroics were crucial last year, Augustin is a much better point guard and Chicago's finest, Noah and Gibson, can carry a team.
Scoop Jackson:
Yes. They've found their flow and to be honest, it's a little scary. Since the day 2014 began (or since Kidd stopped wearing ties), they are 30-13, playing like one of the best teams in the NBA. And they've been doing it for the most part with
Kevin Garnett
"resting" with an injury that, come playoff time, might be a blessing in disguise. The other thing that should be of concern to the Bulls when it comes to the Nets is payback. The Nets have a deep incentive to beat the Bulls to make up for the embarrassment the Bulls put on them last year in the playoffs. That alone will make the Nets tougher this time around. That, and the fact that this time they'll be playing with a sense of purpose and pride. Two things that were nonexistent last year.
---
2. Have the recent struggles of the Pacers changed your opinion of the Bulls' chances against them in the playoffs?
Friedell:
No, because I've always believed the Bulls had a solid chance to beat Indiana. The Bulls are not scared of the Pacers, and they are confident they can beat them in a seven-game series. That confidence has never wavered. The Pacers' recent struggles have only reinforced that confidence.
[+] Enlarge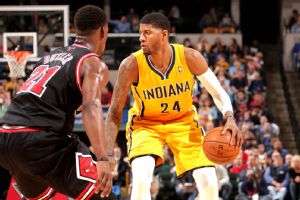 Ron Hoskins/NBAE/Getty ImagesPaul George's Pacers were just 8-10 in March, including a loss to the Bulls.
Greenberg:
Yes, of course. Teams that struggle like this don't just magically rebound once the postseason begins. It's possible, yes, but this is a broken, dysfunctional team. Before the Pacers' last game in Chicago, reporters were buzzing about team meetings and the general distrust that had mutated in the locker room. Getting rid of
Danny Granger
for
Evan Turner
was a chemistry backfire. Maybe
Andrew Bynum
can host a team bowling night? Could the Pacers avoid the gutter, though? Indiana can't score on anyone right now, least of all the Bulls, who scored an easy 89-77 win last week. Once the Bulls got rolling, it was clear they could at least drag Indiana through a long playoff series. Now, you wonder if the Bulls could close them out in six.
Scoop Jackson:
Nope. In the end, I still believe that the Pacers have enough individual offense (and play respectable enough defense) to beat the Bulls in a seven-game series. But I do now believe that when that series ends, we will all walk away feeling that the Pacers didn't deserve to win the series, which is something I can say I didn't feel a few months ago. Unlike the Nets of last year, there is a sense of pride inside that Pacers locker room and organization, and at some point during the playoffs, it will kick in.
David West
will make sure of that. The question is, though, will that pride be enough to get them past another team once the Bulls put that pride to the ultimate test?
---
3. What will be the Bulls' biggest shortcoming in the playoffs?
Friedell:
The lack of an elite-level, go-to scorer down the stretch. Superstars win in the playoffs, specifically players who can create and score whenever they want. As great as Noah and Augustin have been this season, neither have the type of offensive game to consistently create and score in big moments against the likes of LeBron and
Dwyane Wade
.
[+] Enlarge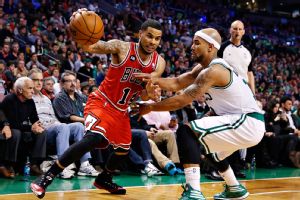 AP Photo/Michael DwyerD.J. Augustin's ability to create his own shot has been a boon to the Bulls since they signed him in December.
Greenberg:
Easy, scoring. Or shooting. Shooting and scoring. This team struggles with offense in general. The Bulls have lost 14 times since Jan. 1, and they scored 90 or more points in only three of those losses. While scoring is the Bulls' most famous shortcoming, it's not impossible for this team to score. In the Bulls' 19 wins in February and March, they've averaged 100 points. But like everything else with this team, it starts with defense. When the Bulls get on the run (see the YouTube video of Noah on the break set to "Born to Run"), they're fairly dangerous. But in a grind-it-out, half-court game, they need to be clicking, in rhythm, as Noah runs the offense from the top of the key. It'll be interesting to see how the Bulls rise to the challenge in the postseason.
Jackson:
In one sentence? Not having an Option 1/Alpha Dawg/Hype Beast scorer to regularly dig them out of those double-digit deficits they are going to find themselves in during the playoffs. A player who has the ability, consistency and pedigree to drop 20-23 points in every game regardless of who they are playing and can counter LeBron if they face Miami and/or
Paul George
if they face Indiana and/or the
Joe Johnson
/
Deron Williams
/
Paul Pierce
trio if they face Brooklyn. Other than that, I really don't think any other shortcoming exists.