Thibodeau hides disappointment over Melo
July, 12, 2014
Jul 12
9:29
PM CT

By Nick Friedell
ESPNChicago.com
Archive
LAS VEGAS -- It's the middle of July and Tom Thibodeau is already in midseason form.
The
Chicago Bulls
coach spent a few minutes with the media before his team's opener in the Las Vegas Summer League, and it was like talking to him before a regular-season game in Milwaukee in March.
The basketball lifer was obviously disappointed by the fact that
Carmelo Anthony
decided to stay
with the
New York Knicks
-- Thibodeau and the Bulls invested a lot of time and effort into their recruiting pitch to Anthony -- but he didn't show his frustration. He didn't even mention Anthony by name.
[+] Enlarge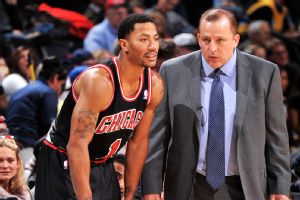 Garrett W. Ellwood/NBAE/Getty ImagesThibodeau's loyalty to his players is displayed in his restraint when speaking publicly about them, and his confidence in them shows in his resiliency in response to missing out on Carmelo Anthony.
Did he think the Bulls' pitch to Anthony went well?
"At this time of the year, [executive VP of basketball operations] John [Paxson] and [general manager] Gar [Forman] have talked to a number of players," Thibodeau said. "You make your presentation, we think we have a lot to offer. We feel we have some good options, and we're looking forward to the challenge of next year."
That's as deep as Thibodeau will go. Anybody who has followed the Bulls over the past four seasons knows to read the tea leaves with the veteran coach, though. His refrain will always remain the same: Whether Anthony landed in Chicago or not, Thibodeau was always going to be of the belief that the Bulls have more than enough to win. It's a mantra that has defined his coaching career and his tenure with the Bulls.
But there's no doubt Thibodeau will motivate his players next season by reminding them that, in the end, Anthony spurned Chicago. Anthony turned his back on Thibodeau and what was widely believed to be the best situation to win a title right away. Even if Thibodeau understands how much Anthony fought with the decision and how much money he would have left on the table, Thibodeau will use Anthony's choice as yet another motivational ploy in firing up his team. He thrives on the "us against the world" mentality and will remember that in the future when the Bulls face the Knicks.
On top of Thibodeau's frustration with the Anthony news, Thibodeau also made a point to stand behind his players, as he always does. When asked how he thought his current players did in the recruiting process, Thibodeau offered praise.
"They did a great job," he said. "And that's the way it is today in the NBA. The players, they all know each other. They're all going to be talking to each other. And then everyone has to do what's best for themselves. This time of the year, some players change teams, and some players don't. We're looking forward to it."
Thibodeau tried to focus on the challenge of the new season instead of the fact that several members of the organization were upset that star
Derrick Rose
did not seem as engaged in luring Anthony to town as he could have been. That is one of the main reasons Thibodeau's players still respect him so much. If he wants to talk to a player privately, he will, but he rarely airs anything out in the media, especially with Rose. Like so many of his characteristics, that was on full display again Saturday.
As was the fact that the 56-year-old doesn't care much for the hype machine that comes with free agency. He'd rather just get his players together and start playing.
"This is what the NBA has become," Thibodeau said of this summer's free-agency hoopla. "There's the buildup once the playoffs are over, then there's the buildup for the draft, then the next phase is free agency. I think it's exciting for everyone. Everyone looks at all the possibilities. Everyone is trying to improve their team, so it makes it interesting. But the important thing is that you also have to look at the guys that you do have."
Thibodeau did that again Saturday night in the desert. He wasn't happy about the fact he wouldn't get to coach Anthony, but, as usual, that didn't mean he had lost confidence in the Bulls' ability to win this season.