[+] Enlarge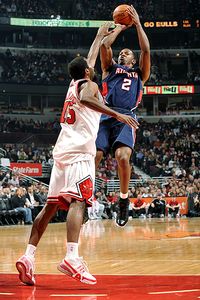 Randy Belice/NBAE/Getty Images
Joe Johnson will be a free agent, and did his best to make his case to the Bulls on Saturday.
Joe Johnson held his own personal meet-and-greet for prospective buyers at the United Center on Saturday night.
The soon to be free-agent did his best to remind the Bulls that he should be one of the players they consider signing this summer. Johnson had 40 points, six rebounds and four assists but came up just short in the end, missing a three-pointer that would have tied the game.
After it was over, I asked the Bulls point guard Derrick Rose, and probable free-agent recruiter, if he would like to play with Johnson down the line.
"Any one of them. Any one of them stars," he said with a smile. "But I wouldn't mind playing with him."
Did you show him Chicago would be a good place to play?, another reporter asked.
"I hope so," Rose said. "He's a helluva player. I'd love to play with him, but we'll just have to see."
For his part, Johnson said before the game that he enjoys playing in Chicago, but didn't seem to care that he was part of maybe the best free-agent class of all time.
"I don't worry about who's in the free agency [class]," he said. "I just worry about myself right now. When that comes then we'll cross that bridge when we get to it."
Thomas back to contact: Bulls coach Vinny Del Negro said before the game that he plans to allow injured forward Tyrus Thomas to practice a little harder on Sunday. Thomas has been out since early November due to a fractured forearm and has only been participating in non-contact drills up to this point.
"Maybe a little two-on-two [Sunday]," Del Negro said. "See how he feels. He's been doing some non-contact shooting stuff. But [he'll try] some contact, see how he feels. And then after that happens, I'll have a better gauge what we're thinking."