Rose doubtful vs. Wizards; James signed
January, 11, 2012
1/11/12
3:54
PM CT
RENO, Nevada -- With Derrick Rose hampered by turf toe and unlikely to play on Wednesday, the Chicago Bulls were looking for help at guard.
They found it in Reno, where it only took a two-game audition in the D-League for veteran guard Mike James to earn an NBA recall.
Read the entire story.
Senior Writer, ESPN.com
• Senior NBA writer for ESPN.com
• Began covering the NBA in 1993-94
• Also covered soccer, tennis and the Olympics
BULLS REVIEWS

Nick Friedell reviews the seasons for every Bull and looks at how they fit into the team's future plans.

May 20 -- Jimmy Butler
May 21 -- Taj Gibson
May 22 -- Joakim Noah
May 23 -- Carlos Boozer
May 24 -- Nazr Mohammed
May 26 -- Daequan Cook
May 27 -- Vladimir Radmanovic
May 28 -- Marquis Teague
May 29 -- Marco Belinelli
May 30 -- Kirk Hinrich
May 31 -- Marquis Teague
June 3 -- Nate Robinson
June 4 -- Derrick Rose
June 5 -- Tom Thibodeau
June 6 -- Gar Forman
50 GREATEST JORDAN MOMENTS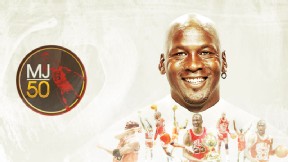 ESPN Chicago takes a look at the 50 greatest moments in Michael Jordan's career. Gallery

ABOUT THIS BLOG

Nick Friedell
Nick Friedell covers the Chicago Bulls for ESPNChicago.com and ESPN 1000. He joined the staff in April of 2009 after serving as an editor and contributor for Yahoo! Sports.

Scott Powers
Powers is an award-winning journalist and has been reporting on preps, colleges and pros for publications throughout the Midwest since 1997.
BLOG ARCHIVE:
CATEGORIES:
ESPNSteinLine Marc Stein
Some @TrueHoop chatter on David West, Denver's hopes of keeping Masai Ujiri, Seattle/Sacramento reflections and more: http://t.co/jf3LaNRw1X
18 minutes ago

NazrMohammed Nazr Mohammed
Text "REDCROSS" to 90999 to make a $10 donation to help the tornado victims in Oklahoma #PrayerWorks
29 minutes ago

ESPNChiBulls ESPNChiBulls
Bulls player review: Taj Gibson http://t.co/whg96osvFy
about an hour ago

chadfordinsider Chad Ford
Lottery primer: Here's our Updated Mock Draft Lottery … play away & may the odds ever be in your favor!!!! http://t.co/e3HdZDIrwr
about an hour ago

chadfordinsider Chad Ford
Lottery primer: Here's our 2013 Lottery Preview. What all 14 teams could do with the No. 1, 2 & 3 pick http://t.co/c79k6aKwc8 (insider)
about an hour ago

chadfordinsider Chad Ford
Lottery primer: Here's our Updated Top 100 http://t.co/pBGWKOdrmt (insider)
about an hour ago

chadfordinsider Chad Ford
The Pistons will pick in the lottery for the fourth straight year, the longest stretch in franchise history.
about an hour ago

chadfordinsider Chad Ford
If the Raptors pick is not in the top three, it will go to Oklahoma City (via Houston).
about an hour ago

chadfordinsider Chad Ford
The Kings will be making their seventh straight lottery selection, the longest active streak.
about an hour ago

chadfordinsider Chad Ford
This is the 10-year anniversary of the Cavs selecting LeBron James No. 1 overall.
about an hour ago

chadfordinsider Chad Ford
The Bobcats highest draft position in team history is second overall (Emeka Okafor in 2004; Michael Kidd-Gilchrist in 2012).
about an hour ago

chadfordinsider Chad Ford
The Magic will make the 13th lottery pick in team history in June, but first since taking J.J. Redick in 2006.
about an hour ago

chadfordinsider Chad Ford
David Robison was the other player to be selected ROY & make the postseason his rookie year. Robinson, Webber, Duncan & Rose ...
about an hour ago

chadfordinsider Chad Ford
Rose also correct. One more … RT @CHIEFCPA2007: Rose, Duncan, Shaq, Iverson"
about an hour ago

chadfordinsider Chad Ford
Duncan & Webber correct. 2 more? RT @PDWolves: Shaq, Duncan, Webber, Coleman?"
about an hour ago

chadfordinsider Chad Ford
Since 1990, four overall No. 1 picks went on to win the Rookie of the Year award AND make the postseason. Can you name them?
about 2 hours ago

chadfordinsider Chad Ford
Teams with fewest lottery selections: Lakers (2), Spurs (3), Jazz (6), Knicks (7), Heat (7)
about 2 hours ago

chadfordinsider Chad Ford
Since the start of the lottery in 1985, 13 of the 28 No. 1 overall picks have gone on to win the NBA Rookie of the Year Award.
about 2 hours ago

chadfordinsider Chad Ford
Clippers (22), Warriors (20), Kings (17), Wolves (16), Cavs (15), Bucks (15) have made the most lottery selections since lottery began in 85
about 2 hours ago

chadfordinsider Chad Ford
On the other end, Charlotte, Phoenix, Minnesota and Utah have never held the top pick.
about 2 hours ago