Will no move be a good move for Bulls?
March, 15, 2012
3/15/12
4:31
PM CT

By Nick Friedell
ESPNChicago.com
Archive
CHICAGO -- Can the
Chicago Bulls
win a championship with the roster they have in place?
[+] Enlarge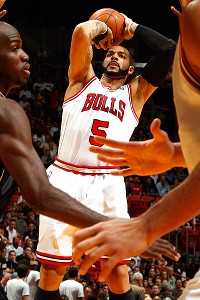 Issac Baldizon/NBAE/Getty ImagesIf Carlos Boozer had been more productive from Day 1 with the Bulls they wouldn't have a need for a player such as Pau Gasol.
That's the question Bulls fans pondered Thursday as the group came to grips with the fact that general manager Gar Forman and executive vice president of basketball operations
John Paxson
decided not to make a move at the trade deadline.
As usual, Forman and Paxson worked the phones for the past few weeks. As ESPN.com's Marc Stein reported earlier in the week, the Bulls tried to pry
Pau Gasol
away from the
Los Angeles Lakers
, but the Lakers wanted no part of
Carlos Boozer
's albatross of a contract.
The fact that the Bulls decided not to make a move doesn't come as much of a surprise. Forman and Paxson really like the team they've built, and they believe it can contend for a title. They've been consistent in saying they want to hold onto their young assets, specifically
Omer Asik
and
Taj Gibson
, two of the players usually at the forefront of any conversation with opposing teams.
But perceived actions may speak louder than the Bulls' inactivity. The fact that Boozer's name was mentioned as a possibility in a deal sends a message that the Bulls aren't quite sure they can win with the roster they have. Going after Gasol would have been an upgrade, and Forman and Paxson should be commended for trying to make their team better. But at the same time, if they were so confident the team could win, why would they have to make a move in the first place?
Forman would say it's his job to look at the various options and try to make his team better. He's right. But if Boozer had been more consistent over the last year and a half, the argument that the Bulls had to make another move wouldn't be up for discussion.
The Boozer boosters will point to the fact that Boozer has played in every game this season and averaged 15.3 points and 8.1 rebounds. That's great, but he was billed when he signed last summer as being a back-to-the-basket low-post scorer. Boozer was supposed to be the second offensive weapon on a championship caliber team. He was supposed to take the pressure off
Derrick Rose
when Rose was off or needed some help. Aside from a handful of games, that hasn't been the case.
Lost in the exuberance of Wednesday night's win over the
Miami Heat
without Rose was the fact that Boozer scored just two points and took just four shots. That's not going to cut it in the playoffs against Miami and even Forman would be the first one to admit that.
Obviously, it's won't be all Boozer's fault if the Bulls don't make it past Miami this season.
Richard Hamilton
has done next to nothing this season because of all the injuries he's dealt with. He essentially becomes the Bulls' big trade acquisition because he really hasn't been around the team to make much of a difference up to this point. Nobody is quite sure what the Bulls will get from him, if anything.
The Bulls will also try and sign another big man heading down the stretch, but no matter who comes in, they won't make much of a difference. The bottom line for the Bulls is that by not making a move Thursday afternoon, they've decided to roll the dice and hope that this team has enough the way it is.
They've improved from last season, and they appear to be more confident than ever, but it's hard for fans to feel much better about the team's chances given the way they were dispatched in last season's Eastern Conference finals.
As Rose has stated in recent weeks, it will take four perfect games for the Bulls to knock off the Heat if they meet again in June. Everyone must play up to their full potential. Rose must be an MVP every night,
Joakim Noah
has to be a double-double force,
Luol Deng
and his balky left wrist must find a way to stay healthy and play at an All-Star level. Speaking of staying healthy, Hamilton must prove he can turn back the clock and keep his body in order. The Bench Mob has to play every night like it did against Miami on Wednesday. But most of all, Boozer has to be the player the Bulls always thought he could be. He has to prove that he can come through against the good teams, rather than just dominating the bad ones.
The Bulls decided not to make a move at the deadline Thursday -- and in the process, they also turned up the heat on their $80 million power forward. If Boozer, and to a lesser extent, Hamilton come through in the playoffs, nobody will care about their struggles. If they don't, Boozer is going to take the majority of the criticism.
Why? Fans will question what the Bulls can do to get better in the offseason and come to the realization that Boozer's hefty contract puts a huge speed bump into acquiring any player who may be able to make a major difference.