Bench comes up big in Bulls' win
March, 28, 2012
3/28/12
11:39
PM CT

By Nick Friedell
ESPNChicago.com
Archive
ATLANTA -- Carlos Boozer scored 20 points, grabbed nine rebounds and threw down one of the most ferocious dunks of his Bulls' career at the end of Wednesday night's convincing 98-77 win over the Atlanta Hawks.
[+] Enlarge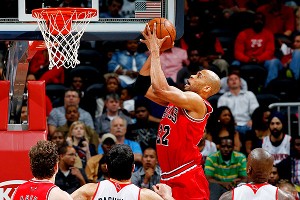 Kevin C. Cox/Getty ImagesTaj Gibson had 19 points in 24 minutes on Wednesday.
Still, the veteran power forward knew what one of the most crucial aspects of the night was for his team, and as he often does, he sung the praises of his teammates. In this case, the teammates Boozer referred to as sweat rolled off his face were the feisty group that continues to make a name for themselves night after night.
The Bench Mob.
Led by Taj Gibson who scored 19 points and grabbed six rebounds, the Bench Mob had one of its most productive nights of the year, outscoring Atlanta's bench 37-23. As usual, the Bench Mob changed the momentum of the game and helped push the Bulls back on the kind of track that Tom Thibodeau has been searching for the past two weeks.
"They're so awesome, man," Boozer said. "We've got the best bench in the league. A lot of those guys would be starters on other teams, they're just playing behind studs on this team, but we look at them as starters. We've got two groups that go in there and do their thing. And our guys come in super aggressive, all the way from the point guard all the way down to the center. We're very confident in them and it's fun to watch them get [going]."
Obviously, Boozer, Luol Deng and several other starters played well Wednesday -- after all, the Bulls dominated in most facets of the game. But it was the Bench Mob that changed the scope of the game with a strong showing in the second quarter and helped nail the game down towards the end of the second half. Gibson admitted that he can feel when he and his teammates are about to take over the contest.
"Yeah, we understand," he said. "Because our second unit plays with so much energy. Any given night anybody can just step up. One thing about us, our whole second unit, guys are real patient. We understand where shots are going to come from. We understand our looks and everybody just plays off of everybody's skills and what they're good at. It just works well. We really key in, in practice, we bring the energy in practice, and we're just always ready. Thibs has a lot of confidence in us and we try to just play hard for him."
That confidence remains on display almost every night. Unlike most coaches in the league, Thibodeau has no fear when it comes to sending in his second unit during key stretches in a game.
"I think it's huge," Thibodeau said. "It says a lot about our team. We count on everybody; whether it's in practice, games, extended minutes, short minutes, but everyone has to stay ready and that's their job. When they get in there, get the job done."
That might as well be the mantra for the entire squad. After the second unit's performance helped stabilize the Bulls, the starters, (playing without Derrick Rose and Rip Hamilton once again) ran away with the game late. Given the way the Bulls have played this season, especially without the reigning MVP in Rose, and a veteran scorer like Hamilton, there are a lot of people in the Bulls' locker room who believe this is the deepest team they've ever played on.
Kyle Korver is one of them.
"We had a couple teams in Utah that were pretty deep, too, and we've got half of it here," he said with a chuckle. "But it's been pretty remarkable, all the guys that have gone down and still have the record that we do and guys fill in. Obviously, we'd rather have Derrick playing but there's rarely a night when either C.J. or Lucas don't combine for 30, or one of them gets 20. Guys just keep on stepping up and it's the sign of a really good team."
That's the sign of a team that is confident they are going to win every single night. After struggling over the past few games to get going on both ends of the floor, the turnaround Thibodeau's team showed Wednesday night left the veteran coach looking forward to what's coming in the future. He knows that if Rose and Hamilton can come back and play well, his team will be even better because of the confidence his reserves have developed in their absence.
"I thought, overall, everyone played well," Thibodeau said. "I loved the energy of the team. I thought the attitude was great in the shootaround today. I thought we came out, the game didn't start perfectly for us, but we worked our way through the start and we just kept grinding away and it worked out for us."