Video: Bulls set to battle back
May, 8, 2012
5/08/12
6:47
PM CT



Tom Thibodeau and Kyle Korver discuss what needs to happen for the Bulls to fight off elimination.
50 GREATEST JORDAN MOMENTS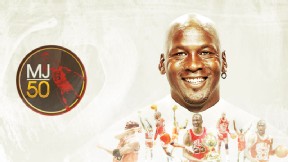 ESPN Chicago takes a look at the 50 greatest moments in Michael Jordan's career. Gallery

ABOUT THIS BLOG

Nick Friedell
Nick Friedell covers the Chicago Bulls for ESPNChicago.com and ESPN 1000. He joined the staff in April of 2009 after serving as an editor and contributor for Yahoo! Sports.

Scott Powers
Powers is an award-winning journalist and has been reporting on preps, colleges and pros for publications throughout the Midwest since 1997.
BLOG ARCHIVE:
CATEGORIES:
jadande J.A. Adande
No glove though, so some dignity preserved RT @CSNChicago: #Cubs fan misses homer, gets beer poured on him: http://t.co/dIYRdO68dw
49 minutes ago

ESPNSteinLine Marc Stein
Could Sterling have been in San Antonio on other business, on a Sunday, two rounds after Clips eliminated? If so, that's a first for him
about an hour ago

ESPNSteinLine Marc Stein
Clips, I'm told, have NOT asked to interview Spurs' in-demand Mike Budenholzer. Suggests Sterling was thus scouting free agent-to-be Hollins
about an hour ago

ESPNSteinLine Marc Stein
Hottest theory circulating here in San Antonio is that Donald Sterling was at Game 1 sitting across from Grizz bench to scout Lionel Hollins
about an hour ago

jadande J.A. Adande
....Then he follows it up by playing the theme from "Grease"
about 3 hours ago

jadande J.A. Adande
They played "Return of the Mac" When Tracy McGrady checked in. Rare props for Spurs' DJ.
about 3 hours ago

jadande J.A. Adande
Z-BOOOOOOOOOO
about 3 hours ago

jadande J.A. Adande
Seriously, who thought it was a good idea to do a "Don't Stop Till You Get Enough/Everybody Dance Now" mashup?
about 3 hours ago

jadande J.A. Adande
The guitar player who did anthem just did "Welcome to Jungle" live to start 4Q. That's the best thing I've seen/heard at AT&T Center
about 3 hours ago

jadande J.A. Adande
No, cuz ZBo will score eventually. Right? RIGHT? RT @HayDayKim Is this game going to be reflective of the series as a whole moving forward?
about 3 hours ago

jadande J.A. Adande
Remember when it was a 6-point game. That was a fun minute
about 3 hours ago

jadande J.A. Adande
I guess Zach Randolph just decided to let Quincy Pondexter have all his points.
about 4 hours ago

jadande J.A. Adande
You know when it's garbage time and everyone's rooting for the 12th man to score? I feel that way about ZBo right now
about 4 hours ago

ESPNSteinLine Marc Stein
Zach Randolph IS gonna score in this game, right?
about 4 hours ago

jadande J.A. Adande
Danny Green more than doubling the output of Duncan and Ginobili combined: 13-6
about 4 hours ago

jadande J.A. Adande
Grizzlies are shooting 48%, which ain't that bad. But 6 turnovers and getting doubled up on the boards
about 4 hours ago

jadande J.A. Adande
It's as if the Grizzlies' game plan is to stay away from Tony Parker, like he's contaminated.
about 4 hours ago

jadande J.A. Adande
Look up. Way up. RT @heydb: Are you here???
about 5 hours ago

jadande J.A. Adande
RT @Uwaine: Well . . . he's getting a workout I guess.
about 5 hours ago

jadande J.A. Adande
ZBo is just running around out there, not getting anything accomplished.
about 5 hours ago