Video: 20 years ago, Jordan lights up Blazers
June, 3, 2012
6/03/12
3:45
PM CT


Sunday marks the 20th anniversary of Game 1 of the 1992 NBA Finals, where Michael Jordan set playoff records for points (35) and three-pointers (6) in a half.
50 GREATEST JORDAN MOMENTS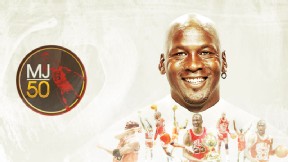 ESPN Chicago takes a look at the 50 greatest moments in Michael Jordan's career. Gallery

ABOUT THIS BLOG

Nick Friedell
Nick Friedell covers the Chicago Bulls for ESPNChicago.com and ESPN 1000. He joined the staff in April of 2009 after serving as an editor and contributor for Yahoo! Sports.

Scott Powers
Powers is an award-winning journalist and has been reporting on preps, colleges and pros for publications throughout the Midwest since 1997.
BLOG ARCHIVE:
CATEGORIES:
nate_robinson Nate Robinson
champagnepapi oh hell naw lol #1 lol #classic #holdat http://t.co/gvki39nrJy
about 5 hours ago

nate_robinson Nate Robinson
Lol champagnepapi man bro I'm in 😂ova here #holdat http://t.co/K6ljFlBTrt
about 5 hours ago

nate_robinson Nate Robinson
champagnepapi lol Luxury lol #toofunny #holdat http://t.co/XBCWOXdmaw
about 5 hours ago

nate_robinson Nate Robinson
Man what? champagnepapi lol bro this has to stop lol I'm in 😂😂😂😂😂 http://t.co/VrAB5PcAjw
about 6 hours ago

nate_robinson Nate Robinson
champagnepapi really thou? The polo ? 😂😂😂😂😂😂😂😂😂😂😂😂😂😂best one hands down http://t.co/Sf8SrI20VR
about 6 hours ago

ESPNSteinLine Marc Stein
May 19 belongs to my bro Big O & Jess. Year ago today their little warrior was born. Jacob tragically here just 11 days but with us FOREVER
about 8 hours ago

ESPNSteinLine Marc Stein
RT @AllonSinai: Dudi Sela to re-enter world's top 100 tomorrow after winning Challenger tourney in Busan, South Korea (No. 88 TO BE EXACT!)
about 9 hours ago

ESPNSteinLine Marc Stein
After Game 1 in SA in 2011, Z-Bo got a new contract. After Game 1 here in 2013, Z-Bo was moved to apologize. Column: http://t.co/Q7LGTwJzVu
about 9 hours ago

jadande J.A. Adande
RT @RealTzaddi NOTHING is worse than what they did to Theon last week. Kill me instead. Hell kill me twice instead."
about 10 hours ago

jadande J.A. Adande
Can't get worse than last week tho RT @RichelleCarey Lemme guess: Theon gets tortured some more tonight. That's a safe bet this season #GOT
about 10 hours ago

jadande J.A. Adande
No glove though, so some dignity preserved RT @CSNChicago: #Cubs fan misses homer, gets beer poured on him: http://t.co/dIYRdO68dw
about 11 hours ago

ESPNSteinLine Marc Stein
Could Sterling have been in San Antonio on other business, on a Sunday, two rounds after Clips eliminated? If so, that's a first for him
about 12 hours ago

ESPNSteinLine Marc Stein
Clips, I'm told, have NOT asked to interview Spurs' in-demand Mike Budenholzer. Suggests Sterling was thus scouting free agent-to-be Hollins
about 12 hours ago

ESPNSteinLine Marc Stein
Hottest theory circulating here in San Antonio is that Donald Sterling was at Game 1 sitting across from Grizz bench to scout Lionel Hollins
about 12 hours ago

jadande J.A. Adande
....Then he follows it up by playing the theme from "Grease"
about 14 hours ago

jadande J.A. Adande
They played "Return of the Mac" When Tracy McGrady checked in. Rare props for Spurs' DJ.
about 14 hours ago

jadande J.A. Adande
Z-BOOOOOOOOOO
about 14 hours ago

jadande J.A. Adande
Seriously, who thought it was a good idea to do a "Don't Stop Till You Get Enough/Everybody Dance Now" mashup?
about 14 hours ago

jadande J.A. Adande
The guitar player who did anthem just did "Welcome to Jungle" live to start 4Q. That's the best thing I've seen/heard at AT&T Center
about 14 hours ago

jadande J.A. Adande
No, cuz ZBo will score eventually. Right? RIGHT? RT @HayDayKim Is this game going to be reflective of the series as a whole moving forward?
about 14 hours ago