Video: Rose's rehab, Part II
September, 7, 2012
9/07/12
4:52
PM CT


Derrick Rose gives fans an all-access look at his rehab program.
BULLS REVIEWS

Nick Friedell reviews the seasons for every Bull and looks at how they fit into the team's future plans.

May 20 -- Jimmy Butler
May 21 -- Taj Gibson
May 22 -- Joakim Noah
May 23 -- Carlos Boozer
May 24 -- Nazr Mohammed
May 26 -- Daequan Cook
May 27 -- Vladimir Radmanovic
May 28 -- Marquis Teague
May 29 -- Marco Belinelli
May 30 -- Kirk Hinrich
May 31 -- Marquis Teague
June 3 -- Nate Robinson
June 4 -- Derrick Rose
June 5 -- Tom Thibodeau
June 6 -- Gar Forman
50 GREATEST JORDAN MOMENTS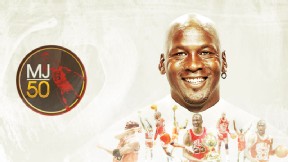 ESPN Chicago takes a look at the 50 greatest moments in Michael Jordan's career. Gallery

ABOUT THIS BLOG

Nick Friedell
Nick Friedell covers the Chicago Bulls for ESPNChicago.com and ESPN 1000. He joined the staff in April of 2009 after serving as an editor and contributor for Yahoo! Sports.

Scott Powers
Powers is an award-winning journalist and has been reporting on preps, colleges and pros for publications throughout the Midwest since 1997.
BLOG ARCHIVE:
CATEGORIES:
nate_robinson Nate Robinson
Lol we need the beach pix RT @JCrossover: Me and @nate_robinson #tbt http://t.co/llnpW919Gq
about an hour ago

johnhollinger John Hollinger
If you're heading to Memphis for the games this weekend, I implore you, read this: http://t.co/Eua3Pm5dA2
about 4 hours ago

johnhollinger John Hollinger
Breaking record formerly held by Hangover II RT @jwquick Hangover III: Worst movie ever
about 4 hours ago

ESPNSteinLine Marc Stein
If these two games are only two times I see @EdDzeko in this new @mcfc strip, I will cry in front of my children again. Love you, Big Man
about 4 hours ago

ESPNSteinLine Marc Stein
Two Premiership giants playing in St. Louis tonight. St. Louis! This would make my man @BobbyRhine smile so big #BR19
about 6 hours ago

ESPNSteinLine Marc Stein
Tonight's the night we lose the ability to say no one has ever seen @TaylorTwellman and my 6-year-old's beloved Joe Hart in the same place
about 6 hours ago

JoakimNoah Joakim Noah
RT @damianmarley: What if there was a 5 night reggae cruise from Miami to Jamaica with all the top reggae artists + DJs performing? http://…
about 6 hours ago

ESPNSteinLine Marc Stein
RT @PCarrESPN: Chelsea-Man City, 8:20 ET on ESPN2 & WatchESPN. Live from a bizarre/beautiful Busch Stadium - http://t.co/OlMZnK61UB
about 6 hours ago

ESPNChiBulls ESPNChiBulls
Bulls player review: Carlos Boozer http://t.co/o3jfyGIGrl
about 7 hours ago

ESPNSteinLine Marc Stein
Gonna be fun Team USA mini-camp end of July with so many top youngsters Vegas-bound. Two more names I've heard: John Wall & Bradley Beal
about 8 hours ago

chadfordinsider Chad Ford
RT @Lockedonsports: Just finished a terrific podcast with @chadfordinsider - Draft lovers you will really like this http://t.co/7PGOVAjZgp
about 10 hours ago

chadfordinsider Chad Ford
Draft Blog: Winners from the NBA New Jersey Draft Workout on Wed/Thur led by Pierre Jackson http://t.co/u8cWVLR05U (insider)
about 10 hours ago

NazrMohammed Nazr Mohammed
Back at it. Weights, cardio, & treatment. #OffSeason #ILoveThisGame http://t.co/MCcQek9wGW
about 10 hours ago

ESPNSteinLine Marc Stein
Don't worry, @stackmack. Word is Kawhi Leonard will definitely be one of Coach K's 24 invitees to Team USA mini camp in Vegas, too
about 11 hours ago

marcobelinelli Marco Belinelli
I posted a new photo to Facebook http://t.co/xxuabJaxUz
about 11 hours ago

jadande J.A. Adande
The Blacks? RT @KamBrothers: The whole thing has become a Larry David sketch. AK
about 12 hours ago

Chris_Broussard Chris Broussard
TRUE FREEDOM, Part 2: Becoming a Freedom Fighter http://t.co/6uZXT6Jayi
about 12 hours ago

jadande J.A. Adande
CEO of European golf tour winds up apologizing for his acceptance of Sergio's apology RT @CindyBoren: http://t.co/QDvjPckyp2
about 12 hours ago

Chris_Broussard Chris Broussard
DWade did not foul George on 3-pt attempt, so George should not have gotten 3 FTs and hence, taken the lead for Indy.
about 12 hours ago

Chris_Broussard Chris Broussard
Plus, Indy was lucky to have shot to win. George's 3pt was great shot but lucky; Ray Allen's missed FT was severe aberration and......
about 12 hours ago