Chicago Bulls:

2012 NBA All-Star Game
February, 28, 2012
2/28/12
8:39
AM CT
Chicago Bulls
star
Derrick Rose
says he can dance, but that he doesn't feel as if the All-Star Game is the right venue to showcase those skills.
"I can dance," Rose said after Sunday night's All-Star Game. "But there's a time and place for that and I don't think it was right, then and there."
Read the entire story
.
February, 10, 2012
2/10/12
11:15
AM CT
CHARLOTTE -- The low point for
Luol Deng
came three seasons ago as he sat on the bench, injured, watching one of the best NBA playoff series of all time as a spectator. A stress fracture in his right tibia suffered in February sidelined him for the rest of the 2008-09 season, opening him up to criticism from fans, media and the Bulls organization.
Deng had to sit and watch his young Bulls take the second-seeded
Boston Celtics
to seven games in a memorable first-round playoff series that featured four overtime games.
[+] Enlarge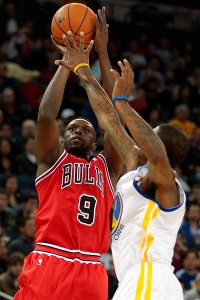 Cary Edmondson/US PresswireThe Bulls' Luol Deng made his first All-Star team despite missing seven games with a torn ligament in his wrist.
"To know that I'm on that team, but couldn't dress up and play and then sitting there and reading everything; the papers, the fans, and everyone saying that I wasn't really hurt," Deng said Friday. "To me, that was the lowest point and the craziest thing I ever had to go through. To get people saying things like that. I think that's the first time I really went through something like that. I think it helped me a lot. And just bouncing back, and knowing really how things work.
"Before I kind of felt like I was loved by everyone. That's really how I really felt ... Through my whole life I never experienced that kind of, if you want to call it hate, or whatever it was. Until that point, and sitting there for seven games [in that series], to me it's the toughest thing I've done in my whole career."
Perhaps that's what made Thursday's news that much more special, when Deng was named to his first NBA All-Star team.
"It's a great honor," Deng said Friday. "I'm really happy. It's good to see. I don't really have the words for it, except the fact that I'm really happy. I just want to go around and thank all my teammates because I believe by the way we're playing and the record we have, that's why I'm getting the opportunity."
Deng, who is averaging 16 points and 7.3 rebounds a game this season, will join teammate
Derrick Rose
on the East team for the Feb. 26 game in Orlando.
"Super happy [for him]," Rose said. "I told you I knew he was going to make it. I was telling him that and he didn't believe me, but with the way he's been playing this year, he's been consistent for us. And he's one of the leaders on the team. He's been doing a great job with that."
Bulls coach Tom Thibodeau has been saying Deng deserved the honor for several weeks, even after Deng tore a ligament in his left wrist last month in a contest against the
Charlotte Bobcats
and ended up having to miss seven games.
"It's a great honor for him, and he's certainly earned it," Thibodeau said. "I thought it would happen. The one thing about Lu is, if you really look at his career, I think each year that he's been in the league, he's gotten better and better. I think that's a sign of how serious he is. How he approaches the game. And he's obviously a very well-rounded player. There's not anything that he doesn't do well. Obviously he's very significant to us in terms of us winning."
After missing out on the team several times in his career, Deng admitted he believed he would make the cut this time around.
"You get a certain feeling that you're going to make it. I had a feeling," he said. "I don't know why. But I was still surprised to see it. You're watching [the show] and you're relieved a little bit that you made it. This year kind of felt different going into it. I think there's a few years that I watched [the show] that I thought I might get in. But this year for some reason, I thought it was going to happen."
February, 9, 2012
2/09/12
7:02
PM CT
CHARLOTTE -- Luol Deng has made his first All-Star team.
The eighth-year forward became the 14th Bull ever selected to the game and will be on the Eastern Conference All-Star team alongside his point guard, Derrick Rose.
[+] Enlarge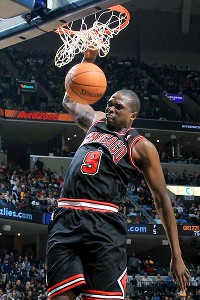 AP Photo/Nikki BoertmanLuol Deng has been a key component to the Bulls having the best record in the East.
Deng, who is averaging 16 points and 7.3 rebounds a game this season, admitted that he wanted the honor of playing in the game.
"It would be great," Deng said after Wednesday night's game against the New Orleans Hornets. "Whoever plays in this league always wants to be [an All-Star]. At the end of the day, if it doesn't [happen] you're always a little disappointed, but at the same time, it comes down to hearing from inside the locker room, the guys that you play with. If they're happy with how you play. Your coaches and going in and playing every night. Don't get me wrong, every time you play, [making the All-Star Game] is something you want to do because it's a great accomplishment. But at the same time, it's not in my hands now. You got to just play and just wait."
Deng waited, and it finally paid off, even after tearing a ligament in his left wrist in a game against the Charlotte Bobcats last month which forced him to miss seven games.
Deng decided not to have surgery because he felt the Bulls have a chance to win a title this season. His dedication to the Bulls was not lost on his teammates or coaches.
"I know that I'd probably be more hurt than Lu [if he doesn't make it]," Rose said Wednesday night. "Knowing that he has a nonchalant attitude about making the team. But I think that he deserves it."
So did the rest of Deng's teammates and coaches.
Bulls coach Tom Thibodeau understands Deng's impact this season. That's evident in the fact that he relies on Deng to play almost 40 minutes a night.
"You guys who follow our team, I think you understand how important he is to our team," Thibodeau said Wednesday night. "Lu doesn't have to score to have a great impact on our team and winning. He plays great defense. He plays a great floor game. He moves without the ball. He makes the extra pass. And he has very good statistics, but you can't measure his impact statistically. I know what he brings. I know all the coaches and all his teammates appreciate everything that he does."
For Deng and Rose, having two All-Stars on the team makes them believe that the Bulls are gaining even more respect around the league.
"I always said it, even last year," Deng said. "Whether it's me, Booz joining Derrick, or Jo, whoever it is, playing as well as we do, and having the record that we do, I think not only for our locker room, but for our fans, the NBA, what we're doing is something everyone is seeing. So it would be good to have more than one guy representing us out there."
January, 13, 2012
1/13/12
8:49
AM CT