July, 27, 2014
7/27/14
9:55
PM CT
LAS VEGAS --
Chicago Bulls
center
Joakim Noah
says he will be "ready" for training camp as he continues rehabbing from arthroscopic left knee surgery.
"I feel pretty good," Noah told ESPNChicago.com on Sunday during a promotional event for Adidas. "Obviously I have a ways to go, but I'm excited. When I see what our team looks like, I think that Gar [Forman] and Pax [John Paxon] put together a very solid team and I'm really excited about next year."
Noah was hobbled throughout the postseason after a season in which he earned the NBA's Defensive Player of the Year award. The knee injury came at the end of a long season in which he was also voted to the first team All-NBA squad at center. Noah spent some time Sunday being part of a few laid back 3-on-3 games set up by the sneaker company as part of the launch of its "boost" campaign.
Noah, who has dealt with plantar fasciitis throughout much of his career, credits his new shoes as part of the reason why he appears to have overcome the issue. After being sponsored by Le Coq Sportif throughout the first six seasons of his career, Noah switched to Adidas before last season.
"I'm very happy to be with Adidas," he said. "It's funny that the 'boost' is their new technology. It just puts so much cushion on your feet. That's exactly what I needed. Ever since I've been with Adidas my feet have been feeling great. I've had no foot issues. And I'm just really happy to be part of the Adidas family."
Noah knows he still has a lot of work to do to get his knee back in game shape, but he is confident he will be ready to go in the near future. His optimism regarding the upcoming campaign permeated through his answers.
"Every day I work out that's all I think about," Noah admitted, while discussing the possibility of winning a title alongside
Derrick Rose
. "It's just how great that party would be after we win the championship. But I know to get there there's going to be a lot of ups and downs. It's always a rocky road. It's never smooth in the NBA. But I love our team and now it's on us to get to work."
July, 8, 2013
7/08/13
2:52
PM CT

By Jon Greenberg
ESPNChicago.com
Archive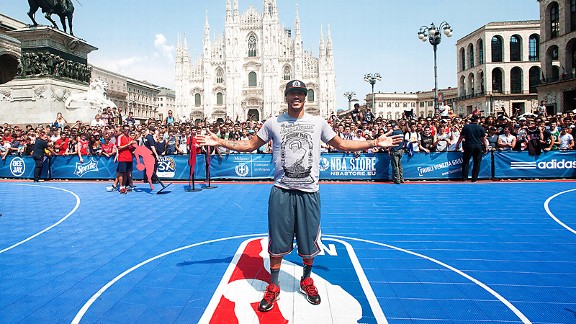 Courtesy of AdidasDerrick Rose will make an appearance in Chicago with adidas in late September.
It's July 8, do you know where your
Derrick Rose
is?
The answer is somewhere in Europe.
Rose is on a 10-day tour of Europe to promote his adidas line of shoes and clothing, the first of two international tours for the shoe company.
March, 12, 2012
3/12/12
1:54
PM CT
CHICAGO -- It was during a dinner in New York City shortly after the 2008 NBA Draft when adidas executive Lawrence Norman first saw the unique potential that would transform
Derrick Rose
from a No. 1 pick into one of the most recognizable sports personalities in the world.
[+] Enlarge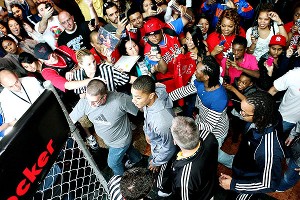 Courtesy of adidasHe's just 23, but Derrick Rose already has a global following.
"There were other rookies at the table, and [we] just went around the table and asked each rookie what they expected and what they hoped for, what they dreamed for for their rookie years," Norman recently told ESPNChicago.com in a phone interview. "Some of the rookies said finances, they wanted to make the playoffs, get some wins. Other guys said average a certain amount of points.
"Derrick didn't mention either of those things. I think the only thing he said was, 'I want to make my mom happy and my city proud.' And he said it such seriousness and looked directly through me. We just knew that we had somebody that was different."
The latest example of Rose's meteoric rise came during All-Star weekend in Orlando, Fla. in late February. The reigning MVP signed a new deal with adidas reportedly worth over $200 million that should keep him with the company until the end of his playing career. Hours before he would suit up and play in his third consecutive All-Star Game, Rose stood in the middle of a mall in central Florida and soaked everything in. Fans screamed "M-V-P!, M-V-P!" as he walked to a makeshift court for an adidas promotional appearance. Flanked by security, the young point guard made his way through the crowd and into the fenced off portion of the court for a few pictures and an autograph session. When he got to the center of the floor, he stood underneath a huge banner of himself, and his new signature shoes, which hung from the ceiling.
December, 30, 2011
12/30/11
9:19
PM CT

By Marc Stein
ESPNChicago.com
Archive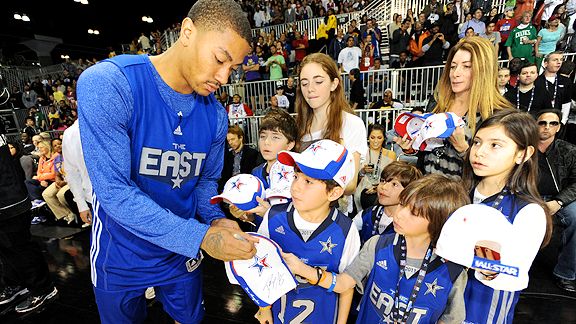 Andrew D. Bernstein/NBAE/Getty ImagesBulls guard Derrick Rose is on the verge of a mega-dollar shoe deal.
Fresh off signing a five-year contract extension with the Bulls worth nearly $95 million, Derrick Rose is said to be closing in on another lucrative deal.
Actually?
Lucrative is seriously underselling it based on the figures dribbling in to us.
One industry source insisted to ESPN.com this week that Rose's new shoe deal with adidas will easily crack nine figures and could legitimately approach the $250 million range -- as in $25 million annually over a 10-year span -- in what is known in the shoe game as a "lifetime" deal.
How can the reigning MVP possibly command those kind of dollars as a shoe endorser? Here's how: Rose, as it was explained to me, is adidas' only counter to Kobe Bryant in China. I'm told Rose already outsells LeBron James there.
Click here to read the entire Weekend Dime.
September, 9, 2011
9/09/11
11:38
AM CT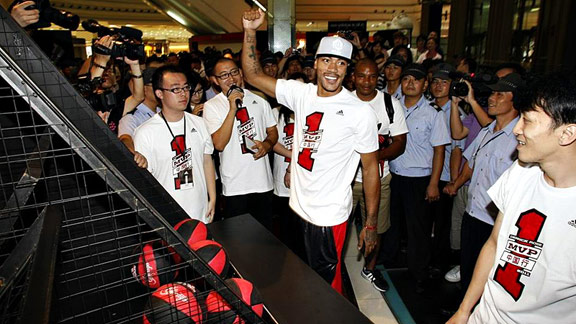 Courtesy of AdidasDerrick Rose's worldwide appeal was evident during his recent trip to China.
The NBA's global reach combined with the worldwide appeal of Bulls star Derrick Rose during the MVP's recent tour of China.
Rose's tour in photos

October, 22, 2010
10/22/10
3:27
PM CT
DEERFIELD, Ill. --
Derrick Rose
's star ascended a little higher Friday with the launch of Rose's new signature shoe, the adidas adiZero Rose, which is the lightest shoe the company has ever created at just 12.8 ounces.
The shoes were the basis for one of the numerous promotional campaigns that the
Chicago Bulls
guard participated in during the summer. In this particular advertisement, Rose teamed with actor Ken Jeong, of "The Hangover" fame, and
Dwight Howard
earlier this summer to create several promos which have begun to circulate on the Internet.
"It was fun, man," Rose said of the shoot. "Just being with the actor, Ken Jeong. He's a good guy. The adidas staff, they're doing a great job with advertising the shoe, giving me updates about the commercials and everything. And everybody's been talking about [the commercial], so I guess it's pretty good."
Rose noted that he didn't have a favorite commercial of his own, but he realizes just how powerful they can be.
"I'm not really a big commercial fan like that," he said. "I don't need to look at a commercial all day, but some of them are funny. I love funny commercials."
That's why it shouldn't come as any kind of surprise to see Rose in a lot more of them as the season rolls along.
"I told you all that when I was gone all them times, I wasn't here in the city, that you were going to be seeing my face a lot on TV," he said. "And right now my face is all over the television. It's a blessing."