Chicago Bulls:

Andres Nocioni
March, 21, 2012
3/21/12
9:10
AM CT
By ESPNChicago.com
ESPNChicago.com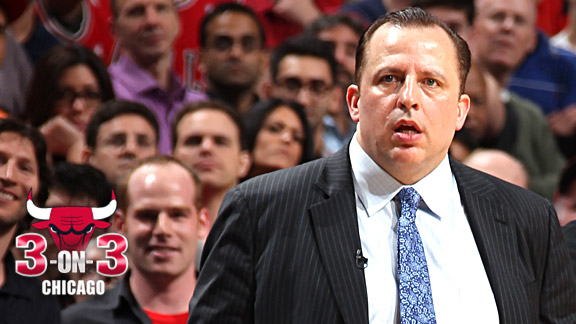 Joe Murphy/NBAE/Getty ImagesTom Thibodeau has won 100 of his first 130 games as an NBA head coach.
The Bulls' Tom Thibodeau made history Monday when he reached 100 wins faster than any coach in NBA history. He could make some more history in the coming weeks if he wins the NBA's Coach of the Year award for the second straight year. No coach has ever won the award in back-to-back seasons.
Is Thibodeau worthy of the award again? Our panel weighs in on that and more:
Fact or Fiction: Tom Thibodeau should repeat as the NBA's Coach of the Year.
[+] Enlarge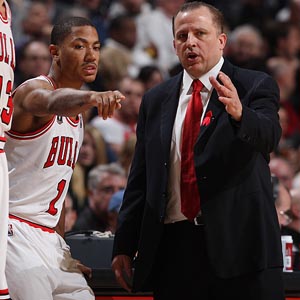 Gary Dineen/NBAE/Getty ImagesTom Thibodeau has kept the Bulls winning even without Derrick Rose for 14 games and counting.
Nick Friedell: Fact. Just like last season, no coach has done more with less. Thibodeau has kept up the high standards he set last season despite the fact that he has lost Derrick Rose and Luol Deng for large chunks of time. If ever a coach deserved to win the award in back-to-back years, it's Thibodeau.

Scoop Jackson: Fact. With the total games lost by players and the ability to have a 10-4 record without Rose and Thibodeau still thus far has the Bulls with the best record in the league? Pleeeeaaasssseee!!! It shouldn't even be a close vote. I know that no one has ever won Coach of the Year in back-to-back seasons, and I know there are probably "laws" in place inside the NBA that haven't allowed that to happen before, but this time there's no way to avoid, get around or disregard it. No disrespect to what Doug Collins has done in Philly or what Greg Popovich has done in San Antonio, but no other coach has done the MacGyver the way Thibs has. In two seasons, he's arguably become the best coach in the NBA. A double-up on the COY award should reflect that.

Melissa Isaacson: Fact. The fact that Thibodeau just reached 100 wins faster than any coach in league history gives some substance to an argument that is not that tough to make. Once again, the Bulls' coach has his team at or near the top of the NBA standings under difficult circumstances. Despite a demanding schedule and frequent injuries to his top players, including the NBA's reigning MVP, he has his team playing consistently outstanding defense and cohesive, winning basketball. There are certainly other candidates -- Doug Collins, Popovich and Stan Van Gundy -- but Thibodeau leads the pack right now.


---
Fact or Fiction: The Bulls should bring back Andres Nocioni.
[+] Enlarge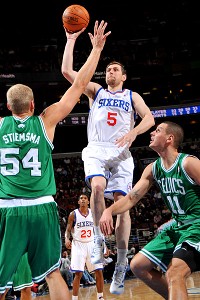 Jesse D. Garrabrant/NBAE/Getty ImagesAndres Nocioni is available, but does he have anything left to help the Bulls?
Nick Friedell: Fiction. Noch is still respected in the Bulls' locker room. Deng even said he would lobby for him to come back, but it doesn't look like Nocioni has much left in the tank. Plus, no matter who the Bulls bring in, that player won't play a major role anyway. The rotation is set and has been for a while.

Scoop Jackson: Fact. Only because another player who can play the 4-spot (and sometimes the small forward) who can score can't hurt. Hopefully, Boozer won't have the same playoff run he had last year and won't have the same series against the Heat this year that he had last year, but just in case ... and hopefully, Taj Gibson will be able to contribute more, be more consistent and have a greater impact on games than he had last year during the playoffs, but just in case ... and if Luol's wrist gets re-tweaked or he, for whatever reason, isn't able to average 40 minutes in a series because of injury or a ref's tripping ... all I'm saying is, with Noch the Bulls are covered, "just in case."

Melissa Isaacson: Fiction. Nocioni is not healthy, and the Bulls don't need him. He is at the end of his career and currently back home in Argentina after being waived by the Sixers, having averaged 1.5 points and 1.3 rebounds in 11 games this season. Those remembering him fondly for his bruising play are well within their rights, and if Richard Hamilton is somehow unable to play in the postseason, it might be an intriguing consideration, but that doesn't mean the Bulls should sign him now.


---
Fact or Fiction: The Bulls' depth becomes less of a factor in the playoffs.
[+] Enlarge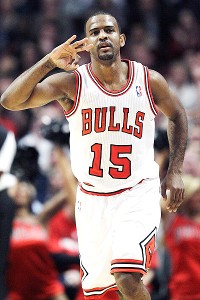 AP Photo/Nam Y. HuhThe play of John Lucas III in Derrick Rose's absence has helped the Bulls win without the MVP.
Nick Friedell: Fact. Go back and watch the Miami series from last season. The Bulls' bench is the best in the NBA, but it won't matter as much in the playoffs. Stars win playoff series, not the 10th and 11th guys on the bench.

Scoop Jackson: Fiction. The standard rule in the NBA come playoff time is that teams shrink their benches. Rotations go from Brad Gilbert to Kevin Hart. But the Bulls are going to (have to!) go totally against that systematic line of coach thinking. Thibs has given every player on this team time on the court during the regular season for the sole purpose of being ready once the playoff run begins. John Lucas III will play and will be a factor in games. Jimmy Butler will be a factor in games. The "White Mamba" will be a factor in games (OK, maybe that's a stretch), but still ... the Bulls will be the true definition of "all in." As we say, "Pooh-through-14." There are no Jack Haleys here. Each player will earn a ring.

Melissa Isaacson: Fiction. Normally that's the case as rotations shorten in the playoffs. But the Bulls' outstanding depth is a luxury Thibodeau can use to his advantage, notably against the Heat (which the Bulls have already done). One of the most impressive characteristics about Thibodeau is that he often ignores conventional wisdom, genuinely espousing, for example, the notion that every game truly matters. Having fresh legs in the postseason may turn out to be the Bulls' greatest weapon in the playoffs. Thibodeau, who could well go 10-deep, is not likely to take that weapon out of his own hands.


Nick Friedell covers the Bulls for ESPNChicago.com and ESPN 1000. Scoop Jackson is a columnist for ESPN.com. Melissa Isaacson is a columnist for ESPNChicago.com.