Chicago Bulls:

Anthony Davis
December, 26, 2014
12/26/14
2:17
PM CT

By Scott Powers
ESPNChicago.com
Archive
CHICAGO --
Chicago Bulls
coach Tom Thibodeau knew like everyone else
Anthony Davis
had plenty of ability before coaching him with Team USA.
Thibodeau learned a lot more about Davis over the summer.
"It's funny," Thibodeau said on Friday. "You really don't know somebody until you're around them, and you have an opportunity to coach them. So, you can see the talent. That part I knew. But once you're around him and see how serious he is and what a great teammate he is and just how he carries himself, he was a pleasure to be around."
Davis may not be such a pleasure come Saturday when he and
New Orleans Pelicans
face the Bulls. Coming off his summer experience with Team USA, Davis is having an MVP-type season, averaging 24.5 points, 10.1 rebounds and 2.9 blocks.
"He's something," Thibodeau said. "I was around him all summer, and I don't know if there's any big that's more talented than him. There's nothing that he can't do. He's got great touch, he can post, put it on the floor. He's got great hands, he's great defensively. He's got the skills of a guard, and the speed and quickness of a guard and obviously the size of a big. So, it's a tough combination."
Davis, a Chicago native, may have some extra motivation Saturday as it's his first NBA game back in Chicago. He missed the Pelicans' past two games in Chicago because of injuries. He did play at the United Center for Team USA over the summer.
Davis played in high school at Perspectives Charter Schools' Joslin campus, which is about 4.4 miles from the United Center. He was an unknown high school player until he blew up on the club scene prior to his senior season. He became the No. 1 player in his high school class and went on to play at Kentucky for one season.
August, 21, 2014
8/21/14
11:24
AM CT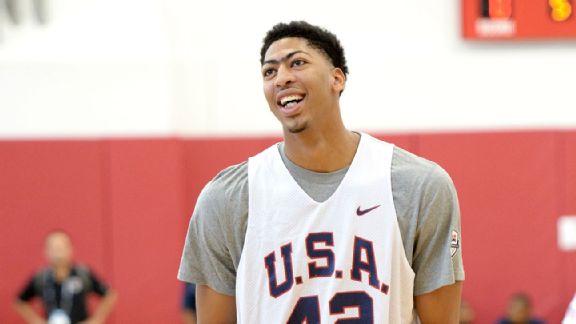 Andrew D. Bernstein/NBAE via Getty ImagesChicago native Anthony Davis is quickly becoming one of the best players in the NBA.
Anthony Davis
' play for Team USA has made the collective mind of Chicago basketball dance.
Would Davis, a Chicago native, come back home to team with
Derrick Rose
and the
Chicago Bulls
? That scenario is still several years off, but that doesn't mean that fans can't enjoy the pair together in the moment as they did over the weekend when the Perspectives Charter product teamed up with Rose, the pride of Simeon High School, for the first time Saturday night at the United Center.
"It was a lot of fun," Davis said of playing with Rose. "The things that he do can't be taught. For us to go out there and be with each other for a couple weeks total, and then go out there and play with that much chemistry, that much effort, says a lot."
It also has to make Bulls fans salivate at the possibilities.
[+] Enlarge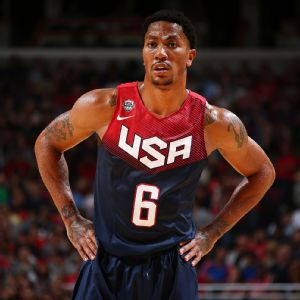 Nathaniel S. Butler/NBAE/Getty ImagesDerrick Rose leads an impressive collection of Chicago talent in the NBA and on its way.
Chicago basketball is gaining national acclaim again thanks to Rose, Davis, Simeon product
Jabari Parker
, Marshall product
Patrick Beverley
, and upcoming Duke freshman Jahlil Okafor from Whitney Young and Kansas freshman Cliff Alexander from Curie.
All are talented. Rose became the youngest NBA MVP in league history during the 2010-11 season. Beverley was selected to the All-NBA defense second team. Many believe Parker will be the NBA Rookie of the Year this season with the
Milwaukee Bucks
. Okafor and Alexander are expected to follow Parker's lead into the league in the near future.
But it's Davis, the New Orleans Pelicans' All-Star center, who in just two short years has become one of the best players in the NBA. Davis is still in his rookie deal. The Pelicans have a team option in that deal for the 2015-16 season and then they can offer a qualifying deal a year later. Using history as a guide, most young stars such as Davis have signed another extension with the team that drafted them. Rose did it, as well as
Kevin Durant
,
LeBron James
and, most recently,
Kyrie Irving
with the
Cleveland Cavaliers
. Even
Kevin Love
, who is expected to officially become a Cavalier in the coming days, signed an extension with the
Minnesota Timberwolves
before forcing his way out.
So Chicago must wait a few years to see if Davis would ever seriously consider coming home. But at 21, it's not as if Davis is hitting the peak of his career. He's just getting started -- and only getting better. While it's still several years too early to consider him as a possibility for the Bulls, or any other team, the reality of the collective bargaining agreement means front offices must consider all potential scenarios years into the future.
This Bulls team, with Rose at the forefront, could look totally different in three years.
Joakim Noah
will be 30 this season and has just two years left on a team-friendly contract.
Taj Gibson
,
Pau Gasol
,
Nikola Mirotic
and Rose all have contracts that expire after the 2016-17 season. While that doesn't make the Bulls that much different than many other teams in the league, it is a reminder that the window for this current Bulls core isn't as wide as it used to be.
It's also a reinforcement that when the window for this group comes to a close, a 24-year-old Davis in Chicago would open a brand new one. Coach Tom Thibodeau and his team aren't focused on that right now, but it's a sure bet it has crossed the minds of Gar Forman and John Paxson -- especially as they watch Davis and Rose on Team USA.
As Team USA continues to come together over the next few weeks, it will be interesting to see how Davis and Rose play together, assuming the general soreness that has kept Rose out the past three days subsides. Both players enjoy playing for their country, but representing their city seems to mean a lot to them, as well.
"Here in Chicago, it's kind of like basketball is everything," Rose said. "You go down south, football is everything. But here you go to a high school game, and you won't be able to get in because it's so packed."
The United Center is almost always packed no matter what. But if Rose and Davis ever end up playing together on the Bulls, the electricity everyone felt in the building Saturday would be there on a nightly basis thanks to two homegrown stars.
February, 2, 2014
2/02/14
12:06
AM CT
NEW ORLEANS --
Joakim Noah
busted up his chin in the second half of the
Chicago Bulls
' uninspiring loss the
New Orleans Pelicans
on Saturday night. Blood came spurting out after a hard fall to the court, and he came back into the game a few moments later wearing a tape job that looked similar to a football chin strap. Noah's chin had to be hurting as he walked to his locker and threw on a blood-stained white T-shirt and a gray hoodie, but it wasn't feeling nearly as bad as his battered team's pride. A few nights after one of their best wins of the season, against the
San Antonio Spurs
, Noah and the Bulls looked flat against a below-average Pelicans squad.
"Our edge wasn't as good as it was in the San Antonio game, that's for sure," Noah said. "We didn't play well. We didn't hit shots, we didn't play as well as we wanted to defensively. The team with the better edge in this league has a huge advantage. Today, it was them. We have to play with a great edge to be competitive, so we have to do a better job with that."
[+] Enlarge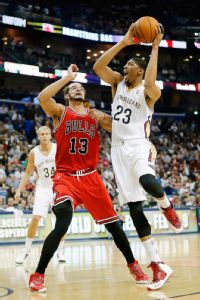 AP Photo/Bill HaberAnthony Davis was simply too much for the Bulls on offense, and solid on defense, too.
The Bulls also must do a better job of carrying out their game plan. Coach Tom Thibodeau knew that if
Anthony Davis
got going, his Chicago team would be in trouble. Well, Davis got going -- on both ends of the floor -- and the Bulls never found the answer. They couldn't find a way around him at the rim, and they struggled to contain him offensively. It was a toxic combo for a team that continues to have problems scoring.
"I thought he let the game come to him," Bulls forward
Taj Gibson
said of Davis. "I thought he took his shots at the right time. His teammates dished it to him a lot, especially on the drive-and-kick side … Whenever it's drive-and-kick, it's tough. And, plus, their shot-blocking, he runs the floor real well like a deer, so I thought he played extremely well."
That's an understatement. Davis went off for 24 points, 8 rebounds, 6 blocks, 3 assists and 3 steals. The Chicago native knew he had family and friends watching at home, but he shrugged off the notion that it meant more to have a big game against his hometown Bulls. He also shrugged off the feeling that he had a point to make after being left off the Western Conference All-Star team on Thursday. After watching him against the Bulls, it's hard to believe that both factors didn't have something to do with his dominant performance.
"I'm not trying to prove anything," Davis said. "Everybody knows what I can do and what I'm capable of. I'm just trying to go out there and do what we did tonight -- get wins against a great Bulls team. They play hard, competitive, a great defensive team, and we just made shots tonight and played defense. My teammates were doing a great job in places where I can score and go to work. I'm not trying to prove anything. It is what it is."
What it is now for the Bulls is that they face an interesting back-to-back set early next week against the
Sacramento Kings
and
Phoenix Suns
-- two teams that can move it up and down the floor. If the Bulls want to bounce back on the West Coast portion of this long road swing, they must do what they didn't Saturday night: set a tempo to their style and stick to it throughout the game. They allowed the Pelicans to dominate in the paint, and it showed.
"We're disappointed," Thibodeau said. "We're capable of playing a lot better than we did. On the road, and being short-handed, we can never lose sight of how hard we have to play. There's a fine line. We were reacting to them, and when you do that, you're at a disadvantage."
June, 7, 2012
6/07/12
9:21
PM CT
CHICAGO -- Even Anthony Davis is having a hard time believing that he is about to follow in Derrick Rose's footsteps.
[+] Enlarge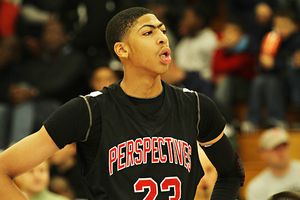 Brendan NolanAnthony Davis, who, like Derrick Rose, played his prep basketball on the South Side, is set to become the top pick in this month's draft.
While the Kentucky product made sure to knock down the notion that it was a done deal he was headed to New Orleans as the first pick in the NBA draft later this month, he knows he is almost going to join some rarefied air as far as Chicago prep stars go. If Davis, who went to Perspectives Charter School, is indeed drafted with the first pick he will join Rose as another Chicago star who earned the top honor in the NBA draft.
"I used to watch him play," Davis marveled at Thursday's rookie media session. "He's a monster. We played on the same AAU team. I was watching his highlights the other day. He was a monster. But as far as (being in) the same category (with him) never (did I think I would)."
Like Rose, Davis was coached in college by John Calipari and like Rose, it's clear that Davis takes personal pride in the fact that he is from Chicago.
"Chicago is a great town with great basketball players," Davis said. "I think we all just work hard and we all just love the game. Chicago is one of the main cities known for basketball so as far as the heroes go I know a lot of kids look up to me. I try to always be an inspiration them and a positive role model. I know a lot of guys stand outside of my house, little kids with basketballs, (saying) 'Can I hoop in your backyard?' I know they look up to me and I just try to be a positive role model."
Rookies are impressed with the Bulls: No matter which player was speaking Thursday, it was clear that the Chicago Bulls are a preferred destination among the young players. Here's a sampling of some of the responses from guys who have worked out for the Bulls in the past few weeks.
Doron Lamb, Kentucky: "I had a great time in Chicago. I met the coaches, the whole staff, the GM, I had a great time in my workout. I think I did good shooting and go hard in the drills. I had a great time there ... it would be a nice fit for me. Just going out there, working hard, just playing off Derrick Rose and whatever happens, happens. Just going out there playing hard and just earning my minutes."
Hollis Thompson, Georgetown: "It was a real cool experience ... I think the message was they're looking for somebody who can come in and score and I think I can do that and they told me personally I need to get stronger and work on defending more positions ... I definitely think I would be a good fit in Chicago."
John Jenkins, Vanderbilt: "They said they need a shooter, a guy that can really open up things for D. Rose and open up the offense."
On seeing Rose at the Berto Center: "He was up there rehabbing but I didn't really talk to him, I kind of left him alone."
On working out at the Berto Center: "You see Michael Jordan, Scottie Pippen, all those names, all the great coaches there and of course all the championship banners. So it's definitely motivation for me. I would love to play for the Bulls."
Andrew Nicholson, St. Bonaventure: "It went pretty well. That was second to last (workout), I think. It was a good workout, a lot of technical stuff we did. I shot it pretty well. It was pretty good."
On his conversations with Bulls' front office execs: "They said I could fit in their system. Pick and roll game, pick and pop game would be excellent ... I think I could fit in pretty well with them, especially with the offense that they run.
Draymond Green, Michigan St.: "I think I had a very good workout and I think I could fit in there. They have a very good team. Of course, everything's built around Derrick Rose so I just want to get in the NBA. It doesn't matter about who I get with. I just want an opportunity to play, prove myself, and win."
No matter whom the Bulls select they will have a chance to compete for minutes early in training camp given the uncertainty of Rose (ACL) and Deng (wrist) heading into the beginning of the year plus the general questions surrounding the rest of the Bulls' roster.
February, 10, 2012
2/10/12
5:52
PM CT

By Scoop Jackson
ESPNChicago.com
Archive
Sometimes it's appropriate to speak when not spoken to. Sometimes -- again, not all of the time, just sometimes -- it's appropriate to pound your chest, pop your collar, find the mountain top and let the rest of the world know the truth. As unconventional and inconvenient as it sometimes can be. Sometimes you gotta go Kanye.
"Chicago is the basketball capital of the world!"
Read the entire story.