Chicago Bulls:

B.J. Armstrong
January, 23, 2012
1/23/12
1:24
PM CT
By Associated Press
ESPNChicago.com
Archive
CHICAGO -- Former
Chicago Bulls
player
B.J. Armstrong
has a new gig on the Chicago Park District Board.
Chicago Mayor Rahm Emanuel picked Armstrong to replace Bob Pickens, who played for the Chicago Bears in the 1960s.
Emanuel says Armstrong's passion for sports and experience as an executive make him a good choice to serve on the board and help manage the district's 580 parks.
Armstrong was a point guard with the Bulls from 1989 to 1995, and he rejoined the team from 1999 to 2000. After his playing days, he worked for five years in NBA management. He's now an agent for Bulls star
Derrick Rose
.
November, 17, 2010
11/17/10
12:20
AM CT

By Nick Friedell
ESPNChicago.com
Archive
HOUSTON -- B.J. Armstrong made a lot of key assists during his 11-year career and he was able to make one more on Tuesday night.
[+] Enlarge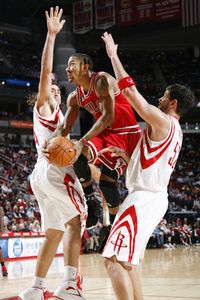 Bill Baptist/NBAE/Getty ImagesDerrick Rose tied a career high with 17 points in the fourth quarter Tuesday.
With the Bulls trailing by eight heading into the fourth quarter in desperate need of a spark, it was Armstrong's advice that
Derrick Rose
heard reverberating through his ears. Rose remembered talking to Armstrong, now his agent, about this exact type of moment in a game.
"I had to do something," Rose said of the shift in his mind-set. "Talking to B.J, he just says stop the game. That's just getting to the line or whatever. Concentrate, focus in. It's either stopping it or scoring the ball and tonight it was me scoring it."
And scoring it a lot.
Rose exploded for 17 points in the fourth quarter and finished with 33 in the game. It came at the perfect time considering the team looked lost when he went to the bench with 5:31 left in the third quarter. C.J. Watson did not run the offense particularly well and turned the ball over once. The team could not find a consistent scoring option and lost control of the contest for the second time.
That's when Tom Thibodeau re-inserted Rose and let him take over.
"Derrick was Derrick," Thibodeau said. "He took control of the game. He realized what needed to be done. He started attacking; he's going north and south. Attack, attack, attack. [When he does that] he's impossible to guard."
For the first time all season, Rose started to consistently make the type of long-distance shots he's been practicing since the beginning of the summer.
"They were leaving me open," he said. "Preseason really helped me for this moment. I think I was averaging like four or five threes through the preseason. I was just shooting the ball."
The key was that he was shooting the ball with confidence. He started making the type of shots that superstars make on a consistent basis. Rose knows that these are the type of games that will elevate him to the level he wants to get to.
"I hope so," he said. "Just taking games over. On defense, offense, whatever you need me to do, I'm going to go out there and try."
Rose's performance in the fourth quarter was so overwhelming that it simply crushed the spirits of the Rockets. The Bulls started off the quarter on an 18-0 run and never looked back. Houston chose to give Rose open looks from long range, and he finally made a team pay for doing that.
"He was shooting 20-something percent of 3s going into the game," Rockets head coach Rick Adelman said. "He did that to us last year. I don't know if it was 3s, but he made a lot of jump shots last year against us. When he gets up high, he's just so quick. He attacks the basket. We thought we were going to go under on him, but he proves us wrong."
The scary part for the rest of the league is that if Rose continues to attack the basket and hit from the outside, there's not really going to be a way to stop him offensively.
"It's fun to watch," Bulls center Joakim Noah said, trying to describe his buddy's fourth quarter performance. "I'm happy he's on the Bulls."
Rose is just happy he listened to Armstrong's advice.
"I just remember the things he's been saying," Rose said. "They're all important to me. If I need anything advice I've got great people that's on the coaching staff, but if I need anymore advice I'll call him."
The ironic part is that after so many years in the spotlight, Armstrong doesn't seem to want any part of it anymore. He wants to stay in the background as clients, like Rose, continue to dominate.
"He probably wouldn't want me to say his name," Rose said. "He's probably mad that I'm telling you all this, but I go to him for almost everything."
On Tuesday night, it was a good thing for the Bulls that he did.