November, 20, 2012
11/20/12
4:47
PM CT

By Nick Friedell
ESPNChicago.com
Archive
HOUSTON -- The
Chicago Bulls
aren't using the absence of
Omer Asik
as an excuse for their struggles off the bench, but that lack of production is as obvious as Asik's contributions to the
Houston Rockets
.
And those contributions will be on display Wednesday when the Bulls visit the Rockets and Asik, who is averaging 10 points and 12.3 rebounds.
November, 10, 2012
11/10/12
11:34
PM CT

By Scott Powers
ESPNChicago.com
Archive
CHICAGO -- One of the main reasons the
Chicago Bulls
were able to overcome
Derrick Rose
's consistent absence last season was their bench play.
Bulls coach Tom Thibodeau was able to turn to his bench, which called itself the "Bench Mob," and those players would often hold the lead or extend it until the starters were ready to return. Thibodeau sometimes even opted to go with the bench over the starters at the end of games.
October, 12, 2012
10/12/12
11:51
PM CT

By Scott Powers
ESPNChicago.com
Archive
CHAMPAIGN, Ill. –
Chicago Bulls
coach Tom Thibodeau is already sick of hearing how his secondary unit is new and needs time to gel.
Thibodeau's message after the Bulls' 86-83 loss to the
Cleveland Cavaliers
was his bench better shape up quickly because his patience was wearing thin.
The Bulls' main bench players --
Taj Gibson
,
Marco Belinelli
,
Nazr Mohammed
,
Nate Robinson
and
Jimmy Butler
-- accounted for 38 points on 10-of-37 shooting from the field, which included 0-for-10 from 3-point range, and nine turnovers. In the Bulls' first preseason game the group shot 12-of-43 from the field, had 12 turnovers and scored 38 points in a win over the
Memphis Grizzlies
.
"What we have to be careful of is everyone says, 'You're new, it's the preseason,'" Thibodeau said. "Then, they say, 'Okay, we'll get it when we get to the regular season.' Then you get to the regular season and you say we need a month. And then after that they say we need 'till Christmas, and before you know it the season is over and you never get it.
"We can use that as an excuse or we can get the job done. The challenge in this league is how quick you can adapt to change. Some of these guys have been in the league a long time, are more than capable and are going to have to find a way to get it done."
Robinson, the backup point guard, especially struggled in the loss. He shot 1-of-11 from the field, 0-for-4 on 3-pointers, scored five points and finished with two assists to his four turnovers. In his first game, he was 3-of-8 from the field, scored 13 points, handed out zero assists and committed three turnovers.
Despite his struggles, Robinson remained optimistic about his and the bench's future play.
"We just got to continue to play," Robinson said. "Guys are not perfect. We go out there and try to do everything that we can, like today, the first unit did a great job in the third quarter because we weren't shooting the ball well at all. And then we just turned it on, played great defense (had) great energy and we tried to do the same thing in the fourth. We just came (three) points short."
When asked specifically about Robinson, Thibodeau wouldn't throw him under the bus. Instead, he did it to the whole group.
"I don't think you can pin it on any one player," Thibodeau said. "You have to look at the entire group. What happens sometimes, you end up getting stuck with the ball. We need everybody doing their job and keep the ball moving. If we do that we'll get good shots.
"When a second defender comes and he's on the ball, that player has the responsibility to move the ball and hit the open man. I thought we held onto the ball and didn't hit the open man. I thought we held onto the ball, dancing with it. We were going 1-on-1, dribbling into traffic. That's not winning basketball."
Gibson, the lone returnee from last season's "Bench Mob," sensed the second group just wasn't comfortable together yet.
"We have to get a steady ease about ourselves," said Gibson, who was 4-of-8 shooting with 12 points and seven rebounds on Friday. "One thing is we got to listen to coach. Coach knows. He really got into us in the second half, especially in halftime he got into us. It showed how hard we played after that. We have to play a bit hard.
"I still kind of feel like we're rushing. We're taking tough shots at the wrong times. It's early. We got a chance to adjust and make better decisions. We still got a long way to go. This is a whole new group, but in time we will get it right."
Thibodeau measured just how far he felt the bench had to go.
"We got a long way to go, got a long way to go, got a long way to go," he said. "They're capable of much better. They're going to have to do it. They got to get the job done."
And by his clock, time is running out to do so.
October, 10, 2012
10/10/12
5:27
PM CT

By Nick Friedell
ESPNChicago.com
Archive
CHICAGO -- Lionel Hollins made a very astute point as he stood outside his team's locker room before Tuesday night's game. The
Memphis Grizzlies
' coach and NBA lifer explained that while losing
Derrick Rose
may be a huge issue for the
Chicago Bulls
, the larger more pressing issue is that Tom Thibodeau has a lot of work to do to reconstruct his roster.
[+] Enlarge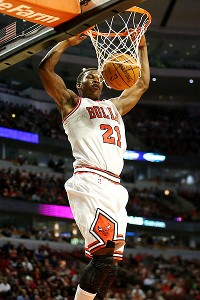 Nuccio DiNuzzo/Chicago Tribune/MCT via Getty ImagesJimmy Butler had a rough preseason debut, missing 10 of his 11 shots on Tuesday.
"What probably will affect them more than Derrick Rose being out is all the new players they have to mesh together," Hollins said. "That's a huge task for Tom to have to mesh these guys because they have a very good defensive philosophy and a very good defensive team. So now, you're adding all these guys, and it takes time."
Given the way the new Bench Mob performed at times Tuesday night, Hollins' point rings true. Obviously, it was just the first preseason game, but the Bulls' second unit knows it has a lot of work to do before the season starts.
"I felt we could have did better,"
Taj Gibson
said. "It's the first preseason game; we still got to get our timing together. We still got a long ways to go. But guys are putting forth the effort so we should be OK."
The effort wasn't lacking, but the production was. Veteran
Nazr Mohammed
knows that the chemistry the second unit needs to develop can only happen in games.