Chicago Bulls:

Berto Center
June, 10, 2013
6/10/13
3:24
PM CT

By Jon Greenberg
ESPNChicago.com
Archive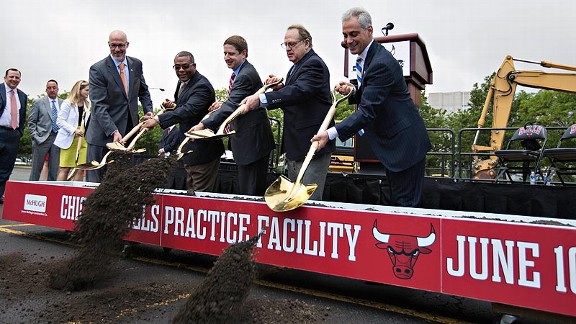 AP Photo/Scott EisenFrom left, Bulls executive VP John Paxson, 27th Ward alderman Walter Burnett Jr., president and COO Michael Reinsdorf, chairman Jerry Reinsdorf and mayor Rahm Emanuel take part in the groundbreaking ceremony Monday for a Bulls training facility.
CHICAGO -- When Jerry Reinsdorf's group bought the
Chicago Bulls
in 1985, the team practiced at no-frills Angel Guardian Gym, a shuttered high school/orphanage, on the North Side.
"I remember walking in and talking to the players for the first time and you couldn't even stand up," Reinsdorf said Monday. "I was shocked at that."
The Bulls quickly moved to the Deerfield Multiplex fitness club, a tremendous upgrade, albeit with limited privacy, before moving to the Berto Center in Deerfield in 1992.
The Bulls had a ceremonial groundbreaking Monday in parking lot J for their new practice facility, which will be adjacent to the United Center. The 60,000-square-foot facility should be ready for the 2014-15 season and will be a major upgrade from Berto, as far as space and modern amenities. It also provides closer proximity for the basketball and business operations departments; the latter is housed in the United Center. The team will sell naming rights to the facility.
June, 14, 2012
6/14/12
6:32
PM CT

By Melissa Isaacson
ESPNChicago.com
Archive
Chicago Bulls chairman Jerry Reinsdorf elaborated Thursday on reasons why he is planning to re-locate his team's practice facility from suburban Deerfield to Chicago, saying his respect for Mayor Rahm Emanuel was a major factor and that the decision had "nothing to do with the possible expansion of the United Center."
Read the full story.
June, 13, 2012
6/13/12
9:05
AM CT
By ESPNChicago.com
ESPNChicago.com

The
Chicago Bulls
announced on Wednesday that they will move their practice facility from suburban Deerfield to a downtown Chicago location.
The Berto Center in Deerfield has been the Bulls' hub for team practices, gameday shootarounds and summer workouts since 1992. It also houses the Bulls' coaching and basketball operations staff offices.
Chicago Mayor Rahm Emanuel pitched Bulls chairman Jerry Reinsdorf on the idea of moving to a downtown location.
"Mayor Emanuel has done a tremendous job promoting investment in the City of Chicago," Reinsdorf said in a statement. "The Mayor stressed that the Bulls brand is important to the city, nationally and internationally, and that the Bulls represent the spirit and competitive grit of Chicago. He thought centralizing our team assets inside the city limits would be a show of our ongoing commitment to Chicago. We have been contemplating how to address the growth limitations of our practice facility for awhile, so the Mayor's timing and ours seems to make sense."
The Bulls will look at a number of sites throughout the city, and no timetable has been set for the project, which will be privately funded.
"We have been happy at the Berto for many years," said Bulls President and COO Michael Reinsdorf. "However, for us, the time is right for a move from both a basketball and a business standpoint. Our basketball operations group has been incredibly resourceful, but there is no longer space available to grow where we are now. And, strategically, we are taking a more integrated approach to our business, and decreasing the physical distance between our two main facilities will naturally create more opportunities for collaboration among all departments."
The Bulls, who intend to sell the Berto Center, could benefit from a new Chicago facility in a number of ways. Among the ideas being considered as event and educational space and improved digital and video capabilities. A move will also reduce the commute time of players who have to travel from Deerfield to the United Center following mandatory gameday shootarounds.
December, 1, 2011
12/01/11
10:15
AM CT

By Nick Friedell
ESPNChicago.com
Archive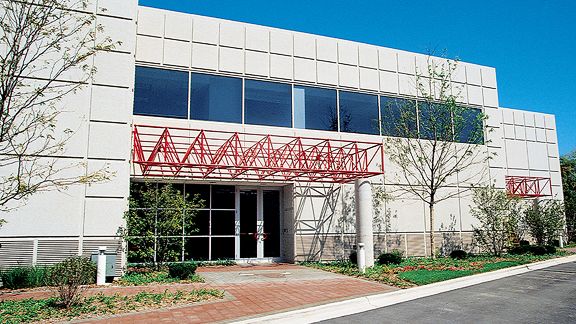 Chicago Bulls Coach Tom Thibodeau and GM Gar Forman already have arrived at the Berto Center.
DEERFIELD, Ill. -- The Berto Center is open for business again.
Chicago Bulls
head coach Tom Thibodeau walked through the doors of the Bulls practice facility around 9:15 a.m. CT with a smile on his face and a coffee in his hand.
Thibodeau told a horde of media that he would be back down to speak at some point in the near future. It is unclear how much Thibodeau will be able to say given that he still isn't allowed to have contact with any of his players until the new labor agreement is ratified and signed.
Bulls GM Gar Forman rolled into the parking lot at 10 AM. He isn't allowed to have contact with the players either, although he can speak to their agents.
The Bulls media relations department isn't sure if or when players will appear today.
Several Bulls players attended the Jay-Z/Kanye West concert at the United Center last night.
The scene is festive at the facility as media and Bulls support staff are awaiting the arrival of players.
Stay tuned to this blog for updates throughout the day.