Chicago Bulls:

Brandon Roy
November, 10, 2012
11/10/12
7:02
PM CT

By Scott Powers
ESPNChicago.com
Archive
CHICAGO --
Minnesota Timberwolves
guard
Brandon Roy
will not play against the
Chicago Bulls
on Saturday and is considered day-to-day due to a sore right knee, according to Timberwolves coach Rick Adelman.
Roy left Friday's game against the
Indiana Pacers
at halftime due to the knee soreness. He was 3-of-5 shooting with six points, one rebound, one assist and one steal in 15 minutes before departing the game. He is averaging 5.8 points, 2.8 rebounds, 4.6 assists and 24.4 minutes in five games this season.
Roy, a former all-star, sat out last season after deciding to retire from basketball in December of 2011 because of continuous troubles with both of his knees. He decided in July of 2012 to attempt a comeback with the Timberwolves.
Adelman said prior to Saturday's game he was unsure if Roy would be sidelined for a long length of time.
"I have no idea," Adelman said. "It's just the soreness, and it's best not to try tonight. Just take it day by day. He bumped it a few weeks ago. It's the same knee. You know the guys that have had the knee problems he's had or anybody who had knee problems, you're going to have things where you step back a little bit. So I'm not going to be overly concerned right now.
"We knew it could be a situation where he wouldn't be playing (at times this season). But we didn't know when it was. We just had to go and try to play him and take it day by day and see how he's responded. So far since the start of training camp he's been pretty good. Hopefully, it's just a minor setback. I certainly expected him not to go all the way through the whole time (this season)."
Chase Budinger
will start for Roy on Saturday. Budinger had a team-high 18 points in the Timberwolves' 96-94 win over the Pacers on Friday.
July, 2, 2012
7/02/12
6:24
PM CT
By Ramona Shelburne and Nick Friedell
ESPNChicago.com

June, 30, 2012
6/30/12
7:02
PM CT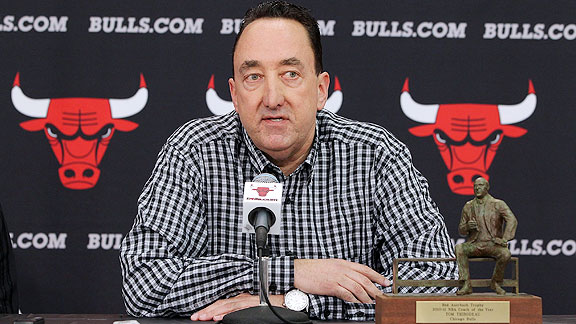 Gary Dineen/NBAE/Getty ImagesWith limited cap space, Gar Forman is going to need to get creative on the free agent market.
CHICAGO -- When trying to decipher what the Bulls' plan will be as they head into free agency early Sunday morning, one must first understand what is already in place as far as both personnel and financial figures are concerned. When broken down into individual parts the decisions that face Bulls' executives Gar Forman and John Paxson are easier to understand.
The Core
This is the group Forman and Paxson intend to build around heading into next year.
Derrick Rose: The superstar guard will be rehabbing his knee well into the season, but the organization likes the way his program is going. The team is hoping to have him back around the All-Star break or soon thereafter. The will be the first year of Rose's max deal he signed before last season.
Joakim Noah: The 27-year-old center continues to rehab the ankle injury he suffered during the playoffs, but he still expects to play in the Olympics for Team France and should be ready to go for the start of training camp. He will be in the second year of a $60 million dollar deal.
Carlos Boozer:The veteran forward has not lived up to his contract in his first two years in Chicago (in fairness, even if was putting up 20 and 10 every night it would be hard to live up to that bloated deal), but he will be counted on early in the season to score without Rose on the floor.
Luol Deng: Much has been made of Deng's decision to play in the Olympics. Most within the organization were resigned to the fact he would have to have surgery to fix a torn ligament in his wrist, but Tom Thibodeau went on "Waddle & Silvy" on ESPN 1000 Friday morning and said that he expected Deng to be ready for training camp. If that's the case, that is a huge emotional boost for the Bulls. Deng has two years and almost $28 million left on his deal.
Rip Hamilton: The veteran shooting guard struggled to stay on the floor all of last season because of various injuries. Given his track record the last few years, it will be hard to expect him to stay healthy for an 82 game season. He has another guaranteed year on his deal at $5 million.
Taj Gibson: One of the Bulls' most consistent players, Gibson is in the last year of his rookie deal; he is already in the early stages of talks about an extension. The Bulls hope to keep him around for a while.
Jimmy Butler: The second-year forward figures to see a lot more playing time this year. He is still in his rookie contract and will be a bargain for the Bulls if he can produce.
Marquis Teague: The newest Bull won't be expected to produce much early, but Thibodeau has stated he will let the 19 year old earn his playing time, especially with Rose out for a majority of the year.
The possible returnee


There's only one name in this group because it's the only one Forman seems insistent on keeping at this point.
[+] Enlarge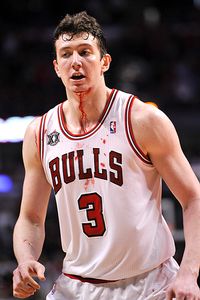 Rob Grabowski/US PresswireWill the Bulls match if Omer Asik signs an offer sheet elsewhere?
Omer Asik: Forman has repeatedly stated that one of the Bulls' top priorities this summer in re-signing Asik. The young center regressed offensively this past season, but he is still regarded as one of the best defenders on the team. He will be a restricted free agent beginning on Sunday. The Houston Chronicle reported on Saturday that Asik will be one of Houston's primary targets. The most a team can offer the big man in the first year of a new deal would be $5 million and a small increase in the second year. A team could really make it hurt is in years three and four of the deal, however. Re-signing Asik would put the Bulls right up against the luxury-tax threshold. While Forman has been consistent in saying the Bulls would make basketball decisions, not financial ones, the organization will do what it can to avoid going too deep into the tax.
The question marks: These players are likely on the way out because of their salaries, or because the Bulls are looking for an upgrade.
Kyle Korver:The long-range bomber improved defensively this season, but he hasn't been as consistent from beyond the arc as the Bulls would have liked. Given the financial constraints the Bulls are trying to impose on themselves, it's a stretch to think they would bring him back for $5 million. There aren't many pure shooters out on the market, though.
C.J. Watson: Even with Teague in the fold, the Bulls need to sign at least one more point guard with Rose on the mend. They have a $3.2 million option on Watson, but his inconsistencies in the playoffs, combined with his price tag, may have booked him a ticket out of town.
John Lucas III The diminutive, determined point guard wants to come back to Chicago and was well liked because of his work ethic, but the Bulls will likely look to upgrade before making a final decision on him. He is an unrestricted free agent who could get a raise.
[+] Enlarge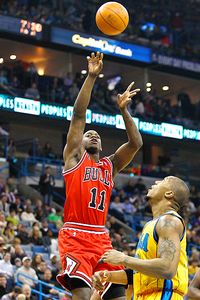 Derick E. Hingle/US PresswireWith Jimmy Butler a capable replacement, Ronnie Brewer's two-season run in Chicago appears to be coming to a close.
Ronnie Brewer: With Butler in the fold, the Bulls feel they have a younger, cheaper option who can replace Brewer on the roster. Thibodeau always liked Brewer's work ethic and approach but the swingman appears to be on his way out.
The potential targets:
This is where things get fuzzy for Forman and Paxson. The moves they make in free agency are contingent upon the moves they do or don't with the current roster.
For argument's sake, let's say they match an offer for Asik at $5 million coming into this season and decide not to bring back, Korver, Brewer, Watson or Lucas. That means they're still hovering close to the luxury-tax threshold, which is expected to be around $70.3 million, according to ESPN capologist Larry Coon.
With Asik in the fold, the Bulls would have nine players under contract after signing Teague. That also means they'll need to sign at least three more players to fill out the roster. Those players would have to come cheaply. With that in mind, let's take a look at some of the options the Bulls may look at heading into Sunday.
Kirk Hinrich: This is the man plenty of Bulls fans want to see back in the United Center. He would fit in well with what Thibodeau has built and would help bridge the gap until Rose returns. The reunion sounds nice on paper. The reality is that Hinrich, who made $8 million last season in Atlanta, would likely have to take a pay cut of between $5-6 million to return. If he's willing to do that, the Bulls would be happy to have him.
Andre Miller: He falls into the same boat as Hinrich. The Bulls would love to have him, but he made almost $8 million last season as well. It's doubtful he'd be willing to take that much of a pay cut next season for a team that doesn't appear to be built for a title this year.
Jonny Flynn: The former Syracuse star has struggled early in his NBA career, but he is still young and has listed the Bulls as a potential landing spot, according to ESPNLA.com. He would come cheaply and play alongside Rose when he returns.
Delonte West: The veteran guard comes with plenty of baggage, but he has been in the league long enough to know what to expect and he would also come cheaply. He only made $1.2 million last year in Dallas.
[+] Enlarge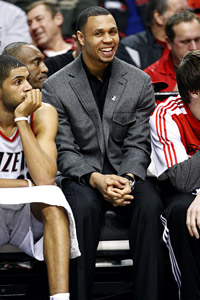 AP Photo/Rick BowmerReports indicate that the Bulls are interested in oft-injured shooting guard Brandon Roy.
Brandon Roy: Yahoo! Sports reported Saturday that Roy will meet with the Bulls this week and is one of the finalists for his services. The issues for the Bulls regarding the Roy are multi-faceted. Pending other moves, the most Forman would likely offer is in the $2-3 million range. Would Roy want to come to Chicago when he could make more elsewhere and may have a better shot to win a ring this season? Would the Bulls feel comfortable adding Roy and his chronic knee problems when they already have Hamilton on the roster?
Courtney Lee: He's been on the Bulls' radar for a while, and they could have had him a couple years ago if they were willing to part with Asik. If there isn't much of a market for Lee, who is a restricted free agent, the Bulls would likely be interested.
Danny Green: The Bulls would love to have the young forward in the fold, but as a restricted free agent, he figures to get a lot more than Chicago can offer.
Jamal Crawford: The former Bull did not have a solid season last year in Portland. Like the others on the list, if he was willing to take less money, the Bulls may be intrigued.
Shannon Brown: The Chicago native averaged 11 points a game last season in Phoenix. He was miffed a couple years ago when the Bulls didn't make a push to sign him. He would likely listen if Forman picked up the phone.
Maurice Evans: Evans is a veteran and made just over $1 million last season. He doesn't have the same athleticism he had early in his career, but he could come in and give Thibodeau spot minutes when needed while tutoring Butler.
June, 27, 2012
6/27/12
9:22
PM CT
CHICAGO -- The irony of Thursday's NBA draft, as far as the Chicago Bulls are concerned, is that the organization's fans care much more about whether or not their team is going to make a deal involving one of its current stars than finding a future one. The big question fans have bounced around over the past few weeks is: Will the Bulls make a major move on draft night?
[+] Enlarge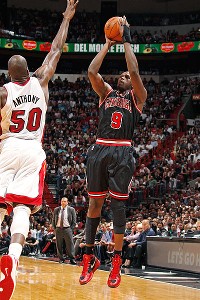 Issac Baldizon/NBAE via Getty ImagesWith surgery a possibility for Luol Deng, it might be tough for the Bulls to move him.
The answer, right now, appears to be no.
There has been plenty of speculation recently surrounding Luol Deng and whether or not the Bulls would deal him for a draft pick and other considerations. Deng likely will have to have surgery after the Olympics to fix a torn ligament in his wrist and would miss 3-4 months if that happened. But why would the Bulls deal him unless it was a strictly financial move? Why would a team deal for Deng if he is going to be out 8-12 weeks? Unless the Bulls have fallen in love with a high-level prospect, and there's been no indication that they have, why would they move their All-Star forward for an unproven commodity?
The other name that has been popular in trade speculation, at least amongst fans, is Joakim Noah. The Florida product signed a $60-million dollar extension that kicked in last season. He is one of the better defensive centers in the league and a man whom Tom Thibodeau trusts to be an anchor in his system, on both sides of the floor. Noah has spent a portion of his summer in Califiornia working with personal trainer Alex Perris, as he prepares to play in the Olympics for Team France. He is still trying to get over a painful ankle injury he suffered in Game 6 of the Eastern Conference quarterfinals, admitting after his exit meeting with Bulls' personnel that he wanted to strengthen his ankles this summer.
At 27, Noah has trade value and has gained a reputation in the league as being a solid defender. But for any fan wondering if the Bulls will move him in a potential deal, consider that the organization still isn't sure whether it will be able to retain Omer Asik. A restricted free agent this summer, Asik is expected to get a big offer.
General manager Gar Forman has gone out of his way to talk about how much he wants to keep Asik -- the most he can be offered in year one of a new deal is $5 million -- but a team that badly wants Asik could make the contract painful for the Bulls to match if they offer him big money in years three and four. With that type of uncertainty, dealing Noah would seem to leave a massive void in the middle.
Roy to the Bulls?: ESPN.com's Ric Bucher reported Wednesday night that the Bulls are one of many teams interested in Brandon Roy. Here's the problem for the Bulls as it pertains Roy, and pretty much every other player they talk to this summer, the Bulls do not want to go into the luxury tax. They do not want to dump extra money into a roster that no matter how hard it plays, probably won't win a title this year. If the Bulls match any potential offer for Asik, they will likely be right up against the luxury tax threshold. If the team doesn't bring back Kyle Korver, Ronnie Brewer and C.J. Watson, they could create enough space to offer Roy close to $5 million, but then the likelihood of keeping Asik goes way down. Not to mention if the Bulls don't bring back Korver, Brewer and/or Watson they will need to fill the rest of their roster with cheap contracts.
Another effect of Derrick Rose's knee injury, and something to consider regarding Roy or any other free agent the Bulls speak with in the next few weeks, surrounds their pitch. Unlike the past two seasons, it will be hard for the Bulls to sell a free agent on the fact that they can contend for a title this year. Their depth will be depleted and their two best players figure to miss big chunks of the year. Sure, Forman and company could sell a player on playing in Chicago and getting major time while Rose (and likely) Deng recover. But if a free agent only wants a one-year deal and the decision comes down to the Bulls or another team looking for a title, the Bulls no longer have the advantage of throwing out the possibility of a ring in the recruiting pitch.
December, 9, 2011
12/09/11
10:08
AM CT
By ESPN.com news services
ESPNChicago.com
Archive
Portland Trail Blazers
guard
Brandon Roy
is planning to announce his retirement due to degenerative knees, perhaps as soon as Friday, sources with knowledge of Roy's decision have told ESPN The Magazine's Chris Broussard and ESPN.com's Chad Ford.
Read the entire story
.
December, 8, 2011
12/08/11
4:49
PM CT
By ESPN.com
ESPNChicago.com

The only thing Ric Bucher and Chris Broussard like to do more than report on the NBA is argue about the NBA. That's why, as the NBA returns, so does Insider's weekly One-on-One series, in which they'll debate the hottest topics in the association.
Question: There is a chance he could stay with the Portland Trail Blazers, but if he doesn't, would Brandon Roy be a good fit for the Chicago Bulls?
BROUSSARD:
With the Blazers considering using their amnesty clause to waive Roy, several clubs are weighing the possibility of signing the former All-Star shooting guard. One of those teams is Chicago. While the Bulls' chances of landing Roy are not high, since teams with cap room get the first shot at him, I think Roy would be a very good fit if they could get him.
Read the entire story

November, 29, 2011
11/29/11
10:45
PM CT
CHICAGO -- There's a harsh reality hitting
Chicago Bulls
fans in the face this week and it's not just the wind ripping off Lake Michigan. It's the fact that their beloved basketball team isn't going to have much money to spend heading into what figures to be one of the most frenetic and compact free agency periods ever next week.
The problem for the Bulls is that most of their salary cap space is tied up in four players:
Derrick Rose
,
Carlos Boozer
,
Joakim Noah
and
Luol Deng
. Rose is in the final year of his rookie deal and will be getting a max extension as soon as the lockout ends. Boozer still has four years and about $60 million dollars left on the deal he signed last summer. Noah enters into the first year of a five-year contract worth almost $60 million this season. Deng still has three years and almost $40 million left on his deal.
[+] Enlarge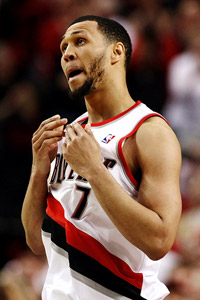 Jonathan Ferrey/Getty ImagesIf Brandon Roy becomes an amnesty cut, would he be worth the risk for the Bulls?
Their bench is fairly intact as well, at least for this season.
Ronnie Brewer
and
Kyle Korver
will be back. As will
C.J. Watson
,
Omer Asik
and
Taj Gibson
. That's about as solid of a nine-man rotation as there will be in the league this season. Not to mention the fact that the team still has to make a decision on whether they want to pick up the option to
Keith Bogans
' contract.
Essentially, the Bulls are almost capped out already.
How did it happen so quickly?
The biggest reason is because Noah went from making a little over $3 million last season to a little over $12 million this season. John Lucas III has a non-guaranteed deal, but that is less than a $1 million, so it won't make much of a difference either way.
So what do the Bulls do to improve?
Fans have focused on the two-guard spot all summer but for all the possibilities that have been bounced around, there's a solid chance Brewer, Bogans and Korver will get the chunk of minutes at that spot again.
Brewer has been open over the summer about his desire to earn a starting spot during training camp, especially given that he was hurt when training camp opened a year ago. Thibodeau may very well decide to give Brewer more minutes, have Korver come off the bench and return Bogans back to the role he was signed for last summer as basically the third two-guard, used sparingly off the bench.
The Bulls are going to look at every possibility as far as two-guards go and have undoubtedly discussed the possible amnesty cuts that could happen throughout the league. But the issue again is whether the Bulls even have enough to sign the players who could truly make a difference.
Jason Richardson
, the guy a lot of fans want to come in and fill the hole at the two-guard slot, made close to $15 million last season. Is he really going to come to Chicago for the full mid-level exception which would start at $5 million this season? There will almost certainly be teams lined up to pay him more than that. How much of a pay cut is he willing to take to go after a title?
Jamal Crawford
made almost $11 million last season. Would he really come back to Chicago for just $5 million when there will be other teams willing to pay him more. Is he even a good fit?
Arron Afflalo
is a restricted free agent so the
Denver Nuggets
can match any offer he gets. He's going to get a lot more than the Bulls could give him.
What about the potential amnesty cuts?
First of all, there are plenty of people around the league who don't think there will be as many amnesty cuts as the average fan thinks. As far as the Bulls go, the one name that has risen to prominence recently is
Brandon Roy
, whom the
Portland Trail Blazers
are expected to amnesty whenever the new labor deal becomes official.
Aside from the fact that Roy's knees are a huge question mark at best and may force him to retire early, the Bulls figure to have a hard time in landing his services as well.
Teams with cap room can submit competing offers to acquire an amnestied player at a reduced rate before he hits free agency and can sign with any team, according to ESPN capologist Larry Coon.
How much are the Bulls going to be able to offer if they are already pretty much capped out? Would Roy and his chronically bad knees even be that much of an upgrade? How would he be able to hold up during such a compact schedule?
The Bulls could always go the trade route, but they have been very hesitant in the past to part with Gibson and Asik, the two players almost every team asks about. Plus, even before the lockout, Bulls management wasn't sure if there was a player on the market (at least one they had a legitimate chance at getting) who could put them over the top.
The truth is that there is a very good chance the 2011-2012 Bulls will look much like the 2010-2011 edition. Obviously, the team will continue to look at all its options in the coming weeks, but more than anything, they are banking on the fact that Rose will improve, Noah and Boozer will play better in their second year together, Deng will continue to stay healthy and be productive and Tom Thibodeau will find a way to get his team to take the next step.
Is that formula enough to push the Bulls past the
Miami Heat
this season? The reality for anyone who thought the Bulls would be able to make a major splash before the season needs to check the numbers one more time. The big money has already been spent. Unless there is a player out there willing to take a huge financial hit, the answer for this squad is going to have to come from within.