Chicago Bulls:

Cameron Bairstow
July, 21, 2014
7/21/14
12:11
PM CT

By Nick Friedell
ESPNChicago.com
Archive
CHICAGO -- The
Chicago Bulls
announced the re-signing of veteran guard
Kirk Hinrich
and the signing of second-round draft pick
Cameron Bairstow
on Monday.
The 33-year-old Hinrich has spent nine of his 11 NBA seasons with the Bulls, including last season when he averaged 11.8 points and 5.2 assists in 32.3 minutes a game.
Hinrich

Bairstow
"Kirk has always been a big part of creating the professional culture we want day in, day out surrounding our club," Bulls GM Gar Forman said in a statement. "He helps our team in so many ways and Kirk had other opportunities elsewhere, but we are very happy he chose to remain in a Bulls uniform."
Bairstow was selected with the 49th overall pick in last month's draft.
"We like Cameron's combination as a player with his size, energy and physicality," said Bulls GM Gar Forman said in a statement. "He is a hard worker who will only get better with time."
It is still unclear how much of a factor Bairstow will have this season, but Bulls executive VP
John Paxson
said the organization fielded several offers for draft night swaps when Bairstow was selected.
"We were getting calls leading up to that pick with teams offering us a ton of cash," Paxson told ESPN Chicago 1000's "Waddle & Silvy Show" last month. "For people that sit there and say that the Bulls always make decisions based on money -- we never even considered taking a deal like that [on draft night]. And [owner Jerry Reinsdorf] is sitting there in the room -- because we were looking at a player that we think can maybe play a role for us down the road. And we sat there and bypassed [the offers]."
With Bairstow's deal on the books, now the Bulls must officially sign first-round pick
Doug McDermott
and free agent
Aaron Brooks
. They also must continue to look for another backup big man to take the pressure of
Joakim Noah
. Bairstow may eventually fill that role, but that will be determined over time.
July, 8, 2014
7/08/14
3:49
PM CT

By Nick Friedell
ESPNChicago.com
Archive
First-round pick
Doug McDermott
will lead the
Chicago Bulls
summer league team into action as it begins play on Saturday in Las Vegas.
The Bulls' summer league roster was announced Tuesday and includes last year's first-round pick
Tony Snell
and this year's second-round selection
Cameron Bairstow
. Bulls assistant
Adrian Griffin
will be the head coach with assistants Andy Greer, Ed Pinckney, Mike Wilhelm and Coby Karl.
Bulls coach Tom Thibodeau said on draft night that he expected
Derrick Rose
to practice with the summer league team, but he wouldn't play. The Bulls open the summer league slate on Saturday night against the
Los Angeles Clippers
.
June, 30, 2014
6/30/14
2:27
PM CT

By Jon Greenberg
ESPNChicago.com
Archive
DEERFIELD, Ill. -- In what was likely the fourth-most important
Chicago Bulls
story of the day, the team introduced its first and second-round draft picks,
Doug McDermott
and
Cameron Bairstow
, on Monday morning.
That news conference was overshadowed by
Carmelo Anthony
's impending meeting with the Bulls when free agency begins at midnight Tuesday. Then there was
Derrick Rose
's recent interview with Yahoo! Sports in which he professed an uncertainty about playing for the U.S. national team this summer and reiterated his reluctances to personally recruit free agents.
[+] Enlarge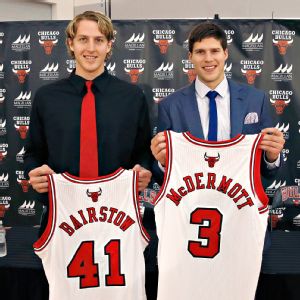 AP Photo/Charles Rex ArbogastDoug McDermott holds up his new Bulls jersey with second-round pick Cameron Bairstow on Monday at the Berto Center.
But the Bulls hope that McDermott, a 6-foot-8 sweet-shooting forward, isn't an afterthought when the season begins. They didn't trade their two first-round picks, Nos. 16 and 19, to snag him at No. 11, while also taking on the contract of
Anthony Randolph
from the
Denver Nuggets
, just because he's a nice guy.
However, this isn't the Missouri Valley Conference or the watered-down Big East. McDermott will have a big adjustment to make going from big man on campus to a rookie playing for hard-charging Tom Thibodeau.
McDermott, who played for his father Greg McDermott at Creighton, believes his four-year career has prepared him for this stage.
"I feel like I'm ready right from the get-go," McDermott said. "I played four years, unlike a lot of guys who maybe went higher than a lot of guys drafted before me. But I feel like that's helped me. I went thorough a lot of adversity and have seen just about everything on the college floor for four years."
McDermott was one of two college players to participate in the USA basketball minicamp last summer in Las Vegas. One of the coaches was Thibodeau.
"I learned lot from [Thibodeau]," McDermott said. "There were two courts. One court they were doing defensive drills, the other court they were doing a lot of putting in new sets. Of course he had defense. We did a lot of guarding picks and rolls, doing a lot of coverage stuff."
McDermott said that camp helped him for his senior season playing in the new Big East. He led the nation in scoring at 26.7 points per game and was the consensus player of the year.
"Just going against NBA guys gave me lot of confidence going into the season," he said. "To be able to play against some of best players in the world, that alone helped me going into my senior year."
Does that mean he's going to be a difference-maker as a rookie? It would be against type, especially if the Bulls can reload during free agency.
Last year's first-round pick
Tony Snell
played 16 minutes a game, a number buoyed by injuries and the
Luol Deng
trade.
Jimmy Butler
averaged 8.5 minutes per game as a rookie during the lockout season. Back in 2010-11, center
Omer Asik
averaged around 12 minutes a game as a rookie. Asik and Butler became major contributors in their second seasons.
Out of those three, Asik had the most impact as a rookie. But McDermott is a more aggressive, more complete offensive player. He scored from all over the floor during his career, but defensively, he'll have his work cut out for him.
"I've got to get better defensively, everyone does," McDermott said. "But this is the perfect spot to improve because they've been so great defensively. I've got a lot to learn."
Very few rookies come in ready to play big minutes. Snell wound up playing more than some top-draft picks on bad teams.
"It's a big adjustment," Thibodeau said. "The first step is come in and learn the system, learn the NBA game, learn your teammates and your opponents. It's a big learning curve. We like the way both guys work. But it's a step by step process. The first step is be great practice players."
Like
Erik Murphy
last season, the Bulls believe their second-round pick can make the team. They first noticed Bairstow, a 6-foot-9 post player, when they were scouting Snell, a fellow New Mexico Lobo, and they think he can be a physical power forward off the bench. Bairstow has played international basketball for Australia and said he knows how to compete against "men."
Both players will suit up for the Bulls summer league team in Las Vegas.
June, 27, 2014
6/27/14
1:09
AM CT

By Jon Greenberg
ESPNChicago.com
Archive
DEERFIELD, Ill. -- With
Derrick Rose
on the shelf again, the
Chicago Bulls
were the worst shooting, worst scoring team in the league last season.
General manager Gar Forman shot 100 percent, 1-for-1, on draft night.
"Forman for a 3-point shooter! It's good!"
Every year, plenty of NBA general managers lie and say they got the guy they wanted in the draft. This time, Forman was telling the truth.
[+] Enlarge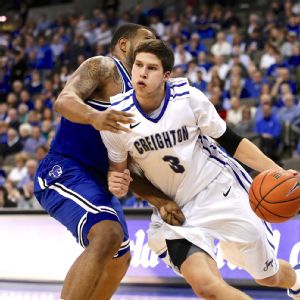 AP Photo/Nati Harnik"If you're just viewing him strictly as a shooter, you're not casting him in the proper light," Bulls coach Tom Thibodeau said of Doug McDermott. "We think he's a complete player."
The Bulls are a team focused squarely on free agency, which begins July 1, with a deadeye pursuit of
Carmelo Anthony
.
But in a bit of target practice, Forman and the Bulls got their top college quarry Thursday night, trading their two first-round picks for sharp-shooting forward
Doug McDermott
, who was taken 11th by the
Denver Nuggets
.
After talking to his agent, the Chicago-based Mark Bartelstein, McDermott said he knew the deal was coming when he put on his Nuggets hat and walked across the stage. He certainly knew the Bulls were interested.
As for the Bulls, Forman's cries of joy echoed from Deerfield to Ames, Iowa. Sources say Bulls coach Tom Thibodeau even smiled after the trade was completed.
While Thibodeau is known for preaching defense with a religious fervor, he's well aware the Bulls need scoring help, even if they land Anthony.
The Bulls love McDermott's all-around game, particularly his ability to create his own shot from various zones.
Forman called him "crafty" with an ability to create shots "off the bounce" or slip inside to the post. While Thibodeau doesn't promise minutes to anyone, the Bulls seem to think McDermott can play his way into the rotation.
"If you're just viewing him strictly as a shooter, you're not casting him in the proper light," Thibodeau said. "Because he's a lot more than that. We think he's a complete player. We think he's capable of playing very good defense."
McDermott's defense has been a question mark, but Thibodeau is adept at teaching players how to play his kind of "five-man defense." McDermott already has consulted with his mentor, fellow Creighton legend and former Bull
Kyle Korver
, about Thibodeau's high expectations.
"Kyle said he learned more defensively in two years in Chicago than he had in his whole career," McDermott said. "He told me to go in there with an open mind, listen to Coach Thibodeau and you'll be just fine."
Since
John Paxson
took over the basketball operations department from Jerry Krause in 2003, the Bulls have had their best success drafting veteran college players from good teams or very mature freshmen, such as
Luol Deng
and Rose.
A four-year player for his father, McDermott was the best scorer in college the past two years. He flirted with making himself available for the draft last year, and he didn't have a letdown in his return. He was the consensus college player of the year during his senior season, averaging 26.7 points, shooting 52.6 percent from the field and 45 percent from 3-point range.
McDermott is the fifth-highest scorer in Division I history with 3,150 points and has a career .458 3-point shooter.
"He handled his college career great," Thibodeau said. "There was a lot of pressure on him and he met all those expectations. I had an opportunity to be around him with USA Basketball last summer, and he more than held his own in that setting."
There is a natural synergy to this pick. Forman is a former Iowa State assistant coach, and McDermott hails from Ames.
"I'm pretty familiar with their front office," McDermott said at the draft combine in Chicago. "They're a bunch of guys from Iowa; they all went to Iowa State it seems like. I got a chance to talk to them, and I really like them."
From practices to games, home and away, to USA Basketball camp, the Bulls' brain trust spent so much time stalking McDermott, if they didn't draft him, he might have had to get a restraining order.
"I'll tell you a funny story," Forman said. "John Paxson went to see him, I think it was this year, may have been a year ago, and there was a huge snowstorm. I think he spent a week there. He got to see him play twice, practice four times and he got to know Omaha real well. Our entire staff has seen him in a lot of settings."
While the Bulls desperately wanted McDermott, they also were looking for a trade partner for the 16th and 19th picks to shave money off next season's salary cap as the team chases high-priced talent this summer.
But with that in mind, it was curious that well-traveled forward
Anthony Randolph
was included in the deal. He's owed $1.825 million next season. Forman said that was the price for trading up. The Bulls will likely look to use his salary in a trade, though they can't package him in a deal for 60 days, according to league rules. They can trade him straight-up immediately.
Of course, they could always trade McDermott, too, if they had to clear salary space. As you might have heard, the Bulls are going "all in" to land Anthony or
Kevin Love
.
But while the Bulls pursue Anthony, among others, getting McDermott -- listed at 6-foot-7¾ with shoes and 218 pounds at the NBA draft combine -- addresses the Bulls' biggest weaknesses. In theory, anyway.
As a team, the Bulls shot 42 percent from the field and 33.3 percent on 3-pointers last season. They were the lowest-scoring team in the NBA, averaging 93.7 points per game without Rose for all but 10 games.
The
Bulls' season shot chart
shows they were above league average from only one "hot spot zone" on the court, the left corner 3. They were below average in two zones from the right side and just around league average everywhere else.
"I think I can provide some outside shooting right from the get-go, be able to come off screens and play off their superstars," McDermott said.
Mike Dunleavy
and
Kirk Hinrich
were the only reliable long-range shooters on the roster. Hinrich is a free agent, and Dunleavy could be prime bait in a sign-and-trade deal.
The Bulls also drafted 6-foot-9 Australian power forward
Cameron Bairstow
out of New Mexico with the 49th pick in the second round. He averaged 20.4 points and 7.4 rebounds in a breakout senior season.