Chicago Bulls:

Caron Butler
December, 10, 2011
12/10/11
9:19
PM CT
CHICAGO -- Here's what we've learned in the past few days as far as the Bulls and potential upgrades to the roster go. Money talks, and most free-agent shooting guards have kept walking.
From the beginning, the Bulls knew it would be a tough sell to get a sought-after option to bite the bullet and accept less money than other teams offered. That has indeed proven to be the case.
[+] Enlarge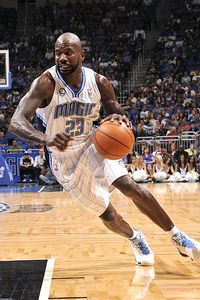 Fernando Medina/NBAE via Getty ImagesJason Richardson is on the verge of re-signing with the Magic.
On Saturday, another player who has been linked to the Bulls for months as a potential singing, decided to take more money and sign elsewhere. That player would be Jason Richardson, who reportedly decided to take a four-year deal worth $25 million dollars from the Orlando Magic, according to multiple outlets. The deal is expected to be finished by Monday.
The most the Bulls could have offered Richardson was the midlevel exception, which would have worked out to around $20 million over four years. The 30-year-old obviously felt as if this was his last chance to cash in on a big payday. What else could the reasoning be? The Magic are on the verge of losing Dwight Howard and the organization is nowhere near ready to win a championship. Obviously, Richardson isn't alone in wanting to cash in. Same goes for veteran swingman Caron Butler who recently agreed to a three-year, $24 million dollar deal with the Los Angeles Clippers. The Clippers are an exciting team, but they aren't going to win a title this season. The Bulls are without question much closer to winning a ring, but the players didn't want to take a pay cut to be in Chicago.
Let's be clear: I'm not begrudging these players one bit for deciding to go for the money. An athlete only gets a few chances in his or her career to sign big contracts, so more power to these guys for getting the money when they can. The notion that the Bulls were going to land someone because they were willing to take less money to play in Chicago was always overblown. It's the same reason Jamal Crawford, who as Michael Wilbon pointed out last week, genuinely wants to play in Chicago, hasn't signed on the dotted line with the Bulls. He made almost $11 million last season, and now all of a sudden he's going to start making $5 million? The only way he was coming to the Bulls was if they worked out a sign and trade deal for him, which of course, would also give him more money. It appears that Crawford's chance to come back to Chicago has floated away for now.
That same logic likely will apply to Arron Afflalo and Nick Young. Would the Bulls like to have them? Sure. But their price tags were always going to be higher than the mid-level exception, plus the fact that there was never any guarantee they would end up with the Bulls even if they did sign an offer sheet. Both players are restricted free agents, meaning their current teams can match any offer the Bulls make.
Which brings us to Rip Hamilton, who has suddenly become the odds-on favorite to sign with the Bulls. Hamilton is a guy the Bulls have had interest in for a while and would have surely considered bringing in last season if he had been bought of his contract by the Detroit Pistons. He fills the two-guard need for the Bulls in a lot of areas. He can hit a mid-range jumper, play solid defense when needed and has experience in a championship atmosphere, having won an NBA championship with the Pistons.
So what happens next?
It's expected that it will take Hamilton around 48 hours to clear waivers. Another team could claim him, but that's doubtful given how much money is left on his contract. Once he clears waivers, the Bulls deal is expected to go down soon thereafter, contingent, of course, on whether the Bulls can come to a financial agreement with him. That doesn't figure to be much of an issue, because at age 33, the Bulls aren't expected to sign him to a multi-year deal, probably two at the max.
The question Bulls fans have is: At age 33 just how much gas does Hamilton have left in the tank? Can he revert back to his form in the mid 2000s when he was averaging almost 20 points a game? How much of an upgrade will he be over returning two guards Kyle Korver and Ronnie Brewer? Will Hamilton help the Bulls get past the Miami Heat if the two teams face off against one another in the Eastern Conference finals? All of these questions will be answered in time, the one answer the Bulls have at the moment is that compared to the other available options, the price was right for Mr. Hamilton.
December, 8, 2011
12/08/11
9:37
PM CT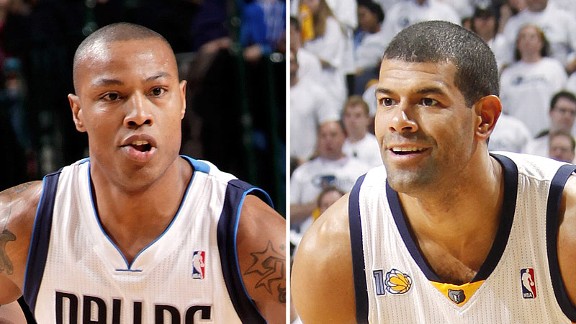 Getty ImagesLosing out on Caron Butler may not hurt the Bulls, but Shane Battier will help Miami.
CHICAGO --
Shane Battier
announced he was signing with the
Miami Heat
on Thursday morning.
Caron Butler
agreed to sign with the
Los Angeles Clippers
later in the afternoon. Each of these moves had an impact on the
Chicago Bulls
' present and future. Let's take a quick look at how each one will impact Tom Thibodeau and Co.:
Battier to the Heat
: This was a shrewd signing by Pat Riley. The veteran forward gives the Heat another elite defender. Yes, Battier is 33 years old, but he's still one of the best defenders in the league. At 6-8, he's long and can guard multiple positions if need be. Battier has made a name for himself guarding
Kobe Bryant
, among others, throughout the years. He's also a very good locker room presence. The guess is that Battier's arrival means he will spend a lot of time guarding
Luol Deng
when the Bulls face the Heat.
That frees up
LeBron James
to spend even more time checking
Derrick Rose
, which will be an ongoing problem for the Bulls. James' length and speed gave Rose a lot of problems during the postseason.
Dwyane Wade
will guard whichever two guard the Bulls end up playing alongside Rose while
Chris Bosh
while spend his time defending
Carlos Boozer
. That matchup gave Boozer headaches at various times during the Eastern Conference finals, on both ends of the floor. The Bulls still have an advantage in the center department with
Joakim Noah
down low, but the Heat don't seem to be concerned as much with that given Noah's still limited offensive game.
Butler to the Clippers:
Caron Butler decided to take the money (in this case $24 million over three years) and run to Los Angeles. Given that this is most likely his last big contract, you can't really blame him. The Bulls could only offer him the mid-level exception starting at $5 million this season. Plus, there were a lot of skeptics wondering just how good Butler would be as a two guard after spending most of his career as a three, especially after the injury problems he's had over the past few seasons. What the move does do is scratch another name off Gar Forman's list of potential upgrades at the two guard spot. The best option would still probably be for
Jason Richardson
to come in and fill the role, but will he take the pay cut?
The Bulls still have interest in
Nick Young
and
Jamal Crawford
as well, but again, will they be able to get the numbers to work? It's the multimillion dollar question Forman must answer soon.
Josh Howard
is another guy the Bulls have shown interest in, but he's missed 141 games over the past three seasons.
Vince Carter
? The Bulls may be able to land him once he is waived by the
Phoenix Suns
, but is that even a good thing? He looked to be out of shape last season and appears to be in the final stretch of his career. As the days go by, the odds of the Bulls standing pat and not making move grow stronger. There's always been a sense around the organization that they're not just going to spend money on someone just to make a move. They want to bring in a guy who will make an impact. Problem is, there weren't many to begin with in this free agent class. Bulls fans might want to get used to the realization that
Keith Bogans
may be back if they can't land a bigger name at a discounted rate.
On the bright side for Bulls fans, at least they can take solace in the fact that, for the moment, the
Chris Paul
to the Lakers deal appears to have been blown up. Paul's presence in a Lakers' jersey would have only fueled the
Dwight Howard
to the Lakers rumors even more. The Bulls have enough to worry about in trying to get past the Heat, they didn't need the extra burden of figuring out how to beat a Lakers team which would have featured Bryant, Paul ... and possibly Howard down the line.
December, 8, 2011
12/08/11
3:15
PM CT

By Ramona Shelburne
ESPNChicago.com
Archive
Former Dallas Mavericks forward Caron Butler agreed to a three-year, $24 million contract with Los Angeles Clippers Thursday, according to his agent Raymond Brothers.
Butler had also considered San Antonio, New Jersey and Chicago, but ultimately the opportunity to team with Blake Griffin and Eric Gordon in Los Angeles proved too enticing.
Read the entire story.
December, 5, 2011
12/05/11
2:58
PM CT
December, 4, 2011
12/04/11
11:03
PM CT

By Jeff Caplan
ESPNChicago.com
Archive
Caron Butler begins a busy week Monday with at least four visits lined up to teams interested in signing the Dallas Mavericks' free-agent forward.
Butler will visit with team officials from the Chicago Bulls on Monday morning, followed by trips to sit down with officials from the Los Angeles Clippers on Monday night, the San Antonio Spurs on Tuesday, the New Jersey Nets on Wednesday and possibly the Detroit Pistons on Thursday, a source close to the situation confirmed Sunday night.
Read the entire story.