Chicago Bulls:

Chauncey Billups
July, 22, 2010
7/22/10
10:34
PM CT

By Nick Friedell
ESPNChicago.com
Archive
LAS VEGAS --
Derrick Rose
was asked again on Thursday afternoon if he would ever consider leaving Chicago the way
LeBron James
left Cleveland earlier this season. And in as many words, as he told me on Wednesday, he had the same response:
Why would I?
"It would be bigger for me to win another championship [in Chicago] than to win somewhere else," he said. "The city would love me. It would be bigger for me to even get to the second round, so imagine a championship."
Rose taking tips:
Denver Nuggets
point guard
Chauncey Billups
has always spoken highly of Rose's talents, so it should come as no surprise that Rose is taking as much advice as he can from the NBA veteran.
"Chauncey, he's a veteran guy, if anything I try to learn that speed isn't everything," Rose said. "With him, he gets things done using basic little moves, using his strength and using his experience on the court and I know it's going to take me a long time to get used to it, but I think that I should be there one day."
Coach K showing no favoritism:
I asked Team USA head coach Mike Krzyzewski if it meant any more to him that Rose, like himself, was a Chicago native. The longtime Duke head coach stressed that he wasn't about to play any favorites.
"I just know Derrick very well because of his Chicago roots," Krzyzewski said. "But it doesn't mean any more to me for Derrick to be here than
Russell Westbrook
or
Stephen Curry
because I like all of them. There's no favoritism or anything like that. Even if I like the Bulls or whatever ... Everyone's treated the same, they all have USA on their jerseys."
July, 22, 2010
7/22/10
4:09
PM CT

By Nick Friedell
ESPNChicago.com
Archive
[+] Enlarge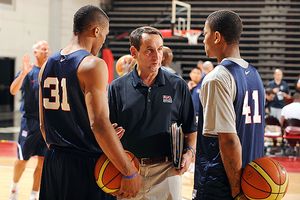 Andrew D. Bernstein/NBAE/Getty ImagesTeam USA coach Mike Krzyzewski talks with Russell Westbrook, left, and Derrick Rose during practice Thursday in Las Vegas.
LAS VEGAS --
Jason Kidd
didn't even hesitate while considering the question.
Can
Derrick Rose
become the next great point guard for Team USA?
"Yeah," Kidd told me recently. "He's 21, and he has all the tools to be a great point in this environment and also in the NBA so the future's very bright for him. He's a guy who works extremely hard and for me, being here I want to just talk to him, but also to maybe give him some secrets that I can pass along so that he can get to that next level."
The Bulls' young All-Star has opened some eyes during his short time in Vegas at Team USA's training camp and appears to be on his way to a spot on the team which will compete in Turkey next month at the World Championships.
All signs point to Rose becoming one of the faces of the National team down the line, just don't tell that to Team USA head coach Mike Krzyzewski.
"The face of the team is right here," Krzyzewski told me, pointing to the USA logo on his shirt. "But not me because I'm not a good face."
"But because he's 21 ... " I started.
"Because he's 21 he'd be a better face?" Krzyzewski responded.
"He'd be a face for a longer time to come, I guess," I said.
"No, faces emerge from teams," Krzyzewski said. "I'd rather not say. This guy's a face. Let our team be good, and then if our team's really good then you [media] can pick who's face it is."
Clearly, Krzyzewski wants to mold this even younger version of Team USA -- the same way he did with the 2008 edition which won the gold medal at the Beijing Games -- where no single player is bigger than the team.
"It's really kind of inappropriate to talk about any one individual right now," Krzyzewski said. "Just because it's the second inning. I'm not going to take any pitcher out, they're going to be able to pitch the whole nine innings, and we'll evaluate him at the end of the nine-inning performance."
As Krzyzewski, an avid Cubs fan himself knows, it's the aces of any staff that have the ability to dominate a game. As much as he may not want to admit it publicly, he knows that Rose has that kind of ability.
"First of all, he's gotten better," Krzyzewski said. "He is a world-class athlete. A top-percentile guy. He could really be a great defender, but he can break you down. I don't know how you keep him in front of you. I think he can do that whether he's with the ball, or if he's off the ball and gets it."
Some of Krzyzewski's current and former players on Team USA feel the same way.
"He's one of those guys that's going to be on the Olympic teams," current Team USA hopeful
Chauncey Billups
told me back in February
during All-Star weekend. "He's one of the studs, man. He is."
Denver Nuggets
star, and two-time Olympian,
Carmelo Anthony
agreed.
"Hopefully we can hand the torch to him in a couple years," he said.
For all the talk surrounding his impending international stardom, Rose continues to keep a humble approach.
"That would be an honor," he said of becoming one of the faces of Team USA down the line. "It would be an honor even to be on the team. But to be a face of the USA team, it would mean a lot. A lot of hard work I've been putting in this game. A lot of sacrifice and dedication. It would let me know that I can put my goals up even higher."
Kidd doesn't see any obstacle that will stand in Rose's way.
"Coming out of college he was everything that he was supposed to be," he said. "He's an athlete, he can get to the basket, he can score. He's a guy who can find the open guy and plays extremely hard, so when you're all that, the sky's the limit."