Chicago Bulls:

Chicago Bears
December, 3, 2012
12/03/12
2:55
PM CT
By ESPNChicago.com
ESPNChicago.com

The
Chicago Bears
have dropped three of their last four games to fall into second place in the NFC North after a 23-17 loss to the
Seattle Seahawks
on Sunday, but the First Fan isn't giving up hope.
During a Q&A on middle class tax cuts on Twitter, President Barack Obama was asked which Chicago team, the White Sox, Bulls or Bears would win a title first.
"da bears still gotta shot, despite sad loss this weekend! plus rose will return for playoffs!!! -bo," Obama tweeted.
Bulls star
Derrick Rose
is working his way back from May knee surgery and his return date is uncertain.
Back when the Bears were flying high at 7-1 following a 51-20 victory over the
Tennessee Titans
, Obama expressed his support for the Bears the night before the Nov. 6 election, telling "Monday Night Football" that the Bears have the "best defense in the league right now. You saw (Sunday's) game. (Charles) Tillman may be defensive player of the year the way he's playing."
May, 7, 2012
5/07/12
11:23
AM CT

By Michael Wilbon
ESPNChicago.com
Archive
So what could we possibly have done to deserve this sentence of six months in professional sports hell? Which of the sporting gods did Chicago offend to bring about this karma? I grew up accepting the Cubs were cursed, but not the Bears and Bulls, too. Since November, though, a one-two punch to the civic groin has left us face down and semi-conscious in an alley. The Blackhawks won the Stanley Cup in June of 2010; then seven months later the Bears advanced to the NFC Championship game. Looked like smooth sailing. Maybe Jay Cutler spraining his knee was a tip-off we were about to enter a nuclear winter.
Read the entire column.
March, 1, 2012
3/01/12
11:02
AM CT
By ESPNChicago.com
ESPNChicago.com

President Obama is a big fan of the way the Miami Heat run a break, but when the postseason dictates more half-court sets, Obama believes the Chicago Bulls will have a chance.
Read the entire story.
December, 10, 2011
12/10/11
2:21
PM CT

By Nick Friedell
ESPNChicago.com
Archive
DEERFIELD, Ill. -- Not surprisingly,
Chicago Bulls
center (and University of Florida alum)
Joakim Noah
is a massive fan of
Denver Broncos
quarterback
Tim Tebow
, also a former Gator.
"Timothyyyy!" Noah said proudly after Saturday's practice. "We got to show Timothy a little love here. For all the haters out there, you know the guy is kicking ass. Making me very proud to be a Gator boy."
[+] Enlarge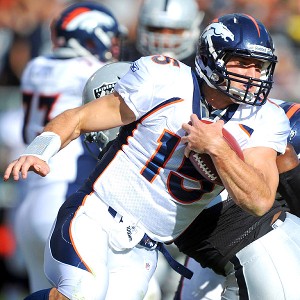 Kirby Lee/Image of Sport/US PresswireAs he prepares to lead the Broncos against the Bears, Tim Tebow has at least one fan in Chicago -- the Bulls' Joakim Noah.
Noah has followed Tebow's career closely since the pair were in school together at Florida.
"It's a beautiful story," Noah said. "He is who he is. There's no lie about who he is. He's comfortable."
Noah admits that the two don't see eye-to-eye on certain issues, but the Bulls center appreciates that Tebow stays true to his values.
"Me personally, I have completely different beliefs than him," Noah said. "But at the same time I respect the fact that he speaks his truth. He speaks his truth and he's a warrior. He's a winner. At the end of the day, his teammates respect that."
Noah said he didn't know Tebow very well during their time in Gainesville, but that didn't stop him from gaining respect for the quarterback.
"I had a class with him," Noah said. "The guy is the real deal. He's a very humble guy. And somebody who, his teammates love him. They battle for him every night. He might not throw the ball great, and that's all anybody wants to talk about, but at the same time, people really underestimate the fact that his guys really go to bat for him. And it was the same way at Florida. And I can see it, it's the same way with his team in Denver."
When asked whether Tebow had ever tried to cheat off of him on a test, Noah couldn't help but smile.
"Nah, that's not his style," Noah said. "I was the cheater on the test. He wasn't cheating on too many tests."
Noah was asked whether he had heard his friend
Charles Barkley
's comments that he would be cheering for the Bears when they play Tebow's Broncos on Sunday because he was "Tebowed out."
"I want to make a personal plea to
Lance Briggs
,
Brian Urlacher
, Mr.
[Julius] Peppers
, please stop the madness," Barkley said Friday on "The Waddle & Silvy Show" on ESPN 1000. "I'm just so tired ... I like Tim Tebow. He seems like a good kid, and I wish him success, but I am Tebowed out. So this is my personal plea for you three guys, please stop this madness."
Noah said he had not heard the comments and wasn't fazed by what Barkley had to say.
"That's Chuck's opinion," he said. "I'm not [tired of the Tebow talk]. "I'm a Gator boy. I love the Tebow talk."
November, 22, 2011
11/22/11
4:17
PM CT
August, 8, 2011
8/08/11
11:13
AM CT
By ESPNChicago.com
ESPNChicago.com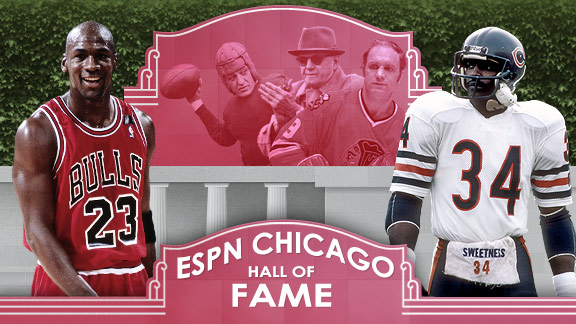 ESPN.com Illustration
Which legends belong in the inaugural class of the ESPN Chicago Hall of Fame? That's up to you.
Cast your votes!
June, 29, 2011
6/29/11
2:34
PM CT
By ESPNChicago.com
ESPNChicago.com

There are still three full months left in the season (and three seasons left on his contract), but there is no denying
Adam Dunn
has been a free agent bust for the White Sox so far. Dunn made our list of the
biggest free agent busts in Chicago history
, and you can
vote for your own lists of busts
.
Many of the busts on our list are easy. But a glance around Chicago sports today brings up several debatable cases with money and expectations playing major roles in determining whether they are busts. Here's a look at a few:
January, 14, 2011
1/14/11
11:50
AM CT

By Nick Friedell
ESPNChicago.com
Archive
[+] Enlarge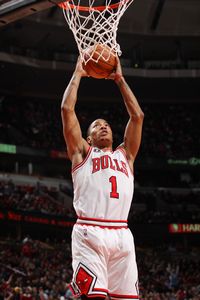 Gary Dineen/NBAE/Getty ImagesDerrick Rose said he once considered playing football, but the pace of the game and potential for playing in freezing weather convinced him to stay with basketball.
Chicago Bulls star Derrick Rose grew up in Chicago, but he never considered himself a
Chicago Bears
fan until this season.
Expect Rose to be rooting for the Bears when they host the
Seattle Seahawks
on Sunday in an NFC divisional playoff game.
"They turned me into a football fan," Rose said. "Where at first I really didn't like football, even when they went to the championship, the Super Bowl [in 2007] when I was younger.
"But now with me knowing a little bit about football, I have become one of the Bears fans."
Rose, a hard worker in his own right, can appreciate the way the Bears have proved doubters wrong all season.
"Their will to win games," he said, when asked what sets this team apart. "Where they have a lot going against them. With people saying, especially about
Jay Cutler
, that he's not as good of a quarterback as they want him to be or whatever. But it's hard in Chicago being a quarterback and I have a lot of respect for him."
The young point guard has a lot of respect for the type of effort that goes into becoming a professional football player. He thought about playing the game when he was younger, but decided against it.
"I wanted to be a receiver because I thought I was fast and I could jump a little bit, but it's hard, man," Rose said. "Knowing what conditions they have to play in, like the weather conditions. And to be able to not play for a minute and then come into the game and warm up ASAP, and run as fast as you could to catch a ball, with it being below zero and stuff like that, that's unbelievable."
Rose admits that the success that Cutler and the Bears are having, coupled with the Stanley Cup championship the Chicago Blackhawks won last summer, motivates him.
"I know the Blackhawks did something tremendous [last season] to inspire me to go out there and work harder when I was in L.A. [working out over the summer], just winning the championship," Rose said. "I wasn't there for the parade, but my mom and my girl was like sending me pictures of the parade and people cheering and stuff like that. While I was in L.A., that was one of the things that drove me."
The idea of seeing the Bears continue the winning ways in Chicago makes the thought of having another celebration in Grant Park seem more tangible than ever.
"I want to get back to that day," Rose said. "And just being one of the guys that put us back on the map."
Nick Friedell covers the Bulls for ESPNChicago.com and ESPN 1000.
August, 27, 2010
8/27/10
7:58
PM CT

By Doug Padilla
ESPNChicago.com
Archive
[+] Enlarge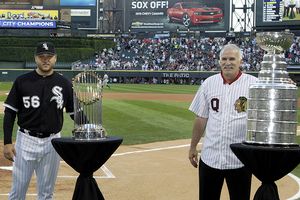 AP Photo/Charles Rex ArbogastMark Buehrle and Joel Quenneville displayed Chicago's two newest title trophies.
CHICAGO -- The Yankees aren't an easy bunch to intimidate, but the White Sox gave a shot during pregame ceremonies Friday, with a little help from their friends.
Championship trophies from the 1985 Bears, the '90s Bulls, the 2009-10 Blackhawks and the White Sox's own 2005 hardware, were all on display during a "Gathering of Champions" ceremony. Richard Dent represented the Bears,
Mark Buehrle
was there for the White Sox and Joel Quenneville was on hand for the Blackhawks.
Scottie Pippen was supposed to be the Bulls' representative, but he was late leaving those duties to chairman Jerry Reinsdorf. Pippen was later spotted on the suite level just as the game was starting.
The Yankees might have their 27 World Series trophies, including their most recent in 2009, but no city can stake a claim to a title in each of the four major sports in the past 25 years.