Chicago Bulls:

Countdown to Christmas
December, 21, 2011
12/21/11
9:34
PM CT

By Nick Friedell
ESPNChicago.com
Archive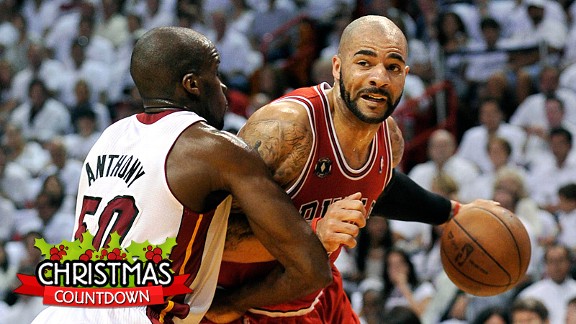 Steve Mitchell/US PresswireCarlos Boozer didn't live up to his contract in his first season with the Bulls.
CHICAGO -- There is no player on the Bulls' roster this season who will face more scrutiny than Carlos Boozer.
The power forward was inconsistent throughout much of his first regular season in Chicago, and his struggles continued well into the postseason. With that, fans all over the city are just holding their breaths to see how Boozer fares in his second campaign. He showed flashes of the man who was a 20 point, 10 rebound machine in Utah, but he also missed 23 games and played poorly on the defensive end -- as was his reputation elsewhere. It got so bad that Boozer (and Joakim Noah) weren't even on the floor when the Chicago Bulls threw away Game 5 in the Eastern Conference finals. After just one year in Chicago, a lot of fans believed Boozer was a bust.
All the criticism appears to have motivated him. He spent a lot of time working out in Miami and has dropped more than 20 pounds, according to Bulls GM Gar Forman. Boozer says he feels "lighter" on the floor.
"Criticism is all in how you take it," Boozer said recently. "At the end of the day, some people take criticism the wrong way. I take it as motivation. Criticism motivates you. That's the way I've been my whole career. And I'm very motivated, to say the least."
Motivation is great, but the key for Boozer is finding some way to stay on the floor. As far as Bulls fans are concerned in this case, talk is cheap. Boozer needs to prove that he can produce, especially given the fact that he's in just the second year of an $80 million dollar contract. All his teammates have come out in support of him since training camp opened, saying all the right things. But it isn't going to matter if the veteran forward doesn't play well all the way through the year.
Boozer could be an absolute beast all season long, but if he doesn't show up in the playoffs that regular-season production is will quickly be forgotten.
The biggest issues for him, aside from staying healthy, are two fold. First, he has to at least try to become a serviceable defender under Tom Thibodeau. Early reports out of practice were good, but his performance in the first two preseason games looks a lot like it did last year.
Secondly, Boozer and Noah must prove that they can play well together on the floor. Each man played well when the other one was injured last year. Each looked more confident when the other one wasn't around. In order for the Bulls to take the next step past Miami this season, Boozer and Noah must figure out how to bring the best out of each other on the floor.
Noah has built up enough credibility with the fan base over time to withstand a lackluster season. If Boozer has another year like he did last season (especially in the postseason) the cries to get him out of town will become much louder than the murmurs that could be heard over the summer.
December, 21, 2011
12/21/11
8:09
PM CT

By Nick Friedell
ESPNChicago.com
Archive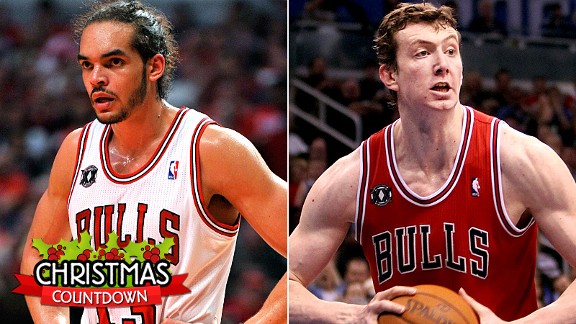 US PresswireWithout Kurt Thomas, Omer Asik will see more minutes backing up Joakim Noah.
CHICAGO -- Kurt Thomas served as perfect example of just how deep the Bulls were last season. The grizzled veteran rarely played throughout the first three months of the season, but when Joakim Noah went down because of thumb surgery before Christmas, the Bulls dusted off Thomas and he became one of the most dependable starters on the team. He didn't move very fast and he couldn't jump very high, but he got the job done almost every night. He was an insurance policy that Tom Thibodeau happily cashed in when he needed one the most.
Now that Thomas has signed with the Portland Trailblazers, Thibodeau doesn't have the luxury anymore. But that doesn't mean the Bulls still don't have one of the deepest center duos in the league. Noah has shown that, when healthy, he is a double-double machine. He's also a defensive anchor who has the ability to become an All Star if he can stay on the floor and produce. The key for the Bulls is that even if Noah goes down, they have one of the best young backups in the league in Omer Asik. The organization believes that the Turkish center is going to continue his development this season. The coaches believe that Asik, who is already one of the best defenders on the team, will develop to one of the best defensive players in the league. They also believe that Asik will improve his offensive game and will become more confident down low in the post.
Most importantly, they believe Asik is healthy after fracturing his fibula during the Eastern Conference finals last year.
"He says he's pain free," Thibodeau said after Friday night's win over the Indiana Pacers. "He's not in great shape yet. And normally he is in great shape. That's who he is. He's a great worker, but he had to stay off the foot for a while. He says physically he feels fine. He just has to get his conditioning up."
That's the same thing Noah is focused on as well. He spent a huge portion of his summer working with his personal trainer and close friend, Alex Perris, trying to remake his body after suffering several injuries last year. Noah obviously took it personally that he couldn't be much of a factor in the postseason because of the injuries and there's no question he feels the pressure that comes with the fact that his five-year, $60 million deal kicks in this season. He wants to prove to everybody that he can be the guy who helps get the Bulls to the next level.
"Losing is always hard," Noah said recently. "And the closer you get to your goal ... the goal is always to win a championship, the goal was to win a championship even threw years ago. Even though we probably had less of a chance. You go into a season believing you're going to win the championship. [Bulls head coach Tom Thibodeau] always says that. Now, who's willing to do all the things that have to be done to win? I think that maybe two years ago I really didn't know what that meant. As you grow and get experience, you start realizing, this is what we need to do."
What the Bulls need to do as far as their centers are concerned is focus on the positives. Whether they add another big man or not (veteran Joel Pryzbilla's name has popped as a possibility) the Bulls should remember that they have two very good, still young centers in the mix. Most teams would die to have that kind of depth.