Chicago Bulls:

Dennis Rodman
March, 12, 2013
3/12/13
11:20
AM CT
Toni Kukoc
was minding his own business two years ago when he first heard the news that he had turned up in a photograph with Kim Jong Un taken years before.
"

I consider myself pretty well-traveled but I don't know at least 50 percent of the countries and I'm supposed to know some kid who (was going to eventually) take over his dad's dictatorship?

"

-- Toni Kukoc
The North Korean dictator was but a 13- or 14-year-old kid at the time and also a basketball fan, and Kukoc suspects he asked to pose for a picture when the Bulls were in Paris for an exhibition tour before the 1997-98 NBA season.
"I heard about it when his dad was dying or had died and he took over," said the former Bull by phone on Monday. "Apparently he was watching the Bulls. A Croatian paper told me about it then."
The Washington Post also reported in a story three years ago that Kim was a big basketball fan who had NBA mementos, including photos taken with Kukoc as well as
Kobe Bryant
. This week, the story surfaced again when New York Magazine wrote about it.
"It's Paris, the McDonald's tournament, we're world champions," Kukoc said. "Every place you went, people were trying to take pictures. What am I supposed to say? I don't really know what to say. I don't remember what I had for lunch today and I can remember that? It ended up a crazy thing."
Oddly, this is the second time in two weeks a former Bull has been mentioned in the same sentence with the dictator.
Dennis Rodman
accompanied the Harlem Globetrotters to North Korea at the end of February with a production crew to shoot an episode on North Korea for a new weekly HBO series. Rodman struck up a friendship with Kim during the visit.
After Rodman's visit, the White House said North Korea's government should focus on the well-being of its citizens, not on "celebrity sporting events."
"Dennis is a grown man and he can do whatever he pleases and whatever he wants," Kukoc said. "I'm pretty sure he meant well, but I don't know why he went there to begin with, why the Globetrotters would go to North Korea. I just know what I watched and what I saw come out of it was more negative than positive."
Kukoc said he would pose -- especially 16 years ago -- with virtually anyone who asked for a photo, particularly a child.
"I consider myself pretty well-traveled but I don't know at least 50 percent of the countries, and I'm supposed to know some kid who (was going to eventually) take over his dad's dictatorship?" Kukoc said. "I don't think if there were seven bodyguards around him with guns I wouldn't have noticed.
"We try to please fans, be nice to people who ask 'Can I have a picture?' But who knows who you're taking pictures with, what you're signing. Do you really have an idea who these people are? You're trying to be nice and polite, trying to get people not to say 'He's a (a bad guy), he doesn't talk to people.' But on the other side, who knows what can happen?"
April, 3, 2012
4/03/12
5:34
PM CT
The health and fiscal issues affecting Dennis Rodman are a source of sadness for many who used to be close to the mercurial Hall of Famer, former teammate Steve Kerr said Tuesday.
[+] Enlarge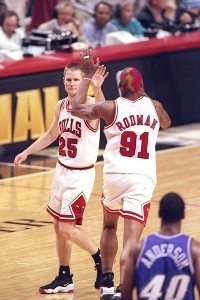 Getty ImagesSteve Kerr and Dennis Rodman won three titles together. Now, Rodman has fallen on hard times.
Last week, the Chicago Tribune obtained court documents indicating that Rodman is "extremely sick" and "broke," which prevents him from being current on child and spousal support payments.
Kerr, who spoke with ESPN 1000's "Waddle & Silvy" show Tuesday, was a teammate of Rodman's with the Chicago Bulls from 1995 to '98. The two won three titles during that span.
"Yeah it does, it makes me really, really sad," Kerr said. "Everybody on that [Bulls] team really loved Dennis and enjoyed him, and we all have a soft spot for him, and part of that is because of his vulnerability as a human being. He was always so willing to show his emotions, like he did at the Hall of Fame ceremony. You knew how much the game meant to him and how much the players on the team meant to him."
March, 27, 2012
3/27/12
5:08
PM CT
By
ESPN.com news services
Dennis Rodman is "extremely sick" and "broke" which prevents him from being current on child and spousal support payments, court documents obtained by the Chicago Tribune say.
Rodman, 51, owes more than $800,000 in back child support for two children he had with his third wife, Michelle Rodman, her attorney said in court documents. He also owes more than $51,000 in spousal support, Jack Kayajanian claims.
Read the entire story.
May, 18, 2011
5/18/11
12:03
PM CT
April, 4, 2011
4/04/11
12:48
PM CT
HOUSTON -- Dennis Rodman, Chris Mullin and a trio of coaching legends are part of the Naismith Memorial Basketball Hall of Fame's Class of 2011.
Read the entire story.
February, 25, 2011
2/25/11
1:47
PM CT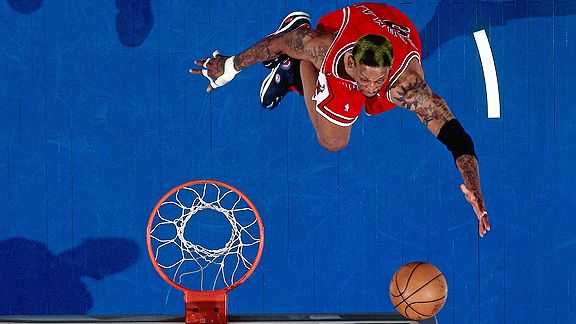 Nathaniel S. Butler/NBAE/Getty ImagesDennis Rodman's outsized personality was only a sideshow in Chicago, tolerated by the team's star and coaches because of his play on the court.
Dennis Rodman is the only player in the past 25 years who was able to consistently take over a game without taking a shot. He deserves to be inducted into the Basketball Hall of Fame.
Read the entire story
.
February, 18, 2011
2/18/11
9:12
PM CT
LOS ANGELES -- Dennis Rodman, Jamaal Wilkes and Tex Winter were among 12 finalists announced Friday for induction into the Basketball Hall of Fame.
Read the entire story.
September, 17, 2010
9/17/10
11:51
AM CT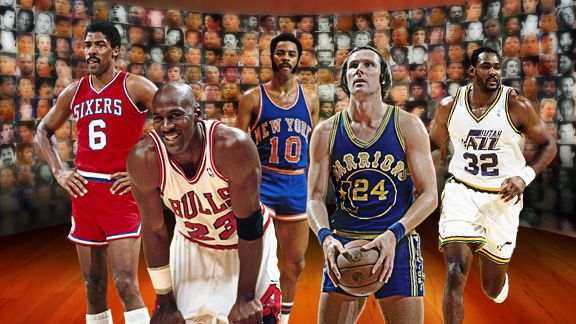 ESPN.com IllustrationCheck out all of ESPN's local sites to pick the all-time teams.
CHICAGO -- The Bulls put together the greatest season in modern basketball during the 1995-96 campaign as they won a record-setting 72 regular-season games and another NBA championship. There's no debating how good that team was, but does the Bulls all-time team stack up to others around the league? With Michael Jordan leading your squad you've always got to like your chances.


Here's a closer look at the five guys I chose for my all-time team. You can create your own right here.


PG: Norm Van Lier


Sure, Derrick Rose would probably be filling this position if we were voting five years from now, but at the present time the 21 year-old is entering just his third season in the league. He doesn't have nearly the resume that Van Lier does at the moment. Van Lier was a fan favorite because of his hard-nosed style and his desire on the floor. He made the All-Star team three times and was a mainstay on the All-defensive team, making the first team three times. He was a mainstay in Chicago years after his playing career ended as an analyst for the team. Van Lier's style of play would fit along nicely with the rest of this group.


SG: Michael Jordan


The greatest player of all time. Period. Jordan did things people had never seen before, and he dominated his era as evidenced by five regular-season MVP trophies. Everybody has a different reason as to why they love Jordan -- for me, it's the fact that he was always at his best when the game mattered most. He was so dominant in the clutch. When he got the ball and the game was on the line you just figured the shot was going in. He led the Bulls to six titles, won six finals MVP awards and became a global icon during his tenure. Yep, I'd say he makes the cut.


SF: Scottie Pippen


One of the first things Jordan said during his Hall of Fame induction speech was that when he won, Pippen was always there with him. Same goes for this team. Pippen never got the credit he deserved by playing in Jordan's shadow, but he will always be remembered by Bulls fans as one of the greats. He could score when needed, he passed well, he was a great defender and he made all the players around him better. Former teammates couldn't stop raving about Pippen over the last few months during his recent induction into the Hall of Fame, calling him one of the best teammates they've ever had.
"Scottie would score four points and dominate the game," former teammate Steve Kerr told Bulls.com recently, "That's what made him one of the best to ever play the game."


PF: Dennis Rodman


Bob Love was one of the greatest Bulls of all-time and will certainly be remembered as one of the best forwards who ever played in Chicago. He averaged almost 18 points a game and made three All-Star teams. He is still a beloved figure in the city and is the third leading scorer in franchise history. Having said that, I'm still taking Rodman because he did all the little things that made teams great. "The Worm" was an absolute force in the post and brought a certain nastiness to the Bulls in the mid-90s. He averaged 15 rebounds a game during his three seasons in Chicago and was a key component to the second three-peat. He always played (and partied) with intensity and seemed to truly enjoy playing solid defense and getting into the heads of opponents.


C: Artis Gilmore


The big 7-footer still is intimidating. I saw him at the Bulls charity golf outing a few weeks ago and there's no doubt in my mind he can still scare people on the floor. During his playing days he gave people nightmares, scoring 19 points and pulling down 11 rebounds a game during his time in the Windy City. He is also the franchise leader in blocks and was a four-time All-Star with the Bulls. He still has a chance of being inducted into the Hall of Fame. With Gilmore, Rodman and Pippen down low, I don't think there is a rebound this team would ever miss.
March, 8, 2010
3/08/10
2:24
PM CT
[+] Enlarge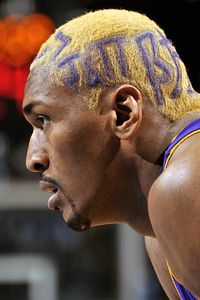 Fernando Medina/NBAE/Getty Images Ron Artest sported a special haircut for the game against the Magic on March 7.
Los Angeles Lakers
forward
Ron Artest
, who sported a
Dennis Rodman
-like yellow hair style on Sunday against the
Orlando Magic
, said he doesn't mind the comparison.
In fact, Artest, who like Rodman is a former
Chicago Bulls
forward, said he's a long-time Rodman fan.
"You can't compare me to a man with five rings," Artest said Monday on "The Waddle & Silvy Show" on ESPN 1000. "But I've never shied away from that Dennis Rodman question.
"I'm a big Dennis Rodman fan. I've been a Dennis Rodman fan since he was in the NBA, even when he was in the midst of his controversies and when he was winning championships. I've been with Dennis Rodman through bad and good. That's never going to change. Ever."
Read the full story.
Listen to Artest on "Waddle & Silvy"