Chicago Bulls:

Deron Williams
April, 20, 2013
4/20/13
9:40
PM CT
NEW YORK -- Here's a quick look at the
Chicago Bulls
' 106-89 loss to the
Brooklyn Nets
in Game 1 of their playoff series Saturday at the Barclays Center:


How it happened:
Deron Williams
had 22 points and seven assists as the Nets dominated this game from start to finish.
Brook Lopez
added 21 points and five rebounds and
Gerald Wallace
chipped in with 14 points and five rebounds.
Carlos Boozer
led the way offensively for the Bulls, scoring 25 points and pulling down eight rebounds.
Joakim Noah
played just 13 minutes and was largely ineffective because of ongoing issues with plantar fasciitis.
What it means:
Given the circumstances, this was by far the worst game the Bulls have played all season. They got out-worked throughout the night and their defense was terrible. Obviously, the Nets aren't going to shoot this way throughout the series, but the Bulls' issues run much deeper than their poor performance on Saturday night. Noah tried as hard as he could to give the Bulls something, but he looks too injured to play.
Kirk Hinrich
had little impact on the game and then injured his left quad in the third quarter and never returned. The Bulls' offense was lifeless and never found any kind of rhythm. But perhaps most upsetting for coach Tom Thibodeau was the fact that
Luol Deng
played one of the worst games of his career, scoring just six points and going 3-for-11 from the field.
Hits:
The Nets shot 55.8 percent from the field and turned the ball over just eight times.
Misses:
Marco Belinelli
,
Richard Hamilton
, Hinrich and Deng combined to go just 5-for-23 from the field.
Stat of the night:
The Nets outscored the Bulls 56-36 in the paint.
What's next:
Game 2 at 7 p.m. CT Monday at the Barclays Center.
December, 15, 2012
12/15/12
9:48
PM CT
CHICAGO -- Let's take a quick look at how the
Chicago Bulls
pulled out an 83-82 win over the
Brooklyn Nets
on Saturday night at the United Center.


How it happened:
Luol Deng
led the way for the Bulls late and finished with 17 points while grabbing seven rebounds as the Bulls grinded this one out.
Marco Belinelli
had another solid performance with 19 points, including several crucial points late.
Carlos Boozer
had 15 points and six rebounds while
Joakim Noah
added 12 points, 10 rebounds and five assists. Illinois alum
Deron Williams
led all scorers with 24 points, but it wasn't enough for the Nets.
What it means:
This one was ugly, but the Bulls made just enough plays late to pick up the win. Belinelli's play continues to impress both his coach and his teammates. He keeps knocking down big baskets and it's obvious how much his confidence has grown since coming into the starting lineup a couple weeks ago. Deng didn't shoot the ball well early but, as usual, he bounced back when the Bulls needed him most. Tom Thibodeau still won't be happy with his team's offensive execution, but they played solid defense down the stretch, limiting the Nets at the right time.
Hits:
Marquis Teague
had another solid outing, scoring eight points and playing in crunch time. He did pass up an open 3-pointer late that Thibodeau will surely discuss with him, but his play was mostly solid and will give him even more confidence.
Misses:
Jimmy Butler
was 0-for-4 from the field in 18 minutes.
Stat of the night:
The Bulls outscored the Nets 42-30 in the paint.
What's next:
The Bulls take on the
Memphis Grizzlies
on Monday night.
July, 24, 2012
7/24/12
11:08
AM CT
By ESPNChicago.com
ESPNChicago.com

Watson calls Deron the best point guard in the league. Says Derrick Rose won't be mad at him for saying that.

— Colin Stephenson (@Ledger_Nets) July 24, 2012
Colin Stephenson, who covers the
Brooklyn Nets
for the Newark Star-Ledger, tweeted a comment from
C.J. Watson
's news conference on Tuesday that is sure to raise some eyebrows among
Chicago Bulls
fans.
Watson, who backed up Derrick Rose last season, said his new backcourt mate --
Deron Williams
-- is the best point guard in the NBA. He also said Rose won't be mad at him.
Bulls fans, however, might be a little protective of their rehabilitating hometown star.
Watson may be upset the Bulls didn't pick up his $3.2 million option.
Stephenson later added the full quote: "I always thought Deron was the best point guard in the league, always playing against him, watching him,'' Watson said. "He's always one of the toughest players ... when everyone asks me who is the toughest point guard, I always say him. Between him and D-Rose, it's pick-your-poison.''
Watson will join "Chicago's Gamenight" on ESPN 1000 at 7:30 p.m.
February, 10, 2011
2/10/11
1:00
AM CT
SALT LAKE CITY -- Derrick Rose has too much pride and is too humble to say, on the record, what he really thought of Portland Trail Blazers forward Nicolas Batum's comments about his defense, or lack thereof, in the Bulls' loss Monday.
[+] Enlarge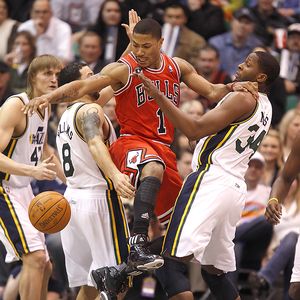 AP Photo/George Frey Derrick Rose set the tone for the Bulls on both ends on Wednesday.
"Oh man, he threw me under the bus, didn't he?" Rose said after Wednesday's practice. "But no, man. Everybody's got their opinion, but I know I can play defense, man. So it is what it is."
The fact that Batum later backtracked and said he was misquoted is almost beside the point. Rose heard the comments, watched the tape of LaMarcus Aldridge and Andre Miller torching him and his teammates during Monday's loss, and was bound and determined to change things. Like most elite players in the league, nothing motivates Rose more than someone saying he can't do something or that he's not good enough. The 22-year-old point guard heard the words that supposedly came out of Batum's mouth and that was all he needed. Like pretty much everything else regarding the Bulls these days, Rose knew he had to set the type of defensive tone that his teammates would follow, and there was no better place to turn over a new leaf than in Utah against All-Star point guard Deron Williams.
"Coach always says it starts with me," Rose said after the Bulls 91-86 win over the Jazz. "The way that I play the ball, the way I be aggressive, every single thing kind of comes down to how I play. I was just trying to play aggressive ... everybody was playing great tonight. I think everybody was playing with a lot of confidence."
No one was playing with more confidence than Rose.
On a night that was supposed to have centered around Carlos Boozer's return to Utah, Rose once again stole the show. He dropped 29 points on the Jazz and held Williams, a point guard many experts feel is still a better all-around player than Rose, to just 11 points.
"To be 22 and do what he did on offense," Boozer marveled. "He carried us on offense again. And then at the same time, he did a great job defensively on D. Will. D. Will hit some shots but he had to work for every shot that he hit. And that steal he got from the end was a huge steal for us, that sealed the game."
In the Bulls' minds, the steal Rose made on Williams was the play of the game. Williams got the ball and was headed up the floor with just over a minute left and the Bulls clinging to a one-point lead. Seemingly out of nowhere, Rose came racing up the floor from behind and popped the ball away from his counterpart. The entire sequence exemplified the type of all-around night that Rose delivered.
"Huge," Thibodeau said of the play. "That was a great hustle play. That's what we needed. That basically wins the game and then Ronnie [Brewer] made a big steal too. Offensively we struggled all night ... I thought our defense was a lot better tonight."
That was the single biggest key all night long for the Bulls. After playing poor defense over the past two games, they seemed to get back to the basics that Thibodeau continually preaches. They hustled up and down the floor and didn't allow the Jazz to get many clean looks at the basket. Aside from Rose, Omer Asik and Taj Gibson and Brewer came off the bench and gave the Bulls quality minutes on the defensive end.
Thibodeau knows his team can do better, but he will take what he can get right now.
"Even though we allowed a high percentage [47 percent], too high," Thibodeau said. "But I thought there were stretches where we played a lot better. We're still not playing well defensively but I thought we did what we had to at the end of the game to come up with the win."
If the Bulls are going to become the team that everyone in their locker room thinks they can be, they have to continue to play with the same fire they showed down the stretch of Wednesday night's game, the passion on the defensive end that is the difference between the good teams and the great ones.
"The thing that I did like was that I thought the mental toughness at the end [was there]" Thibodeau said. "To do what we had to do to come up with the win. To come up with some loose balls, to hustle, when you do that you give yourself a chance."
The Bulls had a chance all night because of their renewed focus on the defense end ... and because of the fact that their All-Star point guard answered the bell one more time.
"Phenomenal man," Boozer said of Rose's performance. "I told him after the game he's a bad, I can't say the other word I said. He's a bad man. Humble, aggressive, made shot after shot, tough shots. Made defensive play after defensive play. He was a man tonight."
February, 9, 2011
2/09/11
3:17
PM CT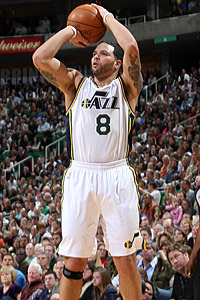 Melissa Majchrzak/NBAE/Getty ImagesDeron Williams' physical play appeals to the Bulls' Derrick Rose, who is learning to play more physical himself.
SALT LAKE CITY --
Derrick Rose
is always motivated to prove himself, but he knows the challenge of facing off against
Utah Jazz
point guard
Deron Williams
means a little something extra.
"It's a fun challenge," Rose said before the Bulls' Wednesday morning shootaround. "Their offense is very hard. They've been running it for numerous years, and they're very used to it. And he's the one that gets everybody going. So just making sure that he's under control, I think we should have a good chance to win this game."
While the pair's game's may not look the same, there is one part of Williams' game that Rose enjoys.
"He plays physical throughout the whole game," he said recently. "If anything, that's what I'm learning to do."
Jazz coach Jerry Sloan is impressed by Rose's physical play.
"He just improved on what he had," Sloan said. "He's a terrific, explosive guy. He's so strong, and it looks to me like he's gotten stronger. I never thought he lacked of strength to begin with, but [it] looks like he's worked tremendously hard to make himself good and that doesn't come by accident."
Sloan knows that Rose's improved range around the perimeter has made him even more dangerous.
"All that puts a lot of pressure on you trying to guard him," Sloan said. "Because he's very good in blowing by people and putting a lot of pressure on your defense because he can pick and roll and he just makes plays, simple plays. He makes them look simple."
While both players have the ability to take over games, Rose doesn't want to get caught up in a one-on-one rivalry with Williams on Wednesday.
"We're just trying to win, man. Where we lost two in a row, we're just trying to get these wins together. Get to playing good basketball again, where I think our defense has been slipping a little bit. We're going to get back playing good and get our confidence back."