June, 28, 2012
6/28/12
12:16
PM CT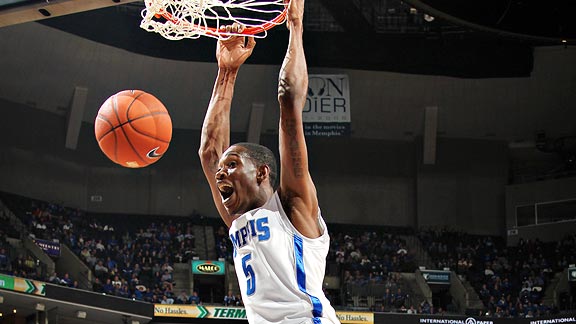 Joe Murphy/Getty ImagesThe 6-6 Will Barton has the length Gar Forman likes, but will be there at No. 29?
CHICAGO -- With the potential departures of Kyle Korver and Ronnie Brewer looming on the horizon, and the uncertain status of Rip Hamilton's health throughout an 82-game season, the
Chicago Bulls
figure to be searching for a guard who can help create offense for a team that will badly need some without Derrick Rose and (likely) Luol Deng for a large chunk of next season. With that in mind, let's take a look at five names that could be on the Bulls' radar as they get set to select 29th in Thursday night's draft.
Will Barton, Memphis: 6-6, 174, Age 21
Barton's name has shot up plenty of mock drafts in the past few days. ESPN.com's Chad Ford believes he could go as high as 18th to the
Minnesota Timberwolves
. At 6-6, he has the length that Bulls head coach Tom Thibodeau is always looking for in his wing players.
"I think I'm in the (No.) 17-29 range," Barton told the Commercial Appeal recently. "I think I'm a first- ... I mean, I know I'm a first-rounder. I just don't know where I'm going. Your guess is just as good as mine."
John Jenkins, Vanderbilt, 6-4, 215, Age 21

Jenkins averaged 20 points a game during his last two seasons at Vanderbilt, but the key for the Bulls, and any other team that may select him, is that he has the ability to knock down a long range shot. He shot 44 percent from beyond the arc last season in the SEC.
"He's gotten more athletic because of the amount of work he's put in in the weight room and what he's done with his body," Vanderbilt head coach Kevin Stallings told The Tennessean recently. "He's transformed his body from a kid who had some baby fat to a guy who is chiseled now."
Doron Lamb, Kentucky, 6-4, 210, Age 20

Lamb won an NCAA championship this past season with the Wildcats and created a name for himself by knocking down three pointers. He averaged 14 points per game and shot almost 47 percent from beyond the arc. Bulls GM Gar Forman will like the fact that Lamb has played in plenty of big games during his time at Kentucky.
"I had a great time in Chicago," Lamb said during the draft combine last month. "I met the coaches, the whole staff, the GM, I had a great time in my workout. I think I did good shooting and go hard in the drills. I had a great time there ... it would be a nice fit for me. Just going out there, working hard, just playing off Derrick Rose and whatever happens, happens. Just going out there playing hard and just earning my minutes."
Jared Cunningham, Oregon State, 6-4, 194, Age 21

Jim O'Connor/US Presswire
Cunningham averaged 18 points per game in his final season for the Beavers, declaring for the draft after his junior season. He finished second in Oregon State history in steals and may earn his way, at least in the beginning, because of that defensive prowess.
"I've worked as hard as I can to be ready for the draft," Cunningham wrote on Oregon State's official site this week. "I've done everything I needed to do and now it's up to the teams to decide. I can't control where I get drafted. It's kind of nerve wracking, but this is what I have worked hard for."
Jeff Taylor, Vanderbilt, 6-7, 212, Age: 23

At 23, Taylor is a little older than most other prospects, but that may not be a detriment as far as Forman and Co. are concerned. They like having more rounded players whom they feel can contribute in games, practices and in the locker room. The key for Taylor, is that at 6-7, he still has the ability to play 'lockdown defense' and be a spot up shooter, according to Ford. He has good bloodlines as well. He dad, Jeff Sr., played in the league. "He was even more of a defensive player than what I am," Taylor said of his dad, according to The Tennessean.
"I think it will be just as special for him to be there and hear my named get called as it is for me. We've both been through a lot. He's been there from the start and he's seen me develop throughout the years. I think it will be fun for him to see my dream come true."
June, 7, 2011
6/07/11
5:37
PM CT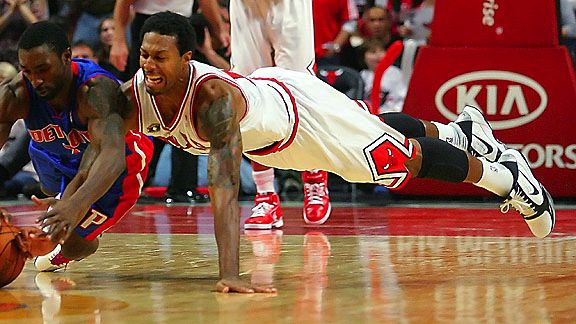 Dennis Wierzbicki/US PresswireJames Johnson was a miss for the Bulls, but Taj Gibson was a draft find.
The draft workouts at the Berto Center have already begun for the Bulls, who have Nos. 28 and 30 in the first round on June 23.
It's doubtful the Bulls will make a major move on draft night. The last thing they want to do is add another high-salaried player because of the uncertainty of the impending lockout and new collective bargaining agreement.
The safer bet is the Bulls will decide to make both selections. Yes, first-round contracts are guaranteed, but the salaries are relatively cheap and the Bulls need to fill out their bench. At present, the Bulls roster is fairly set. No matter whom the Bulls select, it will be tough to crack the rotation next season, especially given that the lockout will probably last so long that it will knock out all league sanctioned summer leagues and could wipe out any regular version of summer workouts and training camp.
The Bulls will be content to draft two players and let them learn Tom Thibodeau's system for a year or two.
Now, as for who those players might be, it's a crapshoot. The Bulls know that better than anybody given their recent history in the draft. With the 16th pick in the 2009 draft they selected
James Johnson
. He underperformed and never seemed to make a solid impression on former coach Vinny Del Negro or Thibodeau. In February, the Bulls dealt him to the
Toronto Raptors
for another first-round pick in this year's draft. The Bulls may have whiffed on Johnson, but they hit big on forward
Taj Gibson
, a player they selected with the 26th pick in the same 2009 draft. He has become an integral part of their bench and a reliable defender that both Del Negro and Thibodeau grew to love.
The feeling among Bulls fans is that the team should go after a shooting guard with one of their selections and give the team some more depth at a position they were lacking consistent scoring from last season. They could also decide to pick up a third point guard to give
Derrick Rose
and
C.J. Watson
another insurance policy, or another young big man to replace veteran
Kurt Thomas
on the roster if the team decides not to re-sign him.
The one thing you can be sure of is the organization will bring in someone to fit in well with the locker room chemistry the team has built up over the past year. The organization believes that was a major strength and takes character very seriously when evaluating players.
The bottom line as far as the Bulls' draft plans are concerned is don't look for any player the team selects in the first round to make a major impact next season. The Bulls are just hoping to catch lighting in a bottle like they did with Gibson, but they know their roster is in good shape going forward either way.