Chicago Bulls:

Dream Team
August, 2, 2012
8/02/12
1:54
PM CT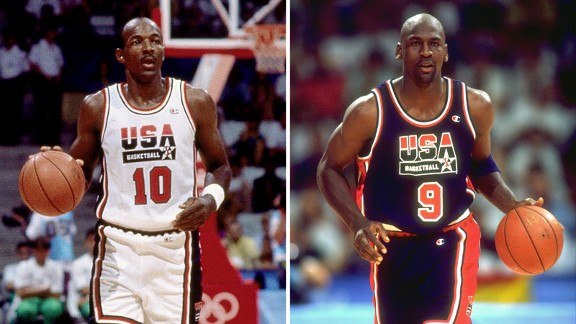 Getty ImagesWas Clyde Drexler jealous of Michael Jordan? Charles Barkley said that was a Dream Team subplot.
Charles Barkley
said Thursday that he likes
Clyde Drexler
and considered him a great player, but Barkley also felt that Drexler had a jealousy problem on the 1992 "Dream Team."
"I think Clyde has always been jealous of
Michael (Jordan
), to be honest with you," Barkley said on "The Waddle & Silvy Show" on ESPN 1000. "I think he's always wanted to be compared to Michael.
"Hey, we all want to be compared to Michael, but we're not. Clyde was a great player, but there was always that jealousy of Michael. That was one of the incidents and things about the Dream Team, Clyde was trying to play like it was Game 7 against Michael, and that's probably not a good idea. When Michael is driving his kids to school, he thinks it's Game 7."
And as far as what Drexler reportedly said about Magic Johnson in Jack McCallum's book: "Dream Team," Barkley picked a side in a dispute. McCallum wrote that Drexler said that people pitied Magic because of his HIV diagnosis and that was the only reason he was on the Dream Team. But Drexler later denied it and said the quotes were "totally ludicrous."
"I like Clyde Drexler, but Jack McCallum is a great guy, and I don't think he would misinterpret anything," Barkley said. "I saw some of the statements. I thought they were not very cool at all. I don't think Jack's going to make up ... first of all, he doesn't have to make up anything. ... If I had to believe somebody, I would probably believe Jack McCallum."



Listen to Charles Barkley talk to 'Waddle & Silvy' about the Dream Team, the Bulls and more.
Click here for more audio from ESPN Chicago
.
July, 16, 2012
7/16/12
10:10
PM CT
By ESPN.com news services
ESPNChicago.com
Archive
WASHINGTON -- Add President Barack Obama to the list of people who disagree with
Kobe Bryant
's boast that this year's USA Olympic basketball team could beat the Dream Team of 1992.
"This is a generational thing," Obama said during a halftime interview with ESPN2 as it broadcast an exhibition game Monday night with Brazil at Washington's Verizon Center. "I was around in '92, I was a Bulls fan, so I've got to go with the original Dream Team."
Read the entire story.
June, 14, 2012
6/14/12
5:21
PM CT

By Melissa Isaacson
ESPNChicago.com
Archive
CHICAGO -- Hall of Famer Isiah Thomas watched NBA TV's "The Dream Team" on Wednesday night along with countless other basketball fans who were not in Barcelona 20 years ago, but he expressed no bitterness afterward over being left off perhaps the most gifted team assembled.
Read the entire story.
June, 13, 2012
6/13/12
3:28
PM CT
By ESPNChicago.com
ESPNChicago.com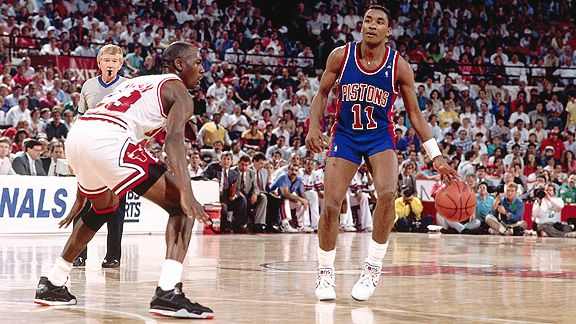 Nathaniel S. Butler/NBAE/Getty ImagesIsiah Thomas and Michael Jordan were fierce rivals on the basketball court.
On the 20th anniversary of the Dream Team, a documentary has re-ignited the debate over Isiah Thomas' exclusion from the roster.
"The Dream Team," which airs on NBA TV on Wednesday, reportedly shows that
Michael Jordan
and
Scottie Pippen
, among others, did not want to play alongside Thomas.
Karl Malone
, who made the team alongside his Utah teammate
John Stockton
, said on ESPN 1000's "Waddle and Silvy Show" Wednesday that he didn't give any input on the roster choices.
"First of all guys, you know, it wasn't my job to pick the team. OK," Malone said. "It didn't matter who was out there, they are part of our team. I didn't have that kind of [influence] and I would like to think that nobody else did. There were a lot of great athletes left off that team."
One of the NBA's best all-time point guards, Thomas led the
Detroit Pistons
"Bad Boys" to two NBA titles in 1989 and 1990. When Jordan and the Bulls defeated the Pistons in the 1991 Eastern Conference Finals, Thomas walked off the court with time remaining, failing to congratulate the winners in part of a feud that seemingly continues to this day.
When the 1992 Olympic Team, which for the first time could include NBA players, was built, Magic Johnson and Stockton were the point guards chosen by USA Basketball, leading to rumors that Jordan had "blackballed" Thomas from the team. Even when Stockton injured his leg in a pre-Olympic tournament, USA Basketball stuck with him instead of adding Thomas or another point guard.
"John Stockton got hurt and I tell you straight up, right off the bat, just because a guy got hurt he should not be replaced on an Olympic Team," Malone said. "Unless it's going to cost you a potential medal, gold medal, whatever, I just don't agree with that. It could have been anybody.
"I never had any issue with Isiah. I think guys realized that it didn't matter who was on the team. I know I could have cared less. It didn't matter to me who was on that team. I was a part of something great."
The Dream Team rolled to the gold medal, defeating their eight opponents by an average of 44 points, capped by a win over Croatia in the title game. Pistons coach Chuck Daly coached the squad.
June, 13, 2012
6/13/12
2:12
PM CT
By ESPNChicago.com
ESPNChicago.com

Michael Jordan
may be widely considered the NBA's all-time greatest player, but he's not the pick of one of his former "Dream Team" Olympic teammates.
Karl Malone
told the Waddle and Silvy show Wednesday on ESPN 1000 that his No. 1 is a legendary big man.
[+] Enlarge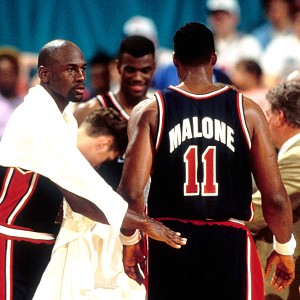 US PresswireMichael Jordan and Karl Malone helped the Dream Team to Olympic gold in 1992.
"I'm a big guy. I'd be hard-pressed to not give a big guy the nod," Malone said. "I'd have to say Wilt Chamberlain was my all-time greatest ever player."
Malone, who certainly knows Jordan's capabilities, winning a gold medal with him in the 1992 Barcelona Olympics and losing two NBA Finals against him in 1997 and 1998, acknowledges there is room for debate.
"[Jordan is] the greatest that ever played at his position, OK, that's what I'm going to tell you," Malone told Waddle and Silvy. "You've got some Oscar Robertsons and you've got some Kareem Abdul-Jabbars and some Magics and all that. So you can debate [the best ever]. But as far as I'm concerned, he's the best to play at his position. And we can all argue, 'Well he's the best of all time.' I don't know. I don't know if he was the best of all time. If he wasn't the best -- if he was not the best -- put him at the second best. But he was right up there.
"And you could argue he was the best. He got six rings so yeah, he could be the best. But I will say this, boy did he have an unbelievable supporting cast."
Scottie Pippen
played alongside Jordan on all six
Chicago Bulls
championship teams, which featured two sets of strong complementary players including
Horace Grant
,
John Paxson
and
Dennis Rodman
.