Chicago Bulls:

Duke Blue Devils
November, 12, 2013
11/12/13
3:53
PM CT
CHICAGO -- The Champions Classic at the United Center is so big that even
Chicago Bulls
coach Tom Thibodeau is going to try and leave the confines of his office at the Berto Center on Tuesday so that he can be in attendance.
It's rare that college games create this kind of buzz so early in the season but that's exactly what has happened, even within the Bulls locker room, because of the teams in play. When Michigan State faces off against Kentucky and Duke squares off against Kansas, there will be plenty of interested eyes on those games from within Thibodeau's locker room.
Carlos Boozer
,
Mike Dunleavy
Jr. and
Luol Deng
all played at Duke under Mike Krzyzewski. Thibodeau served as an assistant under Krzyzewski on Team USA's staff last summer.
Derrick Rose
played for Krzyzewski on Team USA in 2010.
Rose played for John Calipari when Calipari was the coach at Memphis and
Marquis Teague
played for Calipari just a couple of seasons ago at Kentucky.
Nazr Mohammed
is a proud Kentucky alumnus and
Kirk Hinrich
played at Kansas. All those connections are part of the reason many players plan to join their coach at the United Center on Tuesday night.
November, 5, 2012
11/05/12
11:29
PM CT
DEERFIELD, Ill. -- When
Luol Deng
's name is announced at the United Center this season, the introduction will sound a little different. That's because Deng has decided to be introduced from his home country, South Sudan, not Duke University.
[+] Enlarge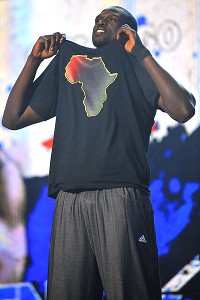 David DowNBAE/Getty Images Luol Deng, who held up a shirt with the outline of Africa in the All-Star Game last season, has incorporated his home country of South Sudan in his player introduction.
It's a decision that makes the veteran forward very proud.
"I love Duke, it's nothing against Duke," Deng said after Monday's practice. "Me and Coach K are friends, everything is fine. I just felt like I didn't get to do it last year, but after we got our independence, being from South Sudan, I wanted people to recognize South Sudan. A lot of times we'll still say South Sudan and a lot of people you're in Sudan, but we're our own nation now. So (as a way) of recognition, whoever's sitting in the crowd, or listening at home on TV and hears that, they can go and Google it. South Sudan is it's own nation, so I'm proud of that."
Deng, who memorably held up a shirt with the outline of Africa at the All-Star Game last season in Orlando, admitted that the first time he heard the introduction from South Sudan was something he won't forget.
"It was great," he said. "It felt great, honestly. I've never done it my whole life, it was a great feeling."
Where to go without Derrick?:
The Bulls struggled to find a go-to guy in Saturday's surprising loss to the
New Orleans Hornets
.
Richard Hamilton
,
Carlos Boozer
,
Joakim Noah
and
Kirk Hinrich
combined to go just 8-for-38 from the field, leaving a longing for the days when
Derrick Rose
used to swoop in and save the day for the Bulls. While Tom Thibodeau doesn't seem outwardly concerned, it's clear in listening to him, and watching them try to execute late, that the Bulls are still searching for the answer.
"It's not just Derrick," Thibodeau said. "Luol (Deng) has hit a number of big shots for us, Kyle (Korver) has hit a number of big shots for us. Of course Derrick has as well, but the game dictates who's going to take the shot. So if there's a double team, someone else has to step up and take the shot. Carlos (Boozer) has made a number of big shots, Rip (Hamilton) has made a number of big shots throughout his career so we have a number of guys that can make big shots."
Deng hopes that the Bulls will be able to figure out the right game plan without Rose down the stretch.
"Find ways," Deng said. "Derrick is doing what he's got to do to come back and when he gets back we're going to be a lot better. You can say in the game (Saturday) there's guys we had in the past that would have done certain things. It's just totally a different team and we got to find our own ways of winning those games. There's a lot of ways, we just didn't get it done the last game. You could say it's a learning process, a getting to know you process ... different nights it's going to be different guys on the floor, I think the more game we play we'll get familiar with each other and guys get familiar with each other on the floor."
Magic play hard ... like Bulls:
The
Orlando Magic
have played only two games under new coach Jacque Vaughn, but their style reminds Thibodeau of the one he's put in place in Chicago. The Magic, who come to Tuesday's game against the Bulls a surprising 2-0, play hard the way Thibodeau always preaches to his own team.
"They're an excellent team," Thibodeau said. "They're 2-0, they're leading the league in scoring right now. And if you're not ready they can burn you. (Arron) Afflalo is a terrific player,
Glen Davis
is playing at a high level, (Nikola) Vucevic is playing at a high level,
E'Twaun Moore
is a guy that a lot of people don't really know about and he's an excellent player ... the guys they have stepping in they're playing hard, they're playing together, they're playing smart, so we have to be ready."
Thibodeau believes the Magic could surprise some people this season.
"I coached Glen Davis I know how hard he plays," he said. "E'Twaun Moore I've heard a lot of good things about. (J.J.) Redick is someone I'm familiar with, he's a hard playing guy. Afflalo has got a great reputation for playing hard so they've done a good job. They're a little bit under the radar, but if you study them, they shouldn't be under the radar. They played very well in the preseason, they scored the ball very easily, so you can't let your guard down and you have to be ready from the start."
The last word:
Thibodeau on why the Bulls struggled so much on Saturday against the Hornets --
"We didn't play well. From the start of the game, the end of the second quarter, the start of the third quarter, and then the fourth quarter we did not play well. We rebounded the ball very poorly in the second half, we had 30 bobbles on rebounds and catches. We had a number of missed layups so it was a compilation of things."
January, 5, 2010
1/05/10
5:17
PM CT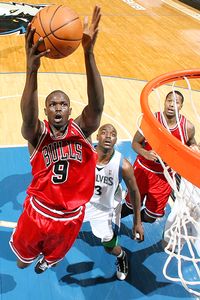 David Sherman/NBAE/Getty Images
Luol Deng helped lead Duke to the Final Four in his only season with the Blue Devils.
Luol Deng gave me a puzzled look when I asked him if he was excited about Wednesday night's game.
The Bulls are off on Wednesday night but there is a team close to the young forward's heart that is playing at the United Center in their place.
"Duke," I said.
A smile broke across Deng's face. "Oh, I'm happy they've been doing well," he said. "Happy to see them. Happy to see the coaching staff. It's pretty much still the same coaching staff, so I can't wait to see them."
You can bet that the Bulls forward will be in attendance cheering on his Blue Devils when they square off against Iowa State. Deng spent just one season in Durham, N.C., under the tutelage of Hall of Fame coach Mike Krzyzewski, but he made it memorable. The lanky teenager averaged 15 points a game and helped lead the Blue Devils to the Final Four.
Now, he's a fan just like so many others across the country. I caught up with him briefly before the Bulls game on Tuesday, and we discussed his thoughts on seeing his old team play ...
Nick Friedell: You don't get to see them much during the season? How cool is it that they are actually playing here and you can see them?
Luol Deng: It's really cool. Two years ago they played in Philly when we were in Philly, so I got to see them. I'm really happy. Happy to see the coaches, see some of the guys. I'm looking forward to it.
NF: Are you going to be able to talk to the guys at all before the game?
LD: I'm not sure. I think I might go out to eat with Coach [Chris] Collins. We're still trying to work that out.
NF: Do you have a specific memory from school that you've kept with you this whole time?
LD: Yeah, in the [2004 NCAA] Tournament, the game against Xavier before we went to the Final [Four]. Just in the locker room, I broke down. I wanted to win so bad, because I just knew my parents would make the Final Four. It was their first time seeing me play, so I wanted to make it there bad. I remember everyone kind of getting up and saying we're going to do it. [I] just miss those kind of days.
NF: What is the difference between the atmosphere in the NBA and the atmosphere at Duke?
LD: In college you play 30 games. And then in the tournament if you lose, you're out. So every game really is important. In the [NBA], every game is important, but [the season] is so long that a lot of times guys kind of lose emotion a little bit. I'm not talking about not playing hard, I'm just talking about showing that emotion. For me to come out here and scream today and go crazy, it's not the same as me screaming in the playoffs.
NF: He'll probably be at Duke forever, but is there any doubt in your mind that if Coach K wanted to coach in the NBA he could do it?
LD: Yeah, if he wants to coach he'll do it.
NF: What makes him so much of a better coach compared to everybody else?
LD: (Laughs) He's been winning.
NF: That's all it boils down to.
LD: That's really all it is.