Chicago Bulls:

Erik Murphy
January, 16, 2014
Jan 16
9:00
AM CT

By Nick Friedell
ESPNChicago.com
Archive
ORLANDO, Fla. --
Marquis Teague
is happy to be back in an NBA locker room. The second-year point guard returned to the
Chicago Bulls
' bench Wednesday night after spending close to a month in the D-League.
"It was good," Teague said of his D-League experience. "It just felt good to really get out there and get a chance to play. Go out there and play my game and just have some fun."
Teague admitted he lost some of his confidence over the past few months. He struggled to find a regular place in coach Tom Thibodeau's rotation since the season began.
"Yeah, you lose your rhythm," he said. "A lot of things. It's kind of like you just got to stay in the gym as much as you can, keep working. But it's tough. It's easier said than done. It's tough."
Thibodeau was asked before the game whether Teague's lack of development is hurting the Bulls' long-term point guard development.
"I guess you guys take a much broader view than I do," he said. "I'm just worried about tonight and [Thursday]. That's it. Anytime you have a young player ... Marquis has had some good moments too. He's still very young. We look at [
Erik Murphy
] the same way. You're usually going to play eight or nine guys. The guys who aren't in the rotation have to stay ready. You never know. You're an injury or foul trouble away from being in there. You're trying to figure out what's best for the team first. Then you look at the player and ask yourself if he would benefit from playing in a few games down there. That's what we do. At the end of the season, we'll look at where he is and go from there."
For his part, Teague said the biggest thing he learned in the D-League was to just try to stay aggressive. He said he kept in touch with Bulls players, coaches and front-office executives during his stint with the Iowa Energy.
"They just want me to go out there and get some confidence going and just get some minutes," Teague said of the front office's message. "That's just my opportunity to play, and I tried to use it as that and just grow as a player."
Murphy to the D-League?:
With Teague back on the Bulls' roster, Thibodeau hinted again that Murphy, a rookie, might be headed to the D-League soon.
"We'll take a look at it," Thibodeau said. "And things have to match up in terms of where we are in terms of what we need in practice and also where they are in terms of where they are with their games. It worked out; I believe Marquis played in eight games, so that was good. It was a short amount of time for him to be away but a lot of games. So that was good."
The last word:
Bulls forward
Taj Gibson
on bouncing back physically and mentally from another triple-overtime game: "Well, we got a day and a half. [We'll] get some rest. But most importantly, we've got guys that just live in the gym. I went to the gym [Tuesday] night.
Tony Snell
lives in the gym. We've got guys [who are] really hungry to get better and stay in the gym. So I bet a lot of guys will be in the gym [Thursday] to get ready for this next game."
The last word, Part II:
Thibodeau on
Jimmy Butler
's performance on Wednesday night: "Jimmy, 60 minutes, named after a TV show, I guess. He was awesome."
Thibodeau also noted that his favorite TV show is "60 Minutes."
January, 10, 2014
Jan 10
4:44
PM CT
By ESPNChicago.com
ESPNChicago.com

The
Chicago Bulls
signed forward Cartier Martin to a 10-day contract on Friday.
The 6-foot-7, 220-pound Martin has played parts of six NBA seasons with the
Charlotte Bobcats
,
Golden State Warriors
,
Washington Wizards
and
Atlanta Hawks
. He played in 25 games with the Hawks this season, averaging 6.6 points in 17.5 minutes per game.
"We're excited to have him," coach Tom Thibodeau said. "He's worked his way into the league. He came up the hard way. We like that about him. He can play multiple positions, and he's shown that he can shoot the 3."
Thibodeau also noted that Martin wouldn't likely be used on Friday night against the
Milwaukee Bucks
: "If we do play him, it would be in a very limited package, and it would be out of necessity today. We'll get him acclimated. We talked about the possibility of picking him up, and I think the sooner he gets here and gets started, the better. But I think he's a good fit for us."
Martin, who played at Kansas State, was selected by the Iowa Energy in the 2008 NBA Developmental League draft.
Thibodeau also addressed second-year point guard
Marquis Teague
's return to the Bulls roster after a stint in the D-League. While Thibodeau didn't put an exact timeframe on it, he made it seem as if Teague would be back sooner than later. He also hinted that rookie
Erik Murphy
may make a D-League stint in order to get more playing time.
"Right now, we want him to keep playing," Thibodeau said of Teague. "We think that's important. I think we're going to use it on [Murphy], too. I like what Marquis has done down there. He's had some good games. It gives him a chance to get into actual game situations, so I think it's been a big plus, and I like what the result has been."
September, 23, 2013
9/23/13
9:00
AM CT

By Nick Friedell
ESPNChicago.com
Archive
With training camp almost here, Nick Friedell previews every player on the Bulls roster.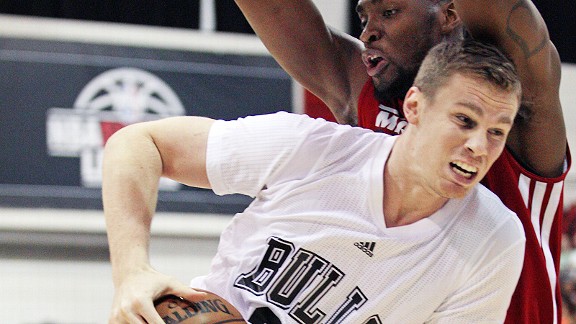 Stephen R. Sylvanie/USA TODAY SportsBulls forward Erik Murphy got some experience in the NBA Summer League.
Age:
22 |
Pos.:
F |
Salary:
$490,180
Role for Bulls in 2013-14:
Like fellow rookie
Tony Snell
, Murphy will likely be experiencing a redshirt year in Tom Thibodeau's system. Murphy will be asked to learn the nuances of the NBA game while continuing to improve his own. The good news for him is that fellow University of Florida alum
Joakim Noah
will be there to answer any questions he has and help him learn about the league.
What happened this summer?:
Murphy made his NBA debut in the Las Vegas Summer League. He knows in order to prove he belongs in the league he must show that he can help the Bulls in many areas.
"Obviously, I just have to continue to improve defensively, rebounding, getting stronger," Murphy said after being introduced to the media in July. "Every aspect of my game, I think I can improve. If I do that, whatever happens... But I think I'll be all right."
What does the future hold?:
The most common term associated to Murphy's game is that of a "stretch four." Interesting description given that it's the same moniker usually tagged on former Bulls' draft pick
Nikola Mirotic
. If Mirotic eventually comes to the Bulls next summer it will be interesting to see how Murphy fits in the team's long-term plans. In the time being, the Bulls can gamble on a cheap second-round pick who has the ability to knock down long-range shots.
Bottom line:
Don't expect to see Murphy play much this season as he learns more about the league and his demanding new coach.
July, 1, 2013
7/01/13
2:15
PM CT

By Doug Padilla
ESPNChicago.com
Archive
DEERFIELD, Ill. – Like kids in a candy store,
Chicago Bulls
draft picks
Tony Snell
and
Erik Murphy
both had their reasons to be awed and wide-eyed during their first official day with the team.
[+] Enlarge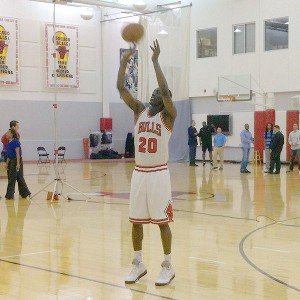 Doug Padilla, ESPNChicago.com Tony Snell shoots around at the Berto Center Monday wearing his new Bulls uniform.
Snell, the 20th overall selection out of New Mexico, and Murphy, the 49th overall pick out of Florida, were introduced at the Berto Center on Monday, and both got into full uniform to shoot around at the practice facility.
For Snell, his eyes lit up when talking about his meeting former Bulls standout
Scottie Pippen
. Murphy gushed about being able to go to work every day with
Joakim Noah
, a fellow Florida alum.
Snell, who will wear No. 20, is known for his shooting ability, but with a 6-foot, 11½-inch wingspan on his 6-7 frame, he has the potential to be a solid rebounder and plus defender at basketball's highest level.
"It's helped me a lot," Snell said. "I have long arms and I like to use them to help get deflections, rebounds and steals."
Snell said he idolized Pippen, who has a similar build.
"I followed Scottie Pippen, who is, like, my same height and same wingspan," Snell said. "I tried to watch his game. I met him today and I was speechless. That's Scottie Pippen, a Hall of Famer. It was pretty great. He can help me get better and teach me what to work on."
Murphy, who will wear No. 31, said he already got a call from Noah on draft night Thursday, and after playing with and against him on the Florida campus during the summers, he can't wait to match wits with him on a daily basis.
"He might have the highest motor in the NBA, that's arguable," Murphy said. "When he comes back to school, you see the way he works and the way he plays. It's definitely an inspiration. It gets you going a little bit, and that's good. When you play with him and play against him, it brings it out in you because you have to stay at that level to compete with him."
The mild-mannered Murphy was asked who had more fun in college, him or Noah, who is known for a rebellious side.
"He probably had more fun than I did," Murphy said. "They won two national championships so that helps a bit. But he definitely had some fun. Florida is a fun school, so it's hard not to have fun there."
Murphy has more work to do than Snell in order make the roster next season.
"Obviously, I just have to continue to improve defensively, rebounding, getting stronger," Murphy said. "Every aspect of my game, I think I can improve. If I do that, whatever happens, but I think I'll be alright."
June, 27, 2013
6/27/13
10:58
PM CT
By ESPNChicago.com
ESPNChicago.com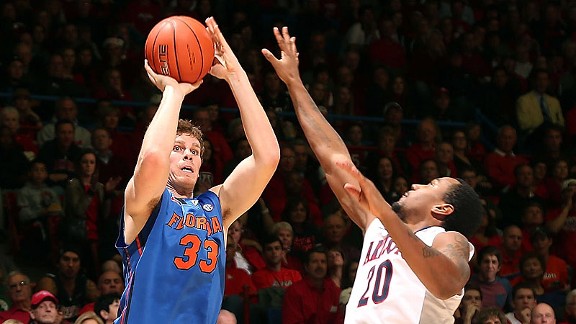 Christian Petersen/Getty ImagesFlorida's Erik Murphy shot 45.3 percent from three-point range last season.
Here's a quick look at the
Chicago Bulls
' second-round selection (49th overall) in Thursday's NBA draft, Florida forward
Erik Murphy
:
The numbers:
6-foot-10, 240 pounds. Reach: 9'-0". Wingspan: 6'-11"
Strengths:
An excellent three-point shooter, Murphy moves well for a big man as well.
Weaknesses:
Not a strong defender and Murphy only averaged 5.5 rebounds a game at Florida.
What it means:
After drafting a shooter in the first round with
Tony Snell
, the Bulls found another guy who can dial it up from long distance in Murphy. He connected on 45.3 percent of his three-pointers, shot 51.6 percent from the floor overall and averaged 12.5 points a game. Comparisons to the Spurs'
Matt Bonner
have been used to describe Murphy, and if he can prove to be a reliable shooter, he might eventually find a spot in the Bulls' rotation.
June, 27, 2013
6/27/13
9:57
PM CT

By Jon Greenberg
ESPNChicago.com
Archive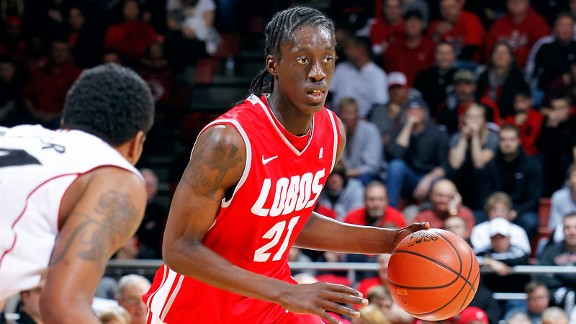 Joe Robbins/Getty ImagesBulls pick Tony Snell is particularly effective in catch and shoot situations.
DEERFIELD, Ill. -- Catch and shoot.
That's what the
Chicago Bulls
are looking for from their first-round draft pick
Tony Snell
, a 6-foot-7, 198-pound junior swingman from the University of New Mexico.
That's what they're looking for out of their second-round pick,
Erik Murphy
, a 6-9 1/2 forward from the University of Florida.
If they can catch and make, even better.
"In today's NBA, you can never have enough shooting," Bulls coach Tom Thibodeau said Thursday night.
[+] Enlarge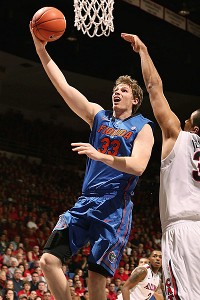 Christian Petersen/Getty ImagesErik Murphy was a first-team All-SEC selection last season at Florida.
After finishing 20th in 3-point percentage (35.3 percent) last season, Thibodeau admitted they needed to improve in this category.
Snell shot 39 percent last season and was ranked in the 69th percentile in catch and shoot situations, according to Synergy Sports Technology. He believes he can fill that role.
"Oh yeah, I could see myself as a catch and shooter, come off curls and shooting," he said in a phone conversation with local media Thursday night. "I really feel good about shooting the ball."
Murphy, a "stretch four," led the SEC by shooting 45.3 percent on 3-pointers. He was a first-team All-SEC selection.
The Bulls seemed confident in Murphy's ability but no second-round pick is ever a lock to make a roster. As for Snell's playing time, unlike his contract, that won't be guaranteed either.
"His first year will be learning the league, but he'll have opportunities," Thibodeau said.
"For any rookie, the first part of it is coming in and learning how to be a pro, learning the pro game, learning our system, learning how to work. You're just trying to get them to concentrate on steady improvement."
Snell shot 39 percent on 3-pointers last year and just 42.2 percent from the field. He isn't afraid to shoot. The slender Snell took 434 3-pointers in his three years with the Lobos, hitting 38 percent, a solid career percentage.
While the Bulls are high on Snell's defensive potential, given his 6-11 wingspan, he's here to shoot from the perimeter.
"There are certain things we look for in a player," Thibodeau said. "He's got good length. He's an athletic wing. He can shoot the ball. Obviously we prioritized that. We think he can grow. We think there's a big upside to him."
Bulls general manager Gar Forman said they had scouted Snell all season and watched him play in the Mountain West tournament, where he won MVP honors. Forman said he liked Snell's handles and that he had experience in pick-and-roll situations.
"In studying Tony, we think he has a chance to contribute this year," Forman said. "But he'll have to earn that on the floor like all our players do. But long-term, we think there's great upside to Tony."
Snell would be wise to pay close attention to
Jimmy Butler
. Now entering his third season, Butler was a rarely-used role player as a rookie who blossomed last year with more playing time.
Last season, Snell averaged 12.5 points a game during the regular season and was the Most Valuable Player of the Mountain West tournament. But he didn't do much in the Lobos' first-round upset loss to Harvard, hitting just 1-of-6 3s and scoring nine points.
Snell is confident he can develop into a perimeter defender in Thibodeau's system.
"Oh yeah definitely, I feel like I'm really good enough to defend anybody," he said. "I feel really good about that."
Snell said his first workout after the pre-draft camp was with the Bulls and he's excited to play with
Derrick Rose
.
Like every player drafted by the Bulls, Snell paid homage to
Michael Jordan
. Born in 1991, Snell said he watched Jordan "his whole life."
Snell went to high school in California with Spurs budding star
Kawhi Leonard
and said he wants to emulate Leonard's early success.
"He did a fantastic job," Snell said. "I feel like I can do the same things."