November, 1, 2012
11/01/12
10:46
AM CT

By Nick Friedell
ESPNChicago.com
Archive
Chicago Bulls forward Taj Gibson said Wednesday night that he agreed to a four-year, $38 million extension after the Bulls' 93-87 win against Sacramento.
"I looked at the numbers," Gibson said. "That's a lot of money. I can't really turn down that much money. Especially for the security, you never know what can happen all through the year."
Read the entire story.
October, 18, 2012
10/18/12
3:59
PM CT

By Nick Friedell
ESPNChicago.com
Archive


DEERFIELD, Ill. -- Chicago Bulls forward Taj Gibson, who's entering his fourth season, said Thursday he remains optimistic a contract extension can be worked out before the Oct. 31 deadline for fourth-year players.

"I'm hopeful," Gibson said. "I'm always hopeful. There is where I want to stay, this is where I hopefully want to retire one day. So we'll have to wait and see."


August, 10, 2012
8/10/12
12:49
PM CT
By ESPNChicago.com
ESPNChicago.com

Doc Rivers said Friday that he is pulling for his good friend and former assistant Tom Thibodeau to receive a contract extension from the
Chicago Bulls
and be paid like "one of the elite coaches in this league."
Read the entire story
.
July, 27, 2012
7/27/12
11:50
AM CT
By ESPNChicago.com
ESPNChicago.com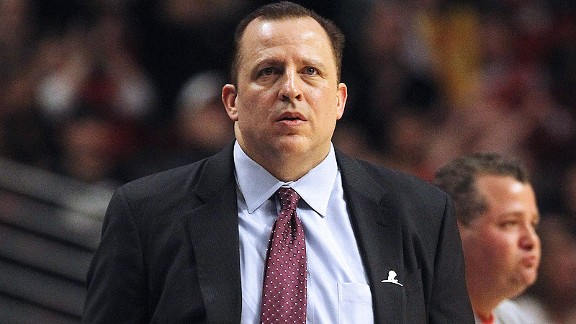 Jonathan Daniel/Getty ImagesWill Tom Thibodeau enter next season with a contract extension?
Jeff Van Gundy finds it interesting that the
Chicago Bulls
have yet to extend the contract of his close friend and former assistant coach Tom Thibodeau.
The Bulls picked up the option on Thibodeau for next season, but no extension has been signed. After reports surfaced during last season that Thibodeau was unhappy he didn't have an extension, and that Bulls players knew of his unhappiness, GM Gar Forman said that talks about an extension had been tabled before the season and would conclude at season's end.
But over two months have passed since the end of the Bulls' season, and Thibodeau appears to still be without an extension.
"I don't think 'worried' would be the right term for me," Van Gundy said Friday on "The Waddle & Silvy Show" on ESPN 1000. "I think it's interesting, though. I would have ... if I was them ... most likely pursued and prioritized him earlier this summer certainly. Because just like a player, you don't want them to get into their free agency year, and certainly he would have many suitors if in fact they decided not to offer him a fair contract extension. And he'll have other options.
"But I know he loves it in Chicago. Everything he says to me is he loves the guys, he loves the city. And he would like to be there a long time, from what I can gather. But business is business from both ends, and we've seen how business has impacted their roster, so certainly it could impact their coaching."
Thibodeau was a long-time NBA assistant, including a stint as Van Gundy's assistant with the
New York Knicks
, before the Bulls gave him his first head coaching job. He signed a two-year deal with a team option for the third. Thibodeau guided the Bulls to the best regular-season record the last two seasons, winning coach of the year his first season and missing out on becoming the first coach in NBA history to win the award in consecutive seasons as he finished second last season.
Thibodeau has said several times publicly that he's not worried about his contract situation, and Van Gundy echoed those sentiments Friday.
"He hasn't intimated to me at all that he's irritated," said Van Gundy, who is an ESPN analyst. "All we talk about is their team, and how summer league is going most recently, how the draft went for them. He never has brought up his contract situation to me. He's never shown any irritation.
"Listen, he's been around the NBA a long, long time, took him a long time to get a shot, Jerry Reinsdorf gave him that shot, so he's very, very thankful for the opportunity he's been presented to coach some quality guys.
Derrick Rose
is as humble a superstar as you can have, and he loves (Luol) Deng and (Joakim) Noah. So he's been very, very happy to be there. But at the end of the day, he's going to have to do what's best for him, because that's exactly what the Bulls do in every situation as well."
June, 29, 2012
6/29/12
3:09
PM CT
By ESPNChicago.com
ESPNChicago.com

The Chicago Bulls have yet to resume negotiations regarding a contract extension for coach Tom Thibodeau, who said Friday that he's "fine" with the situation.
Read the entire story.
April, 3, 2012
4/03/12
6:12
PM CT
By ESPNChicago.com
ESPNChicago.com

CHICAGO -- Chicago Bulls general manager Gar Forman said Tuesday that talks to extend the contract of coach Tom Thibodeau were initiated before the season and were tabled, but they'll resume once the season is over.
Read the entire story.
December, 21, 2011
12/21/11
11:44
AM CT
By ESPNChicago.com
ESPNChicago.com

DEERFIELD, Ill. -- The Chicago Bulls have made it official: Reigning MVP Derrick Rose has agreed to a five-year contract extension.
The extension, which kicks in next season, was announced Wednesday. The contract is worth $94.8 million, a source told ESPN The Magazine's Ric Bucher on Tuesday.
Read the entire story.
December, 20, 2011
12/20/11
8:12
PM CT
By ESPNChicago.com
ESPNChicago.com