Chicago Bulls:

Flip Murray
April, 21, 2010
4/21/10
8:48
PM CT
[+] Enlarge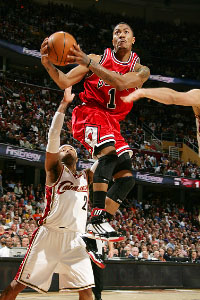 David Liam Kyle/NBAE/Getty ImagesDerrick Rose has looked for his shot more in the first two games of the Bulls' series with the Cavaliers.
What can the
Chicago Bulls
possibly do better against the
Cleveland Cavaliers
on Thursday night that they didn't do Monday during Game 2?
"Shhhhh," Bulls point guard
Derrick Rose
said to me after the game. "You tell me. When we have the lead we just got to find a way to stop them. We can't let them come down and get easy shots or easy baskets. When we're up two or three we got to get away. We have to so that we can put pressure on them and see what they're going to do after that.
"But if anything we're going to live with [
LeBron James
] making those shots. We live with him making those shots, rather than him driving to the hole, and that's his strength."
Rose wasn't exactly sure how to respond to that question. That's why he paused for a few moments before an answer finally came out of his mouth.
Seriously, what else can the Bulls do?
They played solid defense throughout most of the game. They only made four turnovers all night. They made Cavs center
Shaquille O'Neal
a non-factor, and they limited pretty much every other Cleveland player not named LeBron James and
Jamario Moon
in the second half.
There are still a few ways to improve, though. And Rose knows it.
"We're going to continue to fight, man," he said. "That's all we can do is just go out there and play the games. It's not going to be easy but that's why we're in the NBA. That's why we're here to play against them, and we're not backing up."
Specifically, here are a few more things to consider as the Bulls prepare for Game 3.
1. Keep the mojo going:
After Game 2, several players mentioned that the Bulls have to find a way to keep their energy up. I don't think that will be much of a problem considering the Bulls will be home at the United Center, but they can't let themselves get into a deep hole early like they did in Game 1. The Bulls truly believe that they can play with the Cavs after Monday night, and I'd expect them to start off the game strong with that newfound confidence in their pocket.
2. Push the pace:
The Bulls have been at their best all year when they've taken advantage of their athleticism and pushed the tempo. They should run any chance they get against the Cavs and make sure to do so when O'Neal is on the floor. The court becomes much less congested if they can keep the aging big man off of it, and it allows Rose and Noah easier looks at the basket in the process.
[+] Enlarge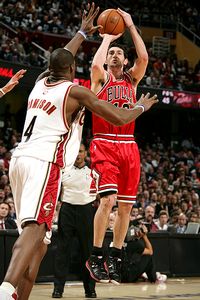 David Liam Kyle/NBAE via Getty ImagesKirk Hinrich has struggled in the Bulls-Cavs series, going 6 for 18 from the field and scoring just 13 points.
3. Come back, Kirk:
The Bulls aren't going to win a game in this series without
Kirk Hinrich
producing. He has played poorly in this series, going 6 for 18 from the field and scoring just 13 points. Vinny Del Nego has to find a way to get his veteran guard back on track, and the Bulls must make more shots. They took 22 more than the Cavs on Monday night, and they still couldn't win.
4. More Flip:
If Hinrich isn't getting the job done, Del Negro should look to go to Flip Murray earlier. The veteran shooter has no fear when it comes to putting up shots. Granted, he ended Monday shooting just 5 for 14 from the floor, but if he gets on a streak early, Del Negro has to get him the ball more and give Rose some more help offensively.
5. Stop talking to LeBron:
It's still unclear who on the Bulls bench was exchanging words with the reigning MVP, but whoever it was, just stop -- don't give James any more reason to beat you. He was absolutely on fire on Monday night and admitted that he used the chirping as extra motivation. He's proven that he has the ability to take over games, but the likelihood of him making 27-footer after 27-footer, like he did during Game 2, isn't very high. If the Bulls continue to stay in his face -- stop talking -- they should have a chance to scratch a victory on Thursday night.
February, 19, 2010
2/19/10
11:10
PM CT
MINNEAPOLIS --
Vinny Del Negro
was a little worried before Friday night's game about how all the new pieces of the
Chicago Bulls
would fit into place.
[+] Enlarge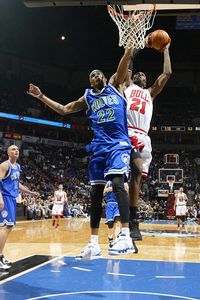 David Sherman/Getty ImagesHakim Warrick just missed a double-double in his debut with the Bulls, scoring 10 points and grabbing nine rebounds.
He knew that recent acquisitions
Hakim Warrick
and Flip Murray would make some mistakes and just hoped those mistakes wouldn't cost his team a victory.
Del Negro shouldn't have been very worried, though. After all, the Bulls have
Derrick Rose
. The Timberwolves do not.
The All-Star point guard had another solid performance on Friday night, scoring 19 points, grabbing 10 rebounds and five assists on the way to a 107-94 victory -- the Bulls' third straight.
With the win, the Bulls move to two games over .500 for the first time since early November. Del Negro believes that his squad's recent hot play can be attributed to its defense. If you look at last game [against the Knicks] and this game, our defense has carried us," he said. "We're scoring enough points. We're spreading the game out, trying to put the ball in Derrick's hands in key situations and trying to feed off his penetration.
"But it comes down to defense for us. If we play defense and rebound the basketball, we're going to have opportunities on the break for guys to attack the basket. And if you can get some easy baskets, it takes a lot of pressure off your execution in a lot of areas."
Aside from Rose's performance, the Bulls got several solid efforts in this contest, namely from
Kirk Hinrich
and
Luol Deng
, who combined for 38 points. But what has to give Del Negro the most confidence is that Warrick (10 points, nine rebounds) and Murray (eight points, three rebounds) were able to provide a solid lift for his team off the bench.
"They know how to play," Del Negro said. "Of course, they're going to be a little bit uncomfortable in [terms of] where to be and rotations and things, but they know how to play and they gave us a boost."
Rose had high praise for his new teammates as well.
"They're just good players," he said. They fit in with us. They're good guys. They just want to win and I know we're just going to get better than what we played tonight."
While Warrick admitted that he was a little "anxious" before the game, he seemed to enjoy playing with the new group.
"It was just basketball," he said. "At times I got a little confused but my teammates did a good job of pointing me in the right direction, getting me in the right spot ... I just tried to be active and aggressive."
Warrick did both of those things and proved that for the short term, he will be just fine taking a majority of the minutes that
Tyrus Thomas
and
John Salmons
used to occupy.
"He gives us kind of a different dimension," Hinrich said of Warrick. "We lost that in Tyrus, but he can kind of fill that void for us."
Hinrich and Warrick meet again:
It was kind of ironic seeing Hinrich and Warrick playing on the same team considering their history. Back in 2003, Warrick, then playing for Syracuse, helped lead the Orangemen past Hinrich's Kansas Jayhawks. Earlier this season, the pair got into a mini-scuffle during a game. Now, they're united. Even Warrick had to smile at the way their paths have crossed.
"It's kind of funny," Warrick said. "But, you just got to put it behind you. He's a great player and I always respected his game, even back then in college. It's good to have him on my team now."
Hinrich says he didn't even think about the coincidence.
"I let that go a while ago," he said with a laugh. "It took a while, but I let it go. Whenever you get out there with guys you've been playing against that have been in the league, it's a little different."
Line of the night:
Hinrich, on the state of the team down the stretch: "I think we're playing well. I think there's still room for improvement. Obviously, we've got a bunch of new guys, so we have to get a little more organized but I think night in, night out, our energy and effort has been there. We just have to keep trying to get better and keep going. This is kind of the final stretch here. I think we're set to have a good finish."
February, 19, 2010
2/19/10
8:36
PM CT
MINNEAPOLIS -- Here is the full transcript of the conversation I had with Bulls head coach
Vinny Del Negro
on Thursday night after the trade deadline passed. While he didn't come right out and say it, it's clear that he and the organization are confident that they will be able to land one of the big-name free agents this summer. It's also clear that the second-year head coach hasn't given up on this season just yet.
Nick Friedell:
How would you sum up what you guys did today?
[+] Enlarge
Jesse D. Garrabrant/NBAE via Getty ImagesBulls coach Vinny Del Negro insists that his team is focused on winning and not on this summer's free agent class.
Vinny Del Negro:
Well, I think it works out. You never want to lose players, but I feel we've added some quality players and we've kept and built and expanded our flexibility for this summer. But our focus is this season right now. And we'll handle the rest of that business after this season. You hate to lose quality players, but I feel in our situation, it was the right moves to make. I know Gar [Foreman] and [
John Paxson
] and the staff worked very hard on it, and I want to see how guys are going to fit in. But I feel comfortable where we're at and now it's a matter of getting the new guys accustomed to how we run things around here and what's expected. And it's going to take a little time, but I expect it to be a smooth transition and get them acclimated to everything as soon as possible.
NF:
What do you know about
Hakim Warrick
,
Acie Law
and Flip Murray?:
VDN:
Warrick and Murray -- they've played and contributed on teams and they've been around and [I'm] much more familiar with them. Alexander and Law are young players just getting their feet wet in the league. Warrick and Murray, I expect to get them underway here and get them in the rotation as soon as possible and see how it comes together and get them comfortable defensively with terminology and things we expect. Same thing offensively. Play the right way, share the basketball. Both of them have been quality pros and are still, especially Hakim, is still very young and has room for improvement and we want to help him in as many areas as we can. Same thing with Flip. He's a shooter; he's a scorer. He can make shots. With Derrick [Rose's] ability to open the court up, hopefully he'll knock some big shots down for us like he's done with other teams.
NF:
To someone who says the organization has given up on this year, you would say what?
VDN:
That's false. That would never happen. It's not what myself, the staff, the organization and what the fans expect. The
Chicago Bulls
are one of the premier franchises ... Giving up or anything is not even mentioned. I expect us to compete at a very high level. I expect us to win games. I expect us to develop our young players like we are and continue to improve in certain areas and get these [new] guys acclimated and fight as hard as we can to find a way to continually get better and give us an opportunity to make the playoffs again.
We've been playing a little bit better on the road as of late. We have to continually do that and also step our game up a little bit at home. But the fans are tremendous. They've been very supportive. Now it's the players and staff and my responsibility to go out there and represent the fans the right way. You do that by giving it all you have, preparing the right way and finding ways to win games. It's a very simple formula but it's hard to accomplish. There's high expectations in Chicago, but people should feel good about the core we kept together, the nucleus we kept together and the ability to advance and get more flexibility in a very important summer as we continually try to improve the team moving forward.
NF:
Did you get a chance to talk to
Tyrus Thomas
before the deal went down?
VDN: No, I haven't had a chance to talk to Tyrus. He was busy with some things. I left some messages for him. I haven't got up with him yet, but I will. The same with John. I talked to John [Wednesday] night. It's never an easy situation. They're good people. They've been very helpful, obviously, in the way they represented the Bulls. You never want to lose good players, but it's a business and it's part of it. And hopefully things work out for them in a positive way.
NF:
Do you think Tyrus will ever be able to figure it out?
VDN:
The thing with Tyrus is he's very young. He's 24 years old. He's been in the league a while, but he's still young. And he's got to find his way. And long as he finds ways to work and continues to be coachable and continue to work in certain areas and gets better and puts in the time -- he has such great athletic ability. And has the ability to change the complexion on games with his athletic ability.
As he has different coaches or learns different things and grows as a player and as a person, he's a game-changing type of player at times. Hopefully, that consistency will come out as he finds his game a little bit more.
NF:
As a coach, how difficult is it to balance trying to win games now while also knowing that the organization is trying to free up cap space for the future?
VDN:
It's difficult. It is difficult. But like I've always said, if this was easy, anybody could do it. It's a challenge and I enjoy the challenge, but I'm pleased we kept our nucleus of guys together. And we added a couple guys that have been players in the league. We lost a couple very good players and we added some. We just have to see how it all comes together. There's no easy answers to it. Let's just see how these guys fit in and how they contribute and how it all mixes together and put ourselves in an opportunity on a consistent basis to win basketball games. That's difficult when it happens in the middle of the season, and now you have to try to incorporate some new pieces, but we've done it before. And hopefully this time it will go as smooth as it did last.
NF:
Gar Forman came out on Thursday and said, "Vinny's our coach. It's not a story." But, do you wish the organization would come out and say, "Vinny's our coach for the future."? Do you wish they would handle situation some other way?
VDN:
All that stuff is out of my control. I don't spend a lot of time with it like I didn't before when it was a much bigger story. I try to prepare and handle the team in a first-class manner [and] help develop the young players [and] find ways to improve individually and as a team. I think my staff has done a phenomenal job with everything that's been thrown at us the last couple of years. And we continue to improve. I can't control what other people do or say. I can just control my attitude and my approach and try to set a good example for a young team and handle the adversity that's thrown at you as a coach and as a team throughout the year in the best possible way and move forward.
I can't worry about what people are saying or what they're not saying or how they're saying it or what's out there. I go about my business and control what I can.
NF:
What's a legitimate goal for the end of this year in your eyes?
VDN:
Just find a way to continually improve. Find a way to continue to develop these young guys like I always talk about. Continually find ways to improve on the road. I think that's a very, very key component for this young team to build confidence on the road. Road wins are very hard to come by. Hopefully, we'll continue to play well on the road. At home we have a little bit of a different swagger to us, whether it's because we're young or whatever. The fans have great support there and high expectations.
I think we need to set goals in terms of improving. I don't look at wins and losses and how many wins we need or whatever. I expect us to be in contention for a playoff berth. What seed we are I couldn't tell you right now. Everyone's bunched up there. If we play the right way and stay together as a team and incorporate these new players I feel we have an excellent opportunity to go back to the playoffs and then move forward throughout the summer.
NF:
Are you confident that with the cap space the team has now, that you guys can convince one of these big-name free agents to come here this summer?
VDN:
That will all take care of itself. The first most important thing is getting the space to go and have a game plan together to attract one of the elite players -- whether you get one or not. No one know what's going to happen. That's all getting figured out and everyone will guess and have their opinions, but certain teams have put themselves in a certain position to at least be able to financially afford those type of players. And we're one of them.
So when you have the history of Chicago, the incredible city, the fans, the success of the organization and a great young nucleus of talent, it's got to be a very attractive city for any player. So there's a lot of positives there. All those things will take care of themselves. Everything will be done first-class and professionally to accommodate that this summer, but my focus is not this summer right now. My focus is preparing for the next game and finding ways to help the team get better throughout this season as we move.
February, 18, 2010
2/18/10
1:59
PM CT