Chicago Bulls:

Florida Gators
March, 31, 2014
Mar 31
9:00
AM CT
BOSTON --
Joakim Noah
beamed like a proud parent as the topic of his beloved
Florida Gators
came up Sunday morning. That's because his team was back where he always believed it belonged: The Final Four.
After knocking off Dayton on Saturday night, the Gators qualified for their first Final Four since Noah left Gainesville in 2007 after winning back-to-back national titles.
"I'm very happy," Noah said. "I'm very proud to be a Gator boy. And to see how much those kids went through, losing in the Elite 8 three years in a row and finally getting to the Final Four, it's a testament to them and their coaches."

Like most players in the league, Noah has kept close ties to his alma mater. Noah has taken a special interest in Florida's program after leaving and makes it a point to work out in Gainesville when he can. He's hopeful his team can make it all the way to the top next Monday at Cowboys Stadium in Arlington, Texas, the site of this year's Final Four.
"There's one more weekend," he said. "Just got to stay hungry and stay in the moment, not get caught up in all the [hoopla]. We didn't win it, yet, so we're excited to be there. But there's more work to be done."
What's next for the Bulls:
Chicago plays the
Boston Celtics
again on Monday night at the United Center.
Stat of the day:
According to Bulls radio statistician Jeff Mangurten, the Bulls are now 15-1 in their past 16 games following a defeat, dating back to Christmas.
The last word:
Noah, on whether University of Florida coach Billy Donovan is the best coach in college basketball.
"By far. To me. I've only had one. But to this day I still live my life by a lot of the lessons that he taught me. He's always told me to live in the moment, and I still try to live my life by that code every day."
December, 10, 2011
12/10/11
2:21
PM CT
DEERFIELD, Ill. -- Not surprisingly,
Chicago Bulls
center (and University of Florida alum)
Joakim Noah
is a massive fan of
Denver Broncos
quarterback
Tim Tebow
, also a former Gator.
"Timothyyyy!" Noah said proudly after Saturday's practice. "We got to show Timothy a little love here. For all the haters out there, you know the guy is kicking ass. Making me very proud to be a Gator boy."
[+] Enlarge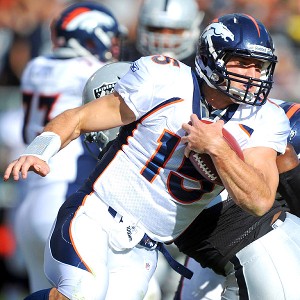 Kirby Lee/Image of Sport/US PresswireAs he prepares to lead the Broncos against the Bears, Tim Tebow has at least one fan in Chicago -- the Bulls' Joakim Noah.
Noah has followed Tebow's career closely since the pair were in school together at Florida.
"It's a beautiful story," Noah said. "He is who he is. There's no lie about who he is. He's comfortable."
Noah admits that the two don't see eye-to-eye on certain issues, but the Bulls center appreciates that Tebow stays true to his values.
"Me personally, I have completely different beliefs than him," Noah said. "But at the same time I respect the fact that he speaks his truth. He speaks his truth and he's a warrior. He's a winner. At the end of the day, his teammates respect that."
Noah said he didn't know Tebow very well during their time in Gainesville, but that didn't stop him from gaining respect for the quarterback.
"I had a class with him," Noah said. "The guy is the real deal. He's a very humble guy. And somebody who, his teammates love him. They battle for him every night. He might not throw the ball great, and that's all anybody wants to talk about, but at the same time, people really underestimate the fact that his guys really go to bat for him. And it was the same way at Florida. And I can see it, it's the same way with his team in Denver."
When asked whether Tebow had ever tried to cheat off of him on a test, Noah couldn't help but smile.
"Nah, that's not his style," Noah said. "I was the cheater on the test. He wasn't cheating on too many tests."
Noah was asked whether he had heard his friend
Charles Barkley
's comments that he would be cheering for the Bears when they play Tebow's Broncos on Sunday because he was "Tebowed out."
"I want to make a personal plea to
Lance Briggs
,
Brian Urlacher
, Mr.
[Julius] Peppers
, please stop the madness," Barkley said Friday on "The Waddle & Silvy Show" on ESPN 1000. "I'm just so tired ... I like Tim Tebow. He seems like a good kid, and I wish him success, but I am Tebowed out. So this is my personal plea for you three guys, please stop this madness."
Noah said he had not heard the comments and wasn't fazed by what Barkley had to say.
"That's Chuck's opinion," he said. "I'm not [tired of the Tebow talk]. "I'm a Gator boy. I love the Tebow talk."
April, 28, 2011
4/28/11
1:42
PM CT
By ESPNChicago.com
ESPNChicago.com

Florida coach Billy Donovan jumped to the defense of Chicago Bulls center and former Gators star Joakim Noah, who was called a "dirty" player and "cowardly" by Indiana Pacers forward Danny Granger.
Read the entire story.
December, 26, 2009
12/26/09
8:45
PM CT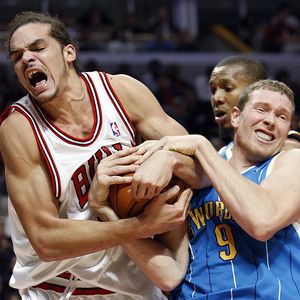 AP Photo/Nam Y. Huh
Joakim Noah chipped in 17 points and 18 rebounds in the Bulls' 96-85 win over the Hornets.
Joakim Noah literally couldn't believe what he was hearing.


The Bulls center is used to being teased about his beloved Florida Gators, but these particular comments stopped him dead in his tracks. As he walked back into the locker room after warm-ups, veteran guard Lindsey Hunter and assistant coach Pete Meyers told him a bit of breaking news that left him shaking his head: Urban Meyer had stepped down as the University of Florida's football coach.


Noah, a two-time national champion at Florida, was stunned.


He turned around and looked at me for some kind of confirmation. I just shook my head.


"No way," I said.


But Hunter and Meyers insisted it was true, saying that it had just come across the news.


I thought Noah was being pranked. I think he did, too.


But a few seconds later, coach Vinny Del Negro came out of an office and asked his big man what he thought about the news while rattling off Meyer's career coaching record.


It began to sink in for Noah that his favorite football team was going to have a new coach.


After the game, I caught up with Noah for a few moments and he described the relationship that he and Meyer shared during his time in Gainesville. It was clear that the news still hadn't sunk in a few hours after the announcement.

Nick Friedell: So you've had a few hours to digest the Urban Meyer news, what is your reaction?

Joakim Noah: Oh man. I don't really know what happened besides what I've seen on TV and I what I see in the media. I know he got a little sick after the Alabama game or something. I heard he checked into a hospital, so obviously, prayers go out to him. My thoughts go out to him and Gator Nation. I hope everything is well and I hope it's a situation where one day he can come back because he brought so much joy and happiness to the program and to everybody who loves the Gators. Health-wise, I hope he's OK. And I hope it works out for him and for the team.

NF: How stunned were you when you first heard the news?

JN: I still really don't believe it. It's like [his decision] is not even real to me. I think it's going to hit people when he's not on the sidelines, but I'm sure it's probably devastating for the players that are there right now. I know we're always going to be up there competing for championships. That's something that he instilled and I think that the approach the players go there with. When you go to Florida, you go play for the Florida Gators to win a national championship. And he definitely helped with that, winning two in three years. Having [Tim] Tebow there and getting some really bad boys. I hope it works out and I hope he gets healthy and I hope he can come back.

NF: Did you ever talk to him while you were at school?

JN: Yeah, I used to help him with his recruits all the time. Every time he saw me on campus he would always tell me, "Joe, come and talk to this kid. Come and talk to this kid." I couldn't tell you anybody's name, but he was always jogging on campus. A real positive guy. He was somebody the players really, really respected. I think that's the way it's supposed to be. When you have a coach, and all the players almost -- I'm not going to say fear because fear is a strong word -- but respect him to the point where I really don't want to disappoint this guy because I don't want to disappoint him. And I think that everybody was like that over there.

NF: Who would you like to see become the next head coach?

JN: I learned the rules of football while I was in college. I'm from France so I could not tell you. I don't know anybody, really.

NF: Do you think Florida will be all right?

JN: Well, I hope so. I'm going to root for them regardless. So, of course, I want to get the best guy in there. Yeah, I hope we can still compete for a national championship.