Chicago Bulls:

Golden State Warriors
June, 19, 2014
Jun 19
5:43
PM CT
CHICAGO --
Klay Thompson
's shooting prowess has ended a lot of team's nights over the past few seasons. Now his name alone may end the
Chicago Bulls
' pursuit of
Minnesota Timberwolves
All-Star
Kevin Love
.
In the latest twist to the Bulls' pursuit of a big-name star,
ESPN's Chris Broussard reported Thursday
that Thompson's name has been discussed as a possibility by the
Golden State Warriors
in a swap to Minnesota for Love.
[+] Enlarge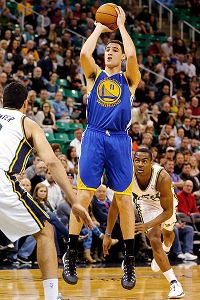 Chris Nicoll/USA TODAY SportsThe 24-year-old Klay Thompson, one of the game's best shooters, would give the Timberwolves a player to build around if they trade Kevin Love.
The addition of Thompson into the potential deal puts another roadblock up for a Bulls organization that would still love to add
Carmelo Anthony
, but is keeping a watchful eye on what's happening with Love, the 25-year-old All-Star.
ESPNBoston.com's Jackie MacMullan recently reported
that the Bulls already had a solid offer into the Timberwolves in exchange for Love, an offer that at the time was viewed as better than anything the
Boston Celtics
, among others, had pitched up to that point.
But the news that the Warriors have included Thompson's name in the discussions changes the game. Thompson, who averaged 18.4 points a game last season, is just 24 years old and is getting better. ESPN.com's Marc Stein reported Thursday that, according to sources, the Warriors would be willing to deal Thompson,
David Lee
and a first-round pick to land Love.
While it's unclear exactly what the Bulls offered the Timberwolves, it's a safe bet that everyone besides
Joakim Noah
is a possibility. While Noah is not completely untouchable, he is the closest thing the Bulls have to a player in that category given his importance to the locker room and to Tom Thibodeau's defense.
Derrick Rose
isn't going anywhere because of his max contract and the uncertainty surrounding his knees. So the Timberwolves are left to choose from a group that includes
Taj Gibson
,
Jimmy Butler
,
Carlos Boozer
's expiring contract, the rights to
Nikola Mirotic
and/or draft picks. The Bulls, who have the 16th and 19th picks in next week's NBA draft, would rather not part with Gibson given that he is in the middle of a team-friendly contract and just had the best season of his career.
But even if Gibson's name were included in potential trade discussions, would a combination of Gibson, another asset, and picks be enough to trump the star power of Thompson? That's the decision that Timberwolves new coach/front office czar Flip Saunders must make. If the goal is to be able to trade Love and land several solid NBA players and a couple mid-round picks then the Bulls still may have a chance to pry Love out of Minnesota.
But if Saunders' goal is to land a player he can start building his team around alongside
Ricky Rubio
, then the Warriors' offer is going to be tough to beat. They have a team full of Gibsons and Butlers. What they don't have, and what they continue to seek, is a pure scorer of Thompson's caliber.
What's important to also keep in mind regarding any potential Love deal, is that the Bulls aren't going to make a trade for him unless they know for sure that he will sign an extension in Chicago. Reports have said that Chicago is high on Love's priority list, but it is unclear whether he would re-sign with the Bulls.
If he doesn't, and is still insistent on opting out of his current contract this season, all the rumors surrounding a possible future playing alongside Rose become moot.
February, 26, 2014
Feb 26
9:35
PM CT
CHICAGO -- Let's take a quick look at how the
Chicago Bulls
cruised to a 103-83 win over the
Golden State Warriors
on Wednesday night at the United Center.
How it happened:
Carlos Boozer
had 15 points and 13 rebounds, while
Taj Gibson
added 21 points and
Joakim Noah
chipped in with 17 rebounds, as the Bulls earned an impressive victory on the second night of a back-to-back.
Jordan Crawford
led the Warriors with 16 points, as the Bulls clamped down defensively all night.
What it means:
This was one of the Bulls' most impressive wins of the seasons. They dominated a good Warriors team after a hard-fought victory against the
Atlanta Hawks
on Tuesday night. Their defense was solid all night, and they controlled the tempo throughout.
Kirk Hinrich
had a solid defensive performance, hounding
Stephen Curry
on both ends. The Bulls are playing with the type of confidence that has defined them over the course of the past few seasons. If they continue to keep playing defense the way they did in this game, they are going to be in good shape in the playoffs. They got contributions up and down the roster and imposed their will on Golden State.
Hits:
Jimmy Butler
was very solid after missing the previous two games because of bruised ribs. He had 16 points and went to the line six times.
Misses:
The Warriors shot just 35.7 percent from the field. No Warriors starter scored in double figures.
Stat of the night:
Curry was 2-for-10 from the field and scored just five points.
What's next:
The Bulls face off against the
Dallas Mavericks
at home on Friday night.
February, 7, 2014
Feb 7
2:32
AM CT
OAKLAND, Calif. -- As the media waited outside the
Chicago Bulls
' locker room for Tom Thibodeau to break down what went wrong during his team's 102-87 loss to the
Golden State Warriors
on Thursday night, former Bulls player and current Warriors assistant Brian Scalabrine came strolling by with a cup of food in his hands.
"What else is there to say?" Scalabrine asked the assembled media. "We made shots."
Scalabrine was right. In a game in which the Bulls had to control the pace to win, the Warriors knocked down a lot more buckets than Chicago could muster late. In the end, the difference was that the Warriors had
Stephen Curry
and the Bulls did not.
[+] Enlarge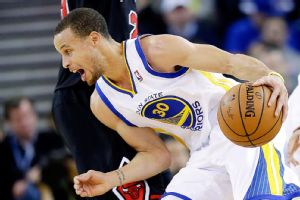 AP Photo/Marcio Jose SanchezStephen Curry heated up for 34 points against the Bulls, who themselves lack a game-changing scorer.
Curry dominated the Bulls to the tune of 34 points. More important, he showed Thibodeau and his team what playing with a pure scorer can do for the rest of a group. Curry's performance was yet another cold reminder of what the Bulls are missing without
Derrick Rose
-- a go-to scorer who can take over the game virtually whenever he wants to.
"He's a hell of a player," Bulls center
Joakim Noah
said. "I think we could have done a better job to blitz his picks and put two on the ball. But I think they played very well offensively."
Curry's shot worked throughout the night, but it was his nine assists that helped drive the dagger into a Bulls team that had a 16-point lead in the second quarter. When the Bulls collapsed too much pressure on Curry, he dished to teammates and opened up the floor even more. It had to be tough for Thibodeau to watch, because Curry did all the things that Rose used to do before his latest knee injury.
"A guy like that you can't guard individually," Thibodeau said. "You've got to guard him with your team. What you try to do is make him work for his points. He has the ability to make a tough shot when he's guarded well, and it's not just him."
Like Rose, Curry has the ability to make the players around him better. His shooting prowess opens up lanes about which the Bulls can only dream.
Kirk Hinrich
and
D.J. Augustin
played well for the most part against the Warriors, but neither player has the type of dynamic talent that Curry displays. He was a cut above every other player on the floor Thursday night, and it had to remind some of the Bulls what might have been if Rose had stayed healthy this season.
"A guy like that, it's so hard to slow him down," Bulls forward
Taj Gibson
said. "When he hit shots like that, especially on me, I was just smack-dab right in his face. It was just tough, and Thibs was looking at me like, 'Good D.' You have to live with it."
February, 7, 2014
Feb 7
12:16
AM CT
OAKLAND, Calif. -- Let's take a quick look at how the
Golden State Warriors
earned a 102-87 victory over the
Chicago Bulls
on Thursday night at Oracle Arena.
How it happened:
Stephen Curry
had a big night for the Warriors, going off for 34 points, nine assists and three rebounds as Golden State overcame a 16-point second-quarter deficit.
Klay Thompson
added 22 points as the Warriors hit several big shots down the stretch.
Taj Gibson
led Chicago with 26 points, 13 rebounds and four assists, but it wasn't enough for a Bulls team that once again struggled to score late.
What it means:
It's the same old story for the Bulls. They can't generate enough offense on most nights to keep up with quality teams. The difference in this one was that they had no answer for Curry. He's arguably the best shooter in the league right now, and the Bulls couldn't contain him once he got going. This game offered up another reminder of what the Bulls don't have -- a star scorer who can change the momentum of the game by himself.
D.J. Augustin
and
Kirk Hinrich
had nice nights -- but neither player is dynamic enough to slow things down when they're going the wrong direction for the Bulls. When the Bulls don't play defense as well as they should -- as evidenced by the fact they gave up a 16-point cushion -- and they can't hit enough shots, the result is almost inevitable this season.
Hits:
Joakim Noah
almost had a triple-double with seven points, 10 rebounds and 11 assists.
Misses:
Mike Dunleavy
was just 1-for-6 from the field and missed all three of his 3-point attempts.
Stat of the night:
The Bulls turned the ball over 17 times.
What's next:
The Bulls finish off their six-game trip Sunday afternoon against the
Los Angeles Lakers
at Staples Center.
March, 14, 2013
3/14/13
6:15
PM CT
OAKLAND, Calif. --
Chicago Bulls
guard
Kirk Hinrich
hopes to return to the lineup Friday night against the
Golden State Warriors
after missing the past five games because of a right foot injury.
"Yeah, I think so," Hinrich said Thursday of his chances to play. "(I'll) kind of see how my foot reacts to all the movement. If I don't have a setback between (Thursday and (Friday) as far as like swelling or anything I'm going to try and play."
Hinrich, who has missed 20 games this season because of seven different injuries, sounded optimistic after spending more than a week in a walking boot.
"I'm feel better, man," Hinrich said. "I'm excited about it. I was able to get out here and do some things today so I feel real good about it."
Hinrich said his injury, which he suffered in a March 2 win over the
Brooklyn Nets
, could have been worse.
"I had a stress reaction with a bone in my foot," he said. "It's like a precursor to a stress fracture. It was a bunch of swelling and real tenderness with pressure before, but it's doing a lot better."
Meanwhile, Bulls forward
Taj Gibson
remains likely out for Friday's game as he continues to rehab a sprained left MCL.
"(They) did a little bit more," Bulls coach Tom Thibodeau said of Hinrich and Gibson. "Still not quite ready. Kirk had a very good day. Taj, he's coming around. We'll see (Friday)."
November, 11, 2010
11/11/10
11:34
PM CT
CHICAGO -- The Bulls actually held onto a 35-point lead Thursday night.
This may not seem like much of a feat, but considering that the team couldn't do the same last December against Sacramento, the Bulls may be starting to make the type of progress that first-year head coach Tom Thibodeau has been hoping to see. Granted, both situations are completely different, but the symbolism of Derrick Rose and company keeping their foot to the floor and running all over the Warriors has to make the team and its fans feel good about what's to come.
"You've been in situations like that before and you just learn from it," Rose said. "Tibs and the rest of the team will never let that happen again."
So why exactly were the Bulls able to have so much success on Thursday night, in what was undoubtedly their best performance of the young season?
Let's count the ways ...
[+] Enlarge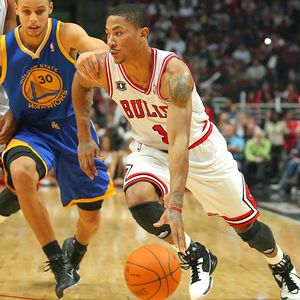 Dennis Wierzbicki/US PresswireThe Warriors' defense was almost nonexistent against the Bulls.
The Warriors were exhausted:
Playing in their fourth game in five nights, and without All Star forward
David Lee
, Golden State looked tired from the outset and the Bulls took advantage. They had 37 fast break points and pushed the pace whenever they got the chance. They tried to break the Warriors' will early and did just that.
"We talked about playing on the road how you're going to run into the wolf, the bear and the lion," Golden State head coach Keith Smart said. "We escaped the wolf [Wednesday night in New York], but the bear got us tonight."
The Bulls didn't commit dumb fouls: Check that, they barely committed any fouls. After spending the early part of the year racking up stupid fouls, the Bulls set a franchise record for fewest fouls in a game with just seven. It was a mark the players were definitely surprised by.
"We've been talking about it," Bulls forward Luol Deng said. "We've been committing a lot of silly fouls out there. Part of it is learning the system, guys are trying to be aggressive defensively. We're making bad fouls, but it will come with time. Guys will know what to do."
Thibodeau has been constantly stopping practices when his teams makes bad fouls, so that improvement will certainly make him happy, although his players know he won't show it Friday at practice.
"What can we improve upon?" Bulls center Joakim Noah responded, when asked the same question. "Well, we'll look at the tape [Friday] and I'm sure Tibs will come up with more than a few things."
Rose continues to distribute: Rose had 13 assists on Thursday night, the third time he's had double-digit assists this season. To put that into perspective, he only did that six times during the regular season last season. Sure, he had 22 points, but when Rose opens up the floor for the rest of his teammates, they know that they can be that much more dangerous.
"Derrick did a great job in sharing the ball," Noah said. "Once again, they were blitzing him off the pick and roll and he was making the right play all night. He was making the right play all night, we got great shots out of it, and we're just getting better everyday. We just got to keep it up."
Bogans makes his mark: Keith Bogans was instrumental on both ends of the floor Thursday night, scoring 14 points and grabbing five rebounds. Maybe most importantly, he had six steals and played solid defense on Golden State sharpshooter Monta Ellis.
"Keith Bogans had an excellent, excellent, excellent game for us," Noah said. "Throughout the day, Kurt Thomas and everybody was kind of putting Keith Bogans on edge because Monta Ellis is a tough cover. They were on him all day and he came out on edge today and did a good job."
Bogans knows that if his team continues to play this way, it will be in good shape heading into the circus trip next week.
"I think this is a game we can build on," he said. "I think we can still get a lot better, not just going off of this game, we all know we got a lot of work to do and we're just going to go back in the gym [Friday] and start again."
It's that kind of attitude that makes you wonder if Rose might just be right.
November, 11, 2010
11/11/10
9:30
PM CT
The
Chicago Bulls
absolutely demolished the
Golden State Warriors
120-90 on Thursday night at the United Center.
How it happened: This one was never really in doubt. Playing on the second night of a back-to-back, and without All Star forward David Lee, the Warriors looked lifeless throughout most of the game. Derrick Rose and Luol Deng pushed the pace from the outset and Golden State simply couldn't keep up. Deng led everybody with 26 points, but every starter had at least 14. The Bulls could get pretty much any shot they wanted and the Warriors didn't seem too concerned about playing defense on this particular night.
What it means: Thursday night's win was a good sign for the Bulls for a lot of different reasons. First, the Bulls never let the Warriors back into the game. There were plenty of fans out there who probably had flashbacks to last year's meltdown against the Kings last year when the Bulls blew a 35-point lead in the third quarter. This time they were able to hold onto a 35-point lead and keep it steady. The intensity never really wavered. The second good sign for Tom Thibodeau's team is that it passed the ball in transition as well as it has all year. The Bulls finished with 29 assists, including 13 from Rose. Any time Rose rack up 13 assists the Bulls are probably going to win.
What's next: Derrick Rose vs. John Wall -- that's what's next. The Bulls play the Wizards on Saturday night and that is one of the matchups that everyone has been talking about since the schedule came out. Wall recorded the first triple-double of his career on Wednesday night and will definitely be trying to make even more of a name for himself against Rose. Saturday also makes the regular-season return of Kirk Hinrich. After playing seven solid seasons in Chicago, the veteran guard was traded in the summer to clear out salary cap space.
Stat of the night: The Bulls had a season-high 37 fast break points.
July, 28, 2010
7/28/10
8:42
AM CT
By ESPN.com news services
ESPNChicago.com
Archive
July, 22, 2010
7/22/10
1:57
PM CT
By Associated Press
ESPNChicago.com
Archive
December, 11, 2009
12/11/09
4:18
PM CT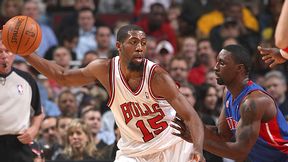 Gary Dineen/Getty Images
John Salmons says the players and coaches need to stick together to ride out their slide.
DEERFIELD, ILL. -- John Salmons didn't want to answer the question. He paused for five seconds while thinking of exactly what he wanted to say.
Do the Bulls players feel like they're playing for Vinny Del Negro's job right now?
"I don't know" Salmons said after Friday morning's shootaround. "I got no comment about that."
The prevailing thought around town is that if the Bulls keep losing, (they come into Friday night's game having lost nine of their past ten) Del Negro may be looking for work soon. As each day passes, and the uninspired losses continue to pile up, the frustration surrounding the organization gets thicker.
It might appear that the team is starting to turn against Del Negro, but Salmons doesn't believe that is the case. He believes Del Negro still has support in the locker room.
"It's just us from Day 1. It's always been us. So we definitely have each other's back," Salmons said. "That's part of being a team. So we definitely got to stay together. Coaches got to stay with players and players got to stay with coaches. That's what we're doing."
But Derrick Rose and Joakim Noah recently said that the team's effort has been lacking, which comes across to some as an indictment on the coaching staff.
Del Negro challenged the assertion that his team hasn't been playing hard.
"People say that, but I don't know what players those are," Del Negro said. "I'd like to know. But our effort's been good in practice. Our attitude's been good. There's frustration and there's disappointment, which is normal, because guys are competitive. "
"You're paid to play. You're paid to bring effort. That's your responsibility, so if guys have a problem with that, they're not the right guys. I don't buy that, and I don't see that. What I see is some lack of execution, some lack of rebounding, some things, but I don't see the effort thing being an issue."
Del Negro may not see that as an issue, but it's clear that his players do. When asked what the team needs to do differently coming into Friday night's game, Salmons said: "We just got to play with energy and focus for 48 minutes. Come ready from the start of the game and just try to jump on them early. And try and sustain it for the whole game."
Over the past few weeks, it's become clear that the Bulls have plenty of flaws. But it appears that one of the biggest reasons for the losing skid boils down to communication. If Del Negro and Co. want to turn around this season, they better get on the same page very quickly.