Chicago Bulls:

J.J. Redick
February, 20, 2013
2/20/13
9:34
PM CT
CHICAGO -- There are really only two players the
Chicago Bulls
wouldn't mind moving before Thursday's trade deadline:
Carlos Boozer
and
Richard Hamilton
. Trading either one would likely get Chicago out of a luxury tax hit at the end of the season and would save the franchise some money in the short term.
The problem for the Bulls is that there isn't much interest in either veteran as the minutes to the deadline tick away. Boozer has a mammoth contract that the Bulls will likely amnesty in a year and a half, while Hamilton just turned 35 years old and has been playing on a minutes limit for most of the season because Tom Thibodeau is so concerned that Hamilton's body will break down again.
Knowing these factors, and knowing the Bulls are trying hard to hold onto financial "flexibility" in preparation for the 2014 summer, it seems unlikely that they are going to make a deal by Thursday's deadline.
February, 12, 2013
2/12/13
1:48
PM CT
By ESPNChicago.com
ESPNChicago.com

Brad Doolittle examines four teams that would benefit greatly from trading for Orlando Magic guard J.J. Redick. The Nuggets would gain the most wins, but Redick would fit best with the Bulls, who have the biggest need and best assets to acquire him. The Bulls tried once before ... will they try again?
Read the entire story

October, 16, 2010
10/16/10
8:20
PM CT
Like Mark McGwire, Tom Thibodeau isn't here to talk about the past.
[+] Enlarge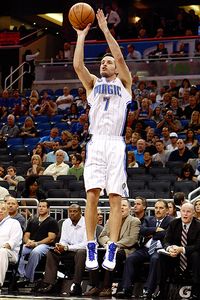 Sam Greenwood/Getty ImagesThe Bulls aggressively pursued J.J. Redick this summer, but their efforts were thwarted.
In this case, the past would be the Bulls failed pursuit to land
J.J. Redick
during this summer's free agent frenzy. Redick signed a front-loaded three-year offer sheet with the Bulls in July. He was supposed to be the starting shooting guard and was expected to pair up with
Derrick Rose
and
Kyle Korver
to form a deadly three-pronged guard lineup that would undoubtedly fire up three-pointers at an unrivaled rate.
Orlando ultimately decided to match the offer sheet, delving even deeper into the luxury tax in the process. If you thought Thibodeau would get sentimental when he saw Redick for the first time on Saturday night though, think again.
"I just look at the guys that we have," Thibodeau said on Friday. "I don't like to look back."
Bulls point guard Derrick Rose felt the same.
"I'm not even thinking about that," Rose said. "At the time, I knew that we could have got him, but since we didn't I hurried up and got that out of my mind, and I'm just happy that we got Korver and all the other great shooters on the team."
Both answers are politically correct, and I'm sure that's exactly how they feel, but now that a few months have passed and the Bulls are now seeing Redick face to face the entire episode is worth revisiting: Should the Bulls have offered the Orlando sharpshooter even more money in the first year of the deal? Would it have even mattered, since it seemed after the fact that the Magic were going to match the deal no matter what the figure was?
Of course, no one knows what the answer to these questions are and it's far too early to suggest the Bulls made the right or wrong move when it comes to Redick.
If the Magic hadn't matched Redick's deal and he ended up with the Bulls, it's unlikely that the Bulls would have gone after both Ronnie Brewer and Keith Bogans. Brewer probably would have been the odd man out -- considering Bogans was a much cheaper option. Still, after seeing Thibodeau's offense in motion for the past three weeks, it's clear that Redick, like Korver, would have gotten plenty of open looks playing alongside Rose. Brewer has been hampered by a sore hamstring throughout training camp, so again, no one knows how he will fit into the offense's structure. Regardless of his health and no matter how well Brewer (a career 23 percent shooter from behind the arc) plays this season, he isn't going to give the Bulls the long-range threat that Redick (a career 39 percent shooter from behind the arc) would have provided.
The ironic part is that Bogans, not Brewer, has filled the role that Redick would have inherited up to this point in the preseason. He is hitting open 3-pointers and providing solid defense next to Rose. While Bogans is a better defender, Redick is a much better passer and a better all-around shooter. Brewer may still end up being the starting shooting guard on opening night, but it's Bogans who seems to have caught Thibodeau's eye.
It's easy to understand why Thibodeau and Rose don't want to focus on what might have been, but as you watch the Bulls play the Magic for the first time, it's hard not to wonder about what might have been if Redick had ended up in Chicago.
July, 16, 2010
7/16/10
9:36
AM CT
ORLANDO, Fla. -- J.J. Redick is staying put.
Orlando Magic general manager Otis Smith said Friday that the team will retain Redick. The Magic matched a $19 million, three-year offer sheet that the Chicago Bulls made for Redick.
Read the entire story.
July, 15, 2010
7/15/10
11:12
PM CT
The reports coming out of Orlando saying that the Magic are going to match the Bulls offer sheet for
J.J. Redick
shouldn't come as much of a surprise. Even though the Bulls front-loaded Redick's deal, it was always a bit of stretch to think the Magic wouldn't match it.
Orlando GM Otis Smith and his staff have put too much time into molding Redick into the player they always wanted him to become. They did the same thing with
Marcin Gortat
when he signed a mega offer sheet with Dallas last summer.
The Devos family clearly isn't afraid to go deep into the luxury tax to keep its players, especially with the revenue streams that will come from a brand new downtown arena.
So where does all this Redick news leave the Bulls?
Well, this news esentially guarantees that Gar Forman is on the phone with Henry Thomas, trying to figure out just how much it would take to get his client
Ronnie Brewer
to come to Chicago.
Brewer would instantly fit in with the Bulls young core and would provide a little more athleticism from the two spot than Redick would have. He's also a little bigger and a better defender than Redick. The major difference is that Redick shot 40 percent from behind the arc last season while Brewer's percentage hovered around 20 percent from long range. Redick would have given the Bulls the second sharpshooter to play alongside
Kyle Korver
.
A Korver/Redick tandem would have worked extremely well alongside
Derrick Rose
, but now Forman must make an agressive play for Brewer and hope for the best. After getting spurned by
Raja Bell
, he has to find the right guy to start along Rose, and Brewer is probably the best option out there.
With the money left over Forman now has the ability to make a stronger play for other free agents such as
Matt Barnes
and
Brad Miller
if he so desires. Each would provide the Bulls with a veteran presence and toughness that would fit in well in the locker room.
The bottom line for Forman is that he must move fast in order to lock up the rest of his roster. If he waits too long, Brewer and most other quality free agents will be gone. If he acts swiftly and adds the right pieces, the fact that he lost out on Redick won't change the fact that the Bulls will still probably end up winning 50 games next year if the rest of their roster stays healthy.
July, 15, 2010
7/15/10
9:44
PM CT
By ESPNChicago.com
ESPNChicago.com

July, 15, 2010
7/15/10
6:30
PM CT
Bad news for all you Bulls fans who have been on
J.J. Redick
watch for the past few days: According to Bulls management, the actual deadline to see whether or not the
Orlando Magic
match the offer sheet that Redick signed with the team is actually Saturday, not Friday. Either way, Redick will be a rich man once he returns to the States from his European honeymoon.
July, 14, 2010
7/14/10
12:01
PM CT
If the
Orlando Magic
decide to match the Bulls' offer to restricted free agent
J.J. Redick
, it will be up to team owner Rich DeVos and president Bob Vander Weide, according to the Orlando Sentinel.
"With pretty much every decision that we've made here as it relates to this basketball team, ownership is heavily involved. I think I've said all along that if we don't have the best owners in all of pro sports, I'd be hard-pressed to find one, because they've stepped to the plate every time I've asked them to step up to the plate," Magic general manager Otis Smith said. "I'm sure this decision won't come easy, but I think they'll step up to the plate if we ask them to do it now."
Read the story
.
July, 12, 2010
7/12/10
4:28
PM CT
By Associated Press
ESPNChicago.com
Archive
July, 12, 2010
7/12/10
2:04
PM CT
[+] Enlarge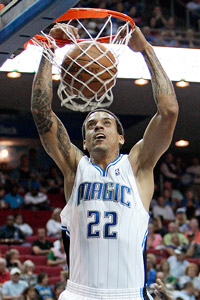 AP Photo/John RaouxWith or without J.J. Redick, Matt Barnes could be a good fit for the Bulls.
Does Orlando's decision to sign former DePaul star
Quentin Richardson
mean that they won't match the Bulls' three-year, $20 million dollar offer sheet for
J.J. Redick
?
It's still too early to tell, but it certainly can't hurt the Bulls' chances.
In the short term, the Richardson move probably means that at least one Orlando contributor won't be back next season. Here's one the Bulls should go after:
Matt Barnes
.
Barnes has played for seven teams during his seven-year career and is looking for a long-term deal after opting out of his contract after the season with the Magic. He has stated publicly in recent weeks that his first preference would be to return to Orlando, but it's hard to imagine Magic GM Otis Smith digging even deeper into the luxury tax to retain Barnes and Redick after signing Richardson.
Whether Smith matches Redick's offer sheet or not, the Bulls still have enough money available to make a strong push for Barnes right now. He would be a good complement to
Luol Deng
off the bench for several reasons. First of all, he's durable after missing only a handful of games over the past four seasons. With Deng's availability uncertain because of health concerns, Barnes would serve as a solid insurance piece.
He plays with a swagger and toughness that would fit well with the attitude the Bulls tried to develop throughout last season. He has the ability to make three-pointers if given enough space, which he should have plenty of by playing with
Derrick Rose
. Most of all, he is a hard-nosed defender who you could easily see becoming a favorite of new Bulls coach Tom Thibodeau.
Barnes, 30, must realize that this may be his last chance to make some big money and sign a guaranteed contract for multiple years. If the Bulls offered Barnes a three-year deal worth $12-$15 million there's a good chance he would accept considering he hasn't even made $8 million throughout the course of his career, a pittance for an NBA veteran. The three-year deal would also allow the Bulls even more flexibility when superstars such as
LeBron James
,
Dwyane Wade
and
Chris Bosh
could come off the books again in a few years.
If the Bulls landed Barnes and the Magic still decided not to match the offer sheet for Redick, Chicago suddenly would have one of the deepest rosters in the NBA, and they still would have a few million left to spend under the cap. Not bad for a summer's worth of work for Gar Forman and Co., even though they didn't land the splashy free agents in James, Wade and Bosh.