Chicago Bulls:

Jason Richardson
December, 10, 2011
12/10/11
9:19
PM CT
CHICAGO -- Here's what we've learned in the past few days as far as the Bulls and potential upgrades to the roster go. Money talks, and most free-agent shooting guards have kept walking.
From the beginning, the Bulls knew it would be a tough sell to get a sought-after option to bite the bullet and accept less money than other teams offered. That has indeed proven to be the case.
[+] Enlarge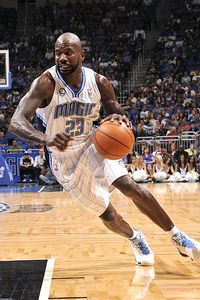 Fernando Medina/NBAE via Getty ImagesJason Richardson is on the verge of re-signing with the Magic.
On Saturday, another player who has been linked to the Bulls for months as a potential singing, decided to take more money and sign elsewhere. That player would be Jason Richardson, who reportedly decided to take a four-year deal worth $25 million dollars from the Orlando Magic, according to multiple outlets. The deal is expected to be finished by Monday.
The most the Bulls could have offered Richardson was the midlevel exception, which would have worked out to around $20 million over four years. The 30-year-old obviously felt as if this was his last chance to cash in on a big payday. What else could the reasoning be? The Magic are on the verge of losing Dwight Howard and the organization is nowhere near ready to win a championship. Obviously, Richardson isn't alone in wanting to cash in. Same goes for veteran swingman Caron Butler who recently agreed to a three-year, $24 million dollar deal with the Los Angeles Clippers. The Clippers are an exciting team, but they aren't going to win a title this season. The Bulls are without question much closer to winning a ring, but the players didn't want to take a pay cut to be in Chicago.
Let's be clear: I'm not begrudging these players one bit for deciding to go for the money. An athlete only gets a few chances in his or her career to sign big contracts, so more power to these guys for getting the money when they can. The notion that the Bulls were going to land someone because they were willing to take less money to play in Chicago was always overblown. It's the same reason Jamal Crawford, who as Michael Wilbon pointed out last week, genuinely wants to play in Chicago, hasn't signed on the dotted line with the Bulls. He made almost $11 million last season, and now all of a sudden he's going to start making $5 million? The only way he was coming to the Bulls was if they worked out a sign and trade deal for him, which of course, would also give him more money. It appears that Crawford's chance to come back to Chicago has floated away for now.
That same logic likely will apply to Arron Afflalo and Nick Young. Would the Bulls like to have them? Sure. But their price tags were always going to be higher than the mid-level exception, plus the fact that there was never any guarantee they would end up with the Bulls even if they did sign an offer sheet. Both players are restricted free agents, meaning their current teams can match any offer the Bulls make.
Which brings us to Rip Hamilton, who has suddenly become the odds-on favorite to sign with the Bulls. Hamilton is a guy the Bulls have had interest in for a while and would have surely considered bringing in last season if he had been bought of his contract by the Detroit Pistons. He fills the two-guard need for the Bulls in a lot of areas. He can hit a mid-range jumper, play solid defense when needed and has experience in a championship atmosphere, having won an NBA championship with the Pistons.
So what happens next?
It's expected that it will take Hamilton around 48 hours to clear waivers. Another team could claim him, but that's doubtful given how much money is left on his contract. Once he clears waivers, the Bulls deal is expected to go down soon thereafter, contingent, of course, on whether the Bulls can come to a financial agreement with him. That doesn't figure to be much of an issue, because at age 33, the Bulls aren't expected to sign him to a multi-year deal, probably two at the max.
The question Bulls fans have is: At age 33 just how much gas does Hamilton have left in the tank? Can he revert back to his form in the mid 2000s when he was averaging almost 20 points a game? How much of an upgrade will he be over returning two guards Kyle Korver and Ronnie Brewer? Will Hamilton help the Bulls get past the Miami Heat if the two teams face off against one another in the Eastern Conference finals? All of these questions will be answered in time, the one answer the Bulls have at the moment is that compared to the other available options, the price was right for Mr. Hamilton.
December, 9, 2011
12/09/11
1:17
PM CT
By ESPNChicago.com
ESPNChicago.com

As the shooting guards rumored to be linked to the Bulls come off the board as they agree to deals elsewhere, two realistic options remain available in
Jamal Crawford
and
Jason Richardson
.
So which one would be better suited to share the backcourt with
Derrick Rose
?
"I like Jamal better because Jason is a standing shooter, but Jamal can get his shot off the dribble,"
Charles Barkley
said Friday on "The Waddle & Silvy Show" on ESPN 1000. "Sometimes you don't get wide-open shots. You've got to be able to put the ball down. That's one of the things that hurt
Kyle Korver
. Teams don't leave him anymore, and he's not athletic enough to get his own shot. He's a great shooter, probably one of the five best shooters in the league because he's open. But he's not quick enough to get his shot off the dribble. That hurts them and it has hurt Jason at times. It hurt him here in Phoenix, and it hurt him in Orlando because he can't get his own shot and break a guy down.
"Jamal Crawford to me is a better fit in Chicago."
---

Charles Barkley
joined "Waddle & Silvy" to discuss the nullified Chris Paul trade, the Bulls' options at shooting guard, Tim Tebow and more.


November, 29, 2011
11/29/11
10:45
PM CT
CHICAGO -- There's a harsh reality hitting
Chicago Bulls
fans in the face this week and it's not just the wind ripping off Lake Michigan. It's the fact that their beloved basketball team isn't going to have much money to spend heading into what figures to be one of the most frenetic and compact free agency periods ever next week.
The problem for the Bulls is that most of their salary cap space is tied up in four players:
Derrick Rose
,
Carlos Boozer
,
Joakim Noah
and
Luol Deng
. Rose is in the final year of his rookie deal and will be getting a max extension as soon as the lockout ends. Boozer still has four years and about $60 million dollars left on the deal he signed last summer. Noah enters into the first year of a five-year contract worth almost $60 million this season. Deng still has three years and almost $40 million left on his deal.
[+] Enlarge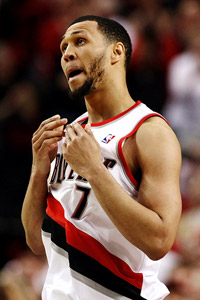 Jonathan Ferrey/Getty ImagesIf Brandon Roy becomes an amnesty cut, would he be worth the risk for the Bulls?
Their bench is fairly intact as well, at least for this season.
Ronnie Brewer
and
Kyle Korver
will be back. As will
C.J. Watson
,
Omer Asik
and
Taj Gibson
. That's about as solid of a nine-man rotation as there will be in the league this season. Not to mention the fact that the team still has to make a decision on whether they want to pick up the option to
Keith Bogans
' contract.
Essentially, the Bulls are almost capped out already.
How did it happen so quickly?
The biggest reason is because Noah went from making a little over $3 million last season to a little over $12 million this season. John Lucas III has a non-guaranteed deal, but that is less than a $1 million, so it won't make much of a difference either way.
So what do the Bulls do to improve?
Fans have focused on the two-guard spot all summer but for all the possibilities that have been bounced around, there's a solid chance Brewer, Bogans and Korver will get the chunk of minutes at that spot again.
Brewer has been open over the summer about his desire to earn a starting spot during training camp, especially given that he was hurt when training camp opened a year ago. Thibodeau may very well decide to give Brewer more minutes, have Korver come off the bench and return Bogans back to the role he was signed for last summer as basically the third two-guard, used sparingly off the bench.
The Bulls are going to look at every possibility as far as two-guards go and have undoubtedly discussed the possible amnesty cuts that could happen throughout the league. But the issue again is whether the Bulls even have enough to sign the players who could truly make a difference.
Jason Richardson
, the guy a lot of fans want to come in and fill the hole at the two-guard slot, made close to $15 million last season. Is he really going to come to Chicago for the full mid-level exception which would start at $5 million this season? There will almost certainly be teams lined up to pay him more than that. How much of a pay cut is he willing to take to go after a title?
Jamal Crawford
made almost $11 million last season. Would he really come back to Chicago for just $5 million when there will be other teams willing to pay him more. Is he even a good fit?
Arron Afflalo
is a restricted free agent so the
Denver Nuggets
can match any offer he gets. He's going to get a lot more than the Bulls could give him.
What about the potential amnesty cuts?
First of all, there are plenty of people around the league who don't think there will be as many amnesty cuts as the average fan thinks. As far as the Bulls go, the one name that has risen to prominence recently is
Brandon Roy
, whom the
Portland Trail Blazers
are expected to amnesty whenever the new labor deal becomes official.
Aside from the fact that Roy's knees are a huge question mark at best and may force him to retire early, the Bulls figure to have a hard time in landing his services as well.
Teams with cap room can submit competing offers to acquire an amnestied player at a reduced rate before he hits free agency and can sign with any team, according to ESPN capologist Larry Coon.
How much are the Bulls going to be able to offer if they are already pretty much capped out? Would Roy and his chronically bad knees even be that much of an upgrade? How would he be able to hold up during such a compact schedule?
The Bulls could always go the trade route, but they have been very hesitant in the past to part with Gibson and Asik, the two players almost every team asks about. Plus, even before the lockout, Bulls management wasn't sure if there was a player on the market (at least one they had a legitimate chance at getting) who could put them over the top.
The truth is that there is a very good chance the 2011-2012 Bulls will look much like the 2010-2011 edition. Obviously, the team will continue to look at all its options in the coming weeks, but more than anything, they are banking on the fact that Rose will improve, Noah and Boozer will play better in their second year together, Deng will continue to stay healthy and be productive and Tom Thibodeau will find a way to get his team to take the next step.
Is that formula enough to push the Bulls past the
Miami Heat
this season? The reality for anyone who thought the Bulls would be able to make a major splash before the season needs to check the numbers one more time. The big money has already been spent. Unless there is a player out there willing to take a huge financial hit, the answer for this squad is going to have to come from within.
November, 26, 2011
11/26/11
11:54
AM CT
CHICAGO -- A handshake deal is in place. The NBA lockout will most likely be over in the next few days.
Now what?
As far as the
Chicago Bulls
are concerned, here are 10 of the most pressing questions the team must answer heading into the beginning of the new season.
[+] Enlarge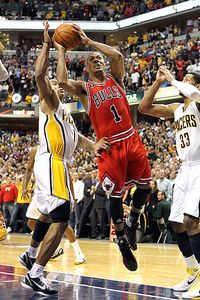 Andy Lyons/Getty ImagesDerrick Rose needs some scoring help if the Bulls are going to take the next step this season.
1. Who is the 2?:
The question that just won't go away for the Bulls and their fans. In order for the Bulls to get past the
Miami Heat
in the Eastern Conference this season, they've got to bring in a scorer to take some pressure off of
Derrick Rose
.
Jason Richardson
is one of many possibilities that Bulls fans have bounced around for months. Will the Bulls have enough money to attract a bigger name? Will
Kyle Korver
or
Ronnie Brewer
be given another chance to start? Is there a trade they can make that will upgrade the position? All questions the team must answer before the Christmas Day opener. If
Keith Bogans
starts another season as the starting two guard for the Bulls, general manager Gar Forman knows he's going to face more criticism than ever.
2. Another year of Bogans?:
The Bulls still have to decide whether or not to pick up Bogan's option for next season. Coach Tom Thibodeau likes him, but he is not a difference maker. He would be a nice fit at as a reserve who gives a spark off the bench, but not as a starter who gets 15-20 minutes a game.
3. When does Rose get his extension?:
More of a formality than anything else, Rose should get his extension once training camp begins. He's the cornerstone of the Bulls and the front office knows it.
4. Amnesty Boozer?:
As soon as rumors of an amnesty clause started leaking out during the labor negotiations, plenty of Bulls fans wanted the team to let go of its biggest free agent acquisition last summer,
Carlos Boozer
. The veteran power forward isn't going anywhere though. The Bulls believe Boozer can still be a difference maker and an All-Star if he stays healthy. For argument's sake, even if the Bulls were to drop Boozer and the almost $60 million he is still owed over four years, there's no guarantee they would have enough to go after another big name given the way the new salary cap structure is expected to look.
[+] Enlarge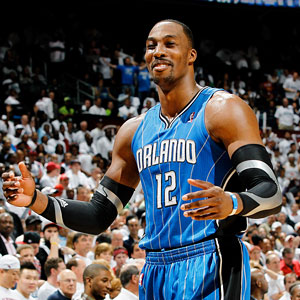 Kevin C. Cox/Getty ImagesThe Bulls would love to acquire a young star like Dwight Howard, but it would be difficult to pry him away from the Magic.
5. Howard to Chicago?:
Orlando Magic
center
Dwight Howard
doesn't sound like a man who wants to spend the rest of his playing days in Central Florida. The speculation about his next move will be constant throughout the new year and that speculation will lead a lot of people to mention Chicago as a potential destination. The Bulls would love to have Howard and would be willing to part with anyone on the roster not named Derrick Rose to get him. But there are a few problems. First, Magic GM Otis Smith has repeatedly said he won't trade Howard. Secondly, if Smith were to deal Howard, why would he trade him within the Eastern Conference so that the young big man could crush his old team for years to come? The odds of Howard coming to the Bulls are slim.
6. How good can Butler be?:
Marquette product
Jimmy Butler
has kind of gotten lost in the lockout shuffle. Aside from the initial meet-and-greet with team personnel after the draft, Butler hasn't gotten much time to learn Thibodeau's system. That is going to hurt him once training camp begins and it will be hard for him to crack the rotation early on. Unlike many teams, the Bulls roster is already in place for the most part. They will return almost all of the same starters and reserves. Butler is going to have to spend a lot of extra time in the Berto Center with Thibodeau in order to find minutes.
7. What kind of shape will the players be in?:
Bulls players have spent time working out on their own most of the summer with their personal trainers. Some guys trained together for a few days at a time (Rose and
Joakim Noah
in Santa Monica to name one pair), but the team never came together as a whole like a couple other teams tried to do. Given that the Bulls roster will look mostly the same as it did last season, that lack of practice together shouldn't be much of an issue. The bigger question for the Bulls is how seriously did they take their offseason conditioning? The answer will be easy to see early in camp.
8. Can Noah shake "injury-prone" tag?:
One of the players who has trained hard over the past couple of seasons is Noah. He spent a portion of the summer playing for Team France in the European Championships and spent a majority of the other free time working with his trainer Alex Paras. Noah's problem over the past two seasons is that he just can't stay healthy. He missed large chunks of both seasons because of plantar fasciitis, a torn thumb ligament and ankle issues. Team France actually sent him home before the European Championships began because of questions they had about his ankle. If Noah can stay healthy, plenty of people around the league believe he can become an All-Star. If he gets hurt again during this condensed season, he may not be able to shake the "injury-prone" tag.
9. How much better can Asik be?:
The Bulls love
Omer Asik
. They believe he can be a top-tier center in the NBA for a long time to come and that's why they didn't want to give him up in a trade last winter. Assistant coach Ron Adams went as far to say last season that he believes Asik can be the best defensive player in the league. In the meantime, the Bulls are hoping Asik takes another leap in his progression this season, especially on the offensive end. He looked uncomfortable in the post at times last year and the Bulls need him to continue to learn and get better. If he does, he not only helps the team as insurance policy in case of another Noah injury, he becomes an even bigger trade chip down the line.
10. How will players respond to the second year of Thibodeau?:
As a group, the players generally seemed to respect Thibodeau last season. It was evident in the way they played night after night, on the way to an NBA leading 62 regular-season wins. Now that the honeymoon period has worn off, it will be interesting to see how the players respond. Thibodeau is very demanding and will not give his players an inch when he feels they aren't focused. Will the players' focus continue to be laser sharp? Or will it start to waver ever so slightly? Thibodeau has been around the league for a long time so you'd think he would know when to pull his foot off the gas a little bit, especially in an upcoming season which is sure to see back-to-back games jammed together. Still, Thibodeau's hard-charging attitude and his players' reaction towards it is worth keeping an eye on.