Chicago Bulls:

Jeremy Lin
March, 13, 2012
3/13/12
10:36
AM CT
By ESPN Stats and Info
ESPNChicago.com
Archive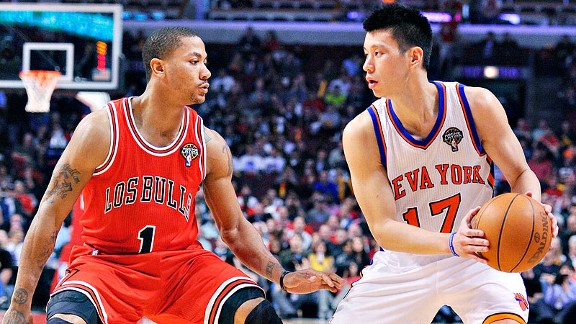 Mike DiNovo/US PresswireDerrick Rose outscored Jeremy Lin 32-15 in their first matchup on Monday.
Derrick Rose
admitted he was looking forward to playing against
New York Knicks
point guard
Jeremy Lin
before Monday night's game, and it showed.
Rose thrived when being guarded by Lin on his way to 32 points in the Bulls' 104-99 victory. It was the fourth straight game in which the Knicks have allowed an opposing point guard to score at least 25 points.
Rose was aggressive and attacked the rim, making seven shots within five feet of the basket, tied for his second most of the season. When Rose makes more than five field goals within that distance this season, the Bulls are undefeated.
March, 13, 2012
3/13/12
12:18
AM CT

By Melissa Isaacson
ESPNChicago.com
Archive
CHICAGO --
Derrick Rose
,
Taj Gibson
and a bunch of other players most self-respecting New York fans couldn't pick out of a lineup, defeated two superstars and a global sensation Monday night.
Except for the global sensation, it wasn't a whole lot different than most nights for the
Chicago Bulls
this last year and a half.
Read the entire column.
March, 12, 2012
3/12/12
7:24
PM CT
By ESPNChicago.com
ESPNChicago.com

ESPNChicago's Nick Friedell and ESPNNewYork's Jared Zwerling had a few questions for each other before Monday's Bulls-Knicks game.
Three questions about the Knicks
[+] Enlarge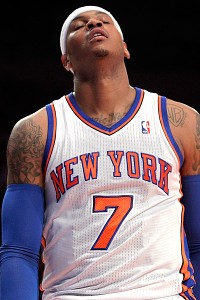 AP Photo/Seth WenigCarmelo Anthony and the Knicks have lost five straight games.
NF:
What is the biggest reason why the Knicks have lost five in a row?
JZ:
Offensive and defensive lapses, especially in the third quarter. In fact, in their past three games (all losses), they've had the worst average third-quarter scoring margin in the NBA (-10.3 points). Against the Sixers on Sunday afternoon, they got outscored 38-24 in the period. The Knicks start off strong with their patented pick-and-roll play featuring
Jeremy Lin
, but then the added pressure and defensive traps cause him to lose focus and commit turnovers. From there, the offense breaks apart. That's also because his teammates didn't come to his aid very well. On defense, they have effort breakdowns, especially guarding the pick-and-roll, and they react late to reads, not jumping out on shooters quickly enough. That definitely can't happen tonight with
Kyle Korver
on the court.
NF:
Will Mike D'Antoni be back next year?
JZ:
No. There is clearly a discrepancy between D'Antoni and
Carmelo Anthony
, no matter how much those two say they can work together. D'Antoni wants to run the pick-and-roll centered around his point guard, and the Knicks played extremely well doing that with Lin and
Tyson Chandler
before Anthony and
Amare Stoudemire
returned to the lineup. Now, the Knicks are back to more isolation basketball. That's not just on Anthony; that's on a revamped Knicks' roster trying to complete the puzzle quickly without much practice time during the shortened season. But in a league centered around individual superstars, Anthony will win out over D'Antoni, who's in the last year of his contract.
NF:
3. Can Carmelo and Amare produce together on the floor?
JZ:
Points-wise yes, but it remains to be seen how they can fit in the offense that D'Antoni is trying to build through Lin and the pick-and-roll. The Knicks are one of the deepest teams in the league, but Anthony and Stoudemire haven't made the sacrifices yet to play within the system. That means less shots, but more passing, screens and intangibles -- more of the little things. As I mentioned, isolation basketball is taking over the team right now and that can't happen. Stars making sacrifices in their prime is not easy to do, but they both have to make them for the Knicks to be successful this season and beyond.
February, 25, 2012
2/25/12
4:02
PM CT
ORLANDO, Fla. --
Derrick Rose
likes what he's seen from
Jeremy Lin
and he's looking forward to facing the
New York Knicks
' phenom in the next few weeks.
"Lin's been good, man," Rose said on Friday afternoon. "Playing good ball. Playing with a lot of confidence. All you need is confidence in this league and that's what he's definitely playing with. I like him as a player, like him as a person, where he's very humble."
From a distance, Rose, the reigning MVP, also respects the way Lin has handled himself off the floor.
"I love the way that he plays," Rose said. "The fame or whatever, he's brushed it off. He's not paying too much attention to it. Turning things down. And that's the way that I think you're supposed to be."
Rose and the
Chicago Bulls
take on Lin and the Knicks on March 12 and then follow that up two more times in April. Rose, who has always talked about how much he loves playing in New York City at Madison Square Garden, is ready to see all the hype for himself. With the way the Knicks have improved, he knows the Bulls may see them later in the playoffs.
"It's going to be fun," Rose said. "[Carmelo Anthony's] back. Lin is playing great. You can tell they're playing with a little more juice when they're out there running the ball. That's a team that we definitely have to deal with."
Rose was asked if he felt he could slow Lin down. In typical fashion, the 23-year-old superstar downplayed the question.
"I really don't know," he said. "We'll have to see."
February, 17, 2012
2/17/12
6:15
PM CT
DEERFIELD, Ill. – Not that long ago,
Chicago Bulls
guard
Mike James
thought he was headed to the
New York Knicks
to replace
Jeremy Lin
on the roster.
But then things changed.
"I was supposed to go to New York for Jeremy Lin, but then Linsanity happened," James, who had previously been waived several weeks ago by the Bulls, said with a smile after Friday's practice. "Everything happens for a reason. Because I'm from New York, it would have been great to go back home. It would have be great to be in Madison Square Garden, a place that I grew up going to, but at the same time, God has plan and purpose and it wasn't meant for me to be there."
James, who has since been re-signed by the Bulls, holds no ill will towards the Knicks' rookie guard.
"It's great," James said of Lin's accomplishments. "It's great for basketball. It's great for him. I hope that he continues to have success. I think that what he's doing out there -- it's amazing, coming from nowhere. I always say there's only a handful of stars that are born. The rest of them are made. There's not too many
LeBron James
es,
Derrick Rose
s,
Dwight Howard
s. The rest of them, you have to find your path ... in success. [Lin] was able to make success for himself."
Lin has set the basketball world on its ear over the past two weeks, averaging 13 points and five assists in 16 games this season. He has started six games and is a major reason why the Knicks are currently on a seven-game winning streak.
"Once you start getting the fans behind you, and once the media starts loving you, then they're the ones that turn you into a star," James continued. "As long as you continue to keep having success in the game, and you continue to keep doing the things that have gained you success, well then the fame [and] the stardom will keep growing for you."
James, a very religious man himself, is most impressed by the fact that Lin has stayed true to his faith.
"The one thing I respect about him more than anything is that he's not ashamed or embarrassed to talk about his faith," James said. "Which is definitely something that I tip my hat off to him about more than anything else."
February, 15, 2012
2/15/12
3:56
PM CT
DEERFIELD, Ill. --
Chicago Bulls
coach Tom Thibodeau knew about
Jeremy Lin
long before the rest of the basketball world. That's because Thibodeau, who coached at Harvard early in his career, kept his ear to the Crimson pipeline and heard good things about the former Harvard star and current
New York Knicks
phenom.
[+] Enlarge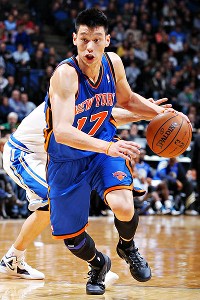 David Sherman/NBAE/GettyEx-Harvard star and current Knicks sensation Jeremy Lin has a fan in former Crimson coach Tom Thibodeau.
"It's interesting because I coached at Harvard a long time ago," Thibodeau said after Wednesday's practice. "And a number of players there had told me about him during his career and of course coaching in Boston I sort of followed him a little bit. It is an amazing story, and he's done an incredible job, so I'm happy for him."
Like his players, Thibodeau can appreciate Lin's success because of the way the young point guard worked even when people tried to write him off.
"I think people knew about him," Thibodeau said. "He was on a few teams. He did well in the summer league his rookie year and sometimes a guy just needs an opportunity. I think he's gotten better along with his experience, and he's in a good situation. I think Mike D'Antoni is a terrific coach, and he's used him extremely well."
Bulls' forward
Carlos Boozer
is just one of many players around the NBA who can appreciate the types of hurdles that Lin has had to overcome to prove he belongs in the league.
"He's playing great," Boozer said. "They're winning. He's doing a great job Taking advantage of his opportunity, making a lot of shots, making their team go right now. I've been impressed."
From a distance, it's clear Thibodeau appreciates Lin's work ethic. Not only does Thibodeau like the Harvard connection, but he is happy for a kid who made the most out of the chance he was given.
"I think it's a combination of everything," Thibodeau said. "I think in this league, you have to show it all the time. It's a testament to him being ready. When he got the opportunity, he made the most of it."
Line of the day:
"I told him he should sit me and Derrick out in practice and have them practice hard. That would be fun." --
Luol Deng
, on discussing All-Star strategy with Thibodeau, who will coach the East team.
Line of the day, Part II:
"I think if you're a championship caliber team you approach it that way. And that's what you shoot for. I think these players are not here by accident. We went after them because of their makeup." -- Thibodeau, on if he's ever been around a more focused group.
February, 14, 2012
2/14/12
7:34
PM CT
CHICAGO -- Derrick Rose knows a thing or two about sound point-guard play.
[+] Enlarge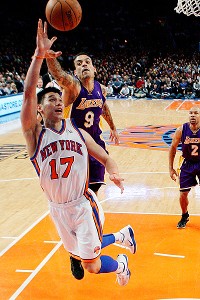 AP Photo/Frank Franklin IIJeremy Lin has impressed Bulls guard Derrick Rose.
The league's reigning MVP has been watching New York Knicks' guard Jeremy Lin put up big numbers from afar, and he's impressed.
"Jeremy, he's playing, man," Rose said. "He's playing well and with a lot of confidence. Like I always say, that's all you need in this league is confidence. He definitely has that. His teammates believe in him and I like him as a player."
Having been stuck on the bench for the past two games because of back spasms, Rose has also seen certain things about his own team that have caught his eye.
"I see that we play hard," he said. "When you sit out, you see a lot of things that you don't see [when you're playing]. Seeing the Boston game, if I was playing in the game, I thought we would have been playing hard too. But sitting out, our energy wasn't there. We needed someone to feed off of. Don't get me wrong, they were playing kind of hard but we needed someone to give us a little bit of energy. That's something we didn't have last game."
So when will Rose be back on the floor?
"I can't give you a certain date or let you know when I'm going to be back," he said. "But it should be shortly."
February, 14, 2012
2/14/12
5:43
PM CT
By ESPNChicago.com
ESPNChicago.com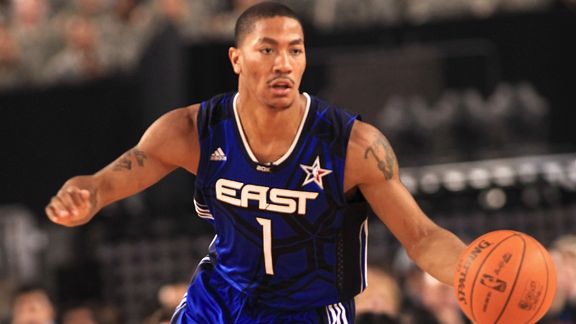 Glenn James/Getty ImagesWould Derrick Rose be better served resting his bad back and turf toe during All-Star weekend?
Should
Derrick Rose
, who's sitting out his third game in a row with a bad back, play in the All-Star Game?
Would
Jeremy Lin
and the Knicks give the Bulls problems in the playoffs?
Those are two of the topics our panel tackles in 3-on-3.
1. Fact or Fiction: Derrick Rose should not play in the All-Star Game
Scoop Jackson: Fiction: Rose needs to be in Orlando and hear his named called during the introductions. Playing in the game battling for MVP honors with a bad back would not be smart, but breaking a sweat and breaking Russell Westbrook or CP3's ankle while they are trying to guard him for the helluv it is worth it. How many minutes he plays will be up to Thibs once he gets the nod as East head coach. Plus, Rose needs to at least be there to share the maybe once-in-a-career experience with Deng.


[+] Enlarge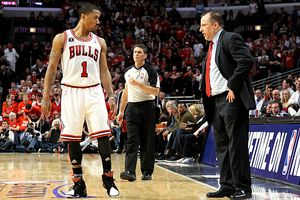 Mike Ehrmann/Getty ImagesIf Tom Thibodeau is the East's All-Star coach, maybe Derrick Rose would be inspired to play.
Melissa Isaacson: Fact: Even if the rest and treatment Rose is now receiving puts him in a playable condition come All-Star weekend, the Bulls should highly discourage it and Rose should listen. It's easy to feel for him. Rose loves to play in the All-Star Game and that's but one of the reasons he is so popular with fans. Also, for business purposes, the many companies he represents will no doubt exert as much friendly pressure as they can for him to play. But these are special circumstances and it's not worth the risk that even the slightest tweak will set him back again. If it were up to me, I wouldn't let Rose make the trip at all, even to shake hands -- why sit on a plane, sleep in a hotel bed and stiffen up on the bench?


Nick Friedell: Fiction: The All-Star Game is an exhibition. All anybody does is run up and down the floor. No player is really exerting himself. If you'll recall, there were a lot of people who didn't want Rose to play in his first All-Star Game a couple years ago in Dallas because he had fallen hard after taking a shot from Dwight Howard right before the break and bruised his hip. He ended up being fine. If he's well enough to play in a week, he'll be well enough to run up and down the floor for 20 minutes in the All-Star Game.


---
2. Fact or Fiction: Bulls can't get by Boston without Derrick at 100 percent.
[+] Enlarge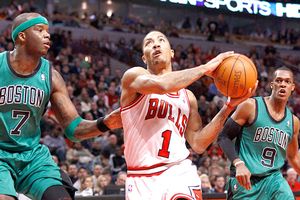 Mike DiNovo/US PresswireDerrick Rose didn't face the Celtics on Sunday and Rajon Rondo had a triple-double.
Scoop Jackson:
Fact: Especially if the Celtics are at full strength. More than other teams, the Celtics may benefit from the crazy sporadic-ness of the season. The shorter the season, the better for them. Time breaks them down not games played. If the Bulls are without Rose, Rajon Rondo will have a series of games just like the one he had on Sunday. He won't mess around and get triple-doubles, he'll make them the norm. As long as the Celtics have their core and Doc Rivers is their coach they are going to be one of the toughest outs in the league. As we say on the block: They ain't no punks. The Bulls need all hands, wrists, feet, legs, etc. on deck against them. Or else, the Bulls will catch the same fate the Knicks caught last year against the C's once their point guard went down.


Melissa Isaacson:Fiction: They almost did the other day in Boston and in a game much more important for the Celtics to win than the Bulls. With Rose even close to full-strength -- and obviously the Bulls are counting on him being 100 percent come playoff time -- the Bulls are clearly a superior team. Another factor: the ancient Celtics are bound to show more wear-and-tear by then than a team like the Bulls.


Nick Friedell: Fiction. Rose doesn't have to be feeling great, he just has to play. It would be a long series, but the Bulls would have enough depth and talent to push past Boston in the end. Now if Rose can't play at all, then things may be different. The Celtics have done a good job on Luol Deng and they decided (at least last Sunday) to let C.J. Watson beat them from the outside. He couldn't do it. If Rose plays, even at 75 percent, he still has the ability to break down defenses and get open looks for his teammates. The Bulls will be fine as long as he can be on the floor.


---
3. Fact or Fiction: Jeremy Lin and the Knicks can give the Bulls trouble in the playoffs.
Scoop Jackson:Fiction: Only saying this because we have not seen the "ShaoLIN" Knicks at full-roster strength to see 1) how Mike D'Antoni is going to make this work 2) if he can make it work with his newfound savior at the point and the return of the $200M duo of Melo and Amar'e or 3) if Baron Davis proves to be the most dangerous sixth man in the playoffs next to James Harding. If things fall in place for the Knicks and they are able to establish some chemistry and continuity and win their division, then the answer above changes. Not that the Bulls won't win the series, but a 10-deep Knicks team on a roll with nothing to lose come playoff time could be nothing but trouble.


[+] Enlarge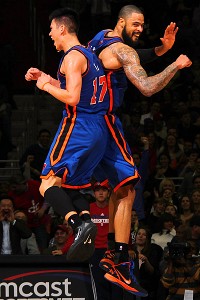 Ned Dishman/NBAE/Getty ImagesWould Jeremy Lin and Tyson Chandler give the Bulls trouble in the playoffs?
Melissa Isaacson: Fact: The Knicks were capable of giving the Bulls a run in the playoffs before the Jeremy Lin phenomenon. But giving them a little trouble and getting past them are two different things, and even with Lin, the Knicks are still not the team the Bulls are. Yes, Lin is a great story right now, but let's not get too carried away too soon. By the postseason, opponents -- and particularly Tom Thibodeau -- is likely to have a better handle on how to stop a player no one was prepared to play. And that's providing that Lin doesn't run out of steam on his own by then.


Nick Friedell: Fiction. The Bulls are deeper than the Knicks and they play much better defense. Those two factors would overwhelm the Knicks in a seven-game series. Sure, the Knicks have Carmelo Anthony, Amare Stoudamire, and Lin is definitely playing well -- but the Bulls have Rose and they have a defense that adapts well over the course of a game. The Knicks are a good story, the Bulls are a great team.