Chicago Bulls:

Jimmer Fredette
April, 15, 2014
Apr 15
8:00
AM CT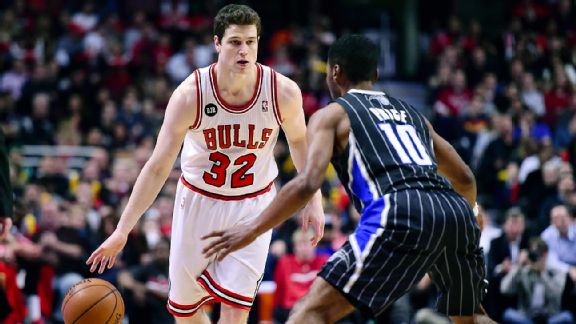 Mike DiNovo/USA TODAY SportsJimmer Fredette saw more minutes Monday (31) than he'd played previously with Chicago (25).
CHICAGO -- The first day
Jimmer Fredette
set foot inside the
Chicago Bulls
locker room, veteran equipment manager John Ligmanowski had to chuckle as he saw the media horde assembled around the sharpshooter's locker.
"I didn't know MJ came back," Ligmanowski said.
MJ, of course, would be the Hall of Famer
Michael Jordan
.
While the media attention has subsided since Fredette signed in early March, the interest level in his career hasn't. Fans are intrigued by the possibility of Fredette starring one day for the Bulls, and they got a glimpse of the possibilities Monday night as Fredette stepped in off the bench for
D.J. Augustin
, who was with his wife as she gave birth to a baby boy.
It was Fredette's first real chance to show what he could do with Chicago, and it was an opportunity his teammates knew he would take advantage of.
"Jimmer's a good dude and he's a worker," Bulls center
Joakim Noah
said. "I've never seen a dude work so hard on his game every day, and it just shows. Hard work pays off. He came through, hasn't played for a long time. He comes in and delivers when we need him. That says a lot about his professionalism."
Bulls forward
Taj Gibson
admitted that he has spoken to Fredette a few times about being patient for his chance. That's why he took pride in the fact his new teammate dropped 17 points in the 108-95 victory over the
Orlando Magic
.
"It just says that he's humble," Gibson said. "And he's been working on his game no matter what and he's ready to step in. I knew from Day 1 that, when he gets his time to play, he's going to play [well]. From the first day he came, he was eager to learn. He was always in the gym, always practicing, always in the early group. I told him, 'Just be patient.' His time is going to come."
Fredette, meanwhile, was just trying to take his moment in stride. He politely answered questions in front of his locker -- saying all the right things in a room full of players who take pride in doing all the right things.
"You always want to play as a competitor," Fredette said. "But at the same time you've got to be a great teammate and make sure all your teammates know you're supporting them, and I continue to do that. Whatever my role is on this team, I have to embrace [it] and do the best job you can at."
What's next:
The Bulls fly to Charlotte in advance of Wednesday night's regular-season finale against the Bobcats.
The last word:
Gibson, on whether the Bulls take any solace in having beaten the
Brooklyn Nets
in the 2013 postseason in advance of a possible rematch in this year's playoffs. If the current standings hold, the Bulls would host the Nets in Game 1 this weekend.
"Last year is behind us, really. You can't go and dwell on the past. You just got to stay focused on the task at hand. They've got a lot of veterans, they've got some young talent --
[Mason] Plumlee
's playing well. They switched the way their starting lineup is, so at the end of the day it's going to come down to who wants it more. We're just focused on ourselves right now and we know what it's going to take."
March, 27, 2014
Mar 27
9:00
AM CT
By ESPNChicago.com
ESPNChicago.com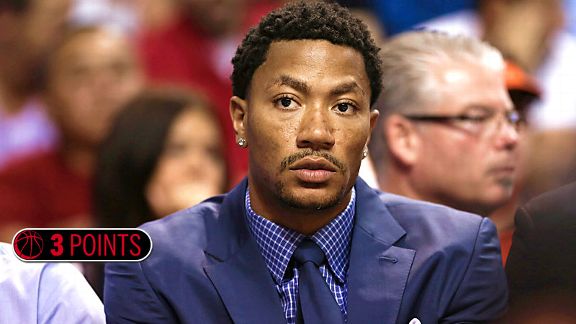 Marc Serota/Getty ImagesDerrick Rose is practicing with the Bulls again, but the team continues to say he will not return this season.
Every week, ESPNChicago.com Bulls writer Nick Friedell is joined by two other ESPN writers to weigh in on three questions that are on the minds of Chicago Bulls followers.
1. Would a Derrick Rose return actually hurt the Bulls at this point in the season?
Friedell:
In the short term, it would. Whenever Rose comes back it's going to take some time for him to get back into a rhythm with his teammates. But the key for the Bulls is that they aren't winning a title this season anyway so the best long-term answer is to have Rose come back and play whenever he is ready. If that means he's ready to play in a few weeks, then the Bulls would still welcome him back with open arms.

Jon Greenberg:
No, it wouldn't hurt, and yes, it would help. But that's only if his knee is game ready and his body is in game shape. With just a few weeks left until the playoffs, it just doesn't seem feasible that both of those things could coalesce and Rose could return. This knee injury is different from the previous one. The rehab is less intense and intrusive and the recovery time is quicker. That's why Rose will be able to participate in national team activities and games this summer. Now, if Rose's recovery has somehow sped up and the team is hiding it, or downplaying it, I'm all for Rose returning at the end of the season, as long as there's no risk for injury, outside the usual one. Last season, I was more skeptical because the ACL recovery is much more limiting. But again, I'll be shocked if he came back in the next few weeks, in a good way.
Scoop Jackson:
Yes. Not only would it hurt the Bulls, it would hurt Derrick. Look, any talk of Derrick coming back anytime this season needs to cease. Just stop. The Bulls are better and much more secure this season than they were last year going into the playoffs. Everyone's roles are established, there's no lingering uncertainty of what they can and can't do or are capable of, no cloud hanging over their heads of whose team this is, no one questioning Thibs' decision-making, and no major injuries (so far). And Rose returning would also not be fair to
Joakim Noah
, who has earned the right to lead and carry this team as far as he can take it.
---
2. Should Jimmer Fredette get more playing time?
Friedell:
No. Thibodeau's rotation is set and it's playing well. Fredette isn't going to take time from
Kirk Hinrich
or
D.J. Augustin
as long as they stay healthy. Fredette seems like a good guy, and Thibodeau appreciates the fact he can shoot, but he's not a better option than Hinrich and Augustin right now, and he hasn't proved he can play at a high enough defensive level to warrant big minutes.
[+] Enlarge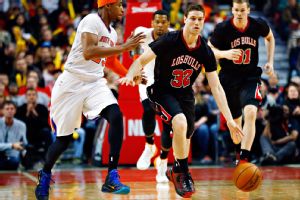 AP Photo/Jeff HaynesJimmer Fredette has played 18 minutes in 13 games with the Bulls.
Greenberg:
No, because he won't get significant minutes, and he has only one talent: shooting. Are the Bulls going to run plays for their 13th man? Whose minutes should he take? Thibodeau is a man who believes in player rotations and his rotations are set. Now if one of his regulars goes down, then it's up to Fredette to prove he can handle these minutes. We know he can shoot, and his only goal this season is to stay ready to do just that if the team needs him.
Jackson:
Depends. It's a game-to-game call. At this point all Jimmer needs to do is be ready. The Bulls are still in a battle for positioning for one of the top five playoff spots so every game still matters to a degree. Giving Jimmer more playing time will only take away time from players they are going to rely on in the playoffs like
Tony Snell
and Augustin. Jimmer is a good player, but unless the Bulls are really about to flip the whole season's script and depend on Jimmer to win them playoff games, then finding more playing time for him just for the sake of playing time is kinda pointless.
---
3. Should Tom Thibodeau win NBA Coach of the Year?
Friedell:
Yes. In my opinion, this is the best coaching job Thibodeau has done to date. Unlike last season when they had time to plan for Rose's injury, he and the front office rebuilt this team on the fly. The Bulls are actually better than they were at this time a year ago, which is impressive because they also traded away All-Star forward
Luol Deng
in January. Thibodeau got the players to buy into the fact that this was not a lost season, and he put them in position to succeed. The players deserve a huge amount of credit, but it was Thibodeau who set the tone that they all followed.
[+] Enlarge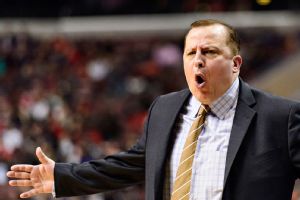 Howard Smith/USA TODAY SportsImprobably, Tom Thibodeau has the Bulls fighting for the third seed in the East.
Greenberg:
Yes, but he's turning into the Eastern Conference Gregg Popovich. Thibs is such a consistently good coach, his efforts don't stand out for merit. No offense to Phoenix's Jeff Hornacek, Dallas' Rick Carlisle, Charlotte's Steve Clifford and others, but what Thibodeau has done this season is truly special. In the past two years, I've been of the belief that Thibodeau's COY award in his rookie season was all he needed, because it was in that season, and the months leading up to it, that Thibodeau established the foundation for his success. He got his players in the Berto Center during the summer to instill his defensive philosophy. He turned ordinary visits into hard-core workouts. Maybe it's just me, or possibly some recency bias, but Thibodeau has gotten better as a coach. He talks a lot about self-improvement, and it's not an empty canard. From the increased usage of Noah as a point-center to the slightly stricter management of minutes, Thibodeau is coaching a masterpiece. When the Bulls lose, it's because they're just not talented enough offensively without Rose and Deng. I think getting a team without those players into a top-four seed in the East, weak as that conference might be, deserves a trophy.
Jackson:
Should? Yes. Will? No. As long as Toronto has a better record than the Bulls and as long as Phoenix is in the playoff hunt in the West, Dwayne Casey and Jeff Hornacek will be the front-runners for the COY. Thibs' job this season is subjectively more amazing than what any other coach in the NBA has done, but he will not be recognized for it. Not like that. But ask any coach around the league -- hell, ask Casey or Hornacek -- and they'll tell you Thibs deserves the coach of the year award as much if not more than Joakim deserves the MVP.
March, 5, 2014
Mar 5
9:00
AM CT
By ESPNChicago.com
ESPNChicago.com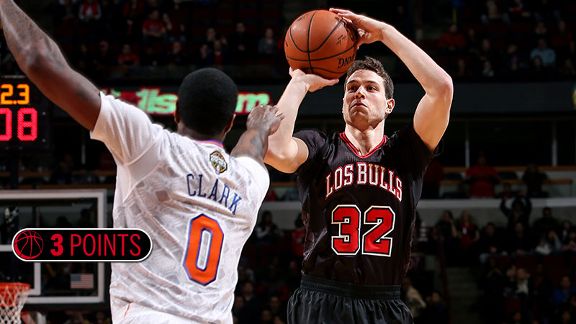 Gary Dineen/Getty ImagesJimmer Fredette certainly can shoot, but will he be able to crack the Bulls' rotation?
Every week, ESPNChicago.com Bulls writer Nick Friedell is joined by two other ESPN writers to weigh in on three questions that are on the minds of Chicago Bulls followers.
1. How much of an impact will Jimmer Fredette have on the Bulls this season?
Nick Friedell:
Not much of one in the next few weeks, but he could find some time in the playoffs. Tom Thibodeau is confident in the rotation he has right now and he doesn't want to shake things up too much. Plus, he still wants to be able to teach Fredette the schemes and see where he's at defensively. As Thibodeau has said many times already though, Fredette does one thing better -- shoot -- than almost anyone in the NBA. If he shows he can start playing a little defense, and knocks down some shots, Thibodeau will find some time for Fredette as the Bulls head into the playoffs because he can space the floor.

Jon Greenberg:
The Bulls didn't sign Fredette to play major minutes, but I could see him affecting a handful of games, maybe more if he starts with a few good performances. The problem is there just aren't minutes for him.
D.J. Augustin
has to play about 30 minutes and Thibodeau needs
Kirk Hinrich
to play 25-30. And you know if
Jimmy Butler
's playing, he's playing 40-45 minutes. The only way Fredette gets major minutes is if the guards ahead of him get injured, which isn't an optimal situation for the Bulls. But hey, all it takes sometimes is a few shots to swing a game and if Fredette could win even one game with a 3, he was worth the move. If Fredette is smart, he'll be soaking everything in, taking notes (mental or otherwise) and spending every minute of his free time working with Thibodeau and his assistant coaches on his game.
Scoop Jackson:
"Will" is a much different word than "could." Jimmer
could
if given the opportunity in the playoffs and/or down the stretch run for a 3-seed be the guy who turns a simple 10 points per game into victories. It's all about how Thibs plays him and how much confidence is instilled in him by not only Thibs, but
Joakim Noah
and
Mike Dunleavy
. We'll see. The Bulls need a pressure releaser, someone at the 2 position who can knock down shots from 20 feet and out to make defenses respect the little bit of offensive swag they carry. Jimmer's the dude -- the only dude -- on the current roster who can do that. It's just a matter of confidence and opportunity.
---
2. Is it crazy if Joakim Noah receives MVP votes this season?
[+] Enlarge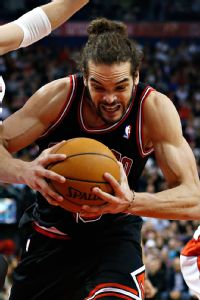 Rick Madonik/Getty ImagesThe Bulls have thrived running their offense through Joakim Noah this season.
Friedell:
No. Noah is the most important player on one of the most surprising teams in the NBA. He is playing the best basketball of his career and has been dominant at times on both ends of the floor. He sets a tone in the locker room that the rest of his teammates follow. Noah has made it his mission to make people remember his team this season, and he's taken this group to another level because of that determination.
Greenberg:
No, but let's chill a bit on this topic. Sure, I'd give him a third- or fourth-place vote, but he's so far from the top two,
LeBron James
and
Kevin Durant
, it would be like calling me the third best-looking person in a room with Kate Upton and Chrissy Teigen. Noah deserves the love, though, and should be the first-team All-NBA center, which seems unfathomable considering where he started. Give credit to Noah for providing energy, especially after the
Luol Deng
trade, and mostly for mastering the point-center role he learned, in part, from Brad Miller, while crashing the boards and hitting the occasional jumper. It's not wrong to say Noah is more popular than
Derrick Rose
in Chicago right now, and his national image has morphed from goofball to aspirational NBA player. That's worth more than MVP votes.
Jackson:
Read my last entry
here
.
---
3. Is this Thibodeau's best coaching job in his four seasons in Chicago?
Friedell:
Yes. This team could have easily collapsed after the Rose injury or the Deng deal. They could have mailed in the rest of the season and slid into the lottery, but Thibodeau wouldn't let it happen. He got players to buy into playing hard every night despite the fact that the odds were stacked against them. He got them to believe in themselves and the team again. Most of all, he got them to continue to trust in him and the schemes he puts together. The Bulls wouldn't be where they are without the production of Noah and
Taj Gibson
or the resurgence of Augustin, but it's Thibodeau who finds a way to get the most out of almost every player he coaches. He's the biggest reason the Bulls continue to pile up wins, and he's doing so without Rose and Deng. He didn't have time to plan for those absences like he did two summers ago, when he knew Rose wasn't coming back. He did it all on the fly. I think he'll get strong consideration for his second coach of the year award in four years.
[+] Enlarge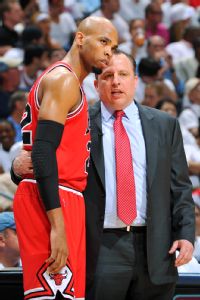 Jesse D. Garrabrant/NBAE/Getty ImagesTom Thibodeau is making a strong case for his second coach of the year award in four years.
Greenberg:
I'd have to say yes. Last season, the team fought during the regular season with the belief that Rose would be back. And while it took seven games, it wasn't a shock that the Bulls beat the
Brooklyn Nets
in the first round of the playoffs, even if they had to do it without Hinrich and Deng. This season was a different story. The Bulls understandably collapsed after Rose's knee injury in Portland. Who could blame them after everything the core guys had been through? But with the front office's savvy pickup of Augustin and Thibodeau's expansion of the Noah point-center system we saw last season, the Bulls were able to rise above the Deng salary dump. Thibodeau could get coach of the year pretty much every season, because he's so unyielding and so prepared. Thibodeau set the tone his rookie season, when he won the actual award, and that foundation has created the Bulls culture we see today.
The two coaching "problems" people have nitpicked at have been his somewhat unimaginative offensive sets and his over-reliance on certain players. While the Bulls are still last in scoring in the NBA, the Noah center looks have been inspiring. And even with a shorter bench, and a propensity for playing starters in blowouts "just in case," Thibodeau has spaced out the minutes pretty well. Butler leads the team with 37 minutes a game and Noah's at 34.2. The rest of the regulars hover around 30. Yes, even Thibs can get better with repetition.
Jackson:
Probably so. But unlike his first year here -- when he gave full and undisputed notice of how gifted/talented he was as a head coach -- he won't get and doesn't deserve the coach of the year this season. Jeff Hornacek in Phoenix, Dwane Casey in Toronto, Terry Stotts in Portland have done jobs this season to overshadow what Thibs has done. We may never see another coach adjust and succeed the way Thibs has been able to this season with everything that unexpectedly happened to this team. Which makes it debatable about whether this has been his best season coaching the Bulls. But if we look at his track record as a head coach here, this should be no surprise. Thibs simply proved this season that
this right here
is what he does.
March, 2, 2014
Mar 2
4:58
PM CT
CHICAGO -- The Bulls believe again. They believe in themselves. They believe in their team. They believe no matter which team they face on a daily basis, they will win. It's a belief that was missing earlier this season after another knee injury to
Derrick Rose
and the trade of
Luol Deng
to Cleveland -- but it has come back with a vengeance and was permeating through the Bulls' locker room after Sunday afternoon's destruction of the hapless
New York Knicks
.
"If [the scale] was from 1 to 10," Bulls forward
Taj Gibson
said of his team's confidence level, "it's a 12 right now."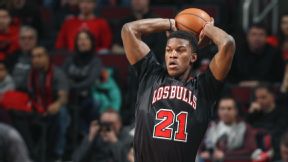 Gary Dineen/NBAE via Getty ImagesJimmy Butler says that the Bulls buy into the team aspect of everything.
The Bulls are playing with the type of hard-nosed swagger that has defined them under Tom Thibodeau. They want to destroy teams and they want to break their will. That's what they did to the Knicks again Sunday and that's one of the biggest reasons why they've won nine out of their past 10 games. They trust each other on the floor and they have complete faith in the schemes Thibodeau puts together.
"We buy into the team aspect of everything," Bulls swingman
Jimmy Butler
said. "On offense and on defense. That's great because we don't have one guy that worries about just his stats. That's not the type of guys that we are, so when you've got a roster full of those guys you're bound to win."
That may be rare for teams throughout the league, but Butler doesn't know any other way. He has been raised not to give away anything for free on the basketball court because he's been raised by the Bulls' system. Every possession is a battle, every move has a purpose. That is evident in most Bulls wins, but especially Sunday considering the Bulls turned the ball over only three times -- setting a new franchise record.
February, 28, 2014
Feb 28
12:14
PM CT
DALLAS -- All signs point toward the
Chicago Bulls
signing
Jimmer Fredette
once he clears waivers on Saturday evening.
[+] Enlarge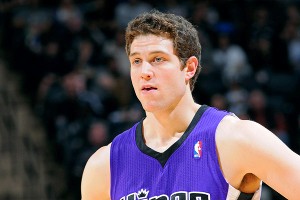 D. Clarke Evans/NBAE/Getty ImagesTaj Gibson believes Jimmer Fredette could benefit from a fresh start.
ESPN.com's Marc Stein
reported Thursday
that a deal between the Bulls and Fredette, who was recently bought out by the
Sacramento Kings
, is "likely." That was echoed by a separate source with knowledge of the situation that said the deal would get done barring any last minute snags.
While Bulls coach Tom Thibodeau wouldn't discuss Fredette specifically, he did acknowledge that the Bulls would welcome any shooting they could get. Fredette is shooting 49.3 percent from beyond the arc this season.
"I don't want to speak specifically about players yet," Thibodeau said before Friday morning's shootaround, when asked specifically about Fredette's reputation. "There are a number of guys that are good and sometimes as we saw with D.J. (Augustin), it's an opportunity to step in and add to what a team may need so whoever we sign -- if we do sign someone -- whatever their strengths are we want them to play to their strengths, to cover up their weaknesses. To understand what our team's strengths are, what are weaknesses are, and fit in."
Thibodeau, whose Bulls play the Mavericks on Friday night, sounded hopeful that the Bulls would bring in another shooter to space out the floor.
"We could always use shooting so we'll see," he said. "I know they're looking at a number of guys right now. But any time we could add shooting we're interested. I think the more shooting you have the more it opens up the floor. It's just to create the space, too. We want to open things up where we could attack off the dribble with our cuts, things of that nature. But it's also how you complement your primary scorers so we feel that's an are of need."
When told of Fredette's buyout, Bulls forward
Taj Gibson
seemed pleased about the potential move and believes the young shooter would benefit from a change of scenery.
"I've seen that he's got talent," Gibson said. "It's just that the team that he was on he never really got a chance to do much because they've got the characters on that team where they don't seem too serious, you know what I'm saying? Playing on strict, good teams kind of brings the best out of a player.
"You look at the way D.J.'s been playing. You look at the way Tony (Snell), our rookie's been playing. Guys are taking the veteran leadership and guys that work hard -- I think (Fredette) will have fun playing with us. He'll learn a lot."
February, 28, 2014
Feb 28
10:44
AM CT
DALLAS --
Jimmer Fredette
has never had a problem scoring. Everybody knew that the guard from BYU could fill it up and shoot the lights out when he wanted to in college.
[+] Enlarge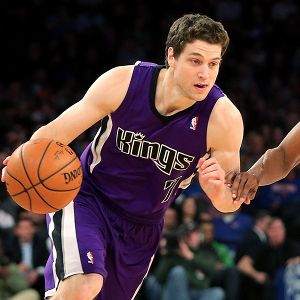 Jim O'Connor/USA TODAY SportsJimmer Fredette's defense has always been a major concern.
The bigger question around Fredette was whether he could defend at an NBA level. Like many teams, the
Chicago Bulls
had that question before the 2011 NBA draft. They knew Fredette could score -- but the feeling within the organization was that Fredette was a poor defender and would struggle mightily at the NBA level on that end of the floor.
So how did they come around to a point where they believe that the recently bought out
Sacramento Kings
guard would be a good fit at the end of their roster?
Tom Thibodeau.
If Fredette does in fact sign with the Bulls on Saturday once he clears waivers, as one source with knowledge of the situation believed would occur late Thursday night, then it's just another indication of just how much the Bulls trust in Thibodeau to find the right areas for their players to succeed. Thibodeau has proved throughout his tenure in Chicago that he can find ways for defensively challenged players to still contribute to the greater good.
Take a look at what the veteran coach has been able to do with
D.J. Augustin
this season. Or
Marco Belinelli
and
Nate Robinson
last season. They weren't very solid defensively, but they all thrived under Thibodeau's tutelage. The Bulls are obviously banking on Fredette being able to have the same impact under Thibodeau.
In that vein, it makes sense that Fredette would sign with the Bulls for the rest of the season and see what happens. Thibodeau has a track record of making all point guards not named
Marquis Teague
a lot of money. With just Hinrich and Augustin in the fold, Fredette could get a chance to play right away -- especially if Augustin's recent struggles continue.
But it's important to remember Thibodeau's recent words and history when evaluating whether Fredette would have a major impact this season. Thibodeau is a creature of habit, and it's rare for any player to come in this late in the season and have any kind of major impact. While Fredette may get the chance to play in spurts, the Bulls' rotation appears to be set with Hinrich and Augustin running the point.
If Fredette starts knocking down shots early, then he may earn some more time. But in order to find his way into Thibodeau's good graces, he must make great strides in the one area that has given him trouble all along. The key for him is that if he really wanted to get better defensively, then he's come to the right place.